C Style: Your Springtime Q&A
March 17, 2021
It's such a joy and pleasure writing this column, sharing my love of interior design. I love hearing from readers who reach out and send me messages, feedback, and questions, and from time to time, I address those widely relevant questions for those that are interested to learn more about what it's like to hire an interior designer like me.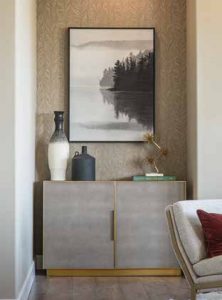 WHAT IS THE TYPICAL DESIGN PROCESS LIKE?
Every designer works differently. For myself, I start every project by meeting with each client and understanding what their goals are. What particular vision and story they want to tell. For my clients, I have a very structured five-step process which benefits both myself and my clients because it very effectively and efficiently ensures everything stays on schedule, on budget, and also makes the process fun. The most important part of the design process is getting to know each clients' tastes and discovering all the likes and loves, along with things they don't like. That's key!

WHAT IS A TYPICAL BUDGET?
You might be surprised, but most of the time, clients don't have a budget in mind to begin with because they're not sure what the real costs will be. Along with a proposal, professional designers typically provide an estimated budget for clients upfront so clients know the range and can prevent any surprises. One of the biggest benefits of hiring a designer is that you understand all the costs. Also, designers will help keep you to your budget because they will educate you on exactly what you'll be spending before you sign on the dotted line.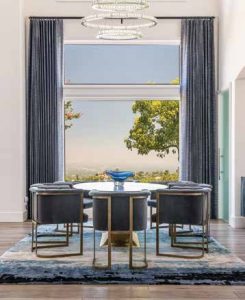 HOW DO DESIGNERS HELP CLIENTS DISCOVER THEIR PERSONAL AESTHETIC?
Each project has its own identity and the best projects are inevitably the ones in which the client has a strong voice and distinctive point of view and generally knows how they want to feel once a project is complete. I assemble mood boards and vibe imagery so clients can visualize what their project will look and feel like, which really gets them excited. For me, it's all about evoking a mood. From there, the designing begins.

HOW WOULD YOU DESCRIBE YOUR PERSONAL AESTHETIC?
My roots are based on classicism but my tastes have evolved to a much more contemporary style. I love a piece of furniture that is a contemporized version of a classic style. Most of our projects are casual chic in style, and I enjoy incorporating classic or vintage pieces into the interiors. Right now, there is a huge love affair with French and Italian modernist pieces, so we are doing a lot of Prouve and Royere. Sometimes we procure originals, and other times, we use reproductions, because why not? Aspirational is attainable, right?

I also love to layer different materials in a room because it just makes a room much more interesting and rich. You have to have a strong focal point though and not overdo it. Moderation is key.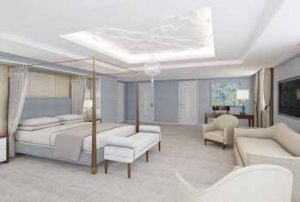 WHAT IS YOUR FAVORITE ROOM TO DESIGN?
The honest answer is that every room is a different treasure. I do, however, really enjoy designing rooms with amazing views or rooms that open up, or we make open up, to the outdoors. I tend to have a very organic aesthetic and love working with natural textures and crafted materials and love merging indoor and outdoor to create a very soothing feel.
WHAT MAKES A PROJECT SUCCESSFUL?
Communication and trust from both parties. I take a great amount of time in presenting the processes in addition to really listening and exploring what a client's needs are. Designing a home from top to bottom is very personal, and I love that my clients trust and let me into their lives in order to make them a beautiful space to live in.

WHAT MAKES THE BIGGEST IMPACT IN A ROOM?
Great art. Art can speak volumes and can complete the room beautifully. Art also has an important emotional tie because it is sentimental and unique to each person. Art isn't only limited to paintings or sculptures either. Furnishings can be great works of art as well. Another thing you can do to make a big impact is to choose a bold color or pattern as the focal point in the room, like a rug or sectional or even the wall color or wallcovering. If you have items that you want to highlight, keep the large items neutral and with limited pattern.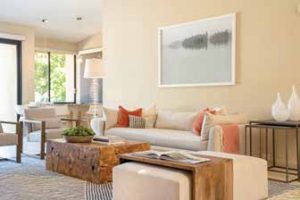 Scale is also something to keep in mind. There has to be a hierarchy within a space. Too many items in one room vying for attention create needless drama. To achieve balance, there must be a thoughtful mixology of texture, history, pattern, and color.

OTHER THAN PAINT COLOR, WHAT'S THE EASIEST WAY TO TRANSFORM A ROOM?
Lighting. I can't tell you how many houses I walk into that are poorly lit. It not only effects the look of the room but will affect your mood as well. Adding recessed lighting is not costly and you can always have fun adding cool light fixtures. The other easy transformative option is to reupholster existing seating items that are outdated. Watch them become completely new again.

IS THERE SOMETHING THAT IS A CONSTANT IN YOUR DESIGNS?
I love sculptural and unique light fixtures. It's the jewelry of the room and, depending on the fixture, can also feel like a piece of art. A great ceiling fixture is like putting an exclamation at the end of a sentence. Have fun with it.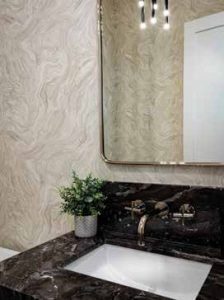 IS THERE A COLOR COMBO THAT'S CONSIDERED A NO FAIL?
You can make any combo work but I've yet to meet anyone that did NOT like green. That certainly doesn't mean doing an entire green room. Instead, incorporate it with light or dark neutrals. Depending on the shade of green, you can make it feel fresh and fun with a light green or sexy and chic with an emerald green or even sophisticated with a deep olive green.

WHAT HAS BEEN YOUR FAVORITE PROJECT?
There have been so many, and I've been blessed with wonderful clients who've been in my life for years. But I'd say the most unforgettable project was travelling to Japan to design the Tokyo Penthouse for Jack Ma, the CEO of Alibaba. He owned two apartments on the floor. One designed in traditional, authentic Minka style with tatami mat flooring, sliding straw walls, and stunning hand-painted wall murals. The apartment I designed was fully modern with no expense spared, so I was able to go for it! The juxtaposition of the classic and modern next to each other was so unique and beautiful. It was fascinating to meet and spend time with him.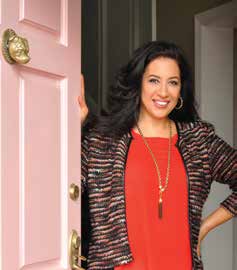 MAYA WILLIAMS DESIGN
818.854.6031
maya@mayawilliamsdesign.com
FB: MayaWilliamsDesign
IG: mayawilliamsdesign