C Style: Warm Contemporary Style of 2021
January 16, 2021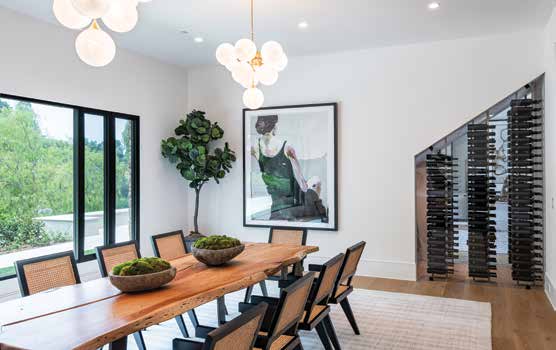 As always, lifestyles and with-it home décor evolve. Our shared experience pushing through 2020 will have a huge shared effect on how we live in our homes in 2021 and beyond. Have you, like everyone I know, looked around and processed your surroundings more than usual and determined that you also crave a more stressfree, healthy, and holistic sanctuary?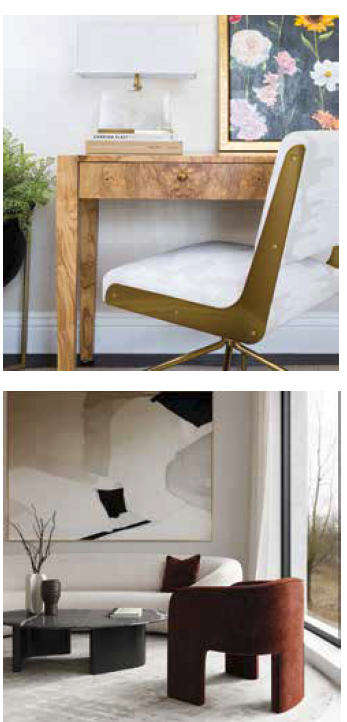 In last year's July issue, I addressed the way functionality has been changed by 2020 challenges, and in my October article, I explored the demand for bonus rooms. Now, it's time to address how style is changing. This is the C Style section after all.

Contemporary to modern styles have dominated trends the past couple of years and are not leaving us. In fact, with more people at home, most requests are for a "clean," streamlined look. Busy ornamentation has become distracting clutter. What my clients yearn for now is the soothing order of minimalism. This style can best be described as warm contemporary.

As a classicist, I still embrace tradition but honor it in the permanent materials I use on these projects rather than the furnishings. Design materials such a sandstone, tumbled marble, hand-scrapped limestone, and European oak arouse a lovely warm contemporary vibe. They also set up the framework and add authenticity to a home. Brass finishes will continue, but matte black is currently the more favored finish for an elegant, chic style.

To further create an overall soothing and clean look, bold colors and patterns on tiles and textiles are minimized and replaced with more neutral colors with solid, rich texture. Creating a room with minimal pattern also allows artwork to shine and items of importance to be more of a focal point. As homeowners become more expressive in their homes, they are investing more in art as a means of self-expression and to create the ambience they desire.

Of course, today's minimalism also means comfort, which has become more relevant than ever. One way comfort has been incorporated into modern living is the re-trending of '80s designs. That's right—the '80s are back! But don't worry, glass bricks and loud patterns of fluorescent pink and turquoise aren't in style again. Instead, the '80s elements of opulent scale and curvy silhouettes in seating are back in the spotlight. Affix simple but rich marble tables and bowls as accents to complete the look. This hint of nostalgia also brings with it a sense of sentimental security which is essential for comfort. The key to mastering the re-trend of the '80s is to incorporate the era's aesthetic but not the overabundance. Moderation is key.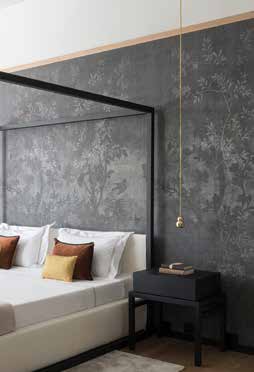 In the last few years, the American mid century modern furniture style has made a welcome comeback. Though still popular, the recent focus is on French mid century furnishings, and the French modern styles are popping up everywhere. You no longer need $50,000 to purchase a set of Pierre Jeanneret modern cane dining chairs because everyone is now making their own affordable version of them. Along with Pierre's stylings, there are new 21st century reproductions of other great pieces like Jean Prouve's iconic standard chair and metal light fixtures attributed to the style of Serge Mouille available in a range of variations.

Warm contemporary is also easy to casual up if that's what you desire. With the continued popularity of lighter-colored woods, burl wood has come back into interior fashion and you can find it everywhere. It adds so much interest and whimsey. Modern furnishingsmade of high-quality rattan and cane, like French modern cane dining chairs, also achieve a contemporary look while keeping it casual. Instead of the more sophisticated matte-black finish, you can dress it down a bit by using white finishes. Bringing in these elements will keep your interiors in style but with a more relaxed edge.

During this past year, we've learned the importance of home. Since we can now do almost everything from our homes, they truly need to be our sanctuaries and allow us to create our own unique world.

MAYA WILLIAMS DESIGN
818.854.6031
maya@mayawilliamsdesign.com
FB: MayaWilliamsDesign
IG: mayawilliamsdesign