C Style: Wine & Dine Design
March 6, 2019
Since the living and dining rooms are often the most formal rooms in a home, my clients often allocate a large amount of their budgets to them and then tell me they never use them. Oh no, not okay! Often, the living and dining rooms are the first rooms guests see since this is where they are welcomed as these rooms are usually right off the main entrance. So, I design these rooms to be inviting, lively, and, most importantly, lived in. After all, it's called a living room for a reason.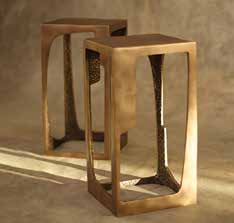 There are many opportunities to live in these spaces, and to properly wine and dine there, they just need to be designed for your purpose and lifestyle. Do you love to have fancy gatherings with everyone dressed up or is a casual buffet the way you roll? Do you have couples and associates over or the ladies for a fun girls' night? Is it a holiday tradition for you to host your entire extended family at your home? Even if you prefer just a relaxing area where you can "escape" with a good book and a cup of tea, the living room can be the ideal place.

But as this issue is all about wining and dining, let's set the stage there!

Living room – wine
Whatever your style, make sure you have plenty of seating. Pull the furniture away from the walls and float it in the room to encourage conversation. This isn't the room for deep, bulky, or wide sofas and chairs. Upright and more-firmly upholstered furniture is more comfortable for socializing. Try to create seating for a minimum of six. Smaller chairs and even benches will allow you to maximize your seating. As for tables, the same rule applies. In addition to cocktail tables, make sure there are enough small martini tables that each person has a place to put his or her appetizer plate, cocktail, and wine.
If you are lucky enough to have a large living room, you can create multiple seating areas. In one very large living room I designed, I floated two sofas back to back in order to create one seating area facing the fireplace and another facing the gorgeous grounds.

If you are less formal, design the room with casual rugs and bright cheery colors so the space is friendly and inviting. If you want to make it kid friendly, then formalize the lighting, mirrors, and things that don't get wear and tear. If you entertain with more formality, then go for it and make a statement.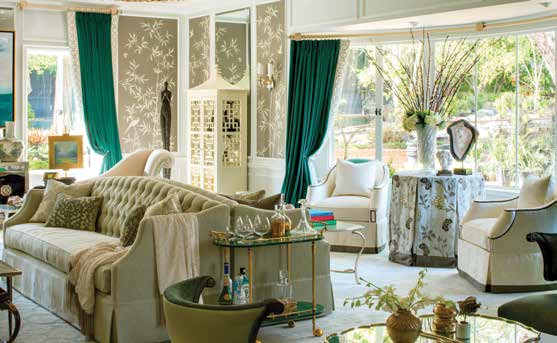 Ready for your guests to arrive? I recently made an "emergency" house call to a client desperate to make her seating arrangement perfect before her formal cocktail party. She complained that everyone always gathers in the kitchen and it drives her crazy that they stay there all night. So I asked her where she put the hors d'oeuvres. Her answer: the kitchen island! So, with a simple, little adjustment, like moving pretty trays of food to where she wanted her party to take place, especially as the first guests arrived, she could have the party she wanted. Later guests always take the visual cue and gravitate to where the party is happening. Other touches can draw the crowd to the living room, like creating the perfect vibe. So dim the lights, put the music on, and light a wonderfully scented candle to create the perfect environment.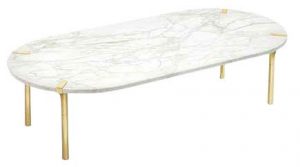 One more tip. If you have family antiques packed away gathering dust in storage or the garage, the living room is just the place to showcase them. Antiques are often one of a kind and unique to your family, making them especially great conversation starters, perfect to discuss over cocktails or wine.

Dining room – dine
The dining room is one of my favorite rooms to design, and there is an obvious place to start. First, determine the shape of table that best serves the room and your entertaining style. Sometimes a round or square table is most ideal for parties of eight or more that love to converse.

I had one client whose family of five ate supper in the dining room every night, but they also frequently had larger gatherings. So, we did two tables in her dining room, which served dual purposes. They could remain apart, creating two separate- but-more-individually intimate tables, or they could be placed together for an extended table to seat everyone together. No matter the shape, it's a must to have a table with leaves so that you have the flexibility.

When it comes to seats, make sure they are truly comfortable for meals that go all night. In order to break up a boardroom feeling, opt to differentiate the head chairs from the side chairs. Most importantly, let go of feeling the need to match the chairs to the table. As long as the room is well designed, the chairs can be of a different period and finish and still appear to be the per fect fit.

I love using an unexpected piece for the main lighting fixture—something unique and artistic. I love lights that cast beautiful shadow patterns on the ceiling to create a vibe. As lighting is everything in the dining room, in addition to an overhead, add lighting in other areas, such as sconces or table lamps at different heights so that everyone looks brilliantly beautiful. And don't forget the dimmers here as well!

The most important thing to note is that there's nothing worse than a bare-walled dining room. One of the strongest ways to make a dining room inviting is to treat the walls. This is where to go bold with color. Use a deep or dark shade. Try a metallic or pearl finish on the ceiling for some glamour. For sophistication, panel the walls in gorgeous wood grain, like rosewood or white oak, or even new wall coverings that are made of wood.

With the proper living room and dining room design, and of course the right guest list, your hosted events are sure to be the hit of the neighborhood.
---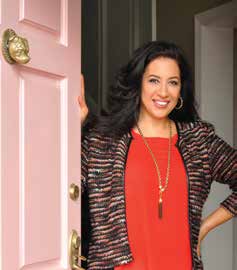 Maya Williams
MAYA WILLIAMS DESIGN
818.854.6031
maya@mayawilliamsdesign.com
facebook.com/mayawilliamsdesign
instagram/mayawilliamsdesign