C Style: The Final Touch Means So Much
September 18, 2021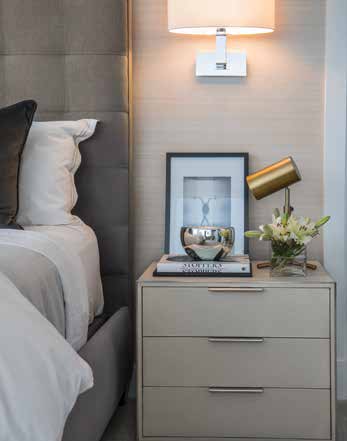 As I scroll through Instagram, often what catches my eye in that fleeting moment and makes me stop to admire is attention to detail. Even in a split second, the care and detail someone has put into their space breaks through the clutter and makes a strong impression. It may not be obvious at first glance, but when a room is finished off with perfect styling, it makes all the difference in the world. Sometimes during installations and photo shoots, we
designers even bring a stylist onboard to make sure every flower petal is in place, every wrinkle is ironed, and every book is angled just right. Of course, you don't have to be that meticulous with your own home, but I wanted to provide some great styling tips that will elevate your room from good to picture-perfect.

With the current focus on a contemporary lifestyle, when I design homes, I don't overdo it with accessories. There was a time when I would do an accessory presentation after presenting the main design where we would go over all the accents, but no longer. I now opt for a cleaner look over a mélange of items just to fill up a space. A huge pet peeve of mine is when a room is designed in a way that feels like too much effort went into filling every nook. The secret is selecting key pieces that really stand out. Instead of spending the same amount of money on dozens of little tchotchkes, put the investment towards just a few special items. Once you have those meaningful beauties, be sure to showcase them properly. Placement and layering are key. Here are some tips to achieve that.

First, make sure the pieces you select are interesting and eye-catching. Look for the following: interesting boxes, trays, vases, bowls, sculptures of any size, candy/nut dishes, book-display holders, bookends, glassware, decanters, and small paintings that you can float on a shelf. If you collect one-of-a-kind items, by all means show them off. If you've been reading my column, you know by now that I gravitate to custom, handmade, and hand-crafted items. Handmade items give texture and depth to a space, not to mention they are special and unique to you.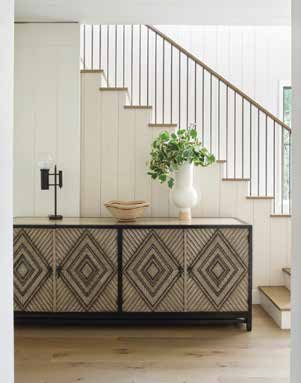 If you are going for a minimal look, incorporate a couple of large-scale items that are impactful.

If you are layering items, mix shapes and sizes.

On that note, you can also mix materials—stone, glass, wood, ceramic, parchment, faux leather—just don't overdo it with mixing the golds and silvers. Books add a beautiful warmth to a room, but if you are using them to style, use big, beautiful hardbacks or vintage books that have so much character they say pick me up! And whatever you do, don't color match your books or turn your book spines in—that is a Maya no-no.

With your selections, opt for one color palette, such as varying colors of gray and black or light-toned neutrals or a palette that compliments your space, but always have one item that has an unexpected punch of color—a color that really stands out in your room. You'll never get over how many people will give it a compliment.

Blow the lid off on coffee tables and etagere styling. With bookcases or etageres, use one key piece for each shelf and then layer a few nice hardbacks or antique books into the mix. And top that book off with an interesting little item. You don't need to cover the entire shelf. Remember, you are highlighting key pieces. For a more modern feel, place the objects only in the center of the shelf; this will give a dynamic pop of symmetry. For a more casual look, place your items wherever you'd like, but mix the sizes in each grouping. Think two small, one medium, and one large. For instance, a tall jar with a medium frame and small box on top of a couple of books.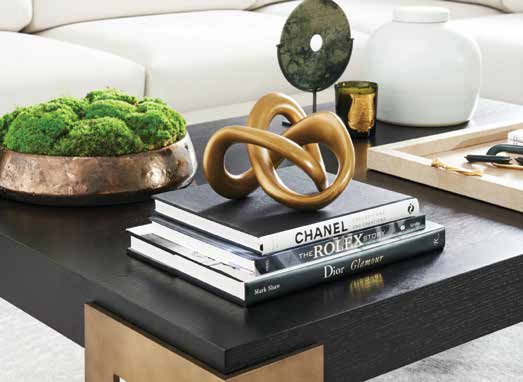 The cocktail table is maybe the one place where I make an exception for more than a few items. I treat it almost like a curio box and add things that are special and precious. The number-one rule is varying heights. Layer items on top of one another into groupings. For instance, one grouping can be two big books with a bowl on top that has stone beads in it, and another grouping is a tray with a sculpture you snapped up on your last vacation with a vintage candy dish and a hurricane. And those grouping are flanked between a gorgeous vase of greens. A 48×24 cocktail table can handle two groupings; a 52×30 cocktail table can handle three; and for big coffee tables, bring it on!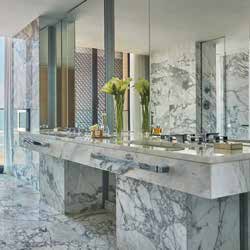 Here's the dish on bedside and bath styling—for bedside tables, for the ladies, I love doing special little pieces on trays, like a medium vase with one gorgeous frame and glass ring box or ring-holder bowl or a beautiful candle. For the gents, typically a handsome box sitting on a cool book is just right.
The powder room is my favorite! Try linen towels on a tray with a sensational bottle of perfume (your guests feel so special) and a gorgeous antique vase (even if the bathroom is modern) next to a stunning candle. And make sure your tissue holders and soap/lotion dispensers coordinate. I'm not talking about the matching set from BB&B, but that they coordinate well together.

Last but not least, here are the essentials on entries. The first impression starts at the front door. This is where you place the flowers, and not just your ordinary grocery store bouquets. Get something unique, or if you've cut a few long stems or branches from your yard, even better. Bring them in. Put them in a smashing bold vase and enjoy. That's why you grow them.