C Style: From Paris to Your Home
March 19, 2020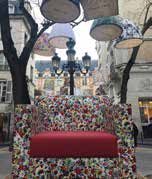 The New Year is always an exciting and busy time in interior design as designers head off to Paris to discover and bring home the newest in textiles, fabrics, and wallcoverings. It's "fashion week" for the design industry where all the top-of-the-line textile houses unveil their new collections. Fabric and wallcoverings are at Deco Off, and Maison & Objet is the furniture and décor show.
With pop-up salons, showroom exhibits, and stunning presentations all over Paris hosted by the creative directors of the fabric houses, my schedule was packed and I was treated to a feast for the eyes and senses. Color was bold as always, and this year, the earthy tones sage green, turmeric, and crimson dominated. The main trends that stood out were worldly designs and natural, hand-crafted-looking fabrics.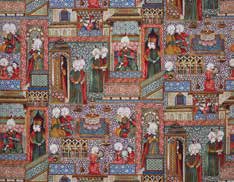 These fabrics are more than just beautiful prints. They have grand stories and come from extraordinary heritages. Whether they're created and/or inspired by Jim Thompson's storied life of unforgettable adventure in Asia or whether they are designs created by the prestigious House of Hermes, they all sweep you away to an exotic time and place. The ancient orient, island life, or the jazz age—it's amazing how the perfect fabric will transform your entire home into a place you never want to leave and always long to return to.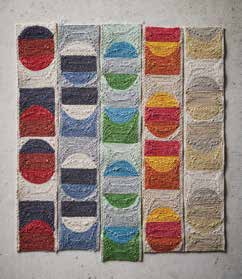 Some of my favorite finds were Maison Pierre Frey. Their profoundly eclectic textiles are influenced by Art and Cultures, which showcased the Rêveries Orientales filled with Ottoman florals, Byzantine arabesques, and scenes from the dreamy orient. Paris contemporary artist Gael Davrinch works in oil paint and often paints with his own hands when brushes fail to achieve the quality and movement he seeks to express. This floral panoramic is comprised of four rolls printed on a nonwoven surface to create a stunning wallpaper.

De Gournay went beyond their famed chinoiserie wallcoverings and adapted a beautiful scenic design by the Persian miniature painting of Reza Abbãsi, a 16th-century artist of the Isafahan school, called In the Sky by India Mahdavi. The scenic wallcovering is hand-painted on baby-blue-dyed silk.

The first collection of passementerie from British brand Christopher Farr Cloth makes the case for decorative trimmings, including this geometric version with appliquéd jute braids in a sorbet of colors.

The wall covering, based on six silk foulards by Kimono by Arte, is applied to a nonwoven backing, and comes available by the linear yard.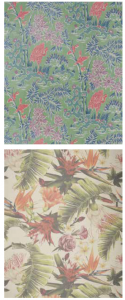 Synonymous with elegant silk, Jim Thompson's continued craft and heritage of weaving beautiful Thai textiles made for a show-stopping new collection of silks, prints, and embroideries with leafy patterns and exotic flowers. Malay by Jim Thompson, adapted from a 19th-century block-printed textile, is an exotic garden of birds, blossoms, and bamboo. Inspired by tropical islands around the world, these prints offer a profusion of leafy patterns and exotic flowers. They are designed to make a beautiful botanical statement to upholstery, walls, or draperies. Bermuda is a sophisticated palm foliage printed on silk and handwoven with textured Thai silk.
Culture and nature come together beautifully in the new collections from De La Cuona and Mark Alexander for Romo. The craftsmanship and raw sophistication of their textiles make their natural products some of the finest in the world.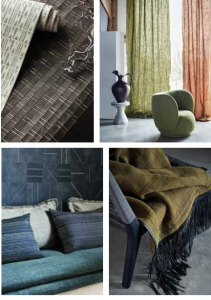 The new Mark Alexander Collection from The Romo Group takes cues from the rhythmic forms of West African textiles. Finely crafted linen embroideries and weaves combine for a relaxed and curated interior. Natural materials and a stunning contemporary design blends seamlessly together in grasscloth and a range of other wallcoverings made from botanical fibers, stitched paper, and handwoven abaca. All are entirely natural, sustainable, and renewable.
De la Cuona is known for sourcing the finest fibers in the world to create exquisite linens, wools, velvets, silk, and cashmere. All of the fabrics are responsibly crafted. The new Maverick collection showcases color and a palette for a more modern lifestyle. The slip chair in the Nguni Collection is inspired by the Nguni tribes in South Africa. De la Cuona's new pieces are made in wood and cotton cord using a traditional webbing technique. Each design captures the natural forms of Africa. They are produced in Cape Town.If you want to make a stunning statement in your home these textiles are available now through the trade.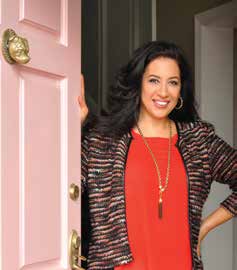 MAYA WILLIAMS DESIGN
818.854.6031
maya@mayawilliamsdesign.com
FB: MayaWilliamsDesign
IG: mayawilliamsdesign