C Style: Does 2020 Deserve a Bonus?
October 2, 2020
I've been getting a lot of calls recently about long-held-off projects that are now being fast-tracked because of the new normal of spending more time indoors. Many of the calls are regarding finally converting that unused room or rooms into any of a variety of "bonus" rooms or spaces, even for when COVID-19 is long gone. Many have discovered they like being homebound and want to make their homes even more accommodating to their needs. They've realized it makes all the sense in the world to make home as fun and comfortable as possible. The days of the unused room that collects grown-kids' toys and old furniture have come a long way. Today's bonus rooms have been transformed into luxury theaters, club rooms, wine lounges, art studios, 5000-square-foot basements with Equinox-quality home gyms and basketball courts, luxury spas with glam makeup rooms, and 20-car-garage car museums. In L.A., the land of dreams, anything is possible when it comes to home interior design and your dreams can become a reality. So here is some design inspiration for the top bonus room requests I've been getting these past few months.

HOME GYM
When deciding the best location in a home for a gym, choose a room with a good amount of natural light. Access to the exterior is a huge plus. The most important rule is to choose a dedicated space and design it in a way that will inspire you to stay active. On a recent project, we selected the gym location based on the beautiful view to inspire the homeowners and added a yoga deck right off the gym within the yard.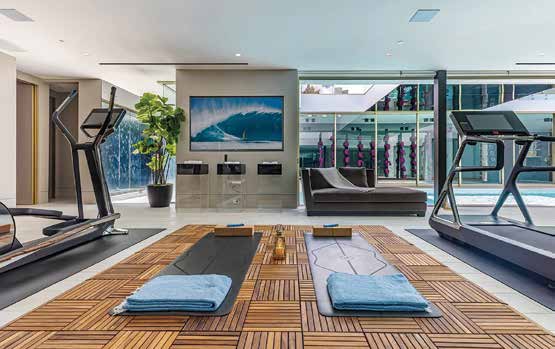 For the layout of the room, designate one area for machines and another area for floor work near the weights. A room full of bulky equipment just looks bad and won't inspire anyone to work out. Instead, select a few anchor pieces and then make room for the stretching, yoga, and functional training to make better use of the space. Don't forget to designate a small area for a sink and cabinets for cold water and spare towels.

As for walls, select two walls for mirrors. A front wall and side wall. The other walls can be feature walls that have some texture to them from natural wallcovering or a crisp vibrant color that keeps the motivation flowing. Impact on your joints and sound absorption are big considerations. I'm not a big fan of rubber or cork flooring because these are harder to clean and odor can build up. I prefer high-end, commercial-grade carpeting with extra-thick padding underneath or wood floors with rubber pads under the equipment.

Ample lighting is a must for cardio and weights, but for yoga and meditative exercise, lighting needs to be more flexible to allow for a variety of moods. Air flow is very important. I love using large, contemporary, commercial-grade ceiling fans coupled with exterior air. It really improves the experience.

If you have the space, adding a bathroom that is equipped with a steam shower and a sauna is the ultimate luxury and can elevate your gym into a spa gym.

HOME THEATER
To achieve that cinema quality experience and bring Hollywood home, you need more than a dark room with deep seating and room for a large screen. Start with a quality AV company to select the best system and speakers for your budget and also to create and calibrate acoustics that are optimal for your space. They will advise on a screen that is the right size and height for
the room. This will also work congruently with your seating locations. In a larger theater, your seating should be leveled on tiers for full clarity of the screen. Your set-up can be on a smart system with a one-remote network for everything, which includes not just the media but the lights, window treatments, etc. They can also insulate walls and work with the designer to create upholstered walls with a beautiful designer fabric that serves acoustics well.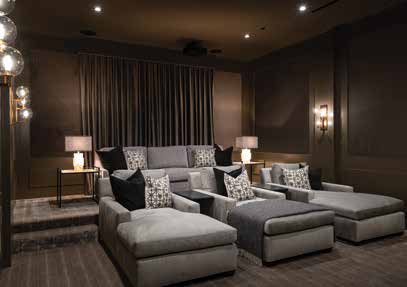 Your choices in the style of the room are limitless, and this is a space you can have a lot of fun creating. So, In addition to the design concept for the theater, your designer will create the most ample seating—with comfort as the main objective. Large-scale chaises, deep-cloud sofas, and sectionals that can be turned into beds with ottomans have replaced the old home theater chairs because they allow for more flexibility and relaxation.

When it comes to lighting, make sure you have a flexible lighting plan in the room. Allow options for dimming and mood lighting, which can be done with sconces or ceiling surround lights. Make sure to light any steps and cover any natural light with blackout shades that are inset tight into the windows so as not to reveal even a trace of natural light. Ideally, these will be automated shades controlled via remote. As for the color of the room, you don't need to go black, but it's best to go darker to not reflect light.

Take sound into consideration with selecting where to put the theater. Don't place it next to a kids' play room or kitchen where noise is expected. And don't place it next to Grandma's guest room or the nursery, for obvious
reasons. Another tip: Don't use glass or stone tables or glass-framed art as sound will vibrate, rattle, and bounce off of them.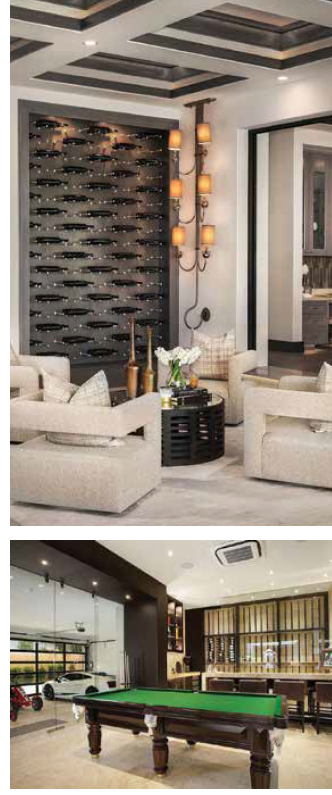 WINE WALLS, ROOMS, AND LOUNGES
Many of our ground-up construction projects now include either a wine wall or wine room—some with a separate lounge and game-table area. These can become your own personal club. Don't have a huge room or basement? Well, these rooms work great off of the dining room, family room, or home theater as an extension of those rooms. In a regular-sized room, you can still do a lounging area with four swivel club chairs and a bar wall. As a wine wall only takes up 18 inches of depth, it can easily go right in your dining room.

You will need to have a proper wine refrigeration system to keep those bottles at 55 degrees. Some of the systems require ducting, and others are self-contained and easy to set up. As for design, you can go traditional and style it with walnut or white oak woods. For a more contemporary look, go with stainless steel holders. The back wall can be painted a metallic color, or beautiful tile, or stone can be applied. The number of bottles you can have depends on the layout. Cork view racks allow you to maximize the number of bottles. Label view racks accommodate fewer bottles but allow you to show off those rare vintages you've collected. You can also opt for a combo of the two. Don't forget to factor in a space for cases, magnums, and champagnes. If you are using glass doors, they need to be thick, thermal, double-paned glass and have an air-tight seal.

Enjoy creating your dream bonus room.

Cheers!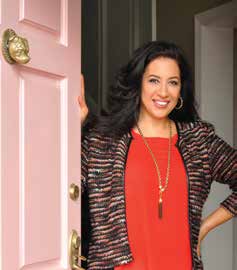 MAYA WILLIAMS DESIGN
818.854.6031
maya@mayawilliamsdesign.com
FB: MayaWilliamsDesign
IG: mayawilliamsdesign