C Style: Breaking Down the Walls for Design
July 9, 2018
Southern Californians love their warm climate, and there's no mistaking the allure of the almost-constant sunshine, making Southern California the perfect setting for open-air architecture and design.
As a designer, I strive to harmonize and foster a connection between the elements, blending natural surroundings together and creating that perfect indoor- outdoor lifestyle that clients crave whenever and wherever it's fitting.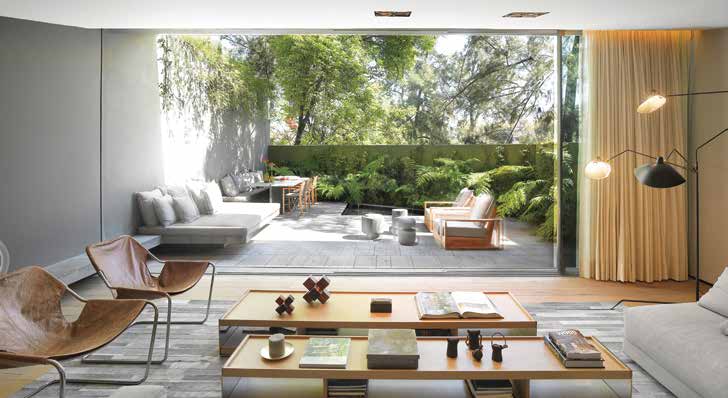 Outdoor living areas, courtyards, and atriums, the hallmarks of mid-century modern homes, are very in-demand again, and it's a shame these particular features of home design ever went out of style. But they did as city planners began laying out cities for urban growth and home developers began favoring the more generic rectangular- box-style home that became the norm of residential design for the past half century. Fortunately, there are many ways for modern homeowners to break "out of their box" and tear down that "fourth wall" today.
The options for replacing windows and common sliding doors with door systems have become virtually limitless, from accordion- style nano-fold-system doors and pivot doors to sliding-track doors that tuck into walls. But if nano doors and steel construction aren't in your budget, rest assured there are many other options to bring the outdoors in, in an effortless way. So let's break down some walls, or at least open them up, and achieve the more harmonious lifestyle you've always wanted.
Begin with installing simple French doors on the main wall leading outside as they will instantly open a room, especially when combined with an entire wall of windows. This may seem obvious in a family room that leads out to the backyard, but I recently did this for a client in her den, which was down the hall to the side of her backyard. She never thought about opening up the den wall before, and once we opened it, not only did it become a whole new room, it became a whole new home! It instantly created an open-floor feeling from one room to the next when incorporating the outdoors. She was so inspired by the new open floor plan that she built a vegetable garden cradled by and visible from both the family room and den. So the sense of continuity and harmony with nature not only became a more attractive view, but also a lot more functional as her family now grows their own food that they enjoy daily.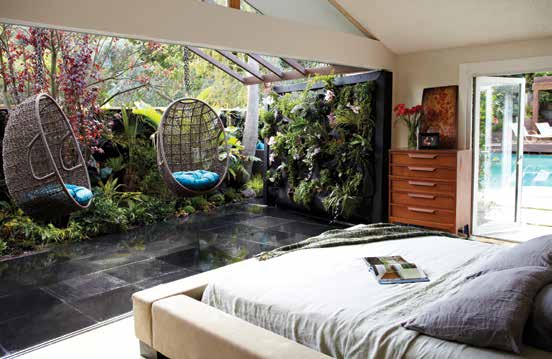 Depending on your existing floor plan you can really start to see the possibilities. Homes that have an L or U shape that cradle an outdoor living area can really benefit from tearing down a wall to the outdoors. Just remember, when you have French doors leading outside, don't block them with furniture. One of the biggest design mistakes I often see is when people plunk down their sofas in front of the door leading outside, forcing them to have to walk around it to get out. This immediately disturbs the open flow and creates a psychological wall between indoor and outdoor living.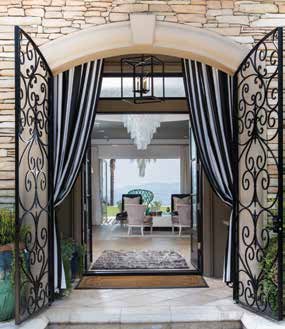 So, once you've removed all the furniture and physical obstacles, how do you create that indoor/outdoor feel so it is all one continuous flow? A mainstay design element now is extending the building material that is used inside to the outdoor area. Stone and porcelain floors are perfect for indoor/outdoor, and cedar cladding on the ceilings continues the flow outside making the floor plan appear as one continuous room. Even if you have wood floors inside, you can match the color to stone or like material outside and achieve the illusion of one elongated room. Consider a double-sided fireplace that opens to the inside and outside for gatherings and intimate dinner parties with friends. Put a flip-top window at your kitchen with a counter on the yard side for a fun casual feature to entertaining.
Once you've broken through and you're in the "great outdoors" of your home, it takes more than placing a sofa down to have an outside living area. Incorporate outdoor rugs, and layer them on. Outdoor TVs are fantastic for movie nights and game days. Lighting and artwork polish off a room and that applies to outdoor living as well. Choose an outdoor lantern or chandelier in your outdoor space. There are table and floor lamps specifically for use outdoors that have no wires. And gardens are the perfect space for sculptural art. Bring your space up a notch by investing in a one-of-a-kind piece.
When it comes to selecting outdoor furniture, make it a wise investment. Select items that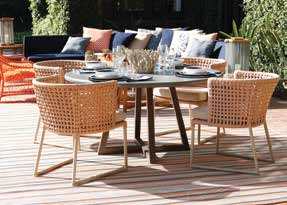 withstand the weather and climate you live in and know how much maintenance they will require. Wood is beautiful and sturdy but will weather, so make sure you are good with that. Poorly made woven materials will break down in no time in the heat of our summers. Consider aluminum or faux-wood and faux-rattan materials. These are easily cleaned with soap and water and are lightweight enough to rearrange. Do some research or reach out to your designer for what's new. I recently discovered a Brazilian company that makes beautiful outdoor furniture made from rope! My clients are loving it. Invest in outdoor covers and use them in the off-season. I love using side tables and accessories that I commonly use indoors to really give that cozy look to an outdoor space.
And lastly, don't forgot about that outdoor kitchen! My must-haves for outdoor kitchens are a Jenn Air ice maker, an Artisan pizza oven, and a large griddle for hibachi and fajitas. Yum! Now get outside and enjoy your summer.
Maya Williams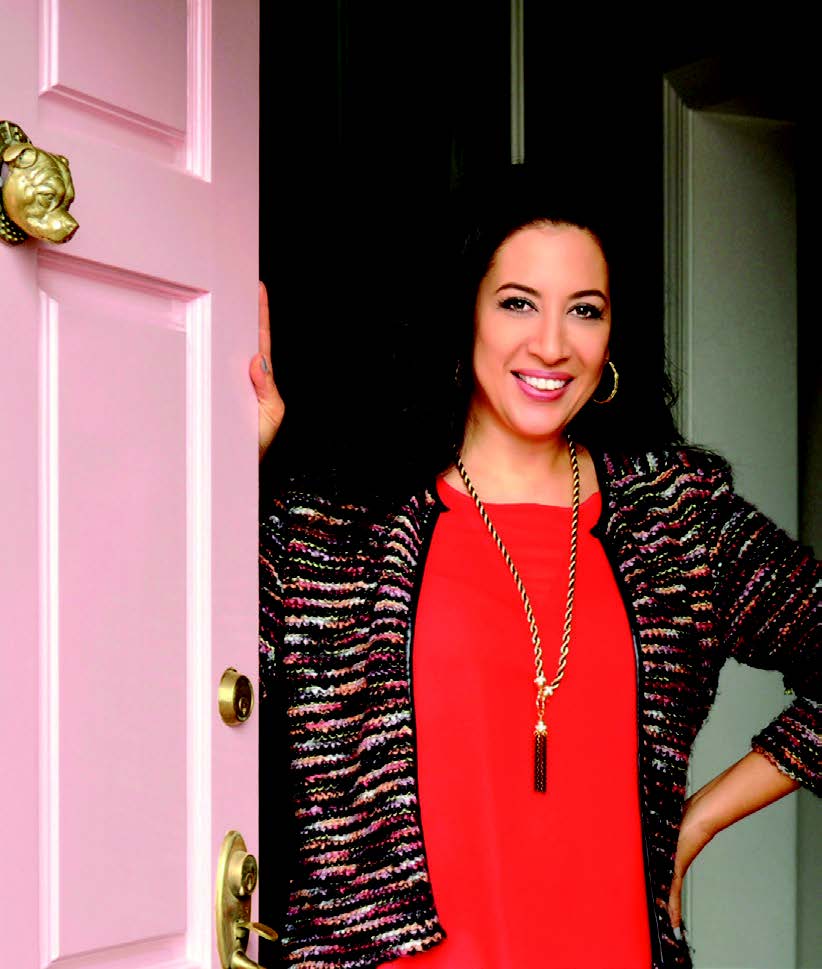 MAYA WILLIAMS DESIGN
818.854.6031
maya@mayawilliamsdesign.com
facebook.com/MayaWilliamsDesign
instagram/mayawilliamsdesign