Seeds and Their Benefits
February 14, 2020
Hemp, flax, pumpkin, sunflower, chia, and more!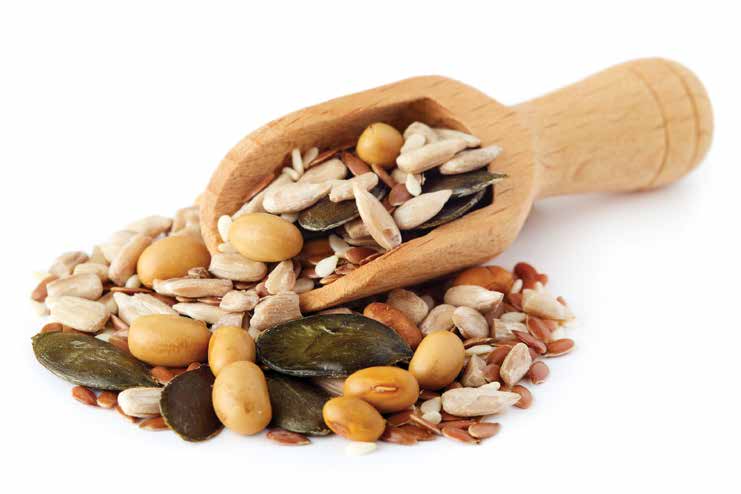 How many different seeds do we really need to be eating? They have health benefits but where do we draw the line and which are the best bang for the buck? They are superfoods that are full of energy boosters, protein, fiber, and nutrients. They can be sprinkled, blended, pureed, and even crushed. They offer a great way to introduce plant-based healthy protein into your diet. They add crunchy texture as toppings, and they are packed with vitamins, minerals, antioxidants, and healthy fats. And they have flavor. Add them to your favorite smoothie bowls, salads, yogurt, soups, and oatmeal. What's not to love in these tiny superfoods?

Chia Seeds: They are high in fiber and help lower cholesterol. They are a great source of omega-3 essentials fatty acids and calcium.

Flax Seeds: They are a great source of potassium, which helps to lower blood pressure. Ground seeds are high in essential fatty acids.

Hilled Hemp Seeds: They are rich in iron, phosphorus, magnesium, and manganese. They contain healthy fats and both omega-3 and omega-6 polyunsaturated fatty acids. This helps prevent heart disease and osteoarthritis.

Pepitas and Pumpkin Seeds: They offer protein as a snack and are full of healthy fats, magnesium, and phosphorus.

Sunflower Seeds: These kernels are a good source of B-vitamin folate, which is good for pregnancy and heart disease. They also are rich in vitamin E, which is a powerful antioxidant.

Watermelon Seeds: These have high doses of protein and zinc.

Sesame Seeds: They are a great source of iron.

Before starting any new health related regimen, please consult your doctor. Source: healthline.com/nutrition/6-healthiest-seeds.
by Lori Berezin