Egg Donation and Surrogacy
March 4, 2020
How a Local Woman Helps to Create Families After Infertility
Stephanie Levich never wanted to look at another pregnancy test again.

"I held a negative test in my hand month after month for a year and a half. It was heartbreaking," remembers Stephanie. Happily, she and her husband, David, were able to have their two beautiful children, now ages 6 and 5, through in-vitro fertilization. A Calabasas High School alum, Stephanie is raising her family nearby in West Hills.

Stephanie is far from alone. The CDC estimates that four million births per year in the U.S. are babies created thanks to IVF. That's one to two percent of all babies born annually, about the same prevalence as redheads born worldwide each year.

The idea of having some help to start her family wasn't a foreign concept for Stephanie. She herself was adopted since her mom had had a hysterectomy after a childhood medical emergency. "I think it's because of my own parents' story that I've always felt a desire to help amazing people create families of their own."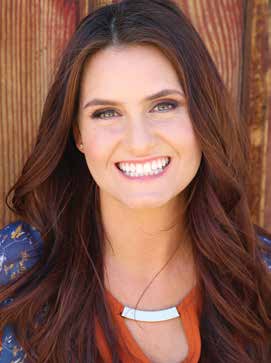 So, it felt natural when she founded Family Match Consulting, LLC, in 2015 after 12 years of working in the fertility field. Today, Stephanie has helped over 2,000 families find their perfect egg donor or gestational surrogate. "I call helping future parents a passion; my husband calls it an obsession," Stephanie laughs.

No matter which it is, she is good at it. Stephanie's particular skill is making the often overwhelming process easier on parentsto- be, moving their process along faster than it would have gone without her expertise. "Clients don't know what they don't know when they first embark on this journey, so my job is to be their advocate and guide as we bring together all the pieces needed to assist them," she says. Family Match Consulting boasts access to the largest network of agencies in the country so clients have access to all the top candidates for egg donors and surrogates.

Stephanie is very proud that Family Match Consulting helps all families, including LGBTQ+ couples, single parents, and everyone else longing for parenthood like she and her husband and her parents were. The company also specializes in assisting clients in the public eye with the Fertility Vault program. "Our Vault program allows us to ensure a high-profile client's absolute privacy all the way through the process from finding the right egg donor or surrogate to bringing their baby home. We manage every aspect of the journey," Stephanie explains.

Even though she's enjoyed honors from a White House invitation to once being named a Top 30 Entrepreneur Under 30 by Inc. Magazine, Stephanie considers the highlight of her career to be the happiness she sees on the faces of her clients when they finally bring their baby home, a moment that was once just a dream.
Family Match Consulting
familymatchconsulting.com
info@familymatchconsulting.com
818.495.0203
by Sarah Prager