Lasting Solutions for Hair Loss
November 7, 2021
at Vitality Institute of Agoura Hills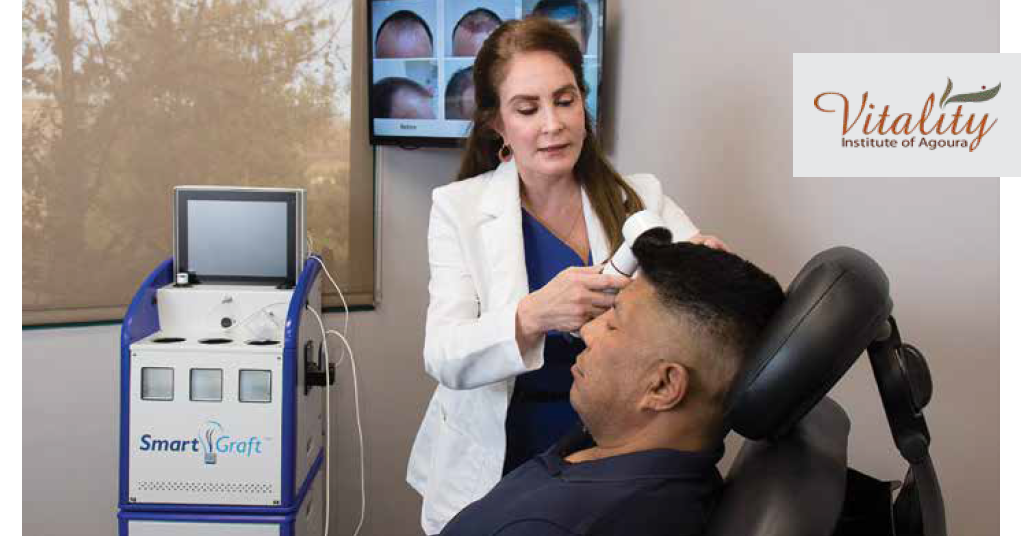 Board-certified plastic and reconstructive surgeon Dr. Stefanie Feldman combines her love of art and medicine at the Vitality Institute of Agoura in Agoura Hills. Prior to her work at Vitality, Dr. Feldman worked as a plastic surgeon, specializing in post-mastectomy breast reconstruction. She was also part of a practice in Beverly Hills focusing on PRP (platelet-rich plasma) for hair loss and facial rejuvenation.

At Vitality Institute of Agoura, Dr. Feldman offers SmartGraft® FUE hair transplant, Emcyte Pure® PRP, and various skin treatments for wrinkles, sun damage, and much more. Hair loss can be particularly troubling for many, and revolutionary procedures like SmartGraft FUE and Emcyte Pure PRP offer viable and lasting solutions for men and women.

Follicular unit extraction (FUE) is the gold standard for hair transplant, resulting in natural-looking hair without the trauma of an incision as required in the strip method. Patients can return to normal activities one to two days after treatment and will begin seeing new hair growth in approximately three to four months, with full growth at 12 to 18 months.

Platelet-rich plasma (PRP) is concentrated from a patient's own blood—which contains growth factors to stimulate hair growth. The Emcyte Pure PRP system uses a collection of specially designed tubes that yield a higher concentration of platelets compared to other PRP treatments while simultaneously limiting exposure of the blood to outside air and contaminants.

Depending on the stage of hair loss patients are experiencing, SmartGraft FUE hair transplant and/or Emcyte Pure PRP treatments with Dr. Stefanie Feldman at Vitality Institute of Agoura can be an excellent solution for hair growth and restoration.