Jeremy Reitman: Shielding Healthcare Workers with PPE
July 5, 2020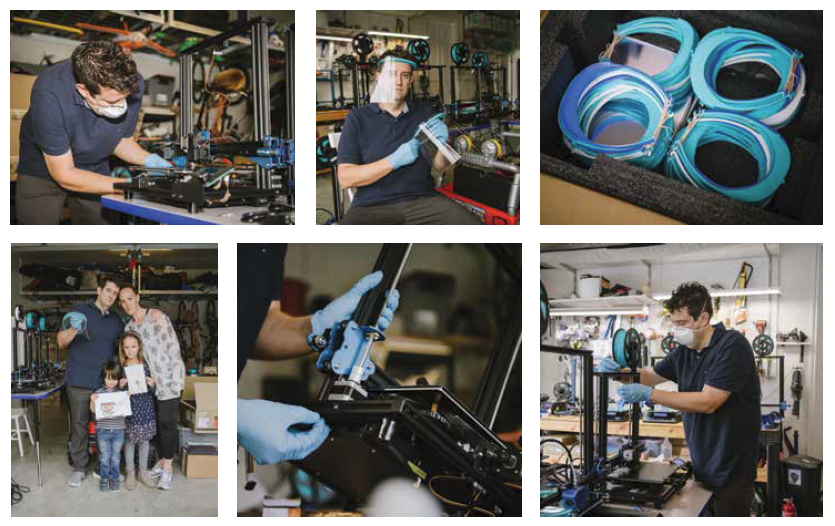 After learning about the immense shortages of personal protective equipment (PPE) for hospital workers, Calabasas resident Jeremy Reitman faced the problem head on, producing plastic shields one by one in his garage.

Utilizing his single trusty 3D printer, Reitman delivered his first shipment of 80 face shields in April to Cedars Sinai Hospital in Los Angeles. Reitman purchased his first printer four years ago as a hobby to create toys and remote-controlled airplanes for himself and his two children. As the demand for medical PPE grew, he created a campaign that raised over $30,000 in donations to purchase an additional 33 printers. The self-proclaimed "techie" and digital marketing consultant who runs Intrepid Digital also built a website where hospitals could request his help. "We eventually had 34 printers creating about 400 masks per day," says Reitman. By the end of the campaign, they shipped over 6,000 PPE shields in total to over 90 medical facilities around the country. The campaign garnered international attention on NBC, CBS, CNN, and other major news networks. His wife Taryn, 8-year-old daughter Stella, and 4-year-old son Jett helped him assemble each printer on their dining room table. The children included letters of gratitude in each box for these incredible healthcare professionals. The family's compassion continues to this day.

In June, they delivered some of their 3D printers to area schools. "I was fortunate to be able to donate 18 printers to a local magnate school, Magnolia Science Academy 5 in Reseda," explains Reitman. Principal Brad Plonka gratefully accepted the donation, which will help students enhance their technological knowledge and creativity. It's great to see how our devastating coronavirus pandemic also brings out the best in people. To learn more, visit ppeforcovid19.com.