Health Check 2022
January 1, 2022
Physician and Healthcare Provider Directory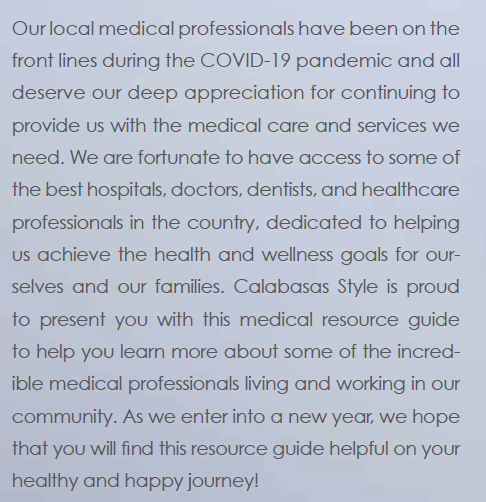 ---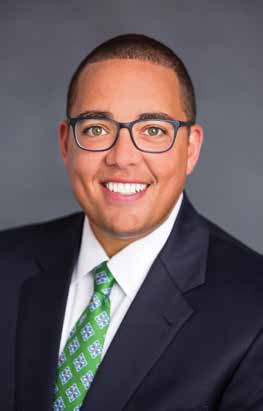 WEST HILLS HOSPITAL & MEDICAL CENTER
Mark Miller | Chief Executive Officer
7300 Medical Center Dr., West Hills
818.676.4000 | westhillshospital.com
Mark Miller is the president and CEO of West Hills Hospital, where he oversees a staff of more than 900 people that bring outstanding service to every bedside. His main focus is on quality care, patient satisfaction, and physician and employee engagement. Mark Miller held several other HCA executive positions including COO of Grand Strand Health in HCA's South Atlantic Division and CEO of HCA's Lake City Medical Center in Florida. Miller also served in the West Florida Division of HCA as the COO of both Northside Hospital and Largo Medical Center. Miller received his bachelor's degree in business administration from Middle Tennessee State University and earned two master's degrees in business administration and health administration from Georgia State University. In his spare time, Miller enjoys coaching youth sports teams and is involved with many community organizations. He serves on the board of the Calabasas Chamber of Commerce and is a proud member of the American College of Healthcare Executives and National Association of Health Services Executives.

West Hills Hospital is a full-service acute care facility serving the West San Fernando Valley for over 50 years. The hospital offers a full complement of advanced technology, compassion, and responsive care for the improvement of human life. West Hills Hospital was the first accredited chest pain center in Los Angeles County and also provides specialized care in the emergency department, intensive care unit, outpatient services, cardiac catheterization labs, and The Grossman Burn Center.
---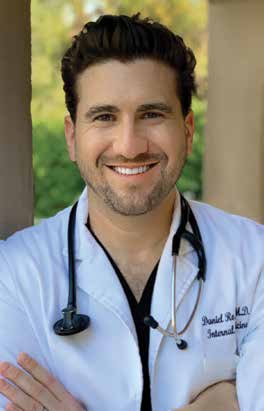 CALABASAS MEDICINE | CONCIERGE PRIMARY CARE
Daniel Rosen, MD
23621 Park Sorrento, #102, Calabasas
818.797.8000 | calabasasmed.com
Daniel Rosen, MD, is a board-certified, internal-medicine physician at Calabasas Medicine. Dr. Rosen opened his concierge medical practice to ensure his patients' experience is always enjoyable, educational, and as convenient as possible—all with a level of personalized care above and beyond traditional medical practices.
Dr. Rosen specializes in adult outpatient and hospital medicine, managing both common and complex illnesses of adolescents, young adults, and the elderly. Dr. Rosen's philosophy is to merge the best of "old-school medicine" with modern technology. He takes as much time as patients need during appointments, listening to them and giving them a voice in their care. He also takes on lighter patient loads to ensure each patient receives top-quality care. House calls are an option for those with limited mobility or who simply can't get to the office. As a concierge physician, Dr. Rosen organizes care, focusing on prevention and lifestyle treatments as well as needed medications. He offers acute and chronic disease management, diagnostic testing, comprehensive physical exams, and personalized treatments that get patients on the road to recovery quickly. He utilizes the most innovative, advanced technologies, recommending the least invasive options first. As a concierge medical physician, Dr. Rosen limits the number of patients he works with at any given time. While he is not currently accepting new patients, he encourages people to visit his website and submit their information to be added to his waitlist. Patients will be contacted as soon as there is availability.
---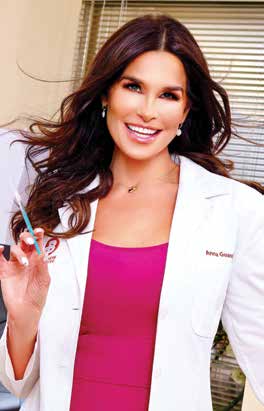 BELLA SKIN INSTITUTE
Anna Guanche, MD
23622 Calabasas Rd., #339, Calabasas
818.225.0117 | bellaskininstitute.com
Anna Guanche, MD, is a board-certified celebrity dermatologist and author specializing in cosmetic procedures. Her practice, Bella Skin Institute in Calabasas, is where she has assembled her "derm dream team" of professionals to care for the concerns of celebrities, CEOs, and supermoms. The state-of-the-art facility is warm and engaging and provides clients with the most innovative procedures available to perfect skin. Bella Skin Institute is dedicated to combining medical science and cosmetic beauty to provide clients with customized treatments to meet their needs, from dermatology services to minimally invasive cosmetic procedures performed at the facility. Procedures include the fifteen minute filler facelift called the GuancheLift(TM), Fraxel laser resurfacing, Bella FX RF microneedling for skin tightening, Bella Microgold skin perfecting facial, platelet rich plasma for collagen rejuvenation and hair growth, Thermage CPT™, Ultherapy™, non-invasive body contouring with KyBella™, CoolSculpting™, and EmSculpt™ procedures, and the latest injectables for wrinkle reduction. Aesthetician services include Diamond Glow, dermaplaning, acne facials, waxing, and so much more!

General dermatology services include skin cancer screening and surgery and acne, rash, and eczema treatments. Dr. Guanche is a fellow of the American Board of Dermatology, was a member of the dermatology staff at the UCLA Dermatology department for 13 years, and continues to teach physicians and residents in her office. Dr. Guanche and her staff approach their work with absolute joy and infectious enthusiasm, which is felt throughout the practice. Follow Dr. Guanche on social media @annaguanchemd and @bellaskininstitute.
---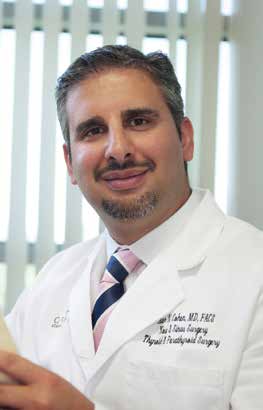 SOUTHERN CALIFORNIA SINUS INSTITUTE
Alen N. Cohen, MD, FACS, FARS
7345 Medical Ctr. Dr., #510, West Hills
818.888.7878 | socalsinus.com
Anyone who has suffered through the pain and discomfort of severe sinus infections knows just how debilitating they can be. The good news is that these conditions are not just treatable but actually curable now. Dr. Alen Cohen is a board-certified nose and sinus surgeon and assistant clinical professor of surgery at the David Geffen School of Medicine at UCLA. He is also the founder and director of the Southern California Sinus Institute (SCSI), which has become one of the premier sinus centers in Southern California. He has also been named a Los Angeles Magazine Super Doctor annually since 2013 and a national Castle-Connolly Top Doctor since 2017.
As such, thousands of patients have benefited from Dr. Cohen's life-changing procedures, which include the medical and surgical treatment of patients with all nasal and sinus disorders, including nasal obstruction, deviated septum, environmental allergies, acute and chronic sinusitis, nasal polyps, and sinus headaches. One of the most common procedures Dr. Cohen routinely performs is the revolutionary in-office Balloon Sinuplasty™ procedure, for which he is one of the top three performers on the West Coast. This amazing procedure dilates the sinus openings with a balloon so the sinuses can drain, thus preventing sinus infections, and so the patient can breathe better. As such, patients routinely come to him from all over Southern California for management of their chronic nose and sinus problems and definitive relief.
---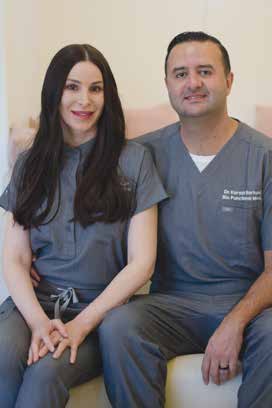 SKIN BIO
Cristina Borhani, MSN, NP & Korosh Borhani, D.O.
22263 Mulholland Hwy, Calabasas
818.222.9797 | skinbio.co
Cristina Borhani, NP, and her husband, Dr. Korosh Borhani, bring a unique approach to their latest endeavor, Skin Bio, which rebranded a well-known Calabasas med spa
in 2018 to offer the same aesthetic services in addition to cosmetic dermatology and functional medicine. With over 10 years of experience in medical dermatology, Cristina is an expert in all things related to skin. She completed her Masters of Science in Nursing from Azusa Pacific University as a family nurse practitioner. Her specialties include creating a natural yet youthful appearance using injectables and anti-aging lasers. Korosh completed his medical doctorate at Arizona College of Osteopathic Medicine. His post-graduate training and board certification was in emergency medicine at Michigan State University–St. John's Providence Hospital, where he graduated as Chief Resident. In 2019, he completed his advanced fellowship in anti-aging and regenerative medicine from the American Academy of Anti-Aging Medicine. His comprehensive medical approach allows him to use individually tailored testing and in-depth analysis of each patient's mind and body, creating a personalized treatment plan. Dr. Borhani also treats critically ill patients at West Hills Hospital. The husband and wife team, both alumni of Calabasas High School, feel incredibly fortunate to serve the community that shaped them.

The team at Skin Bio is dedicated to developing creative solutions in skincare and wellness to help their patients look and feel their best.
---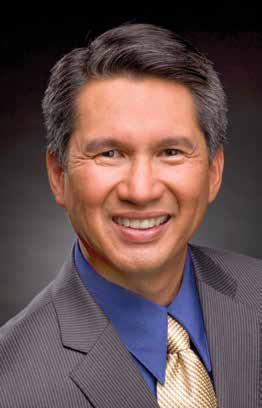 AESTHETIC SMILE DESIGNS
Bernie B. Villadiego, DDS
23622 Calabasas Rd., #119, Calabasas
818.341.1345 | powerofthesmile.com
Dr. Bernie Villadiego has practiced dentistry in the San Fernando Valley for over 27 years and recently opened his new office in Calabasas. What makes Dr. Villadiego exceptional is that he has earned the accredited member status with the American Academy of Cosmetic Dentistry, a coveted professional credential that is obtained by very few dentists. He is one of only 458 dental professionals in the world to have achieved this prestigious designation. Dr. Villadiego has transitioned from patchwork/repair-oriented dentistry to a philosophy of ideal and complete dental health and wellness. Most dental offices are repair centers that focus on a short-term fix. Dr. Villadiego looks at the entire stomatognathic system and focuses on long-term solutions. With the prevalence of sleep apnea, Dr. Villadiego will screen for sleep disorders that may be caused by oral factors. Dr. Villadiego received his DDS degree from Creighton University School of Dentistry in 1989 and completed his general practice residency program at Los Angeles County/USC Medical Center. He established a private practice with an emphasis in esthetic and reconstructive dentistry in Chatsworth in October 1993, where he worked until moving his elite practice to Calabasas in 2020. An expert in the field of cosmetic dentistry, Dr. Villadiego teaches advanced techniques in cosmetic dentistry to other dentists. He mentors dentists at the world-renowned Spear Education Center in Scottsdale, Arizona. Additionally, he is a participating dentist for the national Give Back A Smile program, providing esthetic dentistry to victims of domestic violence.
---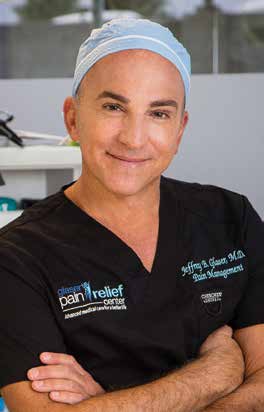 GLASER PAIN RELIEF CENTER
Jeffrey B. Glaser, MD | Interventional Pain Management
16311 Ventura Blvd., #518, Encino
818.501.PAIN (7246) | glaserpainrelief.com
Jeffrey Brian Glaser, M.D. – Medical Director of the Glaser Pain Relief Center – is a UCLA-trained, award-winning, dual-board-certified interventional pain management physician. For more than 20 years, Dr. Glaser has been the premier pain management physician in the Los Angeles area, recognized as one of the best in his field amongst his peers and as the "pain management physician to the stars." Patients travel to his Encino office from across the country. Dr. Glaser specializes in minimally invasive, state-of-the-art treatments for conditions causing back pain, neck pain, and sciatica. He treats sports injuries and disorders of the major joints, migraines, and conditions such as complex regional pain syndrome (CRPS) and peripheral neuropathy. He believes that it is important to understand what is important to a patient and what their goals are. "I work with my patients to achieve pain relief that allows them to live a more fulfilling and happy life. Most patients don't realize that surgery is rarely needed to treat their pain, and I help them realize that there are other less-invasive options available. When surgery is indicated, I partner with the best spine surgeons in the industry to ensure my patients receive outstanding continuity of care by a team that is integrated and has the patient's best interest at heart."

Dr. Glaser completed medical school at the prestigious Sidney Kimmel Medical College of Thomas Jefferson University and his internship and residency at the world-renowned UCLA. He is proud to be a resident of Calabasas.
---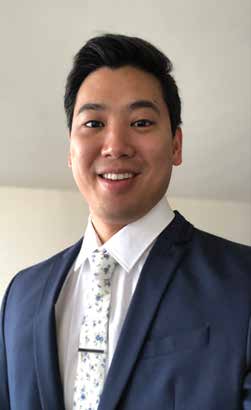 GLASER PAIN RELIEF CENTER
John Zheng, DO | Interventional Pain Management
16311 Ventura Blvd., #518, Encino
818.501.PAIN (7246) | glaserpainrelief.com
John Zheng, DO, is an interventional pain management physician at Glaser Pain Relief Center in Encino, serving the San Fernando Valley and Greater Los Angeles Area. Dr. Zheng earned his medical degree from Midwestern University in Glendale, Arizona. He then completed an internship at the Community Regional Medical Center in Fresno, through UCSF-Fresno, and a residency in physical medicine and rehabilitation at UCLA. Afterward, he furthered his training with a fellowship in interventional spine medicine at the UCLA Spine Center in Santa Monica.

With his extensive training, Dr. Zheng specializes in spine-mediated pain and sports injuries of knees, shoulders, hips, and more. He has expertise in using minimally invasive procedures to treat back and neck pain and injuries to major joints, including those caused by sports trauma. Dr. Zheng also treats back pain, neck pain, herniated and bulging discs, spinal stenosis, arthritis of the spine, failed back or neck surgery, sciatica, peripheral neuropathy, and complex regional pain syndrome (CRPS), as well as muscle and joint injuries. Dr. Zheng has additional special interests in both sports and regenerative medicine as he has been a sideline physician for many football and mixed martial art events. "I love taking care of my patients," says Dr. Zheng. "My goal is to restore function. I like to plan out the best treatment plan for each individual. We all need to be able to do the things we love."
---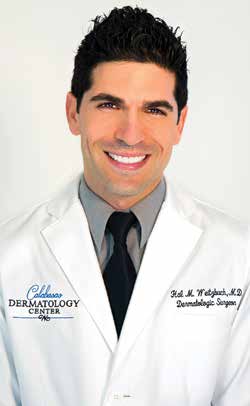 CALABASAS DERMATOLOGY CENTER
Hal Weitzbuch, MD
23501 Park Sorrento, #216, Calabasas
818.222.7495 | calabasasdermcenter.com
Dr. Weitzbuch is an award-winning, board-certified dermatologist and member of the American Society for Mohs Surgery. An adjunct professor of medicine at UCLA, he specializes in diagnosing and treating diseases, tumors, infections, and age-related changes of the skin, hair, and nails. Dr. Weitzbuch received a Bachelor of Science in Biomedical Engineering from Northwestern University, followed by a Master's Degree in Applied Physiology at the Chicago Medical School, where he also went on to obtain his medical degree. Dr. Weitzbuch then undertook a one-year internship working at Harbor-UCLA Medical Center, training exclusively in surgery. After successfully finishing a dermatology residency at the famed Cook County Hospital, he completed specialty training with an extended Mohs surgery preceptorship.

Dr. Weitzbuch's vast training in cosmetic and aesthetic surgery combine to provide his patients with extraordinary results beyond their expectations. Dr. Weitzbuch has presented at numerous national and local meetings and has been published in multiple peer-reviewed journals. He obtained a patent and grant for prior research and has received many awards throughout his extensive career. A Calabasas native, Dr. Weitzbuch completed his formative education at Calabasas High School, A. E. Wright Middle School, and Round Meadow Elementary. Funny enough, his wife did as well, but they didn't meet until much later in life at just the right time! After 12 years of training in Chicago, Dr. Weitzbuch loves being back home in Southern California spending time with his wife and daughters, who of course are always wearing sunscreen!
---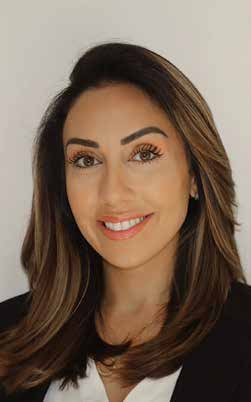 NEUROPSYCHOLOGY
Asal Houshiarnejad, Psy.D.
23586 Calabasas Rd., #107, Calabasas
4766 Park Granada, #202, Calabasas
424.209.4345 | drasalh.com
Dr. Asal "Nejad" Houshiarnejad is a bilingual (English and Farsi), licensed clinical neuropsychologist. She specializes in cutting-edge neuropsychological assessments and evidenced-based therapeutic services for children, adolescents, and young adults who present with a broad range of neurodevelopmental, neurological, medical, and psychiatric conditions. Dr. Nejad's unique and warm approach to testing yields a comprehensive understanding of each child's functioning, allowing her to create an individualized roadmap addressing each patient and family's unique needs and identifying and prioritizing necessary treatment recommendations and/or academic accommodations. Therapeutically, Dr. Nejad specializes in helping balance values and goals with scientifically supported treatments for a variety of mental health concerns. She focuses on teaching her patients concrete and tangible self-soothing skills to help self-regulate when upset, cope with anxiety, address behavioral issues, or deal with significant life stressors. Dr. Nejad earned her bachelor's degree in clinical psychology at UCLA and her doctorate in clinical psychology at Alliant International University, San Diego. She has undergone extensive training, completing a pre-doctoral internship accredited by the American Psychological Association (APA) at Barrow Neurological Institute at Phoenix Children's Hospital. Additionally, she completed a formal two-year postdoctoral fellowship in pediatric neuropsychology through the UCLA Semel Institute for Neuroscience & Human Behavior and the David Geffen School of Medicine. Outside of her private practice, Dr. Nejad is a devoted mother who enjoys time with her three children and husband.
---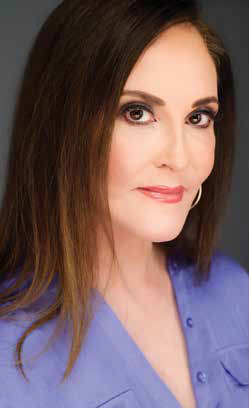 VITALITY INSTITUTE OF AGOURA
Stefanie Feldman, MD | Board-Certified Plastic & Reconstructive Surgeon
30200 Agoura Rd., #110, Agoura Hills
818.735.0904 | vitalityinstituteofagoura.com
Stefanie Feldman, MD, is a board-certified plastic and reconstructive surgeon with over 25 years of experience. In 2020, she officially took over as medical director at Vitality Institute of Agoura. Prior to that, Dr. Feldman had a plastic surgery practice specializing in post-mastectomy breast reconstruction and other breast surgeries. She attended medical school at the University of Arizona and completed her general surgery fellowship there. In addition, she completed several specialty residencies, including a plastic surgery residency at the University of Utah. She is a member of the American Society for Aesthetic Plastic Surgery and fellow of the American College of Surgery (FACS). She has happily resided in Calabasas, a community she loves, for the past 25 years.
A longtime advocate for women's health issues, Dr. Feldman presents internationally on breast surgery. She was honored by Super Doctors via peer review and featured in an episode of The Operation: Breast Reduction Surgery. She has also volunteered internationally with Operation Smile and ReSurge, repairing cleft lips and palates, and now dedicates two evenings a month to helping the Westminster Free Clinic. Among a variety of treatments, Vitality Institute specializes in hair restoration using platelet rich plasma (PRP) and Smart Graft (FUE) hair transplantation. The Institute uses the most up-to-date techniques, including RF micro-needling, injectables, Lase MD for melasma and age spots, noninvasive fat removal, vaginal rejuvenation, and laser tattoo removal.
---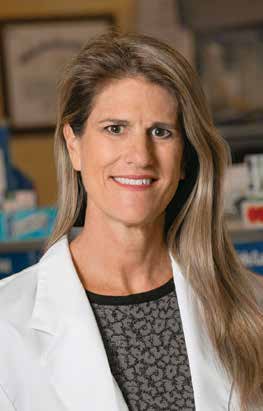 CALABASAS PHARMACY
Brenda Johnson, R. Ph.
22277 Mulholland Hwy., Calabasas| Inside Gelson's Market
818.223.8656 | calabasaspharmacy.com
Calabasas Pharmacy has been proudly caring for customers since 1996 when the pharmacy first became a cornerstone of healthcare for the community. Pharmacist Brenda Johnson opened the pharmacy because she wanted to practice pharmacy by getting to know her patients and providing comprehensive care in an efficient manner. Consumer Reports states that independent pharmacies make fewer errors, offer swifter service, and are more likely to have medications ready for pickup when promised–which holds true for Calabasas Pharmacy.

Brenda was one of the first pharmacists to become certified to administer
immunizations over 24 years ago. She is certified in all immunizations and offers COVID vaccines in addition to shingles, pneumonia, flu, Tdap, and many more. Brenda is also trained in hormonal contraception and can conveniently furnish birth control to patients without a prescription. Calabasas Pharmacy provides medication synchronization, which means they will synch all your medications so they can be picked up together once a month before you run out of anything. Your prescriptions and vitamins can also be prepackaged into a blister packaging system to remind you to take them at the correct time each day. Home delivery is available. They take most insurance plans, including Medicare Part D, and work with your doctor to get your medications approved. Calabasas Pharmacy is open seven days a week. It is very easy to transfer existing prescriptions by calling directly at 818.223.8656.
---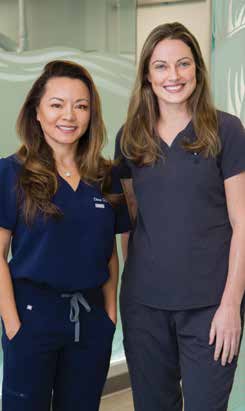 RUMACK-HARMER PEDIATRIC DENTISTRY
Elena Rumack, DDS & Lecia Harmer, DDS | Owners
16542 Ventura Blvd., #506, Encino | 818.943.8228 | encinotoothfairy.com
23622 Calabasas Rd., #101, Calabasas | 818.222.4543 | calabasastoothfairy.com
Drs. Elena Rumack and Lecia Harmer met 15 years ago at UCLA Dental School and have been fast friends ever since. Both dental care providers are board certified specialists in pediatric dentistry and are co-owners of Rumack Harmer Pediatric Dentistry, in Calabasas and Encino. Dr. Elena Rumack obtained her DDS degree from UCLA. After completing a residency specializing in caring for patients with special needs, she completed a second residency in pediatric dentistry. Dr. Rumack has been a lecturer and clinical instructor at UCLA for the past 10 years. Affectionately called the "Tooth Whisperer" by parents, Dr. Elena is known for her gentle ways in treating children and comforting their parents. Dr. Rumack specializes in laser frenotomy procedures on infants and children with lip and tongue ties. She has been performing frenotomies for many years with great success. Dr. Lecia Harmer attended the University of Michigan and graduated with a B.S. in biochemistry with high honors. She obtained her DDS degree from UCLA, concurrently with a M.S. in oral biology. Dr. Harmer actively participates in many community outreach programs, both locally and internationally.
Both Dr. Elena and Dr. Lecia are known for their gentle way of putting children at ease when it comes to dental treatment. They strongly believe in preventive dentistry, focusing on nutrition, education, and positive reinforcement in a nurturing environment. To encourage early prevention of dental disease, both doctors encourage parents to bring their children in for their first dental visit by age one, as recommended by the American Academy of Pediatric Dentistry.
---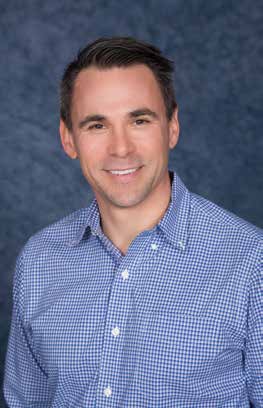 PAIR ORTHODONTICS
Jason Pair, DDS
23622 Calabasas Rd., #119, Calabasas
818.222.4543 | pairorthodontics.com
After graduating from UC Los Angeles with a B.S. in physiological sciences, Dr. Pair traveled north to dental school where he attended UC San Francisco. He then completed his orthodontic residency in 1999 at UCLA, where he was chief resident. His research project was published in the American Journal of Orthodontics & Dentofacial Orthopedics, the leading peer-reviewed journal in the profession. He has had multiple case reports published since that time.

Dr. Pair is a member of the San Fernando Valley Dental Society, where he was president for the year 2007. He is currently a peer review committee member. He is a lecturer and clinical instructor in the UCLA Orthodontics Residency Program. He is a member of the American Association of Orthodontists, the American Dental Association, the California Dental Association, and the Pacific Coast Society of Orthodontists. In addition to lecturing  at UCLA, he has lectured to the California Society of Pediatric Dentists, the California Dental Assistant Society and the San Fernando Valley Dental Assistant Society, the ROP program of Santa Clarita and at the University of Francisco Marroquin in Guatemala. He has participated in various volunteer dental organizations, traveling to Guatemala, Mexico, and Israel. Dr. Pair is dedicated to creating beautiful and healthy smiles and offers orthodontic services for children and adults. He is proud to be associated with Dr. Rumack and Dr. Harmer, serving the community where he resides. Services include all forms of braces, the Damon System, Invisalign, and Surgical and accelerated orthodontics for children, teens, and adults.
---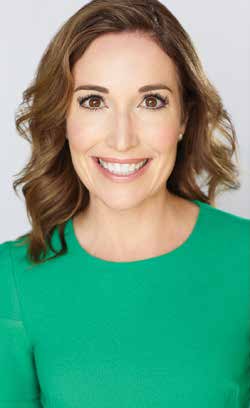 CALABASAS PEDIATRIC WELLNESS CENTER
Tanya Altmann, MD, FAAP
23586 Calabasas Rd., #107, Calabasas
818.914.4429 | calabasaspedswellness.com
Dr. Tanya Altmann is a UCLA-trained pediatrician providing personalized, concierge pediatric healthcare with an emphasis on integrative medicine, nutrition, and a healthy lifestyle. As a spokesperson for the American Academy of Pediatrics, Assistant Clinical Professor at UCLA Mattel Children's Hospital, and Adjunct Clinical Professor at Children's Hospital Los Angeles, Dr. Tanya has a broad understanding of the most recent medical developments. She is the author of several bestselling parenting books and is a child-health expert for numerous news programs and talk shows. With more than 20 years of experience helping families with everything from day-to-day health concerns to choosing the best preschool to gathering experts from around the country to solve unusual cases, Dr. Tanya is the go-to pediatrician in Calabasas, seeing children from birth through college. Her office offers comprehensive appointments, virtual visits, home visits, and 24/7 communication via email or text for today's busy families to reach their pediatrician when needed, even while traveling.

Dr. Tanya founded Calabasas Pediatrics Wellness Center to provide child-centered health and wellness from pregnancy through college. In addition to top-notch pediatric medicine, the wellness center offers experts in a variety of fields, including lactation, nutrition, speech therapy, parenting, mental health, ADHD, eating disorder treatment and recently added adult medicine and aesthetics. There are options for every family who desires to raise healthy, happy, well-adjusted, and successful children, teens, and young adults.
---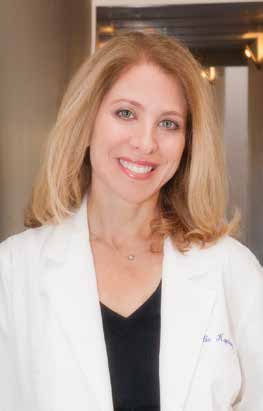 ADOLESCENT AND YOUNG ADULT MEDICINE
MEDICAL CARE FOR EATING DISORDERS
Leslie Kaplan, MD
Calabasas Pediatrics Wellness Center | 23586 Calabasas Rd., #107, Calabasas
818.739.0330 | drlesliekaplan.com
Dr. Kaplan is a pediatrician specializing in adolescent and young adult medicine with over 20 years of experience treating and helping guide the medical treatment of patients with eating disorders such as anorexia nervosa, bulimia nervosa, binge eating disorder, avoidant restrictive food intake disorder, and related disorders. She now offers her unique medical expertise in a concierge-type practice at the Calabasas Pediatrics Wellness Center, one of only a handful of doctors in the country with a private practice specializing in eating disorders. In this ideal setting, she is unfettered by time constraints and can devote as much time and attention as is needed for optimal care of her patients. After receiving her medical degree from UCLA, Dr. Kaplan went on to pediatric residency and an adolescent medicine fellowship. Since then, Dr. Kaplan has treated adolescents and young adults in a variety of primary care settings and has worked with countless eating disorder patients at Pepperdine University and elsewhere. She also helped establish the Eating Disorder Treatment Team at KPMG, Woodland Hills, and served as supervising physician at a local eating disorder treatment center.
Dr. Kaplan works in conjunction with community therapists, psychiatrists, and nutritionists to offer the gold standard of eating disorder treatment team care. In addition, she provides general medical care to adolescents and young adults in the Calabasas Pediatrics Wellness Center model, which couples the best of conventional medicine with a holistic, integrative approach.
---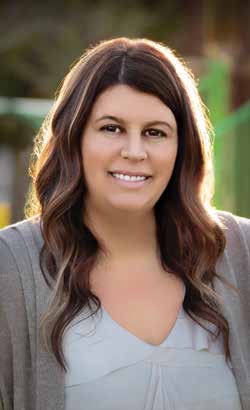 MINDS2GROW
Georgia Scheible, LMFT | Co-Founder | Clinical Director
23679 Calabasas Rd., #1083, Calabasas
818.798.3330 | minds2grow.com | info@minds2grow.com
Georgia Scheible is the co-founder and clinical director of Minds2Grow, a multidiscipline therapy center that provides an array of services for children. She is a licensed marriage and family therapist, having earned her bachelor of science degree in psychology and her master's in marriage and family therapy. Georgia has over a decade of experience diagnosing and treating mental and emotional disorders in children, including those with spectrum autism disorders. Georgia is also well versed in designing, implementing, and managing behavioral therapy for children and adolescents. Georgia founded Minds2Grow with the goal of providing a holistic approach to therapy which encompasses looking at the child as whole and enabling therapists, parents, and educators to understand the child's needs in a comprehensive way to provide the highest quality of evidence-based therapeutic services. Georgia believes that life is a work in progress and understands that the biggest difficulty families confront is finding the best treatment for their child from a caring, qualified, and experienced therapist who possesses a deep understanding of behavior. As the clinical director at Minds2Grow, she uses the science of cognitive-behavioral theory and Applied Behavior Analysis (ABA) to provide effective, evidence-based treatment. She believes in fostering a safe environment for her clients where they can be free to express themselves. Georgia is a committed mother of three beautiful daughters. Her dedication and passion shine through as she motivates clients and her whole team to accomplish goals, to be determined, and to be committed to growth.
---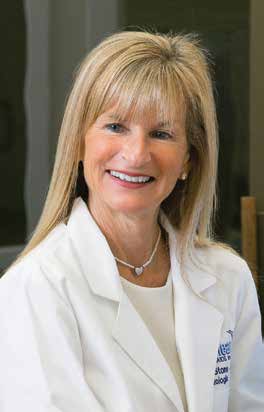 HEAR CLEAR HEARING AIDS, INC.
Iris Stone, AuD., FAAA, Doctor of Audiology | Diagnostic Clinical Dispensing Audiologist
4764 Park Granada, #109, Calabasas
818.222.HEAR (4327) | hearclearhearingaids.com
Iris Stone, AuD, FAAA, Doctor of Audiology, earned her degrees from New York University, St. John's University, and A.T. Still University in education, health administration, and audiology. She is a Fellow of the American Academy of Audiology, the Academy of Doctors of Audiology, and the California Academy of Audiology. She sits on the board of directors of the Calabasas Chamber of Commerce and was the United Chambers of Commerce San Fernando Valley's recipient of the 2016 Small Business Award and the 2017 Chamber of Commerce Chairmans' Award for service in the Calabasas community. Her clinical expertise is in diagnostic testing, including comprehensive audiological evaluations, tinnitus evaluations, and management with a specialty in hearing-aid fittings and rehabilitation. Her unique style is her ability to listen to the concerns of each individual and find a solution based on patients' budget acoustic, and cosmetic needs. Her focus is on her patients' lifestyles, always delivering thorough care with complete follow-up. Hear Clear Hearing Aids, Inc., offers a completely new approach to a hearing care facility. Appointments start on time and last as long as needed. Despite the fact that hearing loss is the third most common health problem in the country, technology has become so advanced that it is possible to restore a person's hearing almost 100% if they are properly diagnosed and fitted correctly with the right product. Dr. Stone uses state-of-the-art technology to test, counsel, and complete the needs of her patients, as well as provide the best quality care. Hear Clear Hearing Aids office is conveniently located on Park Granada across from the Commons at Calabasas.
---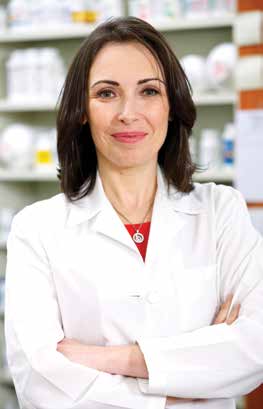 COURTYARD PHARMACY
Greta Goldshtein, PharmD, APh
23693-B Calabasas Rd., Calabasas
818.403.3072 | courtyardpharmacy.com
Courtyard Pharmacy's founding pharmacist, Greta Goldshtein, is an advanced practice pharmacist who earned her doctor of pharmacy from USC School of Pharmacy in 1997. Greta honed her skills as an inpatient pharmacist at Cedars-Sinai Medical Center and then as an outpatient pharmacist and owner of Roxbury Pharmacy in Beverly Hills. She based Courtyard Pharmacy's services on a collaborative-care model that includes a pharmacist who can augment physician-provided care, deliver medication therapy management, provide preventative care services, such as vaccinations and travel health, and facilitate transitions of care. Greta believes that patients should have the opportunity to engage in meaningful partnerships with caring and knowledgeable health professionals who work together to simplify the process involved in receiving medical care. The pharmacy's staff can steward the care of your family members to alleviate the burden on busy caregivers having to navigate medication therapy on their own.

Greta and her staff strive to build strong relationships with their neighbors so that they can get a full understanding of every patient's needs, meet their expectations, and keep them involved in their care at every phase. They invite all potential patients to call the pharmacy or stop by to find out how the team can support you. State-of-the-art healthcare and wellness support are now available to all age groups at your doorstep in Calabasas.
---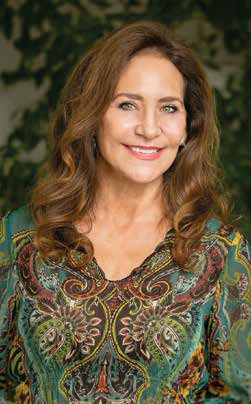 WESTLAKE BODY CONTOURING & WELLNESS CENTER
Dianne Lalena Sandberg, DC
30423 Canwood St., #205, Agoura Hills
818.852.7352 | westlakebodycontouring.com
Dr. Dianne Lalena Sandberg, owner of Westlake Body Contouring and Wellness Center, specializes in photobiomodulation/photomedicine and is currently the only leading specialist in Southern California using high-level LED therapy for fat loss and chronic pain. This technology was originally founded by NASA to treat wound healing for the military by increasing collagen and elastin and decreasing inflammation. It was recently discovered that this noninvasive LED treatment is highly effective in liquefying fat from inside the cells. Many patients have seen amazing results when treated for fat reduction and body contouring, where patients can lose two to seven inches with their first treatment with no downtime. The treatment is also effective for facial rejuvenation and in treating youth acne.

Dr. Dianne also treats patients who suffer from diabetic neuropathy, neuropathy, postsurgical incision healing, rheumatoid arthritis, osteoarthritis, and chronic joint pain. She is also one of the few concussion experts in the Valley and has had tremendous success treating athletes by using this LED technology. In addition to treating athletes, she treats many celebrities in the community. Dr. Dianne obtained a B.S. in Education from Louisiana Tech University and a B.S. in Kinesiology from UNLV. She obtained her Doctor of Chiropractic degree from LACC and has been a treating chiropractor for over 20 years. She is married to Dr. Jim Sandberg and has a 19-year-old son, James Bo. Dianne enjoys watching her son play hockey and spends her spare time as a wish granter for Make-A-Wish Foundation.