Valentine's Recipe Ideas
January 7, 2022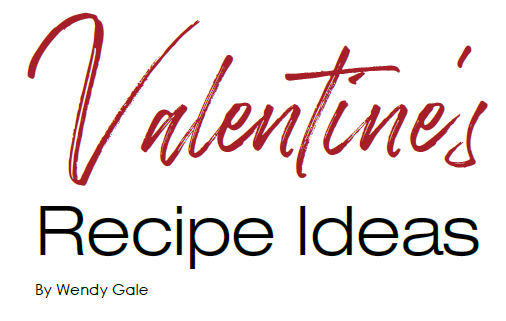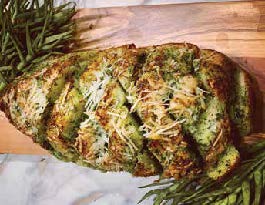 Herbed Garlic Bread
1-pound oval loaf French or sourdough bread, unsliced
12 tablespoons (1½ sticks) unsalted butter at room
temperature
¼ cup finely chopped parsley
¼ cup finely chopped chives or green onion tops
½ teaspoon salt
½ teaspoon dried basil
½ teaspoon dried thyme
2 medium cloves garlic, crushed
3 tablespoons grated parmesan cheese

Trim crusts from top and sides of bread. Cut 2-inch diagonal slices across the bread, leaving bottom intact. Cut 2-inch diagonal slices in opposite direction, forming triangles.
Combine butter, parsley, chives or green onions, salt, basil, thyme, and garlic in a food processor with a metal blade or in a mixing bowl. Spread butter mixture in between cuts and over top and sides of the loaf.
You may wrap the loaf in foil and refrigerate overnight or freeze it. Before serving, place the loaf on a baking sheet and bring to room temperature.
Sprinkle the top with parmesan cheese. Bake at 400° for 15 to 20 minutes or until golden brown.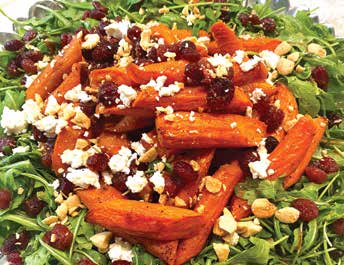 Roasted Maple Carrots
2 pounds carrots, preferably with leafy tops
Good olive oil
Kosher salt and freshly ground black pepper
¼ cup pure Grade A maple syrup
2/3 cup dried cranberries
2/3 cup freshly squeezed orange juice (2 oranges)
3 tablespoons sherry wine vinegar
2 garlic cloves, grated on a microplane
6 ounces baby arugula
6 ounces goat cheese, such as Montrachet, medium-
diced
2/3 cup roasted, salted Marcona almonds

Preheat oven to 425°. Trim and scrub carrots. If carrots are more than 1 inch in diameter, cut in half lengthwise. Cut carrots in diagonal slices, 1-inch-wide x 2-inch-long and place in medium bowl with ¼ cup olive oil, 1 tsp salt, and ½ tsp pepper. Toss well. Transfer to two sheet pans. Roast for 20 min, tossing once, until carrots are tender. Transfer to one sheet pan; add maple syrup, toss, and roast for 10-15 min, until edges caramelize. Watch carefully!

Toss with spatula and set aside. Meanwhile, combine cranberries and orange juice in small saucepan; bring to simmer, then set aside.

In small bowl, combine vinegar, garlic, and ½ tsp salt with 3 tbsp olive oil. Place arugula in large bowl; add carrots, cranberries (with liquid), goat cheese, almonds, and vinaigrette. Toss with large spoons, sprinkle with salt, and serve at room temperature.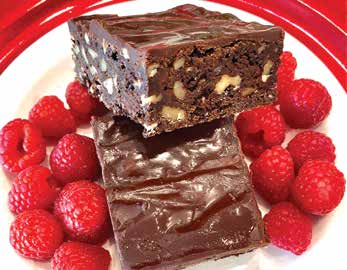 Outrageous Brownies with Chocolate Ganache
Brownies:
1 pound unsalted butter
1 pound plus 12 ounces semisweet chocolate chips
6 ounces unsweetened chocolate
6 extra-large eggs
3 tablespoons instant coffee granules
2 tablespoons pure vanilla extract
2 ¼ cups sugar
1 ¼ cups all-purpose flour
1 tablespoon baking powder
1 teaspoon salt
3 cups chopped walnuts

Preheat oven to 350°. Butter and flour a 12 x 18 x 1-inch baking sheet. Melt the butter, 1 pound of chocolate chips, and the unsweetened chocolate in a bowl over simmering water. Allow to cool slightly. In a large bowl, stir the eggs, coffee, vanilla, and sugar. Stir the chocolate mixture into the egg mixture and allow to cool to room temperature. In a medium bowl, sift 1 cup of flour with baking powder and salt. Add to the cooled chocolate mixture. Toss the walnuts and 12 ounces of chocolate chips in a medium bowl with ¼ cup of flour, then add them to the chocolate batter. Pour into the baking sheet. Bake for 20 minutes, then rap the baking sheet against the oven shelf to force the air to escape from between the pan and the brownie dough. Bake for about 15 minutes. Allow to cool thoroughly, refrigerate, and cut into 20 large squares.

Ganache:
8 ounces good semisweet chocolate chips
½ cup heavy cream
1 teaspoon instant coffee granules

Cook the chocolate chips, heavy cream, and instant
coffee in the top of a double boiler over simmering
water until smooth and warm, stirring occasionally.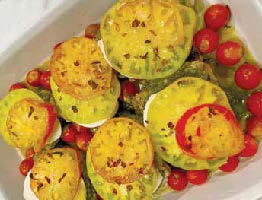 Pesto Heirloom Chicken
¼ cup all-purpose flour, or use gluten free
¼ cup grated parmesan
1 tablespoon Italian seasoning
4 boneless skinless chicken breasts
kosher salt and black pepper
4 slices thick cut bacon, chopped
3 tablespoons extra virgin olive oil
¾ cup dry white wine
1/3 cup basil pesto
8 ounces mozzarella cheese, sliced
1 ½ cups cherry tomatoes
1-2 heirloom tomatoes, sliced
chili flakes
½ cup fresh basil, torn

Preheat oven to 425°. Season chicken with salt and pepper. Mix flour, parmesan, and Italian seasoning in a shallow bowl. Dredge both sides of chicken with flour.

Cook bacon until crisp in a large oven-safe skillet. Remove bacon and set aside. In the same skillet, heat 2 tbsp. olive oil over medium heat.

Cook chicken until golden brown on both sides, about 3 minutes on each side. Reduce heat to medium low and pour in the wine. Simmer 5 minutes. Remove from the heat, arrange the tomatoes around chicken.

Spoon pesto over each piece of chicken, then add a slice of mozzarella and 1 to 2 tomato slices to each piece of chicken. Drizzle with 1 tbsp. olive oil and season with salt, pepper, and chili flakes. Bake 5 to 10 minutes, until cheese is melted. Top with bacon and fresh basil.