Satisfy Your Culinary Cravings
February 27, 2020
In Epicurean Style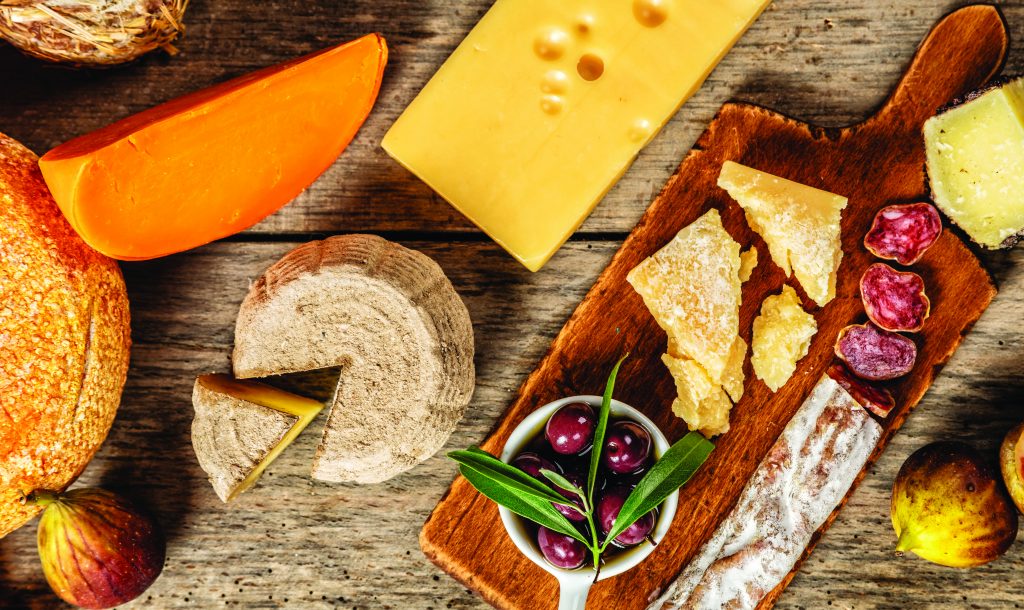 There's nothing like dining at your favorite restaurant, pub, or bistro to reconnect with family and friends. Whether your crew is craving rich, succulent steaks; scrumptious seafood plucked fresh from the sea; authentic Italian; or sustainable, plant-based vegetarian fare, you're sure to find the ideal spot since we are blessed with an abundance of choices. Here are a few of our favorite local eateries, serving everything from comforting grub to gourmet cuisine guaranteed to delight your tummy and make your taste buds sing.
A visit to Toscanova Restaurant will transport you back to Italy with its modern approach to classic Italian fare and extremely knowledgeable Italian waiters. Located in The Commons at Calabasas, the restaurant, with its chic modern decor and outdoor patio, has long been one of the area's top dining establishments. The sensuously prepared branzino mediterranea, homemade pappardelle al cinghiale with wild boar ragù, luscious pollo alla parmigiana, and calamari alla piastra are some of the most popular dishes. Customer favorites also include the grilled shrimp salad, delicious risotto with asparagus, and scampi with wild mushrooms. The authentic pizzas can be prepared with gluten-free ingredients. The Calabasas and Century City restaurants are always bustling for lunch, dinner, and happy hour.

Craving seafood? Welcome to the house that seafood built. King's Fish House provides the ultimate seafood experience–all served in atmosphere filled with camaraderie and celebration. If you are an oyster lover, King's offers the area's largest selection of fresh oysters purchased daily from shellfish farms all around the world. Sushi fans rave about the hand-cut sushi rolls and sashimi platters as well as the authentic clam chowder. You'll have a tough time deciding on which seafood entree to devour as the expansive menu boasts everything from halibut to swordfish, salmon to sea bass, and more prepared any way you want. The recent renovations have also made the bar at King's the most popular happy hour spot in town.

Acclaimed for its refined cuisine and service, Morton's The Steakhouse in Woodland Hills' Warner Center sets the standard for upscale dining. Indulge in a menu of prime-aged beef, including new features such as American Wagyu, 8-ounce butcher cuts, and Angus steaks, alongside sophisticated seafood, handcrafted cocktails, and a world-class wine collection. Whether entertaining clients, impressing a date, or simply enjoying a night out, it'll quickly be clear why this restaurant won Zagat's prestigious honor of Best Los Angeles Steakhouse Restaurant. Join the in-crowd at Bar 12.21 during 'Power Hour' for specially priced bar bites and beverages and the outdoor patio for alfresco dining. They are open for dinner daily.

The Six Chow House in Calabasas offers a rustic, cozy, American atmosphere where friends can enjoy unpretentious cuisine that is appealing and affordable to everyone. The menu offers a great collection of starters that are great for sharing along with a delicious assortment of pizzas, flatbreads, salads, sandwiches, and unique entrees. The Bourbon Room at The Six is the perfect venue for special events, soirees, and private functions. The room offers a full bar with plenty of space and flexible menu options crafted to suit all party needs. You can also reserve a private dining space to dine, dance, and celebrate inside the restaurant or on the iconic outdoor patio that captures the essence of Old Town Calabasas.

There's a new bistro and bar coming to town called Porta Via. It's already made a splash on the Westside in Beverly Hills and Pacific Palisades and promises the same high-quality experience plus new dishes created exclusively for The Commons at Calabasas. They feature fresh vegan soups and salads inspired by farmers' markets along with seasonal, ethically sourced meats and fish. Start the day with their signature grand marnier French toast, delicious huevos rancheros, organic juices and smoothies, and more. Or celebrate another grand Calabasas day over lunch or dinner with craft cocktails, artisan beers, and wines. It's the perfect spot to enjoy life and a great meal with family and friends.

Mastro's Steakhouse and Mastro's Ocean Club provide the ultimate surf 'n turf as diners choose between the inland location in Thousand Oaks or seaside Malibu venue. Whether you feast on delectable seafood towers piled high with sweet morsels of lobster and shrimp, Hamachi sashimi with crispy fried onions, decadent Gorgonzola mac and cheese, tender filet, or rib-eye chops cooked to perfection, you simply can't go wrong. From lobster benedict or whatever catch of the day catches your eye to the latest sushi creation from renowned Chef Angel Carbajal of the Nick-San restaurant in Cabo, a trip to Mastro's is a culinary adventure of pure refinement and excellence.
When you yearn for authentic Italian just like mama used to make, head over to Al Mulino in Westlake Village. Owners Gianlucca and Marta, both native Italians, ensure everything is perfecto, from their traditional, homemade, fresh, organic pasta created with imported ingredients to their spicy Pizza Napoletana crafted from an old Italian recipe requiring a long leavening process and quick cooking time in a traditional woodfire oven. Try fresh piadina romagnola, originally from the Emilia-Romagna region. Top off your meal with delicious pastries, creamy gelato, and rich espresso. Mama mia, that's Italian!

Paul Martin's American Grill is passionate about elevating America's classic cuisine by using only the highest-quality, best-tasting ingredients. The restaurant's founders, Paul Fleming and Brian Bennett, uphold industry-leading sourcing standards, and the ingredients in each dish come from suppliers that share their relentless focus on quality. Whether it's a perfectly seasoned ribeye seared on the mesquite grill or the produce that fills their salad bowls, you'll savor the quality that their thoughtfully sourced foods bring to every dish. They strive to uplift the dining experience with remarkable hospitality in a polished, contemporary atmosphere where guests can relax and unwind. Enjoy the fabulous weekend three-course prime-rib dinner, daily happy hour, and weekend brunch.

Modeled after the great grills of New York and San Francisco of the 1930s and 40s, The Grill on the Alley has become one of the most iconic restaurants in the area. Since opening its doors in 2006 at the Promenade in Westlake Village, The Grill on the Alley has been providing quality dining experiences where guests can expect excellence in the dining room. This refined and well-renowned steakhouse specializes in classic cuisine and offers guests abundant prime beef and seafood options. From the stunning bar, private dining room, and beautiful outdoor patio, it is the perfect space for any occasion.
Pearl District Restaurant & Bar are two shining pearls in Westlake Village and Sherman Oaks. Sourcing items from across town and across the globe, owner Peyman Afshar and Executive Chef Richard DeMane create mouthwatering favorites, such as crispy skin branzino and braised short ribs with Asian mustard potato puree. A range of delectable dishes merges unique flavors from Asia and North Africa with lamb, lobster, and other proteins to create a new take on American cuisine. Pair your meal with a bottle of wine from their extensive wine list. Or try a unique cocktail with names such as Purple Rain or Alberta Street as you toast the day at the long bar.

Enjoy a candlelit dinner, Sunday brunch, or romantic sunset over the lake at Westlake Village's enticing Zin Bistro. This local favorite continues to lure everyone looking to celebrate special occasions or just another perfect day. The menu includes upscale comfort food, such as fresh Maine lobster ravioli with creamy Gorgonzola alfredo sauce, gluten-free lamb lollipops in a mint cilantro pesto, and tender filet mignon. Finish the meal with Death by Chocolate, New York-style cheesecake, or crème brulee before dancing the calories away. Zin Bistro is open for weekend brunch, lunch and dinner seven days a week plus live music Thursday through Sunday.
Emil's Bake House opened its original West Los Angeles location in 1962 and established itself as L.A.'s premiere artisanal bakery. The Agoura Hills location just recently opened to rave reviews with high praise for its delicious baked goods and unsurpassed quality. The authentic European bakery features such time-honored delicacies as tiramisu, Bavarian napoleons, fresh fruit tarts, strawberry shortcakes, and infamous croquembouches. People are also raving about the freshly baked artisan bread that flies off the shelves. Emil's also offers an array of custom cakes to make any wedding or special occasion delicious. The aroma of the home-baked treats alone will keep you coming back for more. Try the creamy quiches available by the slice or baked in your own pan!
The recent renovations at Mediterraneo at the charming, Tuscan-inspired Westlake Village Inn provide one of the most picturesque dining settings in the area. The open and airy ambience and extended-patio area give guests the opportunity to view the vineyards, gardens, and enchanting lake as they enjoy their meal. The menu boasts a feast for all senses where everything is created in-house using fresh, locally sourced ingredients. Discover delicious salads and spreads, homemade pasta, premium steaks, and seafood, along with delicious deserts. A favorite is the Mediterranean-inspired, whole-pan-roasted branzino served with an authentic lemon and olive sauce that is pure perfection. They also offer vegan, vegetarian, and gluten-free options to please every palate.
Another great option on the grounds of the Westlake Village Inn is The Stonehaus, which has become the area's most popular "meeting place." Early morning risers can sip delicious coffee and cappuccinos while enjoying healthy breakfast items in this peaceful, tranquil setting. Lunch and dinner options include stone-fired pizza, salads and sandwiches, and charcuterie boards. They also serve lighter dishes, including roasted chicken served with fingerling potatoes. Enjoy these healthy dishes resembling those served in chic European enotecas with a glass or two of the private-label wines, craft beers, or cordials while enjoying live music performed by local talented artists.

Tuscany natives, brothers Damiano and Massimiliano Carrara, opened three Carrara Pastries in Moorpark, Agoura Hills, and Pasadena (set to open March 2020) to share the sweetness of their Italian culture. Pastry chef Massimiliano Carrara, a master of chocolate sculpting and sugar pulling, promises to make every day taste like a holiday with his delicious pastries and sweets. The recently expanded Moorpark location, Carrara Italian Eatery, now offers a full-service menu plus local wine and craft beer and live music every Friday and Saturday. One bite of the authentic burrata caponata, rich mushroom risotto, or fragrant truffle fries transports the senses to fields of Tuscan sunflowers under the bright Ventura sun.

Lal Mirch offers authentic Indian cuisine in the heart of the Valley. Incorporating an array of sweet-smelling spices that perfectly complement each dish, the restaurant more than lives up to its name, meaning "red chili." With a flavorful range of traditional Tandoori (clay oven) entrées and tantalizing favorites, such as hearty Mulligatawny soup, creamy shrimp tikka masala, vegetable samosas, and spicy curry dishes, Lal Mirch presents the best of Agra in Agoura Hills. From aromatic cholesterol-reducing garlic to anti-inflammatory turmeric and immune-building fenugreek, the menu will not only warm your soul but help heal your body as well.

In 2015, Agoura Hills welcomed the Twisted Oak Tavern to the neighborhood and never looked back. The menu includes a modern twist on traditional tavern fare, such as stout-braised short ribs and miso salmon. In true tavern fashion, you can always enjoy burgers and seafood dishes galore. And what's a tavern without a bar? Wash down your meal with unique and classic cocktails, house brews, or craft beers. And now, the Tavern is expanding to Old Town Camarillo with more small-batch brew to expand its already extensive beer selection—projected to open in April 2020 and continue charming the local crowds.

Take a virtual trip to New York via Brent's Deli in Westlake Village. This friendly, family-owned spot has beenserving mouth-watering mile-high sandwiches, breakfast fare,traditional blintzes, and potato latkes for more than 50 years. Treatyour family and yourself to Ron's Special Brunch with two eggsany style plus your choice of lox, cod, whitefish, or baked salmonwith cream cheese and toast, roll or bagel, tomato, onion, andhome fries plus all the coffee you can drink. They'll even deliveror cater your next party. Enjoy holidays or special events servedwith a slice of history at Brent's, voted #1 in Zagat's for years.

Of course, we can't fail to mention the bakeries and cafés offering perfect desserts to pick up for a party or if you're ready to give into a craving of your own. Before Nothing Bundt Cake stores appeared on the scene, there was a gap in the market for delicious cakes, readily available, that didn't compromise on their ingredients. Nothing Bundt Cake uses only the freshest, natural ingredients including real eggs, butter, and cream cheese to achieve perfection for that decadent, slowly melting bite we all know and love. Whether you're enjoying a bundt cake, bundtlet, or a bundtini, one thing is certain – perfection is all they offer.
Much to everyone's delight, the new Tifa Chocolate & Gelato has opened in Calabasas. Tifa is a unique experience in a dessert café setting. From the moment you enter, you are greeted with a homey feeling that's instantly welcoming.  They serve a delicious assortment of handcrafted gelato flavors with the freshest ingredients to achieve an authentic flavor with an American twist. You'll also find an assortment of artisan chocolate bars from around the world and truffles, bon-bons, caramels, and nut clusters. Don't forget to try a fresh pastry complemented by their espresso, pour-over coffee, or cold brew – a match made in heaven!
Finally, if you are looking for a perfect snack or dessert, Popped Fresh in Agoura Hills makes the highest-quality popcorn with the best ingredients. They pop non-GMO seeds in coconut oil, with options for all dietary needs—including gluten-free and vegan. Discover a world of flavors available in individual snack size, bulk sizing for event, and gift tins and baskets for any occasion. Make sure you try their delicious Sea Salt Caramel, White Chocolate Mint, Heath Toffee Almond, or Cornfetti. Popped Fresh is a gourmet popcorn lover's dream come true!
With so many exquisite options in our community, we hope you find something to satisfy your every craving. If you have yet to visit any of these dining locales, do give them a go as they more than deserve your business and you definitely deserve to treat yourself. Don't forget to keep our restaurant directory handy for each restaurant's address, phone number, and website. Buon appetito from Calabasas Style!