Enjoy a Taste of Mediterraneo in Westlake Village
January 5, 2020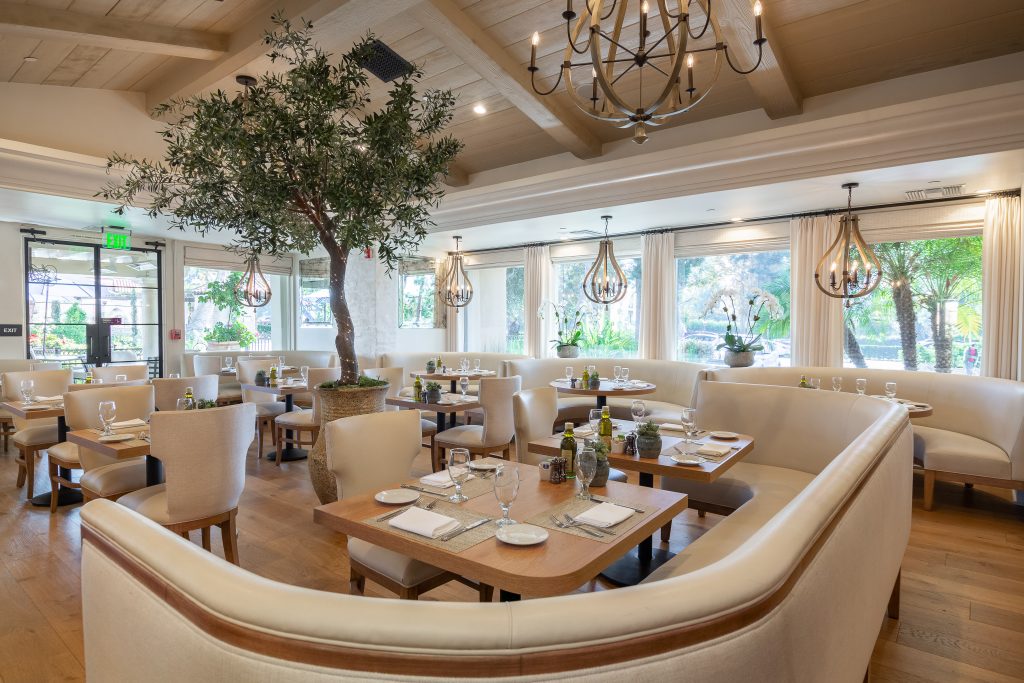 The newest item on Mediterraneo's menu is the recent six-month remodel. Located on the lush grounds of the Westlake Village Inn, the tastefully redesigned restaurant is now open for brunch, lunch, and dinner. Guests can once again enjoy the ambiance of an open-air Tuscan-inspired villa right in their own backyard.

The redesign incorporated light-colored upholstery to create a charming, airy feel. It also utilized custom-made chandeliers direct from Murano, Italy; a top-of-the-line Montague Broiler; a state-ofthe- art Waldorf Cooking Suite; and stunning artwork from Westlake Village Inn Owner John Notter's personal collection.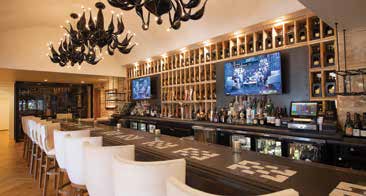 Meander through Westlake Village Inn's quaint cobblestone grounds, alive with vineyards, beautiful gardens, and an enchanting lake before or after your meal. The romantic ambiance continues with Mediterraneo's stylish vibe. Fusing sunny Mediterranean and Californian influences, the bistro specializes in serving healthy, tantalizing dishes in a romantic setting. The perfect spot for special meals with family, friends, and colleagues, the restaurant has been pleasing locals and visitors alike since 2007. The new bar is even more spacious and sleek, offering an extensive wine list plus delightful handcrafted cocktails, such as their signature Blood Orange Old Fashioned, and scrumptious bites.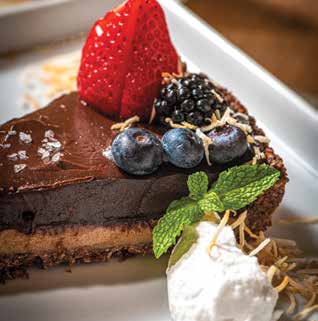 A feast for all the senses, Mediterraneo's newly revamped menu includes salatim, with some of the season's best salads and spreads, such as tahini, roasted eggplant, Israeli salad, and more, all served with fresh pita. Then there's the delicious grilled Spanish octopus, mushroom lentil kefte, homemade pasta, and a variety of Creekstone farms premium steaks, seared perfectly at 1500 degrees to ensure a caramelized crust and seasoned with steakhouse butter.
Chef Lisa Biondi creates everything in-house, incorporating plenty of vegan, vegetarian, and gluten-free options to please every palate. With a focus on fresh, locally-sourced dishes, she creates mouthwatering Mediterranean-inspired delicacies, such as a whole branzino, a Mediterraneo specialty, grilled to perfection with olive oil and thyme and served with sautéed greens and ladolemono (lemon and olive sauce). Choose from farm, bakery, or garden-fresh dishes, such as cage-free eggs, warm blueberry muffins, or seasonal fruit for a healthy take on brunch. You can't go wrong with one of the house favorites, grilled salmon and quinoa salad with baby spinach, quinoa, cucumber, avocado, tomato, and fresh herbs topped with preserved lemon vinaigrette.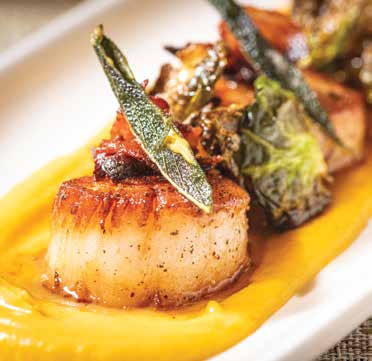 Lunch offerings include sandwiches, wraps, and healthy vegan options, like bowls such as zucchini noodles topped with corn, carrots, edamame, onion, bell pepper, tomato, cucumber, avocado, cotija cheese, and pepitas with red wine vinaigrette, and The Fresh Vegan with French lentils, saffron basmati, roasted vegetables, kale, preserved lemon, avocado, tahini sauce, and dukka. Go even more traditional with The Spaniard, overflowing with prime hanger steak, farro, avocado, zucchini, corn, tomato, and piquillo pepper with piquant romesco sauce. Or try the delicate pan-roasted branzino; hearty penne Bolognese with slow-simmered beef, veal, and pork ragu; or zesty eggplant parmesan for an authentic taste of Italy.

Those seeking the perfect setting for their next party or corporate event will be graciously served in Mediterraneo's luxurious private or semi-private dining rooms, seating 25 guests or less. Larger gatherings can spread out their cheer in their distinctive Vintage Room, featuring dramatic vaulted ceilings, a unique iron chandelier, and cozy fireplace. Guests are treated to a private entrance along a babbling creek. Inside, the reception patio offers delightful views of the lush vineyards, lake, and gardens, which would make even Van Gogh proud.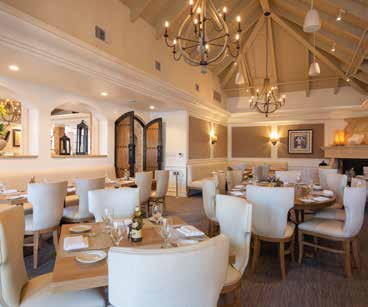 Mediterraneo is open Monday through Friday from 11:30 a.m. to 2:30 p.m. for lunch and 4:00 p.m. to 6:00 p.m. for happy hour. Dinner is served from 5:00 p.m. to 9:00 p.m. On Saturday and Sunday, Mediterraneo serves brunch from 9:00 a.m. to 2:30 p.m. and dinner from 5:00 p.m. to 10:00 p.m.
Mediterraneo
32037 Agoura Rd.
Westlake Village
818.889.9105
med-rest.com/reservations