Satisfy Your Culinary Cravings in Epicurean Style
February 28, 2019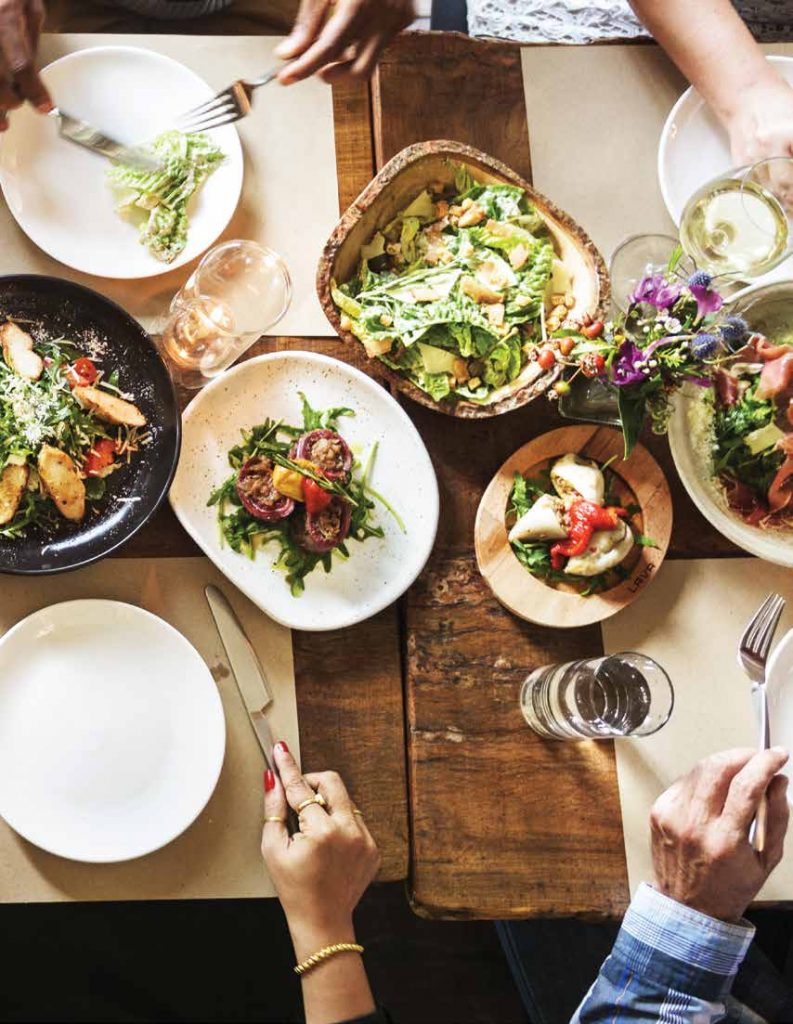 There's nothing like dining at your favorite restaurant, pub, or bistro to reconnect with family and friends. Whether your crew is craving juicy, fall-off-the-bone BBQ; scrumptious seafood plucked fresh from the sea; authentic Italian; or sustainable, plant-based vegetarian fare, you're sure to find the ideal spot since we are blessed with an abundance of choices. Here are a few of our favorite local eateries, serving everything from comforting grub to gourmet cuisine guaranteed to delight your tummy and make your taste buds sing.

When you yearn for authentic Italian just like mama used to make, head over to Al Mulino in Westlake Village. Owners Gianlucca and Marta, both native Italians, ensure everything is perfecto, from their traditional, homemade, fresh, organic pasta, created with imported ingredients, to their spicy Pizza Napoletana, crafted from an old Italian recipe requiring a long leavening process and quick cooking time in a traditional woodfire oven. Try some fresh piadina romagnola, originally from the Emilia-Romagna region, resembling a panini, with vegetables, cheeses, or salami. Top off your meal with delicious pastries, creamy gelato, and rich espresso. Mama mia, that's Italian!

Delight your palate with French, Greek, or Italian-inspired cuisine at Mediterraneo's at the charming, Tuscan-inspired Westlake Village Inn. Nestled amid 17 acres of lush gardens and fragrant vineyards, the Inn is home to several restaurants. When you're in the mood for a tasty twist on classic Italian, try this tantalizing European-style bistro. Dine inside or al fresco on the outdoor patio and let the views of their private lake transport you to sunny Italy or Provence. Treat yourself to gently poached ravioli nudi, "naked ravioli," without the pasta, dressed in a fragrant heirloom tomato sauce or hearty rigatoni Bolognese. Enjoy the journey!

For a lighter take on traditional Italian fare, visit The Stonehausat the Westlake Village Inn. Pair healthy, seasonal dishes resembling those served in chic European Enotecas with a glass or two of their private-label wine, craft beers, or cordials. Enjoy delicate thin-crust pizzas cooked in their outdoor oven seven days a week or such melt-in-your-mouth menu items as fig, considered an aphrodisiac since the days of Cleopatra; goat cheese and prosciutto panini; or earthy Moliterno black truffle cheese. Join the Stonehaus Cycling Club or Wine Club and share the camaraderie of other like-minded connoisseurs with monthly cycling and wine-tasting events, first access to limited and small production wines, and more.

From chicken meatballs in a spicy arrabiata sauce and Baja Caesar salad to shrimp in white wine and lemon garlic and mushroom ravioli immersed in a creamy marsala-reduction, Bogies is the perfect place to celebrate good times with family and friends. Sip some flavorful concoctions with such unique names as Flight of the Dragon, Tennessee Mule, and Lakeside Martini before boogying the night away during an endless variety of live music events, dance parties, and DJ nights. Located at the popular Westlake Village Inn, Bogies clearly knows how to get the party started with a daily happy hour from 5:00 p.m. to 7:00 p.m. plus lively Latin Wednesdays presented by Salseros-LA and more.

Mastro's Steakhouse and Mastro's Ocean Club provide the ultimate surf 'n turf as diners choose between their inland location in Thousand Oaks or seaside Malibu venue. Whether you feast on delectable seafood towers piled high with sweet morsels of lobster and shrimp, Hamachi sashimi with crispy fried onions, decadent Gorgonzola mac and cheese, tender filet, or rib eye chops cooked to perfection, you simply can't go wrong. From lobster benedict or whatever catch of the day catches your eye to the latest sushi creation from renowned Chef Angel Carbajal of the Nick-San restaurant in Cabo, a trip to Mastro's is a culinary adventure of pure refinement and excellence.

Executive Chef Mikiki Ando and her staff serve assorted delicacies, such as miso black cod, tender Kobe beef, and a Fire Goddess sushi roll with spicy albacore, yellowtail, avocado, and piquant ponzu at the popular Q Sushi & Kieu Hoang Wine Lounge. Located at the Shoppes at Westlake Village, the eclectic eatery offers some of the finest sushi around. Their Dynamite Special Roll, made with forbidden rice, yellowtail, cucumber, and avocado plus crispy shrimp and a mouth-watering sauce, has been called a "thing of beauty." Pair your meal with premium vintages from Kieu Hoang's Napa Valley vineyards followed by tempura chocolate dessert for a night to remember.

Take a virtual trip to New York's colorful Coney Island via Brent's Deli in Westlake Village. This friendly, family-owned spot has been serving mouth-watering, mile-high sandwiches, breakfast fare, traditional blintzes, and potato latkes for more than 50 years. Treat your family and yourself to Ron's Special Brunch with two eggs any style plus your choice of lox, cod, whitefish, or baked salmon with cream cheese and toast, roll or bagel, tomato, onion, and home fries plus all the coffee you can drink. They'll even deliver or cater your next party. Enjoy holidays or special events served with a slice of history at Brent's, voted #1 in Zagat's for years.

The Adir brothers, owners of Steakology at the Village at Westfield Topanga, vowed to turn the typically high cost of dining at traditional steakhouses on its head by creating one of the area's first modern steakhouses. Serving some of the finest USDA-prime, local, grass-fed steak on the market, they also never skimp on quality. Diners can order prime steak by the ounce, where each premium cut is individually selected, weighed, and hand carved in front of you, putting the customer in full control. Local steak lovers enjoy their "fast-casual approach to steak. There's also a lot to love beyond the reasonably priced meats, including signature salads, yummy sides, and tasty desserts.

Satisfy your sweet tooth at Cake Monkey Bakery seven days a week in Westlake Village and Los Angeles. Mastermind Lisa J. Olin and Executive Pastry Chef and Partner Elizabeth Belkind have been offering youngsters their first taste of sugar and brides their dream wedding cakes for years. Throw a party for one with a signature miniature layer cake bursting with great-big flavors, such as chocolate caramel, raspberry red velvet, and Cake Monkey carrot cake. Or try their award-winning cider-roasted apple pie, brown butter pecan pie, or chocolate cake pudding pie, which is even available in a gluten-free version. Cake Monkey Bakery also serves breakfast and lunch. Sweet!

Enjoy a candlelit dinner, Sunday brunch, or romantic sunset over the lake at Westlake Village's enticing Zin Bistro. This local favorite continues to lure lovers, friends, and families celebrating special occasions or just another perfect day. Their menu includes upscale comfort food, such as fresh Maine lobster ravioli with creamy Gorgonzola alfredo sauce, gluten-free lamb lollipops in a tangy mint cilantro pesto, and tender filet mignon. Finish the meal with Death by Chocolate, New York-style cheesecake, or crème brulee before dancing the calories away. Zin Bistro is open for weekend brunch as well as lunch and dinner seven days a week plus live music Thursday through Sunday.

Umami means "deliciousness," and that's just what you will discover at Umami Burger! Coined by the Japanese, it is the fifth taste, rich and savory, beyond sweet, sour, salty, and bitter. Located at The Lakes at Thousand Oaks, guests can sample a three-slider flight chosen from such signature burgers as the Impossible, made from plants on a vegan bun; the Manly, with bacon lardons, crispy fried onions, and melted beer-cheddar cheese; Truffle burger; and Sam's Crispy Chicken Burger. Or go all in with a full-sized burger and taste the umami. Try their new bottomless Steak Frites served with three savory sauces: curry compound butter, sweet and spicy hoisin sauce, and a tangy balsamic reduction.

Lal Mirch offers authentic Indian cuisine in the heart of the Valley. Incorporating an array of sweet-smelling spices that perfectly complement each dish, the restaurant more than lives up to its name, meaning "red chili." With a flavorful range of traditional Tandoori (clay oven) entrées and tantalizing favorites to ignite your palate, such as hearty Mulligatawny soup, creamy shrimp tikka Masala, vegetable samosas, and spicy curry dishes, Lal Mirch presents the best of Agra in Agoura Hills and Studio City. From aromatic cholesterol-reducing garlic to anti-inflammatory turmeric and immune-building fenugreek, their menu will not only warm your soul but help heal your body as well.

Fresh, local ingredients and elevated California fare make Hatch Cafe & Market in Agoura Hills the hip, new kid on the block. Restaurateur Mark LaValle, stylist Jordan LaValle, and Executive Chef Isaiah Seay designed this family-friendly spot with the same distinctive creativity that their unique food embodies. Their dining room stirs conversation with its array of contemporary art and striking arrangements of china plates and ornate mirrors. Comfortable surroundings mimic the array of comfort food on the menu with a one-of-a-kind flare. From gluten-free green tea pancakes with matcha syrup to a vegan wrap with black garlic hummus or Mia's salmon sandwich with basil horseradish aioli, your taste buds will be forever changed!

In 2015, Agoura Hills welcomed the Twisted Oak Tavern to the neighborhood and never looked back. Their menu includes a modern twist on traditional tavern fare, such as stout braised short ribs and miso salmon. Since 2019 is the Chinese Year of the Pig, why not try their pork belly bites or renowned Hogzilla? A succulent half pig's head is brined overnight in a special spice mix, oven roasted, and served on a platter. In case you'd rather not see your meal gaze up at you, you can still enjoy burgers and seafood dishes galore. And what's a tavern without a bar? Wash down your meal with unique and classic cocktails, house brews, or craft beers.

The folks at The Stand in Calabasas stand up for great food, service, and value served in a casual, friendly environment. Serving locally sourced produce, fresh-baked bread, and professionally blended ground beef, The Stand's menu is created from American classics and redefined to make each dish truly unique. They craft unique burgers, such as the Veggie Goddess, packed with veggie patty, Gruyére cheese, red onion, tomato, avocado, arugula, and green goddess dressing; The French onion soup with double parmesan-crusted bun, Gruyére cheese, red wine onions, crispy onion strings, and onion soup au jus; and El Capitan, though not to scale, piled high with a beef burger, braised short ribs, pickled red onion, fresh guacamole, and chimichurri.

Toscanova always delights with its modern approach to classic Italian fare. Located in the Calabasas Commons and Century City, the sensuously prepared branzino mediterranea, homemade pappardelle al cinghiale with wild boar ragù, and luscious pollo alla parmigiana will make you swoon. Tie the knot with grilled shrimp salad or seasonal grilled veggies. Say "I do" to perfectly cooked octopus, delicately steamed Manilla clams, or marinated Scottish salmon. Seal the deal with some decadent tortino al' cioccolato, refreshing frutti di bosco, or torta di mele warm carmelized apple tart served with cold vanilla ice cream. Your tummy will thank you for a heavenly honeymoon.

There's no place like H.O.M in Woodland Hills. This upscale yet casual Italian eatery combines the taste of home cooking with heartwarming surroundings. The saute di mare, overflowing with manilla clams, mussels, and shrimp in a spicy Calabrian chili broth, would make any Italian mama proud. Even the eggplant parm comes from an old family recipe. Pastas are made fresh with seasonal ingredients and herbs, such as porcini mushrooms, fresh basil, carmelized onions, and zesty pistachio pesto. Mains include luscious branzino seabass, grilled lamb chops, and tagliata filet mignon. Enjoy your meal with a glass or two of their regional wines. Home never quite tasted like this!

A visit to Larsen's Steakhouse in Woodland Hills, Encino, or one of the other popular SoCal locations is always special. Larsen's dry ages their prime meats to tenderize them with their own natural enzymes to make the steaks taste rich and buttery. They unlock full flavor with a two-week wet-aging process to preserve the flavor of their marvelous marbled beef. This time-honored technique ensures guests receive the most tender, delicious steaks every time. Larsen's also serves up fresh seafood, sushi, chicken, chops, and a range of mouth-watering sides and salads. They also have one of the best happy hours in town. Larsen's also offers catering to make your own special occasions truly memorable.

Visit Morton's The Steakhouse in Woodland Hill's bustling Warner Center for juicy prime-aged beef, perfectly cooked seafood, traditional cocktails, and decadent desserts plus private dining with your choice of silver, gold, platinum, and diamond menus. They'll also cater to your every whim with a variety of gluten-free and soy-sensitive menu items, plus a range of specialties to let your inner Paleo lover shine. Make your next home or office event an affair to remember with prime platters full of colossal shrimp and lobster cocktails, miniature prime cheeseburgers, steak sandwiches, and more. It'll quickly be clear why this restaurant won Zagat's prestigious honor of Best Los Angeles Steakhouse Restaurant.

You'll want to lick your lips and shout "hallelujah" once you taste the finger lickin' ribs and chicken at the Rib Ranch BBQ of Woodland Hills. In case you want to take the party on the road, they'll even cart over custom barbeque wagons to cater your event. While it's easy to fill up on their Eastern baby back pork ribs, meaty black angus beef ribs, tender BBQ mesquite tri-tip, and flavorful BBQ chicken, leave room for some apple or peach cobbler or classic pecan pie. There are also plenty of sips and suds, from fruity zinfandels to flavorful amber ales to wash it all down and relax with good friends over great grub.

The colorful food at Trejo's Cantina in Woodland Hills is as vibrant as the turquoise walls. Serving up a tapestry of flavors, the impressive list of traditional tacos includes steak asada topped with tangy citrus marinade, pepita pesto, and verde slaw; spicy shrimp with diablo sauce, pickled onions, verde slaw, and cool avocado cream; and Baja fish with beer-battered cod, pineapple salsa, and chipotle slaw on a flour tortilla. There are also unique twists on vegan tacos, such as young jackfruit with avocado cream, pico de gallo, verde slaw, and tortilla strips and cauliflower with cashew cream and pickled onions. And don't forget to try the yummy burritos, bowls, and quesadillas. Oh, my!

With so many exquisite options in our community, we hope you find something to satisfy your every craving. If you have yet to visit any of the dining locales, do give them a go as they more than deserve your business and you definitely deserve to treat yourself. Don't forget to keep our restaurant directory handy for each restaurant's address, phone number, and website. Buon appetito from Calabasas Style!