Rosti: Fresh Summer Salads
July 3, 2017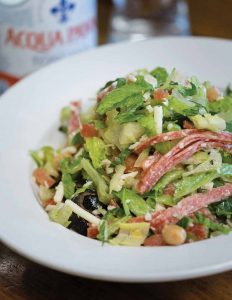 Rosti Tuscan Kitchen in Calabasas has always been a local favorite for pizza, pasta, and Tuscan specialties like brick-pressed "Pollo Al Mattone" chicken. Recently, we found out that they also have some of the tastiest salads around! Rosti offers over 15 farm-fresh salads with produce sourced locally from California farms.
The vast array of choices include traditional Italian flavors, hearty salads packed with grilled chicken and fish, and innovative flavor combinations of dried fruits, nuts, and cheeses. Three summer favorites include the arugula and fig salad, seared ahi tuna salad, and the grilled chicken and pear salad.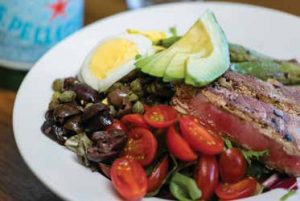 The arugula and fig is a mix of arugula, toasted hazelnuts, endive, caramelized onion, and goat cheese drizzled with honey balsamic dressing. The seared ahi salad includes grilled asparagus and tangy lemon vinaigrette, while the chicken and pear salad is a combination of grilled chicken, mixed greens, juicy pears, Gorgonzola cheese, and candied pecans, topped with sweet anise vinaigrette. If you want to go with traditional flavors, the hearty antipasti salad is packed with Italian salami, mozzarella cheese, fresh veggies, and a delicious thyme vinaigrette made with fresh herbs.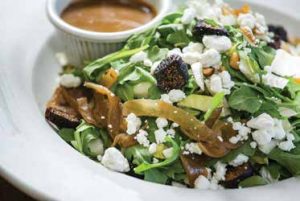 More hearty choices include the BBQ ranch salad with chopped romaine, grilled chicken, diced tomatoes, avocado, and grilled corn tossed in a tangy BBQ ranch dressing, and the summer strawberry salad with crispy chicken, fresh strawberries, goat cheese, and candied pecans on a bed of baby spinach, tossed with aromatic anise vinaigrette.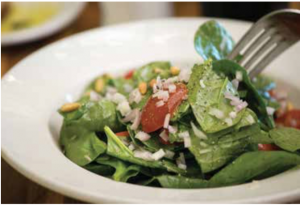 Rosti's year-round menu plus seasonal menus can satisfy any craving or special diet. Nothing pleases the palate more in any season than a mouth-watering, wood-fired pizza over-flowing with melted cheese and seasonal ingredients. But for those following special diets, Rosti has great options. There is a vegan menu for those on a plant-based diet or simply trying to put more veggies in their lives and a gluten-free menu too, with delicious gluten-free pizza, penne, and spaghetti.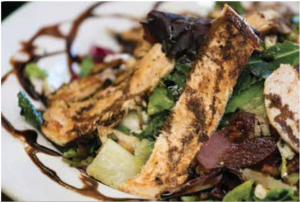 The summer seasonal menu includes Heirloom Tomato and Avocado Crostini with cherry tomatoes and avocado atop garlic crostini drizzled with balsamic reduction or refreshing chilled gazpacho with chunks of avocado.
There's nothing better than sharing a meal with friends and family while dining al fresco. Rosti's flower-filled patio is a perfect place to watch the sunset. If you prefer to dine inside, the ambiance feels reminiscent of a Tuscan family farmhouse, with wooden butcher-block tables and red farmhouse chairs. From the welcoming smiles of attentive wait staff to the comfortable atmosphere and Tuscan-in-spired menu, Rosti is the perfect spot to enjoy a casual summer meal with family and friends.
ROSTI Tuscan Kitchen
23663 Calabasas Rd. Calabasas
818.591.2211
310.709.1799 for catering
RostiTuscanKitchen.com
By Lori Berezin
Photography by Marvin Steindler