Mocktails
April 6, 2020
Not just for kids anymore!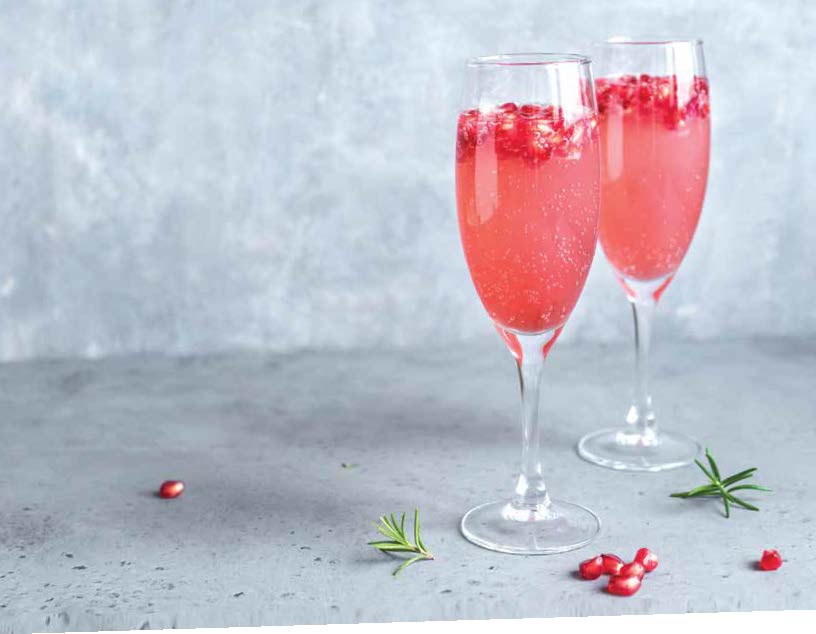 What could be better than a fruity pomegranate martini? Perhaps, an even healthier mocktail—"mock" plus "cocktail"— without any vodka might do the trick. Mocktails seem to be gaining popularity at bars and restaurants this year beyond "Dry January," when people typically recover from the holidays by going alcohol-free.

Mocktails simply taste too delicious to confine to just one month. Those sweet childhood classics, Shirley Temple, made from grenadine, lemon-lime soda, and ginger ale, and Roy Rogers, with cherry cola, grenadine, and pomegranate syrup, are even making a comeback for grown-ups. And who can forget the colorful tequila sunrise cocktails of our youth? Now, you can take a sip of paradise without the tequila for a virgin sunrise that makes waking up so much easier.

Don't worry, be happy
Fueled by our desire for healthier alternatives, the mocktail utilizes exotic flavors and superfoods, such as coconut, turmeric, and fizzy kombucha. Mocktail drinkers prefer an added boost or relaxation to a hangover. We're using more herbs, such as ashwagandha, which may assist brain function and lower cortisol and blood sugar, along with ginger, cinnamon, and fragrant rosemary. One popular mocktail called Anima Mundi's Euphoria Elixir combines guarana seeds; yohimbe bark; Catuaba bark; muira puama; hibiscus flower; damiana leaf, considered an aphrodisiac; schizandra berries; Goji berries; rose petals; and night-blooming jasmine to help chase those blues away.

The year of the mocktail
Hard seltzers with only 5% alcohol and alternatives with even less continue to trend. Fruit—such as sweetly tart Meyer lemons; prickly pear, rich in antioxidants, carotenoids, and essential fatty acids; blood-pressure-reducing hibiscus; exotic yuzu, a grapefruit; and mandarin oranges—continues to find its way into our beverages this year. From colorful red beets and vinegar shrubs that improve digestion to health-boosting kombucha and green matcha, 2020 promises to be the year of the mocktail.