Local Flavor
March 1, 2021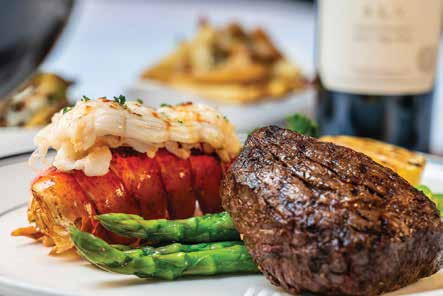 The Grill on the Alley
Since opening their doors in 2006, The Grill on the Alley in Westlake Village has provided quality dining experiences where guests can expect excellence in a relaxed and refined atmosphere. With brunch service on weekends and social hour 7 days a week from 3 to 6 p.m., guests can also enjoy al fresco dining on their rose garden patio. The classically-inspired steakhouse menu and uniquely personal service makes The Grill on the Alley an ideal spot for any occasion. The Promenade at Westlake: 120 Promenade Way, Westlake Village. 805.418.1760. thegrillonthealley.com. IG: @thegrillonthealleyla.
---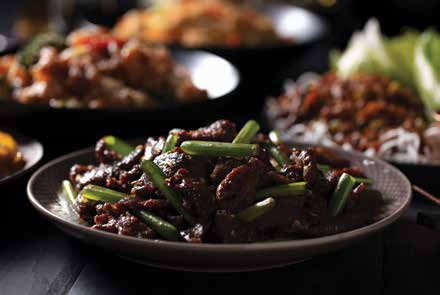 P.F. Chang's
Founded in 1993 by Philip Chiang and Paul Fleming, P.F. Chang's is the first internationally recognized multi-unit restaurant concept to honor and celebrate the 2,000-year-old tradition of wok cooking as the center of the guest experience. With roots in Chinese cuisine, today's menu at P.F. Chang's spans across all of Asia, honoring cultures and recipes from Japan, Korea, Thailand, and beyond. Each item offers a unique exploration of flavor, whether it's a handcrafted cocktail, lunch bowl, happy hour bite, or multi-course dinner. The Lakes at Thousand Oaks: 2250 Thousand Oaks Blvd., Thousand Oaks. 805.277.5915. pfchangs.com. IG: @pfchangs.
---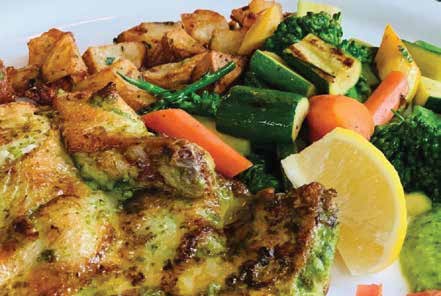 Farfalla Trattoria
Trattoria Farfalla has been serving a variety of robust, authentic Italian dishes to the Westlake Village community since 2009. They are thrilled to invite their loyal patrons back to the restaurant for a safely-distanced, outdoor dining experience on their spacious, covered patios. Chef Santino Coccia consistently adds special dishes to the menu using local, seasonal flavors and organic produce whenever possible. This modern trattoria is far from just pizza and pasta, also offering a full bar. Please book reservations via Resy. The Promenade at Westlake: 160 Promenade Way, Westlake Village. 805.497.2283. farfallawestlakevillage.com. IG: @farfallatrattoriawestlake.
---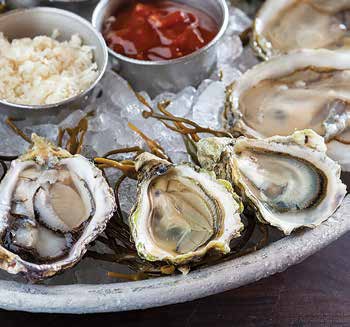 King's Fish House
Welcome to the house that seafood built! King's Fish House provides diners with the ultimate seafood experience. Enjoy the area's largest selection of fresh oysters harvested daily from shellfish farms around the world and a huge selection of seafood entrees like lobster, salmon, halibut, swordfish, mahi mahi, and sea bass prepared to your preference. Fresh sushi platters are also available. Their gorgeous, expanded outdoor patios make King's the ideal dining destination for lunch and dinner. The Commons at Calabasas: 4798 Commons Way, Calabasas. 818.225.1979. kingsfishhouse.com. IG: @kingsfishhouse.
---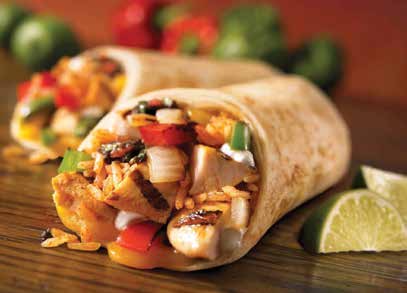 Julio's Agave Grill
So much more than your average Mexican restaurant, Julio's Agave Grill elevates traditional Mexican fare, bringing you food from South of the Border that you've always known and loved in an upscale, elevated dining experience. Their mouthwatering prime steak, fresh seafood, locally-sourced produce, and array of delicious juices, mixes, and margaritas are perfect to enjoy with friends any time of day. Stop by for lunch, dinner, or a night cap and leave with a smile! 2809 Agoura Rd., Westlake Village. 805.370.0145. julioswestlakevillage.com. IG: @julios.agave.grillwestlake.
---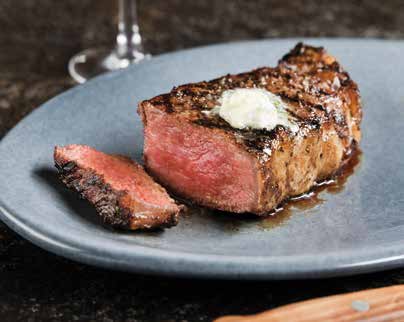 Paul Martin's American Grill
Paul Martin's American Grill is on a mission to make the food America loves set to a higher standard and all served in an environment of convivial and remarkable hospitality. Our energetic bar features communal family-style seating, while our dining room offers intimate booths and tables. Enjoy the warm interior, or opt for our outdoor patio and relax under the trees. Paul Martin's also offers takeout, curbside pickup, and delivery for our guests who prefer to dine at home. The Promenade at Westlake: 100 S. Westlake Blvd., Westlake Village. 805.373.9300. paulmartinsamericangrill.com. IG: @paulmartinsag.
---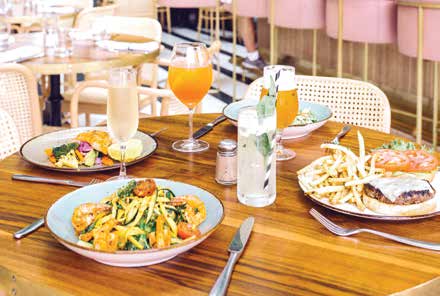 Porta Via
One of the newest bistros to the area, Porta Via has been an instant hit based on the popularity and reputation of their Beverly Hills and Pacific Palisades locations. Their inspiring menu is designed to be both classic and creative, with just the right amount of imagination to always give their patrons the feeling they're at a "special" place. You'll find fresh vegan soups and salads inspired by farmers markets along with seasonal, ethically sourced meats and fish. Open daily for breakfast, lunch, and dinner. The Commons at Calabasas: 4799 Commons Way, #J, Calabasas. 818.746.2400. portaviarestaurants.com. IG: @portaviaca.
---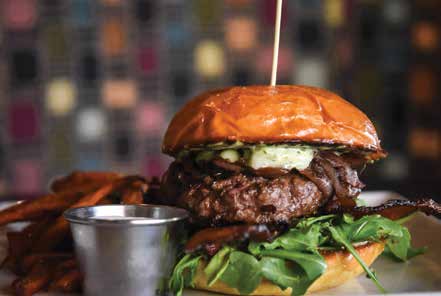 Twisted Oak Tavern & Brewery
From miso-glazed salmon served over
warmed red potato salad to a mouthwatering burger made from fresh, locally-sourced ingredients, Twisted Oak Tavern puts a modern twist on traditional tavern fare. With appetizers including indulgent Chicken N Waffle Bites or lighter alternatives like Roasted Brussels Sprouts, your taste buds are guaranteed to dance with delight. Their full bar offers over 30 beers on tap, including their own craft beer brewed on site. 30105 Agoura Rd., Agoura Hills. 818.735.0091. 2433 Ventura Blvd., Camarillo. 805.586.4005. twistedoaktavern.pub.
---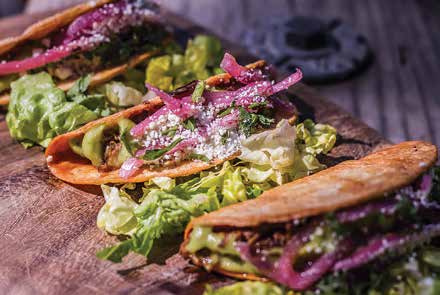 The Six Chow House
The Six Chow House serves up unpretentious,
rustic American cuisine in a cozy atmosphere.
Choose from a great collection of starters that are perfect for sharing with friends along with an assortment of delicious pizzas, flatbreads, salads, sandwiches, and unique entrees. Savor the variety of flavors from their diverse menu paired with fabulous craft cocktails and delicious brews on their iconic outdoor patio that captures the essence of Old Town Calabasas. 23536 Calabasas Rd., Calabasas. 818.222.6969. thesixrestaurant.com. IG: @thesixcalabasas.
---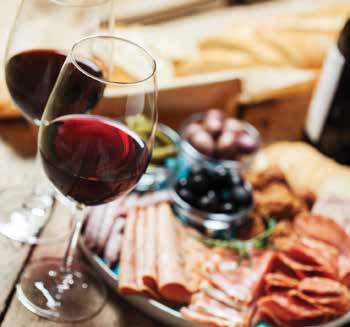 The Stonehaus
The Stonehaus is one of the area's most popular meeting places from morning to night. The venue offers the ideal setting to relish in the fresh morning air with a cup of coffee and healthy breakfast or indulge in a glass of their private label wine while unwinding with friends. Small plates, lunch, and dinner options include wood-fired pizzas, fresh salads, mouthwatering sandwiches, and entrées such as the delicious roasted chicken served with fingerling potatoes –using only the finest ingredients. Westlake Village Inn: 32039 Agoura Rd., Westlake Village. 818.483.1152. the-stonehaus.com. IG: @thestonehaus.
---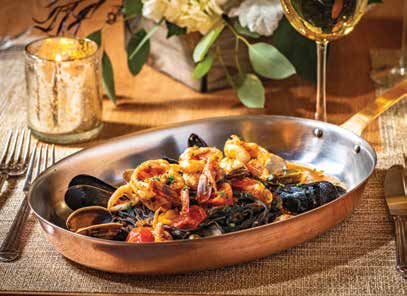 Mediterraneo
Mediterraneo brings the culinary excellence and stylish atmosphere
of a classic European bistro to Westlake Village, featuring a diverse
menu of California favorites, Italian dishes, and Mediterranean staples. Its fare is fresh, locally sourced, nutritious, and wonderfully delicious! The expansive outdoor patio is perfect for sipping their inspired craft cocktails or wine from their unparalleled wine selection. From brunch to dinner and everything in between, Mediterraneo is the perfect spot to bring your family, friends, and colleagues for an unforgettable experience. Westlake Village Inn: 32037 Agoura Rd., Westlake Village. 818.889.9105. med-rest.com. IG: @mediterraneowestlakevillage.
---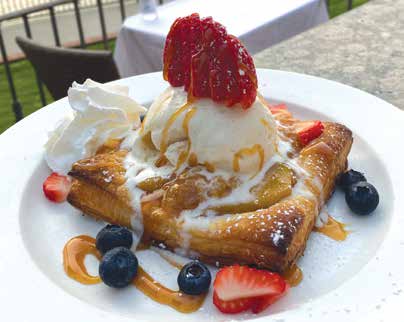 Zin Bistro Americana
Nestled lakeside in Westlake Village, Zin Bistro Americana features a scenic firelit patio, spacious bar, lounge area, and lakefront dining. The romantic ambiance and beautiful surroundings are matched by the exceptional dishes and comfort food that reflect the nostalgic cuisine and synergistic blending of cultures that make up America. Champagne brunch is served every Sunday. Indulge in the Bananas Foster waffle or opt for a health-conscious Protein Benedict. No matter your choice, you are sure to be delighted. 32131 Lindero Canyon Rd. #111, Westlake Village. 818.865.0095. zinwestlake.com. IG: @zinbistro.
---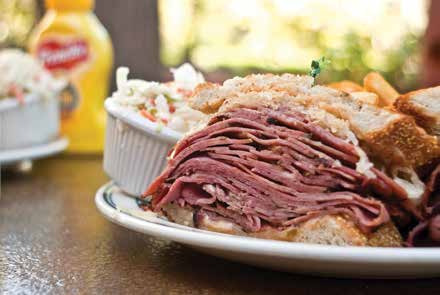 Brent's Delicatessen
Combining family values with quality ingredients
and high standards created a recipe for long-standing success at Brent's Deli. A family-run business since 1969, Brent's is perpetually voted one of the best delicatessen in Los Angeles and Southern California, offering delivery anywhere in Southern California. From award-winning Reuben sandwiches to nostalgic Matzo ball soup, Brent's not only features more than 650 scrumptious menu items, but also offers complete catering for events ranging from simple celebrations to large corporate events. 2799 Townsgate Rd., Westlake Village. 805.557.1882. 19565 Parthenia St., Northridge. 818.886.5679. brentsdeli.com.
---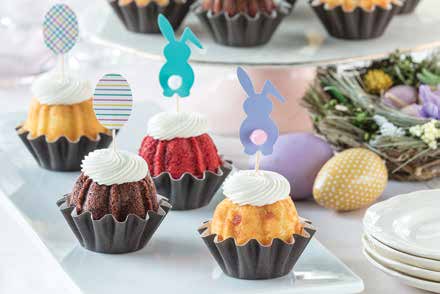 Nothing Bundt Cakes
Nothing Bundt Cakes' goal is to bake a cake that not only reminds you of home but also opens you to a new world. Each handcrafted recipe uses the finest ingredients including real eggs, butter, and cream cheese to bring you Bundt cake perfection. Order in a variety of sizes, including bite-size Bundtinis by the dozen. Choose from nine delicious flavors with beautiful decorations for birthdays, holidays, or special occasions. Kosher certified. Platt Village Shopping Center: 6524 Platt Ave., West Hills. 818.340.2253. 215 N. Glendale Ave., Glendale. 818.945.9010. nothingbundtcakes.com.
---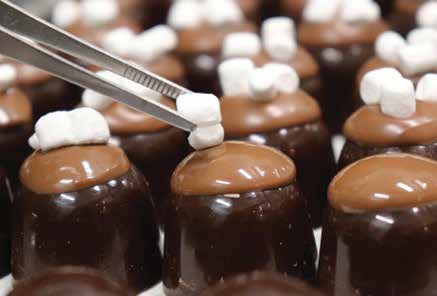 Tifa Chocolate & Gelato
Tifa Chocolate & Gelato offers a unique dessert
experience. Here you will find a delicious blend of handcrafted traditional gelato and sorbetto flavors to please any palate, including flavors that are dairy-free and sugar-free. They also offer an assortment of artisan chocolate bars from around the world and make their own unique truffles, bon bons, caramels, and nut clusters using quality ingredients. For a special treat, try their fresh pastries, cookies, espresso, pour-over coffee, and cold brew. Gift cards and custom gift boxes make perfect gifts. Parkway Calabasas Shopping Center: 23655 Calabasas Rd., Calabasas. 818.912.6911. tifachocolateandgelato.com/calabasas-ca.
---