Everyone's a Winner at Casa Pacifica's 9th Annual Yummie Culinary Competitions
July 10, 2019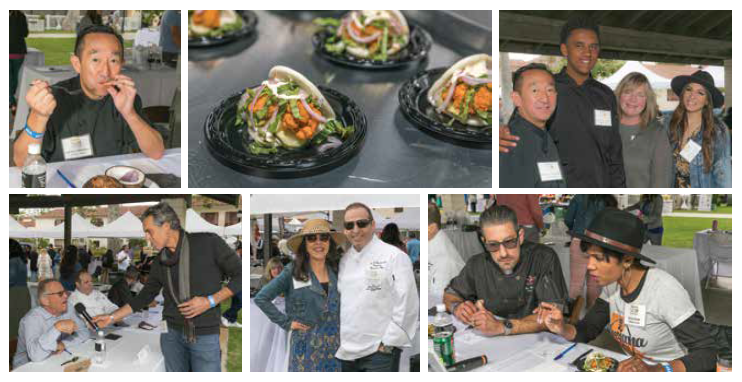 Thousands of hungry revelers arrived at the 26th Annual Angels Wine, Food & Brew Festival this June 2 hosted by Casa Pacifica Centers for Children and Families, a local crisis-care and residential treatment facility for foster children and at-risk youth with complex emotional or behavioral issues. A fan favorite, the Yummie Culinary Competition, also took place during the festival on the California State Channel Islands campus.

Actor Oded Fehr, best known for his recurring role in The Mummy movies, returned as emcee of the 9th Annual Yummie Culinary Competition. Over 20 exhibitors competed for the top prize in either the savory or sweet category. Chef Abdu Romero of SLATE Bistro won the first-place award for his savory coconut shrimp on Okinawan potato, while Chef Julia San Bartolome of Sweet Arleen's was awarded the top prize for her sweetly scrumptious tequila-infused Mexican hot leche chocolate cake.

Judges included celebrity Chef Eric Kopelow; Chef Masa Shimakawa, chef de cuisine of ONYX at the Four Seasons Hotel Westlake Village; Master Chef competitor, fashion stylist, and creative consultant Olivia Crouppen; Lisa McKinnon, food columnist for the Ventura County Star; Billy Koskoff, owner of The Moveable Feast; Chef Nic Manocchio of University Auxiliary Services at California State University Channel Islands; Actress Denise Boutte, co-author of Southern Modified and CEO of Weeziana Girl Spices; and Chef Carson Peterson, Top Chef Jr. Season 2 contestant.

Second place sweet and savory winners included Chef Anastasia Chavez of The 2686 Kitchen/Ojai Beverage Company for her heavenly lemon verbena cheesecake and Chef Jeff Downey of The Saticoy Club for his sensational grilled octopus dish. Chef Alex Castillo of Twenty88 Bistro took home the third-place savory prize for his mashed fried plantain cake topped with slowcooked pork belly, blood orange, and quince glaze, while Chef Alex Montoya of Fluid State Beer Garden placed third for his sweet bourbon butterscotch Oolong frozen custard.

Everyone attending this year's culinary competition and food festival was truly a winner, helping Casa Pacifica raise more than half a million dollars.