Epicurious
November 17, 2017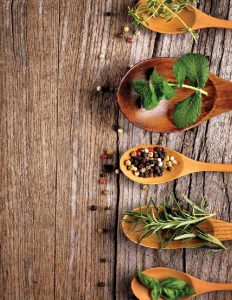 Local chefs share their favorite holiday recipes.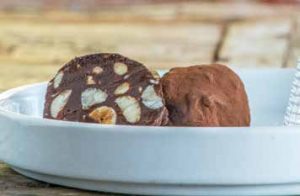 Mediterraneo: Nutella Chocolate Truffle
Ingredients
1 cup dark chocolate morsels
1/3 cup Nutella
1/2 cup cream
2 tbsp. butter
3/4 cup chopped hazelnuts, toasted
Cocoa powder, for dusting
Directions
Put dark chocolate, Nutella, cream, and butter in a bowl. Place bowl in a double boiler and heat until melted. Fold in the chopped hazelnuts. Transfer to a Pyrex container, cover with plastic wrap, and chill for at least two hours, or until chocolate becomes firm enough to scoop into balls.
Scoop chocolate using a small scoop or teaspoon and form into balls in the palm of your hands. If the truffles start to stick to your hands, dust your palms with cocoa powder, then continue to roll. Dust each truffle with cocoa powder. Refrigerate in an airtight container, but bring to room temperature before serving for best taste and texture.
For variations, you may leave hazelnuts out of chocolate mixture and instead roll truffles in finely chopped hazelnuts. Also, you may add 1 tablespoon of espresso powder one and one-half tablespoons of coffee liqueur or 2 tablespoons orange liqueur and one teaspoon grated orange zest.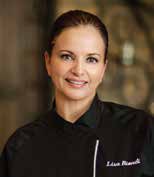 Mediterraneo
32037 Agoura Rd.
Westlake Village
818.889.9105
med-rest.com
Chef Lisa Biondi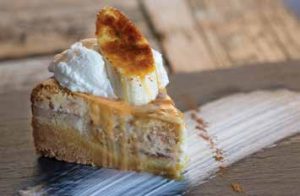 The Stonehaus: Banana Rum Cheesecake
Ingredients
Cake
1 box yellow cake mix
1 egg
4 oz. unsalted butter, melted
Banana Layer
2 tbsp. unsalted butter
¼ cup brown sugar
½ tsp. cinnamon
3 tbsp. dark rum
3 large firm bananas,
sliced
Filling
16 oz. cream cheese, .room temp
½ cup sugar
2 eggs
2 tsp. vanilla extract
1 cup toffee bits
Directions
Cake: Preheat oven to 325 degrees low fan for convection oven, 350 degrees for regular oven. Lightly grease a 9" springform pan. In large mixing bowl with electric mixer, paddle attachment combine cake mix, eggs, and melted butter, and mix until smooth and combined. Press evenly into bottom of prepared pan.
Banana Layer: Heat sauté pan over medium high heat and add butter and sugar until melted and bubbling. Stir in rum and cinnamon, add bananas, and stir to coat. Pour evenly over crust.
Filling: In same mixing bowl, beat cream cheese and sugar until smooth. Add eggs and vanilla mixing until smooth. Mix on low to medium heat to avoid beating too much air into the batter. Stir in toffee bits. Pour batter over bananas smoothly, evenly, and tap on counter to avoid air bubbles. Place pan on baking sheet and bake 60-75 minutes. Cake top will brown, but you can tent with foil after 30 minutes to avoid overbrowning, just make sure foil doesn't touch cake. Cook until set around edges, but still jiggly in center. Cool on rack to room temperature, then refrigerate at least six hours or overnight.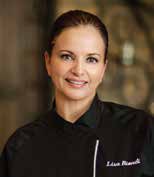 Stonehaus
32039 Agoura Rd.
Westlake Village
818.483.1152
the-stonehaus.com
Chef Lisa Biondi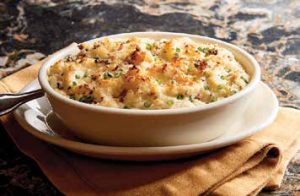 Morton's The Steakhouse: Mashed Black Truffle Cauliflower
Ingredients
2 lbs. cauliflower, trimmed, cut into florets
5 garlic cloves, sautéed in olive oil until soft and golden brown
3 tbsp. cream cheese
½ cup butter, unsalted
1 cup parmesan cheese, grated and 6 tbsp. to top dish
½ cup heavy cream
¼ cup half and half
1 tbsp. black truffle shavings
½ tsp. truffle oil, white
1 ½ tsp. salt and ½ tsp. black pepper
Directions
Set up a steamer on the stove. When the water is boiling, add the cauliflower to the steamer. Do not boil the cauliflower directly in the water. Cover the steamer and steam the cauliflower for approximately 10 minutes, until tender. Not al dente, but not mushy. Meanwhile, sauté the garlic until soft and golden brown. Place the cauliflower into a food processor or blender. Mix at medium speed until well broken up, but not pureed. Add all of the other ingredients except the truffles. Continue to blend until fairly smooth. The mix should still have bits of cauliflower, not completely pureed smooth.
Remove the mix and place it in a mixing bowl. Fold in the truffles. Divide the mix between three oven safe serving dishes. Top each dish with grated parmesan cheese. Preheat the oven to 350 degrees. Bake the mashed cauliflower for approximately 10 to 12 minutes until cheese is golden brown. Serve immediately.
MORTON'S THE STEAKHOUSE
6250 Canoga Ave.
Woodland Hills
818.703.7272
mortons.com/woodlandhills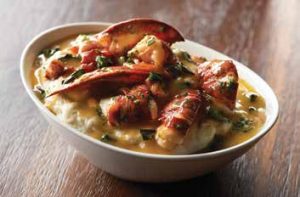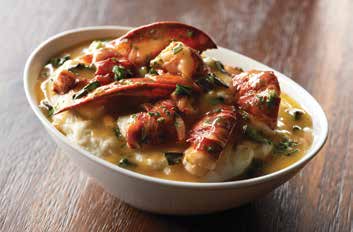 Mastro's: Lobster Mashed Potatoes
Ingredients
16 oz. garlic mashed potatoes
One each 1 1/4 lbs. live Maine lobster, fully cooked
1 oz. heavy cream
3 oz. whole salted butter, softened
2 tsp. Old Bay seasoning
2 tbsp. charred scallions (we recommend taking scallions and putting them on the grill to char them, it really adds to the flavor)
2 tsp. fresh chopped parsley
Directions
Start with 16 oz. of garlic mashed potatoes, and keep hot until serving. Remove the shell from the cooked lobster, reserving all the edible meat. Chop up the lobster meat and add it to a medium sauté pan over medium-high heat. Add 1 oz. heavy cream and 3 oz. whole salted butter. Add 2 tsp. of Old Bay seasoning, and bring the lobster to a low simmer, until the butter has melted and the seasoning has been incorporated completely. The mixture should be hot and frothy, creamy and still emulsified. Add 1 tbsp. of the charred scallions.
Place and mound the hot garlic mashed potatoes into a large bowl for serving. Spoon the hot pieces of lobster meat and pour melted butter sauce over the top of the garlic mashed potatoes using all the lobster and all the butter sauce. Garnish with the remaining 1 tbsp. charred scallions, sprinkle with chopped parsley, and serve immediately.
MASTRO'S
2087 E. Thousand Oaks Blvd.
Westlake Village
805.418.1811
mastrosrestaurants.com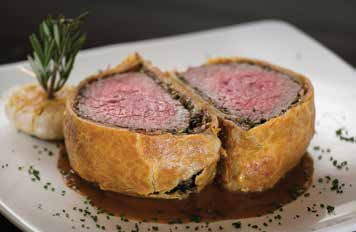 Larsen's Steakhouse: Beef Wellilngton
Ingredients
8 inch square of Puff Pastry
12 oz. dry aged Fillet Mignon (wet aged works just fine)
1 cup mushrooms
1 tbsp. thyme
1 tbsp. shallots
6 slices of prosciutto
1 tbsp. Dijon mustard
1 egg yolk
Directions
Chop and sauté mushrooms, thyme and shallots until all water is evaporated. Slice prosciutto thin and layer on the puff pastry. Allow the sautéed mushrooms to cool and place on top of the prosciutto. Season and sear off the filet. Allow to cool and then brush the filet with Dijon mustard and place on top of the mushrooms. Wrap the puff pastry around the filet and brush with egg wash. Bake at 350˚F for 30 minutes. Allow to rest for at least 5 minutes before slicing.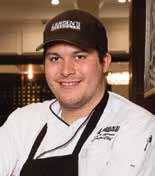 Larsen's Steakhouse
6256 Topanga Canyon Blvd.
Woodland Hills
818.704.1226
larsensrestaurants.com
Chef Logan Shumar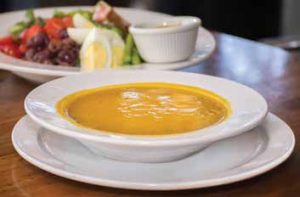 Rosti: Butternut Squash Soup
Ingredients
2 medium white potatoes (peeled and cubed) soaked in water
2-3 cloves chopped garlic
3 stalks celery
1 zucchini
¼ yellow onion
2 large butternut squash (peeled and cubed, seeds removed)
5 basil leaves
Parsley
Olive oil
1 tsp. salt
½ tbsp. black pepper
1 tbsp. sugar
¼ cup grated parmesan cheese
4-5 quarts water
Directions
In a large pot, add olive oil, garlic, sugar, zucchini, celery, and onion. Cook vegetables for 15 minutes on medium-high heat, until caramelized. Drain the potatoes, then add the potatoes, butternut squash, basil, and parsley to the cooked vegetables, salt, and pepper. Cook for approximately 30 minutes. Stir occasionally. Next, add water and cook for 15-20 minutes. Let
soup cool, add the grated parmesan, and blend in a blender. You may need to blend it in a couple of different batches. Add salt to taste. Place in container and chill. Store in fridge, and use as needed.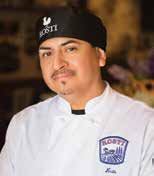 Rosti
23663 Calabasas Rd.
Calabasas
818.591.2211
rostituscankitchen.com
Chef Luis Garcia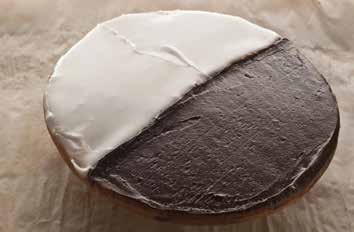 Brent's Deli: Black and White Cookies
Ingredients
Cookies
2 ¼ cup white cake mix
1 cup + 2 tbsp. pastry flour
1 cup granulated sugar
¾ cup pastry margarine
5 eggs
½ cup 2% Milk
1 3/4 tbsp. lemon flavoring
Frosting
1 ½ cup powdered sugar
1 cup chocolate fudge
3 ¾ tbsp. corn syrup
Directions
Preheat oven to 350˚F. Combine cake mix, pastry flour, sugar, eggs, milk, and lemon flavoring and mix until all blended together. Then add pastry margarine until blended, usually no longer than a minute or two. To form cookies, use a pastry bag to get the rounded shape. Bake cookies for 15 minutes, or until the edges of the cookies are a light brown. An inserted toothpick
should come out clean.
Frosting the Cookie
Mix corn syrup with the powdered sugar until you have smooth frosting with no lumps. After allowing the cookies to cool, frost one half of the cookie, then allow that side to completely settle. Mix together chocolate fudge with a small amount of hot water and a very small amount of corn syrup to break up the thickness of the fudge. Once you've frosted the other half of your cookie, your cookies are ready to enjoy.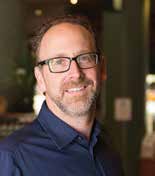 Brent's Deli
2799 Townsgate Rd.
Westlake Village
805.557.1882
brentsdeli.com
for more locations
Partner Marc Hernandez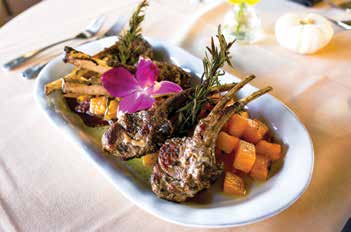 Zin Bistro Americana: Holiday Rack of Lamb 
Ingredients
18oz. rack of lamb
1 Granny Smith apple, peeled, cored & cubed
4 thyme sprigs
10 oz. butternut squash, cubed
½ tsp. ground cinnamon
½ oz. light brown sugar
½ oz. candied pecans
¼ tsp. red pepper flakes
Olive Oil
Garlic
Fresh sage
Fresh rosemary
Salt & pepper
Directions
Peel, core, and slice the apple. Marinade the rack of lamb for 15 minutes with garlic, salt, pepper, 2 sprigs thyme, rosemary, and sage. On one side of baking sheet, toss the thyme and butternut squash with olive oil, salt, and pepper. Roast for ten minutes. Cook the rack of lamb on a medium non-stick pan over medium heat, coated in olive oil. (MR: 8-10 minutes, M: 12-14 minutes, MW: 14 16 minutes, W: 16-18 minutes). Add olive oil and apple cubes to a hot pan. Sprinkle with half the cinnamon, and toss to coat. Cook for about 4 minutes, until the apples soften. Add brown sugar, half the candied pecans, 1/3 cup water, and red pepper to the apple pan. Stir and bring to a simmer for about 2 minutes, until the sauce reduces to a light glaze. Season with salt and add remaining cinnamon. Place the roasted squash on one side of a rectangular plate and spoon the caramel sauce on the other. Garnish with thyme and remaining candied pecans.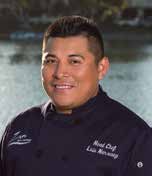 Zin Bistro Americana
32131 Lindero Canyon Rd., #111
Westlake Village
818.865.0095
zinwestlake.com
Chef Luis Narvaez