'Tis the Season for Larsen's Steakhouse
November 16, 2017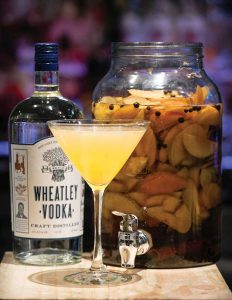 There's no better way to celebrate the holiday season than to gather with friends and family for a great meal. Larsen's Steakhouse in Woodland Hills offers all the tender aged meat and succulent seafood you crave.
"The Larsen's dining experience is like no other," notes Charles Shumar. "We value our great relationships with the members of our communities. Our staff are seasoned professionals who are committed to a higher standard of guest service. This is what separates us from our competition."
For the past two years, Chef Logan Shumar and his brother, General Manager Charles Shumar, have been serving perfectly aged steaks and mouthwatering chicken and seafood to discerning guests at The Village at Topanga. Both brothers attended Calabasas High School, where they were enrolled in the inspirational culinary program taught by Chef Kerri Allen. Larsen's also manages several other locations throughout Southern California and Nevada. The company started in Encino in 2008. Owner Flemming Larsen has had an extensive career that includes establishing several restaurants, a butcher shop, and a market.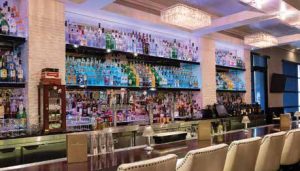 Aging gracefully
Larsen's dry ages their prime meats to tenderize the steaks with their own natural enzymes. This makes the steaks taste more rich and buttery. They unlock full flavor with a two-week wet-aging process to preserve the flavor of their marvelous marbled beef. This time-honored technique ensures guests receive the most tender, delicious steaks every time.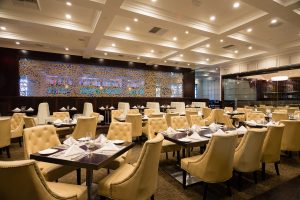 For those diners seeking something other than masterly prepared steaks, Larsen's also offers delectable king crab legs, gigantic chilled seafood towers stuffed with sweet snow crab claws, briny oysters, shrimp, mussels, and succulent lobster tail. Their fresh fish and other seafood are flown in daily and served directly from the sea to your table. They also offer hearty salads and tasty soups, such as a classic Caesar, burrata and tomato salad, and French onion soup. Their rich, buttery lobster bisque will make any seafood lover blush with delight. And the Alaska king crab still retains the refreshing flavor of ice-cold northern seas.
Choose your sides
At Larsen's, it's a pleasure to eat your veggies, especially when they come so deliciously prepared. Panko-crusted onion rings, sugar snap peas, lobster mashed potatoes, and purple cauliflower gratin are just a few of the scrumptious sides to get you in the mood for the main course.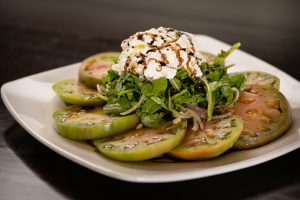 Sipping
If you've come in search of the perfect cocktail, Larsen's delivers. Try their Cinnamon Penicillin with Highland Park 12 Scotch, lemon juice, honey and ginger syrup, and a touch of cinnamon. It'll cure whatever ails you, making you feeler better in no time. The Larsen's Standard is their refreshingly appealing house cocktail, with muddled cucumber, mint, simple syrup, and your choice of Tanqueray 10 Gin or Kettle One Vodka shaken and served up with a crisp cucumber slice. Or perhaps you're more in the mood for the Gold Rush, with Eagle Rare Bourbon, honey syrup, and tangy fresh lemon juice, or one of their Pilsners or Pale Ales.
Larsen's caters to your needs
Whether you are a party of one, two, or 12 hungry diners, Larsen's caters to all your wishes during the holiday season and throughout the year. When it's time to celebrate someone's birthday or anniversary, Larsen's offers plenty of space, plus private dining rooms, to ensure a magical meal for your special day or night on the town.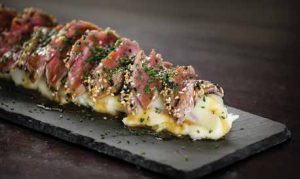 The restaurant's unique specialties include a tender filet sashimi. Chef Logan seasons and rolls their prime filet mignon in black and white sesame seeds, sears it extremely rare with just a hint of a crust, and then slices it really thin. He then layers it all over spicy wasabi mashed potatoes, topped with homemade eel sauce and chives, for a meat-lover's mouthwatering take on sashimi.
Their Beef Wellington begins with a 12-ounce, USDA, prime, dry-aged filet mignon, seasoned and seared then brushed with tangy English mustard. The filet is coated in a delicious mushroom
duxelles mixture and wrapped with prosciutto. It is topped with puff pastry glazed with egg yolk and baked to perfection.
Larsen's has been satisfying customers for more than a decade. Now, Chef Logan is cooking up something really special at The Village. They are open for dinner from 5:00 p.m. on, daily, including a special piano hour or two each day from 5:00 to 7:00 p.m.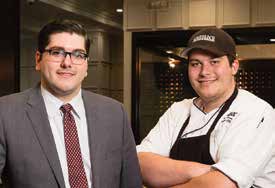 Larsen's Steakhouse
6256 Topanga Canyon Blvd.
Woodland Hills
818.704.1226
larsensrestaurants.com
By Lori Berezin
Photography by Marvin Steindler