Epicurious 2018
November 1, 2018
Local chefs share their favorite holiday recipes.
Larsen's Steakhouse: Cajun Shrimp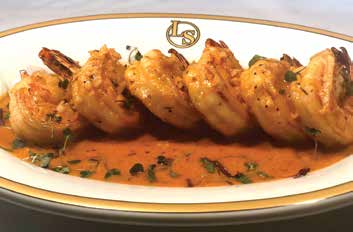 Ingredients
90/10 canola/olive oil blend
6 pieces of colossal shrimp (6-8 per pound)
1 tbsp. chopped garlic
1 oz. white wine
2 tbsp. lemon juice
2 tbsp. butter
1 tbsp. Cajun spice
2 oz. heavy cream
Directions
In a large sauté pan, heat canola/olive oil blend and add shrimp. Cook shrimp for about 30 to 45 seconds or until lightly browned on the outside. Add chopped garlic, Cajun spice and lemon juice.
Stir thoroughly to combine all ingredients. Sauté over medium high heat until all ingredients are fully combined and shrimp are almost fully cooked. Deglaze pan with white wine and briefly reduce.
Next, finish cooking shrimp, and finish the sauce with butte and heavy cream. Remove shrimp from pan and place on serving plate. Reduce sauce on low heat until thickened, and then pour sauce over shrimp to plate. Serve immediately.
Larsen's Steakhouse
6256 Topanga Canyon Blvd.
Woodland Hills
818.704.1226
larsensrestaurants.com
Other locations in
Encino, Simi Valley, Oxnard
Chef Cory Robichau
---
Davenport's Restaurant: Apple Glazed Tomahawk Pork Chops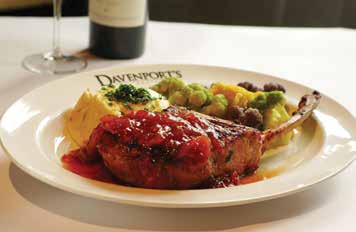 Ingredients
1 Granny Smith apple
1 Apricot
1 Diced sweet onion
Thyme
Crushed black peppercorns
1/2 cup Apple cider
1 tsp. Apple cider vinegar
1 tsp. Brandy
2 oz. Apricot preserves
Directions
Sweat the onions in a pot for 10 minutes, then add all of the ingredients except the apricot preserves into the same pot. Bring to a simmer, until it reduces by half. Remove from heat and stir in apricot preserves. This should give it a nice glaze and alleviate any added sugar to this simple recipe.
Davenport's uses Red Duroc pork, not Berkshire pork, as we feel it is the best. The pork is grilled over oak until it reads 150°. Rest grilled pork for 4 minutes and top each piece with 2 ounces of the glaze. Serve immediately.
Davenport's Restaurant
16120 Ventura Blvd.
Encino
818.855.1203
davenportsrestaurant.com
Chef Nigel Davenport
---
Mediterraneo: Butterscotch Pudding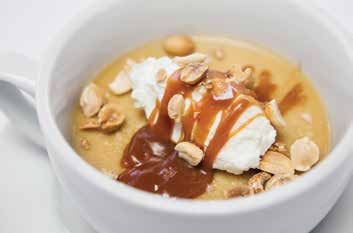 Ingredients
Serving Size: 6
6 egg yolks
2 oz. butter
1 cup brown sugar
1/2 tsp. salt
1/3 tsp. vanilla extract
2 1/3 cup heavy cream
Garnish:
Whipped cream
Caramel sauce (recipe follow), sea salt, roasted peanuts
Directions
In a large bowl whisk together the egg yolks and set aside. Melt the butter over medium heat, whisk in the brown sugar and salt, stir in the vanilla and cook over medium heat until sugar darkens slightly and takes on a caramel fragrance, about 5 minutes. Turn the heat to medium low and whisk in the cream pouring slowly. The sugar will harden but will dissolve as you stir. Stir until it just begins to boil. Remove from heat and temper with egg yolks. Strain and pour into serving containers. Bake in water bath at 325 covered until custards are just set but still jiggly about 50 minutes.
Caramel Sauce
1 cup sugar
1/4 cup water
1/4 of a stick butter
3/4 cup heavy cream
Combine sugar and water in heavy bottom pan and cook until deep amber. Add the butter and stir until it melts and is well-blended. Add the cream a little at a time and stir, the sugar will harden but melt again. Stir until completely smooth. To serve top with a dollop of whipped cream, sprinkle with Maldon Salt, or other sea salt, drizzle with caramel sauce and chopped roasted peanuts.
Mediterraneo
32037 Agoura Rd.
Westlake Village
818.889.9105
med-rest.com
Chef Lisa Biondi
---
The Stonehaus: Fall Quinoa Salad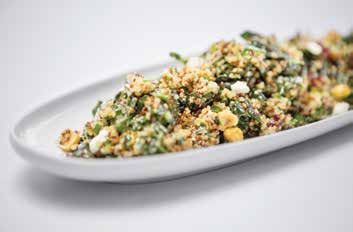 Ingredients
Serving Size: 6
1/2 bunch Tuscan kale (also called lacinato kale), washed, stems
removed and leaves cut into 1" strips
1 cup quinoa, rinsed well
1/4 cup blanched hazelnuts
4 tbsp. extra-virgin olive oil
2 cloves garlic, thinly sliced
1/3 cup chopped fresh parsley
1/4 cup chopped fresh mint
1/4 cup dried cranberries
1/4 cup crumbled goat cheese
1 scallion, washed and sliced thin
2 1/2 tbsp. fresh lemon juice
Kosher salt and freshly ground pepper
Directions
Heat 1 tbsp. of olive oil in a sauce pan and cook quinoa over medium heat until lightly toasted, about 2 minutes. Add 1 3/4 cups water (or use low-sodium chicken broth) and bring to a boil. Reduce the heat to medium-low and simmer, covered, until the liquid is absorbed, 10 to 15 minutes. Remove from the heat and let sit, covered, about 2 minutes. Meanwhile, "massage" the kale strips with 1 tbsp. of olive oil by rubbing between fingers until glossy and tender. Toast the hazelnuts in a skillet over medium-high heat, stirring, until golden, about 3 minutes; transfer to a plate. Add the remaining olive oil and garlic to the skillet and cook over medium heat, stirring, until golden, about 2 minutes. Transfer the garlic to the plate, reserving the oil. Fluff the quinoa with a fork and spread on a sheet tray to cool. When quinoa is cool add the nuts, garlic, reserved oil, parsley, mint, cranberries, goat cheese, kale, and lemon juice. Season with salt and pepper and toss. Adjust with additional lemon juice or olive oil if necessary.
The Stonehaus
32039 Agoura Rd.
Westlake Village
818.483.1152
the-stonehaus.com
Chef Lisa Biondi
---
Morton's the Steakhouse: Nueske's Bacon Steak with Sweet Mustard Glaze
Ingredients
Bacon Steak
1 piece (approx. 6 lbs.) applewood smoked bacon slab
¼ cup ground black pepper
¼ cup light brown sugar
Sweet Mustard Glaze
½ cup creole mustard
¼ cup honey
¼ cup molasses
¼ cup light brown sugar
1 ½ tsp. ground black pepper
½ tsp. ground cinnamon
¼ tsp. smoked paprika
¼ tsp. garlic powder
Cayenne pepper (To taste)
Directions
Preheat oven to 300 degrees. Score fat cap of bacon slab diagonally ¼ inch apart and ¼ inch deep across entire slab. Repeat going in opposite direction. Mix sugar and pepper together. Spread mixture evenly over entire pork belly. Place wire rack inside roasting pan. Lay pork belly on rack. Cover pan with plastic wrap and aluminum foil. Bake for 2 hours 20 minutes. Place on cookie sheet to cool. Slice pork belly across the belly into 1/2 inch thick slices. Place all the ingredients for Sweet Mustard glaze into a small mixing bowl. Whisk together until sugar dissolves and ingredients are well incorporated. Place oil in large sauté pan over medium heat. When oil is hot, add sliced bacon to oil. Cover pan when cooking bacon. Cook both sides until deep golden brown. Place bacon on cookie sheet. Spread 1 tsp. of Sweet Mustard glaze on each slice. Sprinkle with 1/8 tsp. of pepper. Place bacon into 450 degree oven for 10 minutes. Place on plates, and drizzle Sweet Mustard glaze on slices. Garnish with parsley or watercress sprigs.
MORTON'S THE STEAKHOUSE
6250 Canoga Ave.
Woodland Hills
818.703.7272
mortons.com/woodlandhills
Other location in Beverly Hills
---
Mastro's: Lobster Mashed Potatoes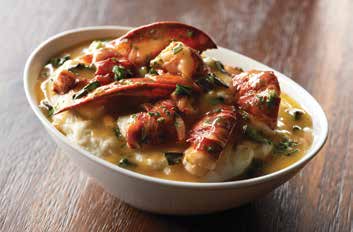 Ingredients
16 oz. garlic mashed potatoes
One each 1 1/4 lbs. live Maine lobster, fully cooked
1 oz. heavy cream
3 oz. whole salted butter, softened
2 tsp. Old Bay seasoning
2 tbsp. charred scallions (we recommend taking scallions and putting them on the grill to char them, it really adds to the flavor)
2 tsp. fresh chopped parsley
Directions
Start with 16 oz. of garlic mashed potatoes, and keep hot until serving. Remove the shell from the cooked lobster, reserving all the edible meat. Chop up the lobster meat and add it to a medium sauté pan over medium-high heat. Add 1 oz. heavy cream and 3 oz. whole salted butter. Add 2 tsp. of Old Bay seasoning, and bring the lobster to a low simmer, until the butter has melted and the seasoning has been incorporated completely. The mixture should be hot and frothy, creamy and still emulsified. Add 1 tbsp. of the charred scallions.
Place and mound the hot garlic mashed potatoes into a large bowl for serving. Spoon the hot pieces of lobster meat and pour melted butter sauce over the top of the garlic mashed potatoes using all the lobster and all the butter sauce. Garnish with the remaining 1 tbsp. charred scallions, sprinkle with chopped parsley, and serve immediately.
Mastro's
2087 E. Thousand Oaks Blvd.
Westlake Village
805.418.1811
mastrosrestaurants.com
Other locations in Malibu, Beverly Hills
---
Brent's Deli: Black and White Cookies
Ingredients
Cookies
2 ¼ cup white cake mix
1 cup + 2 tbsp. pastry flour
1 cup granulated sugar
¾ cup pastry margarine
5 eggs
½ cup 2% Milk
1 3/4 tbsp. lemon flavoring
Frosting
1 ½ cup powdered sugar
1 cup chocolate fudge
3 ¾ tbsp. corn syrup
Directions
Preheat oven to 350˚F. Combine cake mix, pastry flour, sugar, eggs, milk, and lemon flavoring and mix until all blended together. Then add pastry margarine until blended, usually no longer than a minute or two. To form cookies, use a pastry bag to get the rounded shape. Bake cookies for 15 minutes, or until the edges of the cookies are a light brown. An inserted toothpick
should come out clean.
Frosting the Cookie
Mix corn syrup with the powdered sugar until you have smooth frosting with no lumps. After allowing the cookies to cool, frost one half of the cookie, then allow that side to completely settle. Mix together chocolate fudge with a small amount of hot water and a very small amount of corn syrup to break up the thickness of the fudge. Once you've frosted the other half of your cookie, your cookies are ready to enjoy.
Brent's Deli
2799 Townsgate Rd.
Westlake Village
805.557.1882
brentsdeli.com
Other location in Northridge
Partner Marc Hernandez
---
Zin Bistro: Holiday Rack of Lamb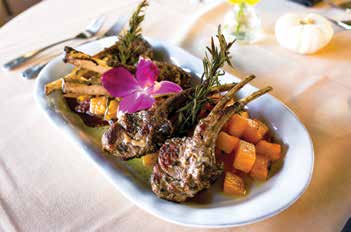 Ingredients
18 oz. rack of lamb
1 Granny Smith apple, peeled, cored & cubed
4 thyme sprigs
10 oz. butternut squash, cubed
½ tsp. ground cinnamon
½ oz. light brown sugar
½ oz. candied pecans
¼ tsp. red pepper flakes
Olive Oil
Garlic
Fresh sage
Fresh rosemary
Salt & pepper
Directions
Peel, core, and slice the apple. Marinade the rack of lamb for 15 minutes with garlic, salt, pepper, 2 sprigs thyme, rosemary, and sage. On one side of baking sheet, toss the thyme and butternut squash with olive oil, salt, and pepper. Roast for ten minutes. Cook the rack of lamb on a medium non-stick pan over medium heat, coated in olive oil. (MR: 8-10 minutes, M: 12-14 minutes, MW: 14-16 minutes, W: 16-18 minutes). Add olive oil and apple cubes to a hot pan. Sprinkle with half the cinnamon, and toss to coat. Cook for about 4 minutes, until the apples soften. Add brown sugar, half the candied pecans, 1/3 cup water, and red pepper to the apple pan. Stir and bring to a simmer for about 2 minutes, until the sauce reduces to a light glaze. Season with salt and add remaining cinnamon. Place the roasted squash on one side of a rectangular plate and spoon the caramel sauce on the other. Garnish with thyme and remaining candied pecan.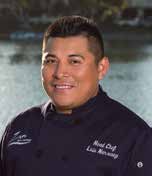 Zin Bistro Americana
32131 Lindero Canyon Rd., #111
Westlake Village
818.865.0095
zinwestlake.com
Chef Luis Narvaez