The Perfect Island Getaway for the Whole O'hana (Family)
May 13, 2017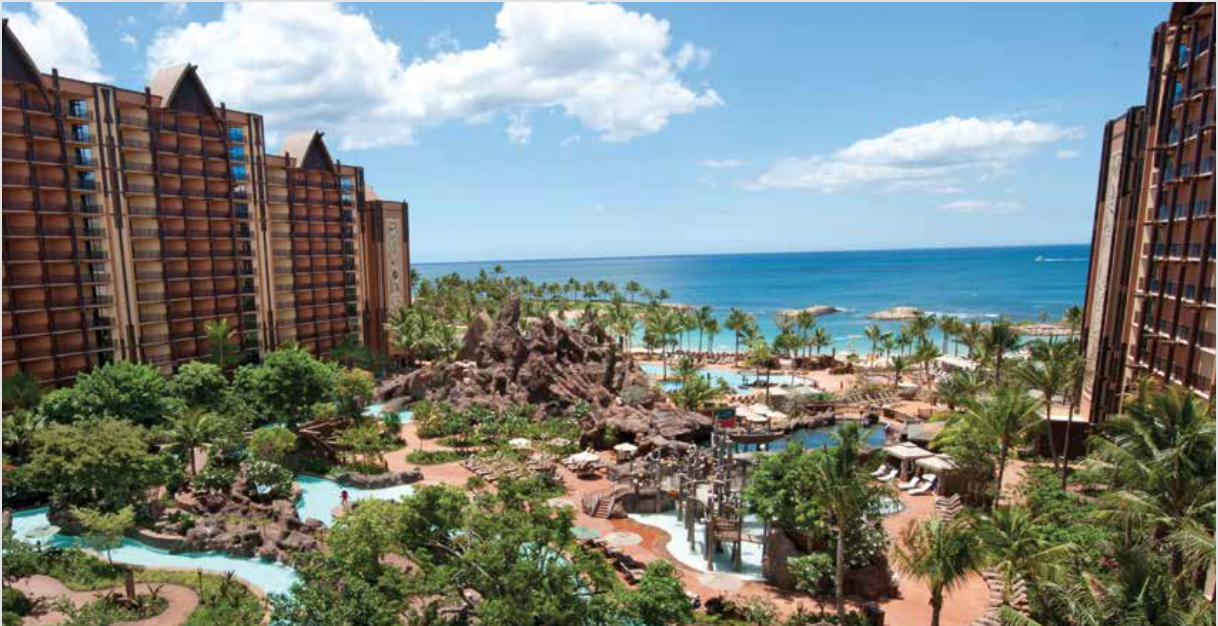 Nestled in the small town of Ko Olina, Oahu, this beautiful resort, with a gorgeous lagoon and beach, is located only about a half an hour from Waikiki. Ko Olina means a place  of joy, which is the perfect name for this setting. Oahu means energy and the island correspondingly  offers an abundance of beauty — with everything from mountain ranges, lush valleys, volcanoes, and  natural rain forests to miles of beaches and lagoons — with just the right amount of culture and history available to enjoy.
From the moment you approach Aulani, with the outrigger roof lines on its towers, you can see that it stands out as a premier resort. Disney really took measures to bring the Hawaiian culture and architecture into play, along with a little Disney magic, to give you this breathtaking Hawaiian resort.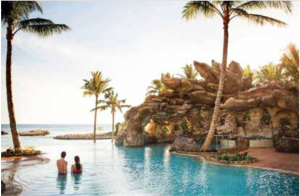 You enter the hotel and walk into a tropical vacation paradise as you gape at the magnificent high ceilings and view of the water. The 200-foot mural in the lobby surrounds you like a lei, telling a story in tribute to Hawaiian history with its balance of masculine and feminine and vivid colors. Throughout the resort, you can enjoy breathtaking art as Aulani is the home to one of the world's largest private collections of contemporary Hawaiian art. But that is not all, because 21 acres of oceanfront property awaits for your full enjoyment and relaxation. There is the world-class Laniwai Spa, oceanfront restaurants and lounges, and a lush oasis with canopy trees called the Waikolohe Valley, complete with lazy river, pools, water slides, and Aunty's Beach House, where kids enjoy their own bit of Disney magic.
There is so much to do during the day that it would take more than a week to do it all. There are seven acres of water-designated areas to play in at the resort, with two water slides, the Waikolohe Stream (the lazy river), three pools, the Menehune Bridge water structure, the Keiki Cove splash zone for little kids and Rainbow Reef snorkel lagoon. If you prefer the beach, you can enjoy the gorgeous warm sands and warm, sparkling-blue water. Paddle boarding and kayaking are available at the beach along with beachside lounges with awnings. It's no wonder we Californians flock to this place! For golfers, there is a Ted Robinson-designed, 18-hole, championship golf course across the street.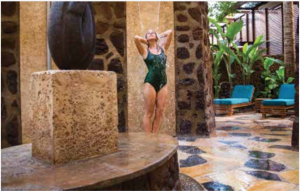 The Laniwai Spa offers pure bliss and caters to your every need in a serene and tranquil setting. The word Laniwai means freshwater haven, and it truly lives up to the name. There are 150 treatments and 15 treatment rooms, including a room for family massages and a couple's room. Signature treatments include the Lomi Lomi, a traditional Hawaiian massage with warm stones and lava sticks used on pressure points, a technique passed down by Hawaiian elders. The KiliKili treatment rejuvenates your mind, body and spirit with exfoliation and massage with coconut oil under jets of warm, streaming water. The Haweo Magical Glow facial is a skin-refining exfoliation with a vitamin-rich mask that reduces fine lines and wrinkles. Guys love the traditional shave, which starts with a hot towel and ends with a nourishing scalp massage. One cannot leave the spa without a visit to the hydrotherapy garden, which has six warm, rain-style showers outdoors; private pools; and mineral baths, and you can blend your own body polish at the mixology station. Teens can be pampered in the Painted Sky Teen Spa, which offers a mixology station and a menu of special spa treatments. The Mikimiki Fitness Center is a fully equipped gym that is 23,000 square feet of indoor and outdoor space with everything from group spin classes to one-on-one training and sunrise yoga on the beach.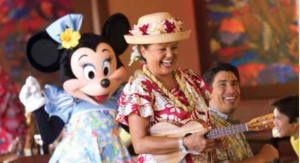 Aunty's Beach House and Uncle's Garage make up a cozy clubhouse for children ages 3 to 12, where they can hang out and have fun for a few hours or all day long.  We wondered why it was named after an Aunty and Uncle and found out that it is because all  caretakers  in  Hawaii  are  called  Aunt  or  Uncle. When you travel with children, you know it's all about keeping track of them while entertaining them at the same time. Aunty's Beach House allows you to hand that responsibility over to qualified, trained staff so you can have a few hours or a whole day of adult R&R without the guilt. Your children won't even miss you because they'll be thrilled to spend time at Aunty's Beach House. Children fill their time playing games on interactive touchscreen game tables, doing arts and crafts, watching movies in a screening room, tinkering in Uncle's Garage, learning the hula, playing dress up, hanging out with Disney characters when they drop in, learning about the Hawaiian culture and playing outside in one of the tree houses or at an aloha party or dance party. There is also an amazing tech room which gets very busy, but there are time limits so your child won't be playing video games all day. The children are supervised and entertained the whole time, and the best part is that there are no extra fees for Aunty's Beach House.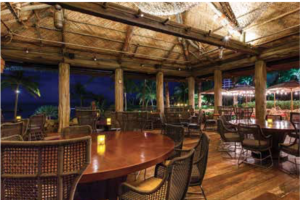 You will not go hungry at Aulani. The 'AMA 'AMA  restaurant offers a spectacular view so you can watch the sunset as you settle into this rustic, thatched hut with  open  walls  and  jeweled  fishing  nets  hanging from the ceiling. For dinner, they offer the freshest seafood, served in many different ways, and light yet decadent desserts. Lunches are filled with sliders and fries and breakfasts feature macadamia nut and red velvet pancakes that are to die for. The chefs use only fresh, local ingredients to create their signature dishes with a local flare. Makahiki restaurant features a breakfast with Disney characters. The food is delicious and abundant, and the entertainment is great. The children are thrilled to interact with Mickey, Minnie, Goofy, and Daisy. And Aunty leads the children with songs and dances and keeps them engaged during breakfast, which is buffet style.
Nights are filled with shows and entertainment. The Starlit Hui show, hosted by Uncle, is a celebration of the traditional Hawaiian entertainment featuring dancing and singing, mixing in hula dancers, Hawaiian music and a uniquely talented ukulele duo. They also offer movies under the stars and a nightly beachside fire pit that comes alive with storytellers and songs that fill the air with ancient tales of the islands.
While there is no reason to ever leave Aulani since there is so much to do, if you do venture out, there are many places and activities to enjoy. You can take a catamaran sailing trip to see whales, dolphins and sea turtles. Or you can enjoy the hike up to the top of Diamond Head; this is a good way to burn off a few Mai Tais. Kakaako is a little town with an up-and-coming art and culture scene, so you can take in the galleries, flea markets, street festivals, hip vendors with jewelry, and fun night scene with bars and restaurants. An enjoyable morning can be spent at the Kualoa Ranch, which was once the residence of kings, a training ground for royalty, and is considered a sacred place. On the ranch, you can visit movie sets from Jurassic World and see Godzilla's foot prints. You can also try the zip line with an ocean view, horseback ride, ride bikes, and take Jeep tours all through the lush beautiful mountains.
By Irene Marshall