Experiencing the Grandeur or Zion
October 3, 2020
Utah's First National Park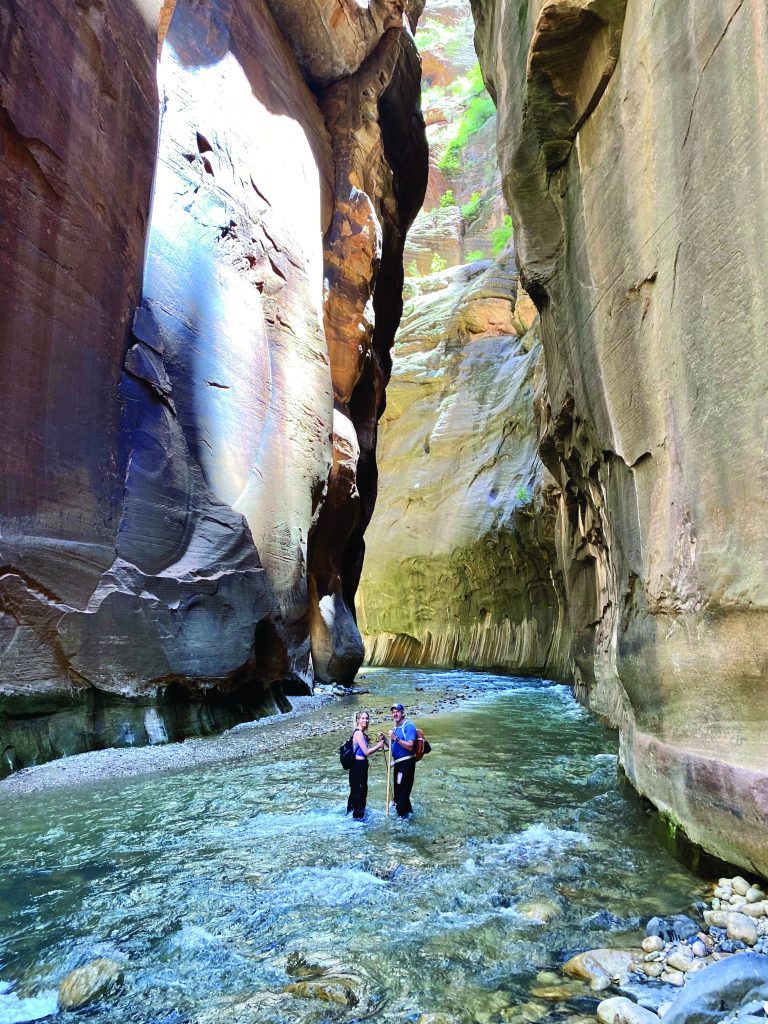 There's no time like the present to experience one of Mother Earth's most splendid creations, Zion National Park in Southwest Utah. Stunning red rock towers dotted by fragrant pines beckon outdoor lovers of all ages. Whether you rent an RV, overnight at the comfy Zion National Park Lodge, camp beneath a blanket of stars, or stay in one of the area's many hotels, you'll enjoy a vacation to remember.

There's something spiritual about this place. Perhaps it's the gorgeous vermillion-colored monoliths reaching towards heaven, fragrant ponderosa pines, golden aspen leaves signaling fall, or the immense silence filling the mountain air. Whatever it is, it feels intoxicating.

Take a heavenly hike up Angels Landing. Wade, walk, or even swim in the mighty Virgin River amid the spectacular Narrows. This iconic Angels Landing hike winds through a narrow slot canyon surrounded by sheer cliffs stretching endlessly towards the sky. Other popular canyons include Subway, Mystery Canyon, Pine Creek, Keyhole, and Orderville, some of which are closed during the pandemic. The Canyon Overlook Trail provides a more moderate hike. One of the easiest trails, Pa'rus Trail, is accessible to wheelchairs, bikes, and leashed pets.
Visit the park's website at nps.gov/zion/index.htm for up-to-date information. Before you hike, check out current weather conditions, as well. Flash floods frequently hit, especially during the summer, turning your delightful expedition into a dangerous undertaking. Weather aside, Zion offers something for everyone.
During summer months, days last longer while the sun stays out until 9:00 at night. Keep your eyes peeled for wildlife. Mule deer love to graze upon the lodge's green lawns, in campsite areas, and near Zion Canyon along the Virgin River. You may also spot foxes, squirrels, and bighorn sheep climbing the park's myriad cliffs. While summer temperatures can reach 100 degrees, autumn and spring offer the most pleasant conditions.

Be sure to drive through the awesome mile-plus-long Zion-Mount Carmel Tunnel. Oversized vehicles require a permit to pass through. If you have more time on your hands, consider visiting Arches, Canyonlands, and/or Bryce National Park to the north. With so much splendid scenery, you might simply stay at Zion. Merely a three-hour drive from Las Vegas and around eight hours northeast of Los Angeles, magnificent Zion National Park is clearly worth the trip.