The Altmann Family: Locally Immersed
March 9, 2017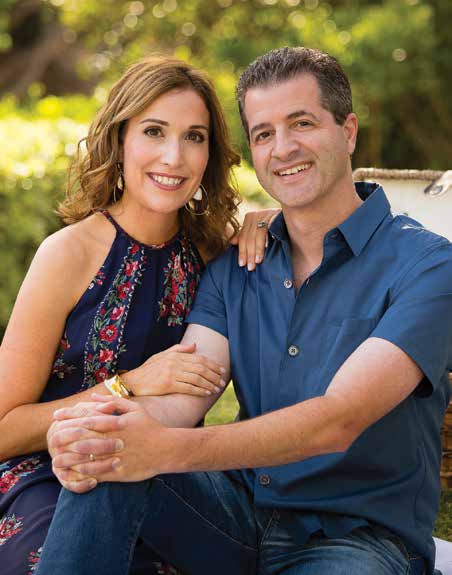 The Altmann family of Calabasas has been in the area for 15 years. From business to pleasure and recreation, Phil Altmann, his wife, Dr. Tanya Altmann, and their three boys have each found a unique niche in the community, and for all of them, life in Calabasas has become everything they could have ever hoped for.
The Altmann family resides in the beautiful Mountain Park development, with its quiet streets and breathtaking views. Right off Mulholland Drive, in the scenic hills of Calabasas, this community is safe, clean, and definitely family-friendly. With deer and other wildlife known to roam the streets, the neighborhood reminds matriarch Tanya of her neighborhood growing up. "I can let my kids walk or ride bikes to play with other children in our neighborhood, like we did growing up," she says. With neighborhood basketball courts for the three boys and gorgeous hiking trails, Mountain Park is an ideal setting to raise a family. Phil and Tanya, both Los Angeles natives, met through UCLA. Phil was in his last year of law school and Tanya was finishing medical school and starting her internship and residency. They started dating and soon married. Phil had been working in the business and legal affairs for a local motion picture production company in Santa Monica and Tanya had set her sights on a new and innovative kind of pediatric healthcare business. In search of the perfect environment to start Tanya's budding business, the couple discovered Calabasas.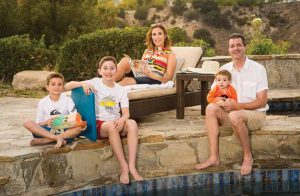 Today, Phil works in business and legal affairs at Universal Pictures. He is also a master at the barbecue, and the family sings Phil's culinary praises. Tanya brags, "Our favorite meals are when Phil barbecues in the backyard." While he isn't wowing his family with his grilling skills, Phil loves to support his boys at their sporting events. Phil is also a die-hard UCLA sports fan. He and his father, Charles, have had season tickets since UCLA's Pauley Pavilion opened in 1965. Phil's family has a rich and storied history. The recently released film Woman in Gold chronicles the inspiring account of his grandmother, Maria Altmann, played in the movie by the talented Helen Mirren.
Tanya is an incredibly integral part of the Calabasas community. Through her inventive pediatric-care model, "Dr. Tanya" is able to get to know the community and its residents through personal home visits and deep research into current educational trends. Dr. Tanya spends quality time getting to know each of her little patients and their families, so that when she is needed, she doesn't have to waste time with an impersonal chart or filing system. From sicknesses to recommendations for specialists, Dr. Tanya is accessible and invaluable to her patients at every step of their development. Dr. Tanya's involvement does not stop at physical health; she is completely connected to every aspect of a child's well-being. Up-to-date on schools in the area, modern technology, and new parenting techniques to name a few, Dr. Tanya is committed to the success of her patients. "Calabasas families really value good nutrition, exercise, and education," she notes. "These are lifestyle habits that I emphasize in my practice and feel are critical to raising a happy, healthy, successful child." Dr. Tanya has also written and edited four parenting books, three of which were best sellers. She is regularly featured on national and local TV for her groundbreaking work in pediatrics and child development. Dr. Tanya says, "I am a child health and parenting expert for KTLA 5 Morning News and have discussed breaking medical news stories and controversial parenting topics for numerous national and local news programs and TV shows." All this, in addition to her work as a spokesperson for the American Academy of Pediatrics, makes Dr. Tanya a very busy woman.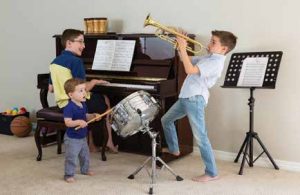 The three growing Altmann boys are the joy of the Altmann household. The two older boys, Avrick, 11, and Collen, 9, are both enrolled in Viewpoint, a prestigious local school, where they enjoy their studies as well as extracurricular activities. They are both active in Calabasas basketball and West Valley Youth Soccer and are also budding musicians. Avrick plays the piano and sings in the choir while Collen plays the trumpet. Collen also blows the shofar for the local temple for High Holiday service, which is a big honor in the Jewish community. Older brother Avrick is also quite the intellectual. He loves math and reading and is even able to recite the first 90 digits of pi! Youngest brother Maxton, 2-years-old in January, loves to follow his big brothers around, watching them play sports and music. Maxton seems to be especially inclined toward basketball. He loves to throw balls through anything resembling a basket, including the toilet bowl!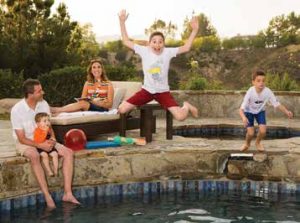 The Altmann family loves to travel and be active together, be it a game of basketball or their annual ski trip to Mammoth. They are always having a great time, as long as they are together.
By Pax Ansley
Photography by Marvin Steindler
Styled by Jen Principe, jenprincipestyles.com