Walking Strong: Living with Duchenne Muscular Dystrophy
April 27, 2018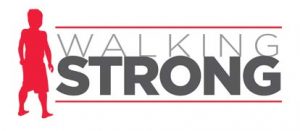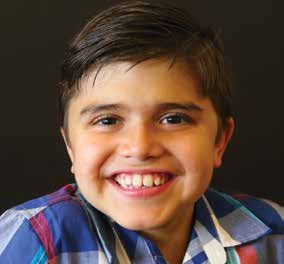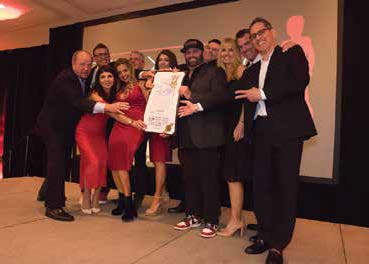 Sometimes, it takes a world-shaking event to put things into perspective. For the Llauro family, this life-changing event came in the form of a happy, smiling bundle of joy. In 2005, Valerie Pappas Llauro gave birth to her first child, a baby boy. Alexander Llauro was just like any other cheerful baby. When he was almost three years old, Valerie began to notice something strange. Instead of climbing the jungle gym or running around playing tag with the other three year olds, Alexander preferred to sit and play in the sand or be pushed around in his stroller. Despite his large calf muscles, Alexander demonstrated weakness in his lower body and consistently struggled to get up off the floor. As her mother's intuition tingled and her two-year-old daughter ran circles around her big brother, Valerie decided to bring her concerns to her pediatrician. Over the next three years, Alexander's pediatrician regularly dismissed Valerie's worries with the promise that Alexander would one day "catch up" to the other boys his age. As Valerie remembers, "He made me feel like a new and inexperienced mother, when in reality, he missed every single sign there was."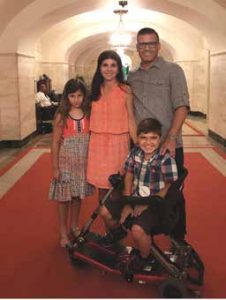 At 5 ½ years old, Alexander was diagnosed with Duchenne Muscular Dystrophy. Mom Valerie explains, "Duchenne is the most common fatal, genetic childhood disorder, which affects approximately one out of every 5,000 boys each year worldwide. Most patients are diagnosed between ages three and five and lose their ability to walk by 12 years old. It is a progressive muscle disease that weakens all muscles over time, including the heart and lungs. Most Duchenne children don't survive past their late 20s and, heartbreakingly, there has never been a survivor. Most of the time, despite it being a genetic disorder, Duchenne appears in families with no history of it.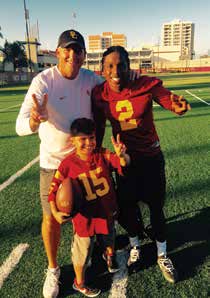 Beside their son's heartbreaking diagnosis, what was truly disheartening and frustrating for the Llauro family was the lack of knowledge and research surrounding this disease. At the time of Alexander's diagnosis, there were no clinical trials available and very little funding. Valerie and her husband, both with a background in marketing and branding, knew something needed to be done. In late 2014, with the help and support of friends and family, the Llauro family launched Walking Strong Foundation. Valerie recalls, "It was sort of our 'coming out' with the diagnosis and a platform for us to move forward and create impact on helping Duchenne."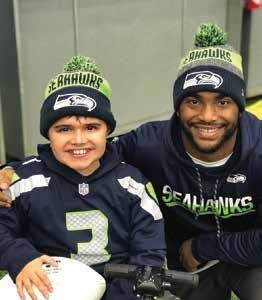 Since Alexander's diagnosis, research into the treatment for Duchenne has made some very big steps. Now, Duchenne has over 42 companies willing to help with research and over 21 clinical trials in the United States. Through Walking Strong, the Llauro family has been able help fund scientific research, spread awareness, attend FDA Advisory Committee meetings, and most importantly, help families affected by Duchenne.
Through the Walking Strong assistance program, they have helped 12 families so far with their medical device needs, such as in-home ramps and Hoyer lifts. The Llauros dramatically changed the life of one L.A. family last year by purchasing a handicap-accessible van for their 18-year-old-son who had been in a wheelchair for six years. "Insurance does NOT cover any of these items. It's hard to believe," says Valerie.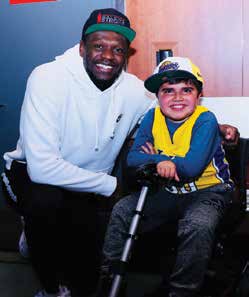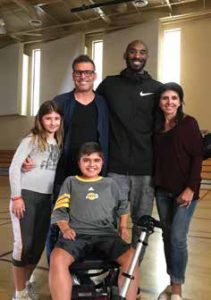 This past June, at just 11 years old, Alexander has lost his ability to walk. Throughout his experience with Duchenne, Alexander has never ceased to amaze his family. "Alexander has never asked 'why' and never stops smiling and having fun," says proud mom Valerie. "It's as if he is in tune with his limitations, and as they come, he embraces them without struggle. He has a special spirit and a sweet and happy soul." Alexander has been able to experience some remarkable adventures because of his fight with Duchenne Muscular Dystrophy. He spent time with some of his favorite sport stars, including Kobe Bryant, Julius Randle of the Lakers, and Seattle Seahawk quarterback Russell Wilson. He also gets invited to football practices and games of his favorite college team, the USC Trojans, by Coach Clay Helton. Through the Make a Wish Foundation, Alexander and his family were granted the experience of a lifetime last summer with a trip to Washington, D.C., where they were taken on VIP tours of the White House, the Capitol, and Mount Vernon. Valerie continues, "Life is truly precious and can change, or it can end in one moment. I have become more present, more spiritual, and know that all we have is today. Tomorrow hasn't happened so there is no reason to stress about it." Donations to the Walking Strong Foundation can be made to walkingstrong.org.
by Pax Ansley