TEAMBuild with Homes 4 Families
March 15, 2019
Help Build the Homes for the Brave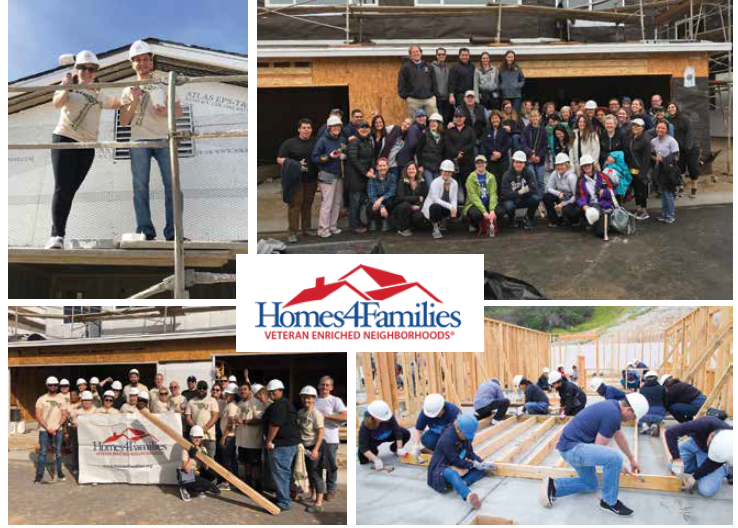 Did you know that many of your neighbors have helped to build homes for low-income military families? They have done so through their generous donations and have physically helped build with their companies and schools.

Homes 4 Families' TEAMBuilds is a teambuilding program for corporations and association groups. For a contribution to fit their needs, participants have the opportunity to build a home for a military family.

Recently, Anchor Loans of Calabasas completed its first TEAMBuild. A team of 50 employees built on Homes 4 Families' Santa Clarita Veteran project. They completed framing, painting, and drain installation. With their sponsorship, they enjoyed breakfast and lunch onsite and were able to build alongside a veteran who will soon move into one of the homes. During lunch, this veteran spoke to the group about his time in service and what having the opportunity to own a home means to him and his family.

We think every group, of any size, can benefit from an empowering and skills-learning afternoon spent giving back. TEAMBuilds is a great opportunity for employees to work together in a different context, build camaraderie, and spend a day outside.

Another one of Homes 4 Families' volunteering programs is geared towards high school and college groups. Not only can students earn volunteering hours but they also learn the importance of giving back. Youth builds are huge leadership- building opportunities and bring together people from all walks of life.

Louisville High School of Woodland Hills is one of the youth-build groups that volunteers multiple times a year. The school's senior class builds four times a year as part of its senior project, and Louisville teachers build at least once a year as their philanthropy project.

Homes 4 Families is based in Woodland Hills and builds Veteran Enriched Neighborhoods®, an outcome-proven model that provides housing and services tailored to veterans' specific physical, emotional, and mental needs. To get involved, please contact Donielle DeLeon at 818.884.8808 x209 or DDeLeon@Homes4Families.org.