Don't Drink and Drive
November 23, 2020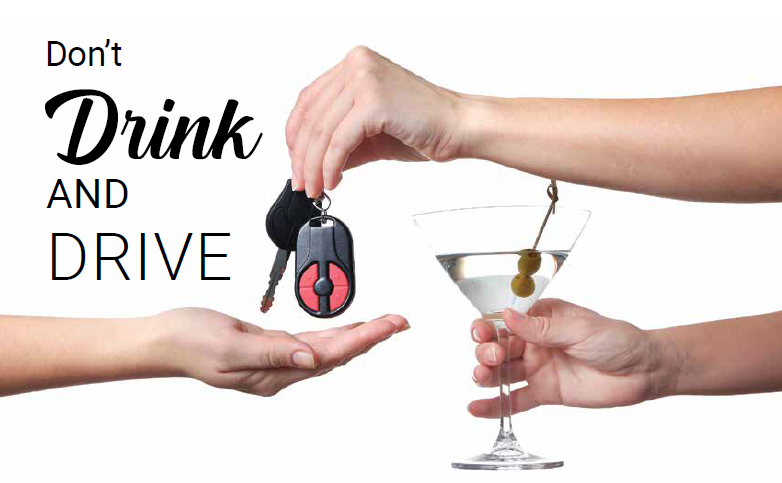 It's been a long, frustrating year. Along with the stress of COVID-19, many people have been drinking more wine, hard seltzers, beer, etc. I confess when COVID-19 first hit and we all stocked up for the stay-at-home order, a case of wine was always near the top of my list, along with a case of TP. Now, with a new version of the holidays coming, there will be more get-togethers and socializing. Some of us look forward to the holidays festivities all year long. We are not sure what the holidays will hold for us this year, but usually, with the holidays come family gatherings, work functions, celebrations with friends, and football-game get-togethers. These might be small gatherings this year, but it's easy for drinking to get out of hand.

Every holiday season, there is a spike in drunk driving. It's up to each and every one of us to do our part to prevent any possible tragedies. Remember, everyone has a role to play in keeping drunk drivers off the road.

The driver.
No one is more responsible for preventing drunk driving than you, the driver. No excuses! If you drink, you can't drive.

The host.
Most of us enjoy hosting holiday parties for friends and family. However, with the decision to serve alcoholic beverages comes the responsibility to make certain our guests don't leave the gathering so impaired that they are unable to drive safely.

The family.
Many of you know family members who drink too much at holiday parties. You recognize your husband, boyfriend, sister, or mother risks his or her life and the lives of others when he or she gets behind the wheel in an intoxicated state. Take a stand and be firm. No drinking and driving.

Friends.
We hear it repeated again and again, but it's true! Friends don't let friends drive drunk. Do what it takes to keep an intoxicated friend from getting behind the wheel. Take his keys away. Move his car to a place where he can't find it. Drive him home yourself. Call an Uber if you can't drive him home either because you don't have a car or because you've had too much to drink yourself.

You.
Yes, you. You have a role to play in keeping drunk drivers off the roads. Watch out for them as you travel the highways and roads over the holidays. If you see driver conduct that suggests a motorist is driving while intoxicated, call the police and report the suspicious behavior immediately. Give location, vehicle make and model, and license plate number whenever possible.