To Inspire: A New Year and (Beautiful) New You
January 11, 2021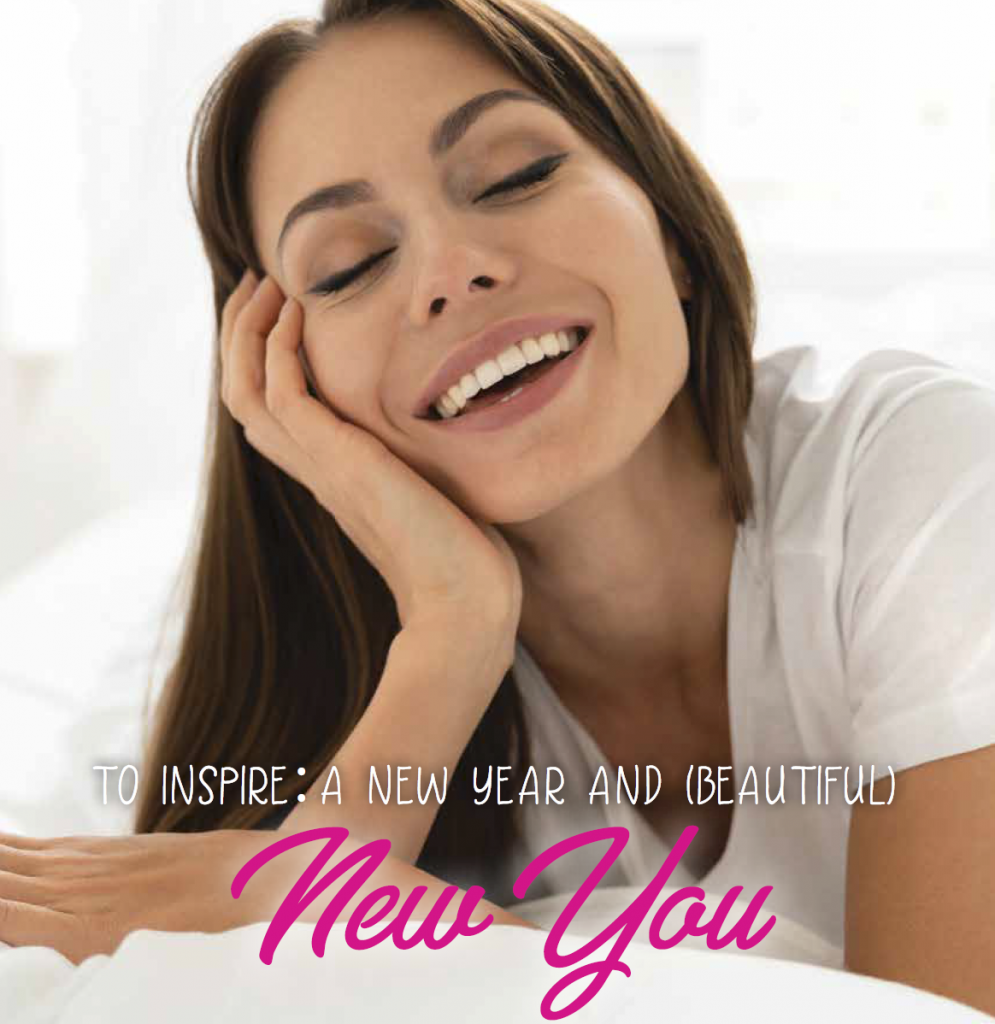 We are all hoping for inspiration and a fresh start in 2021. A "New You" is an inside job and requires rewiring, rethinking, and reprioritizing from within. If you do not change the mind and the heart, your actions toward change in the New Year will not have enough passion and perseverance behind them. Soon, they will fall by the wayside.

Some time for reflection is, perhaps, one of the gifts that 2020 has given us. What makes you feel the most purposeful, the happiest, the most fulfilled? Once these questions are answered for yourself, you are ready to go! In other words, I can give you lists of things to do (and I'm going to!) for your skin and body—but I suggest you start with mindfulness.

Stress less
Practice tolerance toward yourself and set goals with joy. Pursue them with joy, and if you "fall off the wagon," just easily get back on again, minus the self-reproach. Deep-breathing exercises are helpful. Meditation and yoga are helpful. Not into it? That's okay. Listen to music that calms you and makes you feel happy. Pat your dog or cat. Try a long, warm bath periodically with essential oils or aromatherapy. Put things in perspective. Will this matter in five days, five months, or five years? Most of the time, no! One thing that reduces stress is a consistent sleep-wake cycle. Try to go to bed at roughly the same time every night and wake up in the morning at the same time. Try to limit caffeine after the early hours and use melatonin (as long as not allergic) if you need it at night to help you fall asleep. In other words, you will function best and be happiest with a full, consistent night of sleep. You will have more energy, less dark circles and puffy eyes, and decreased acne breakouts due to stress hormone (cortisol) release.

Schedule self care
Are you seeing your doctor regularly? Are you getting a monthly facial? Do you plan times to care for yourself? Sometimes it is best to sit down and put it on your calendar. That way there is a space held in your calendar for you. Instead of trying to squeeze in self care around other obligations, let it become a valued part of your agenda. Our aesthetician has a phenomenal touch—it is a relatively inexpensive way to help you look and feel your best.

Wash your face
Seems obvious, right? You would be amazed how many women I see on a daily basis who go to bed with makeup on (gasp). This promotes congested pores and breakouts. It allows small particles of mascara and eyeshadow to irritate the conjunctiva (the delicate lining of the eyes). This results in puffiness that stretches the skin around the eyes and promotes wrinkling. You should wash your face with a mild, gentle cleanser. Cetaphil Gentle Cleanser is a popular over-the-counter option. If sensitive, I recommend Make Up Eraser cloths, where only warm water and these specialized cloths are necessary to remove makeup.

Take care of your skin
It's time for a fresh start! Have you started a retinoid yet? Retinoids are the most powerful anti-aging active ingredient that we know of. There is a six-to-eight-week "retinoid reaction" phase that most are afraid of or unable to get through, but retinoids are a topical to get adjusted to and stay on for the long term. Time for a new start, new layers of fresh skin, and long-term benefits. If you can get a prescription for Retin A (tretinoin) from your dermatologist, that is best, and I love the RoC Retinol Correxion skin care formulations.

Got acne?
Good news! Miracle Cream is now available and is an extremely effective acne treatment that reduces pimples without scabbing. Proven to be effective, Miracle Cream was formulated after years of trial and error with top chemists and has an over-the-counter FDA monograph for acne. Every person should have a jar of this! Available at bellaskinstore.com.

Stop picking!
It is surprisingly difficult to resist picking and squeezing things on our skin. It feels somewhat satisfying but makes the spot much more red and visible and much more likely to scar. It is a difficult habit to break, but worthwhile. Try a dab of Miracle Cream on the offending pimple and see what happens overnight.

Take care of your hair
Deep conditioning hair with Olaplex or Kerastase will preserve its quality. Wash every other day or less so that natural oils will not be stripped away. Avoid over-processing or bleaching—let the winter be a time of renewal. Consider supplements to encourage healthy regrowth. I love Viviscal PRO, Nutrafol, and Jarrosil hair supplements. Consider using hot tools less often. (I may not always listen to my own advice.) When you do use blow dryers and curling irons, pretreat with a hair protectant such as Mielle Organics Mongongo Oil Protectant Spray. We are concerned with hair growth but we should also be concerned with preserving the quality of the hair we have! If hair is thinning excessively, platelet rich plasma (PRP) treatments can help optimize hair regrowth.

Avoid tech neck
Do you bring your electronics to bed? Don't. Put your phone to bed when you put yourself to bed. The light from the screen can disrupt your circadian rhythms—and therefore your sleep. Remember that your pineal gland is watching…it is responsible for registering light cycles. Most importantly, as you crunch your chin to your chest for prolonged periods, looking at the phone, you are deepening horizontal creases in your neck and just under your chin. Gasp! We call this tech neck, and it is easily avoided.

Welcome 2021! We have weathered so much in the past year and are ready for a fresh start. Certainly, self care and beautiful skin are excellent goals to have for the New Year. Hopefully, this article gave you some ideas. For more beauty tips and advice, read my book Seven Days to Sexy: Insider Secrets From a Celebrity Beauty Doctor, available at amazon.com.

Happy New Year! I wish you joy, passion, and prosperity.

The statements in this article are for general informational purposes only and do not substitute for individual medical advice.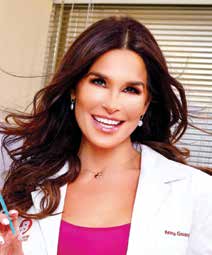 By Anna D Guanche MD FAAD
Board-Certified Dermatologist