How to Avoid the Vampire Smile
July 17, 2019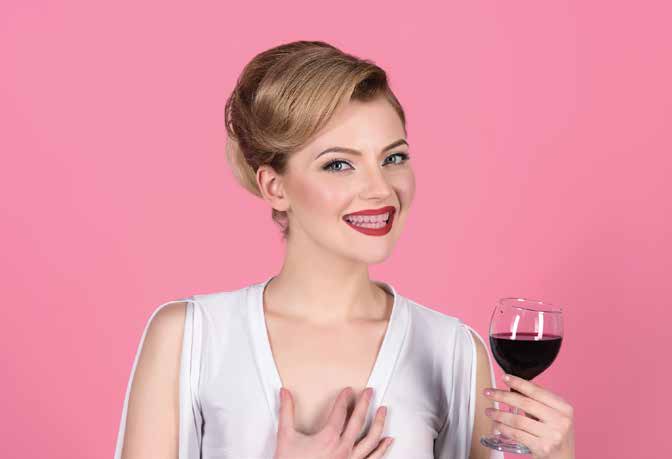 Red-wine teeth are not a pretty sight! There is nothing worse than attending a wine-tasting event where you mix and mingle, only to get a glimpse of yourself at the end of the night with purple teeth. Here's a little advice on avoiding the redwine dilemma.

Why oh wine stains?
Several ingredients in that delightful glass of red wine cling to the plaque on your teeth. These natural dyes, acids, and tannins can etch and stain, making your smile less that perfect.

Dr. Tania Baker of Calabasas Dental Spa offers this advice: "If your teeth have stains from red wine, visit a cosmetic dentist who can identify the best solution for you to fix the problem. Yet, my best advice for prevention is to switch to white wine."

Rather fight than switch?
Those not quite ready to switch should brush an hour or so before drinking to keep wine from clinging to plaque and tartar. However, avoid brushing right after. Even though this may sound counterintuitive, brushing afterwards could more easily damage enamel already weakened from the wine.

Keep your mouth moist
Sip sparkling water between glasses to prevent stains from forming in the first place. The carbonation scrubs away the wine before stains set in. Or simply wipe your teeth with a wet cloth or paper towel.

Say, "Cheese!"
Want to look perfect in those selfies and group photos after a couple of glasses of red wine? Enjoy some cheese. The calcium in the cheese helps build up your enamel. Hard cheeses offer the best protection since they usually contain more calcium than softer brands. They also fill in tiny pores in the enamel, making your teeth more resistant. Munching on raw veggies also helps by producing extra saliva to scrub away the stains.

Don't mix and match
Drinking white wine right before a glass of red can make matters worse. The higher acidity of most white wines further strips your teeth's enamel, causing them to be even more susceptible to staining from red wine and other foods. Cheers!