Brotox and Beyond
August 19, 2023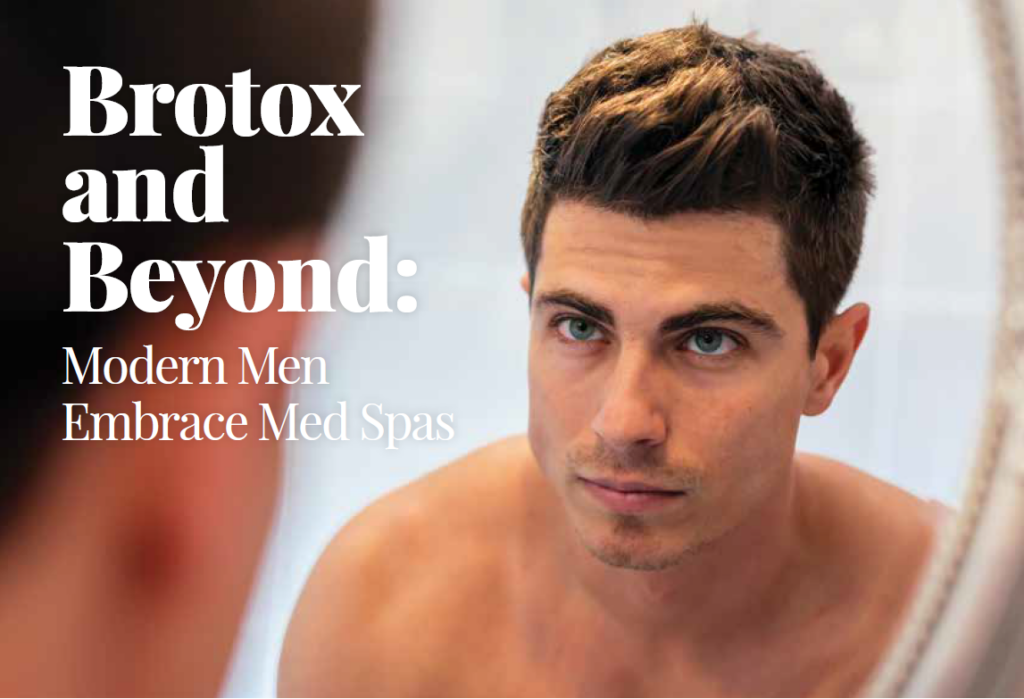 In what once was considered a predominantly female market, many men felt out of place visiting a med spa for cosmetic services. But over recent years, there has been a noticeable transition in societal norms related to the aesthetic medicine industry—so much so that the tongue-in-cheek term "Brotox" was coined to refer to the more than 265,000 men who received Botox treatments in 2020 alone.
One of the key reasons men are drawn to med spas is the non-invasive nature of the treatments. A few simple injections of Botox into your face turn back the clock on wrinkles, relaxing your facial muscles with no downtime required. Other treatments gaining popularity include other injectables, like Dysport and Jeuveau, fillers, and laser skin-resurfacing treatments, which also allow guys to get back to their regularly scheduled activities post-treatment while achieving a well-kempt and refreshed appearance with little effort. Another popular treatment is PRP hair rejuvenation, which stimulates hair growth without a visible trace, combating baldness naturally.
And it doesn't stop there. Med spa services extending beyond anti-aging treatments are also gaining popularity with male clientele as they discover benefits of wellness therapies like B12 injections and vitamin IVs. Body-sculpting treatments like Emsculpt are favorable for men looking to increase muscle and cut down on gym time. Preventative treatments like wart and mole removal and cancer screening are also incredibly beneficial, no matter your gender.
In our competitive, youth-obsessed culture, men continue to feel pressure to look and feel their best. Studies published in Forbes Magazine and elsewhere point out the link between success and appearance. While it's certainly not true in every case, maintaining a competitive edge by looking youthful remains an issue in the workplace and beyond. Social media doesn't help either as it displays photos all across the Internet. When it comes time for a new job or relationship, putting forth a look of vitality and youthfulness often helps. Men may choose cosmetic anti-aging and wellness treatments to improve the odds of gaining that much-sought-after position or romantic partner.
As treatments continue to evolve, there is far less stigma attached to male aesthetic treatments than ever before. Men can speak to a med spa expert or healthcare professional to find out which procedures work best for them.