40 & Fabulous: M Fredric Celebrates its 40th Anniversary
July 3, 2019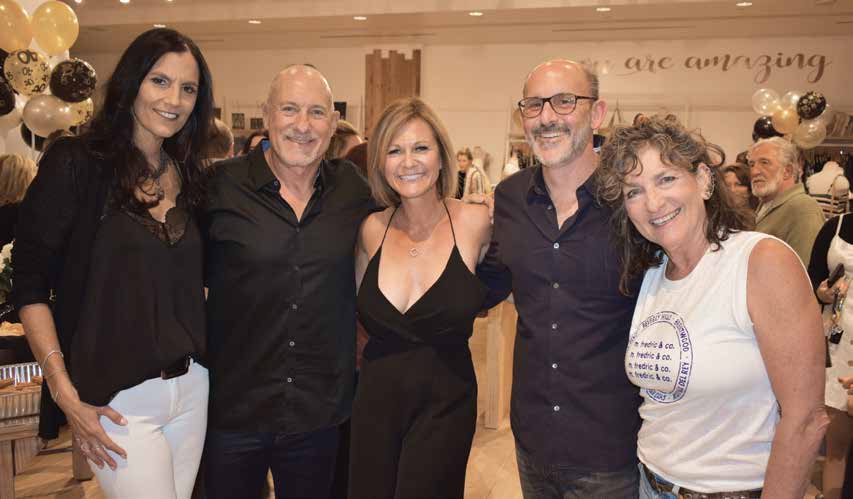 On May 4, the owners and staff of M.Fredric hosted an intimate event celebrating their "40 Years of Fashion" and 35-year relationship with Westfield Properties at the Village of Westfield Topanga. M. Fredric's co-owners, siblings Fred Levine and Mardi Fox, who founded the contemporary shop in 1979, attended, along with Fred's wife, Lisa Levine, who became co-owner in the early 1980s. Vice President Molly Unger, Shopping Center Management, and Executive Vice President Development Larry Green of Westfield Properties also joined in the celebration.

Forty years strong
After four decades in retail, M.Fredric continues to push the envelope while still focusing on first-class service and luxe lines. Their trendsetting approach attracts both city and suburban fashionistas. One of Southern California's most iconic retail brands, M.Fredric remains the go-to shop for celebrities, wardrobe stylists, and sophisticated shoppers from all walks of life.

M.Fredric opened its first store in Brentwood on April 3, 1980. Within months, they expanded to Marina del Rey and Beverly Hills. Two years later, they opened the store on Sepulveda Boulevard, which became known for its annual warehouse sale. They continued to build their brand throughout the 1990s in such growing suburban communities as Calabasas and Westlake Village. They also gave birth to their first children's fashion boutique.

An ever-evolving story
The brand steadily grew into one of the area's most popular highend clothing boutiques, offering a wide range of apparel and accessories for women, men, and children. The husband, wife, and sister team also handles all of the buying for the stores. This helps to add a personal touch to everything they purchase by keeping each specific M.Fredric location in mind when choosing the right pieces.

It is very important to them to allow each store to have a touch of individuality that speaks to its local customer while still representing the M.Fredric brand. Lisa and Fred handle the buying for women and men while Mardi buys for kids and jewelry. Today, M.Fredric can be found in fashionable locales from Calabasas and Valencia to Marina Del Rey and Malibu.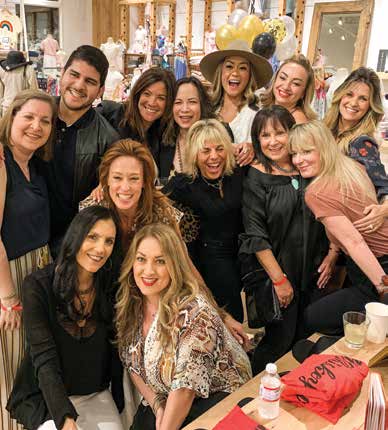 From one runway to another
After 40 years catering to SoCal fashionistas, the buyers at M.Fredric clearly understand what their loyal customers love to wear. They also continue to set trends. The company's latest area of expansion is airports. They've licensed the M.Fredric name to The Hudson Group to open six stores at locations such as LAX, the George Bush Intercontinental Airport in Houston, and the McCarran International Airport in Las Vegas.

"These days, every airport seems to be expanding their retail presence," explains Levine. "They're becoming shopping malls." Ranging from 300 to 1,000 square feet, these shops do as much volume as a 2,000-squarefoot store. "Our airport stores have provided us with another way to expand our brand into new markets with clothing and accessories that work perfectly for travel destinations," continues Levine. "It's also a great way for people who live outside of Southern California to learn about us and then shop for our fashions online."

M. Fredric has found the ideal combination of offering the best of both worlds to their loyal shoppers. Since launching the e-commerce website, customers have had the convenience of shopping online to quickly find and select their favorite styles and accessories. That said, local shoppers throughout Southern California still love the in-store experience of seeing and trying on the new styles that come into the store each week. They also love getting the personalized service from attentive M.Fredric employees who many consider their own personalized stylists.

While the owners live and work in the community, it is their sincere mission to preserve M.Fredric's character as a local family-run business despite its growth. This is reflected in the intimate relationship between owners, staff, and customers. It is the intimacy and small-shop attitude that gives M.Fredric the edge it needs to stand out and defy the ominous presence of the online giants that have gobbled up much of the local brick-and-mortar apparel shop. "We must offer our warm friendly service and community spirit if we are to compete with the online giants," says Levine.

Giving back to the community
M.Fredric also gives back to the community. As they head towards their fifth decade of business, they continue to support such wellknown charities as the American Cancer Society and Camp Ronald McDonald for Good Times. "We're proud to be considered a retailer with a heart," notes Levine. Sounds like a wonderfully old-fashioned ideal for such a forward-looking company.