The Panamera Sport Turismo
April 27, 2018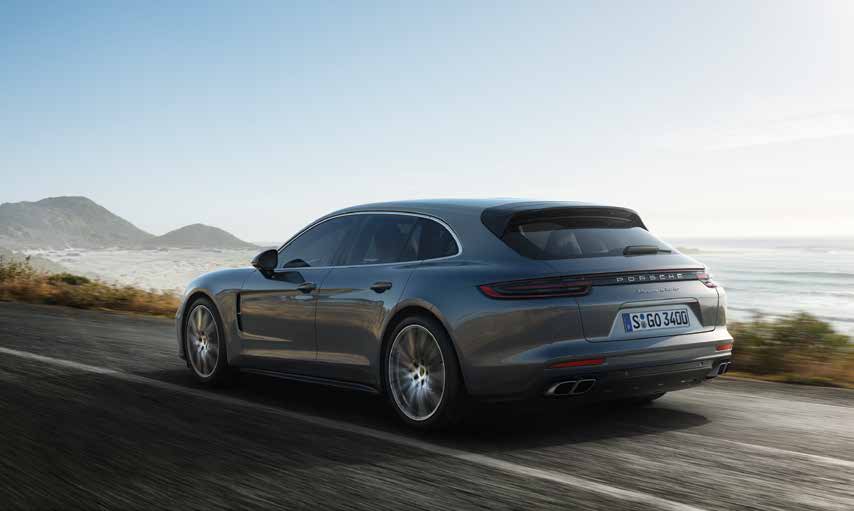 For 2018, Porsche is stepping into the rarefied world of the "fivedoor" sports car. They are targeting the buyer who loves the 911 and the Panamera but needs a bit more space for the kids or a trip to the golf course. The Panamera Turbo Sport Turismo, equipped with the Sport Chrono package, is capable of accelerating from 0 to 60 miles per hour in as little as 3.4 seconds. Porsche has increased the brake size and the cargo load rating to balance out the utility with the performance.
The Sport Turismo seats five and can be distinguished from other Panamera models by the unique rear section. With a large tailgate and a lower loading edge than the sedan, it has more of a "sport-wagon" appearance. As subtle as it is, it makes a tremendous difference with capacity and appearance. The rear of the car offers an adaptive spoiler that is key to the Porsche Active Aerodynamics. The spoiler raises to three positions depending on the situation and selected vehicle settings and will generate up to 110 lbs of additional down-force over the rear axle. Luxury is what you have come to expect from Porsche.
It is luxurious, aggressive, and offers the utility that you need while being wrapped in another winning Porsche package. Whether you are going to Home Depot or the track, you can do it all in the new Panamera Sport Turismo. For more information or to test drive a new Panamera, please contact Keith Goldberg at Rusnak Porsche/Westlake. porschewestlake.com.