Parent's Guide: Summer Fun for Kids
April 27, 2018
Synergy Academics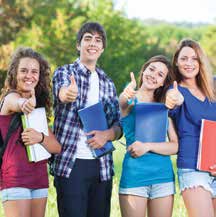 This summer, Synergy Academics is offering eight incredible summer workshops. There is something for everyone with their Algebra Boost, Organization & Study Tips, Arts & Crafts, Summer Reading, Google Docs & Typing, Driver's Education, Summer Writing, and Comic Culture.
Workshop programs differ in length and are offered over the months of June, July, and August. Students can participate in multiple workshops to help feed their creativity and brain power and prepare them for their upcoming academic year. Visit the Synergy Academics website to view the full workshop schedule and then call the office for easy registration or to customize your workshop schedule.
At Synergy Academics, help is on demand for your child, right when she or he requires it. Don't let the summer months slip by without getting ahead for the next academic year.
6700 Fallbrook Ave., #101
West Hills
818.888.8665
synergyacademics.com
---
Team G Tennis Summer Camp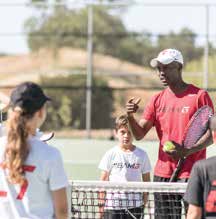 Team G seeks talented athletes and tennis players from all backgrounds who have the passion and desire to achieve national recognition. Coach Gerald Mathews has established a system of training that equips athletes with the skill set to move and perform at an elite level. Going on its 10th summer, Team G Tennis Camp creates players that achieve consistently at the top levels in the sport through movement training and tennis fundamentals.
Team G students go on to achieve national rankings and the notoriety needed to be recognized by Division 1 colleges and professional athletic organizations. Coach G consistently has a roster of top junior tennis players and prides himself on making the sport more accessible to all levels of players and turning these players into blue chips. Six-week summer camp: Session 1, June 18 to 28; Session 2, July 9 to August 2.
Private Lessons/Weekly Clinics/Camps
Calabasas/Woodland Hills/Encino
Contact: Casandra Walker
323.979.8417
teamgtennis.com
---
California Dance Theatre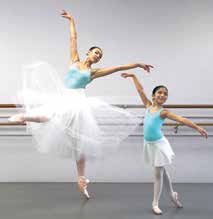 Leap into summer! For an unforgettable summer dance experience, come to California Dance Theatre (CDT) in Westlake Village for an array of camps, workshops, and performing opportunities for all ages.
Whether you are looking for an advanced dance intensive with master teachers or a fun-filled dance camp introducing you to ballet, jazz, tap, or hip-hop, then CDT is the place for you.
Their young Budding Ballerina workshop, taught by professional ballerinas, explores the magic of classical ballet. Kids learn dances, dress up in costume, and create ballet-themed arts and crafts. And Moms, they haven't forgotten about you. Get fit this summer with adult classes in ballet and jazz. You are never too old to feel the rhythm.
2282 Townsgate Rd., #4,5,6,
Westlake Village
818.707.3267
californiadancetheatre.com

---
The Boulevard School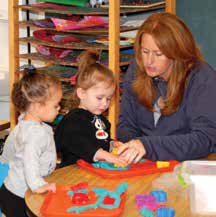 The Boulevard School summer camp offers great summer fun for kids, with a variety of water play activities, such as sprinklers, hoses, water tables, wading pools, and group swim in the heated pool. Their popular dance classes, engineering program, swim lessons, karate lessons, and more are also offered during their summer camp.
Their Baby and Me classes are for ages 9 to 24 months. This is a great way to introduce children to the joys of learning. The program includes music, crafts, and indoor and outside play. Each week the children explore a different theme with activities such as singing, music, drama, arts and crafts, puppetry, and more!
The Boulevard School also has music festivals, spirit days, carnival day, circus day, and other great surprises for your little ones. Toddlers, along with 2 and 3 year olds, can attend half or full day, while four year olds attend full days only.
23022 Victory Blvd.
Woodland Hills
818.883.0607
boulevardschool.com
---
Woodcrest Preschool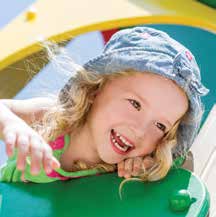 We are so excited to offer summer day-camp programs at Woodcrest Preschools in Newbury Park and Agoura Hills starting the week of June 19, 2018. Our summer day-camp programs offer children ages 18 months to 5 years fun-filled, age-appropriate theme weeks, onsite shows, long-lasting friendships, and summer fun.
Our programs are play based with an emphasis on modeling 21st-century learning skills, such as collaboration, exploration, creativity, and critical thinking.
Our camp teachers work to develop a fun-filled curriculum that follows exciting themes. An example of a fun theme is exploring as paleontologists and discovering everything "dinosaur." Children search for fossils, dig for bones, and engage in prehistoric play.
28370 Roadside Dr.
Agoura Hills
818.889.9841
107 Teardrop Ct.
Newbury Park
805.375.7788
woodcrestpreschool.com

---
Calabasas Country Club Junior Golf Academy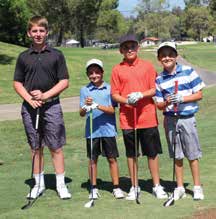 Calabasas Country Club offers the perfect environment for young golf enthusiasts with plenty of options to learn the game. The Junior Golf Academy is the only program in Southern
California with certified Hank Haney instructors. Over 250 junior golfers have attended since the inception of the Calabasas Golf Academy. The Junior Golf Academy is structured using the Operation 36™ Junior Development Framework with a simple mission: to progress juniors towards shooting par or better and to play the game from a hole-out perspective.
The Junior Golf Academy welcomes students ages 3 to 17, from beginners to college bound competitive players. Calabasas Country Cub will be hosting golf camps all summer long starting in June. Come see why this has become one of the most popular summer camps in the area!
4515 Park Entrada
Calabasas
818.444.5547
jsilversteinpga@gmail.com
david@calabasasgolf.com
calabasasgolf.com
---
Monarchs Gym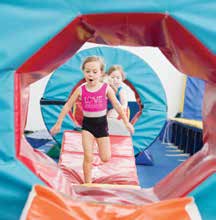 Monarchs is a full-service, children's gym center that inspires dynamic kids to grow their minds and bodies. Offering curriculum-based physical instruction classes for ages 15 months to adult, programs are designed to cultivate an active lifestyle through Kinder Gym, girls' and boys' gymnastics, competitive gymnastics, tumbling, cheer, trampoline, Ninja & Wonder Girl, Flips, and parkour classes.
Monarchs Gym also provides non-curriculum-based programs geared towards fostering learning through fun. Offering gymnastics, kinder, parkour, specialty, and intensive series classes year-round, Monarchs also has private and semi-private birthday parties and themed Parents' Night Out (Friday and Saturday); daily Open Plays. They also house a boutique style preschool "Happy Kidz"
with a Montessori / traditional hybrid curriculum and zip around town for Monarchs Mobile at your nearest preschools, daycares, or after-school programs.
5331 Derry Ave., C-H
Agoura Hills
818.889.3634
3599 Old Conejo Rd.
Newbury Park
805.375.4663
monarchsgym.com
---
Oaks Christian School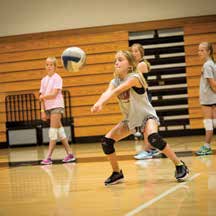 Have fun with us this summer at Oaks Christian School! Our summer sports camps are for boys and girls ages 5 to 13. Campers develop skills, knowledge, and interest in a variety of different sports. We provide expert instruction from trained coaches in state-of-the-art facilities. We offer all the traditional sports and also look to introduce campers to sports they may not be so familiar with, including swimming, water polo, lacrosse, and track and field. All camps are located on the Oaks
Christian School campus.
The very popular all-inclusive aquatics camp will introduce and help develop the love of aquatics. Campers experience a fun learning environment focusing on the fundamentals of swimming, water polo, and diving. The camp is a great opportunity to experience water polo and diving for the first
time! Most camps are from 9:00 a.m. to 2:00 p.m. and include lunch and pool time. Please visit oakssportscamps.com for more information and to register.
31749 La Tienda Dr.
Westlake Village
818.575.9900
oakschristian.org
---
WARRIOR&CO A Yoga Studio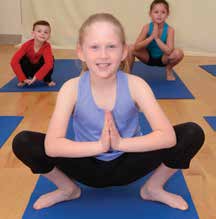 WARRIOR&CO A Yoga Studio, offers fun and nurturing yoga classes for kids ages 4 to 14 years old. Kids can enjoy this engaging mental and physical workout all offered within their non-heated room.
Junior Warrior is offered for kids ages 4 to 8 years old. Through stories and music, the imagination is activated, and children are guided through poses and movement while working on focus, balance and coordination.
Tween Warrior is offered for kids ages 9 to 14 years old. Tween class is the perfect place to unplug from all technology, where tweens achieve a calm and balanced mind, while building strong and flexible bodies. Learning breath and movement mediation, kids will take what they learn from the mat and use it in their daily lives.
Also, kids of all ages can enjoy flowing with their loved ones in a WARRIOR&CO Family Flow class.
21015 Oxnard St., #A
Woodland Hills
818.912.6855
warriorandcoyoga.com
---
Kids World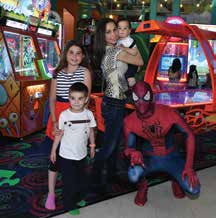 Kids World Family Fun Center offers the perfect indoor playground for kids. Featuring a four-level play structure, giant slides, arcades, basketball, and interactive exhibits for the entire family, it's a great location for play dates, outings, parties, and family fun. Plus, their onsite restaurant offers plenty of kid-friendly food as well as beer and wine for adults.
Want a place all to yourself? Reserve the entire location with its 800-guest capacity for a few hours or overnight. Admission is free for adults and infants, and you can also purchase passes and memberships to save even more.
With healthy food options, laser tag, a secured toddler area, and a multi-level play and climbing structure, Kids World offers a cool place to play on a hot summer's day.
618 Lindero Canyon Rd.
Oak Park
818.338.8888
kidsworldla.com

---
Blast City®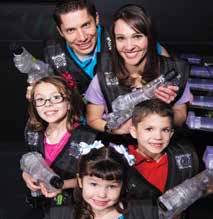 Blast City offers kids and adults plenty of summertime play, with two-level laser tag, food, arcade games, party rooms, and more for dynamic birthday parties and out-of-this-world fun.
You can even host a glow-in-the-dark party! Blast City Laser Tag is perfect for ages 5 and up and features 18 different missions, which means you will never get bored of playing.
The center provides the perfect arena for summer parties, family outings, camp groups, and more. Check out their unlimited laser tag and arcade packages.
It's not just laser tag. You can even get strapped into giant inflatable balls and bump into each other for a great way to round out the day.
618 Lindero Canyon Rd., #B
Oak Park
818.233.8944
blastcityla.com
---
Fusion Academy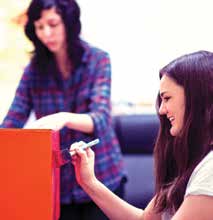 Looking for a summer school that won't take away your summer fun? At Fusion Academy, all classes are one-to-one: one student and one teacher per classroom. We personalize curriculum and scheduling around your family's summer plans so you can sleep in or go on vacation without worrying about when classes fit in.
The possibilities are endless with Fusion— from basic summer school options to unique-to-Fusion programs, you can earn class credit or sharpen your skills.
If preparing for your future is a priority, get a jumpstart on your next semester with Fusion's unique Readiness Program or express your creativity with art and music offerings. Whatever you're looking for this summer, Fusion has you covered; catch up, get ahead, or try something new.
21650 Oxnard St., #100
Woodland Hills
818.712.9521
fusionacademy.com
---