Style Trends: Home for the Holidays
November 19, 2022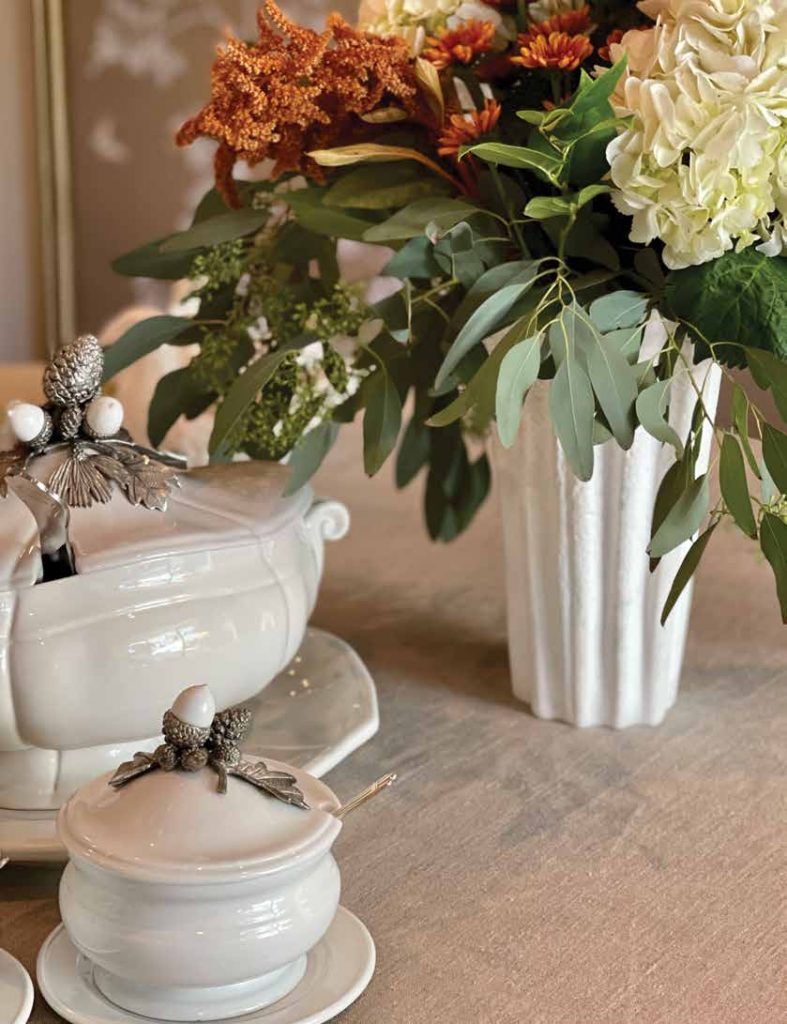 As the nights get chilly and the days fall below 80 degrees, we know another mild-weathered SoCal fall has arrived. This season ushers in the parade of holiday dinners and festivities—and the time to pick and color-coordinate the palette of your fall table is now. This year, I'm taking an "organic chic" angle, utilizing silvery greens and burnished gold tones to set the home with a welcoming glow—with French jacquard napkins and tablecloths and velvet pumpkins for a touch of luxury. My favorite staples in any fall arrangement are white hydrangeas, complemented with gold anemones or dark dahlias. Subtle-yet-elegant fillers such as eucalyptus and sage are ideal to finish your centerpiece. Rosemary branches are a delightful addition to any napkin ring. Fragrant and verdant, they add a splash of extra interest to any table. For my fruit bowls and charcuterie boards, fallflowering fruits—such as pears and grapes—are perfection. My plateware is monochromatic to allow the foliage to pop. The holidays are also the time to bring back the old-school romance with hand-scripted place cards.

For holiday flavors, my go-to entree is rack of lamb. It looks amazing, tastes even better, and more importantly, is easy to make. If you're starting your preparation late, lamb is a great alternative to turkey.
Rack of Lamb
6 Cloves of garlic peeled, half quantity grated,
half sliced vertically
5 Sprigs of fresh rosemary
Sea salt
Fresh ground black pepper
1 Rack of lamb (8 bones)
Olive oil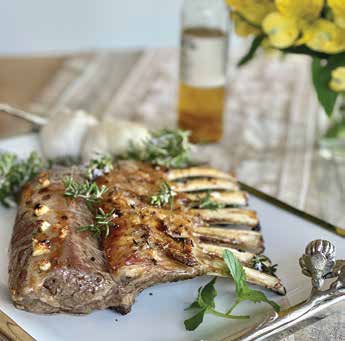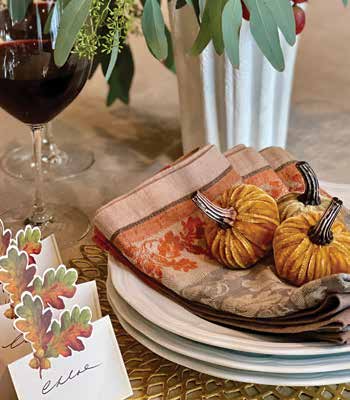 Pre-heat the oven to 400 degrees Fahrenheit. Generously add salt and pepper to both sides of the rack. Hand grate the clove of garlic and rub it in on the skin of the lamb, mixing it with the previously applied salt and pepper. Apply a thin layer of olive oil. Use your cutting knife to create one-inch slits on top of the meaty part of the rack on the skin side. Stuff these slits with the sliced garlic and rosemary.
Place the rack of lamb skin-side down in a Dutch oven to melt the fat away for 4 to 5 minutes. Once the rack has been browned, turn it over.

Next, place the rack in your preheated oven and cook for 14 to 24 minutes, depending on your preference. Remove and let the lamb cool for a few minutes. Once ready, I like to present the whole rack on a grooved cutting board lined with fresh rosemary sprigs. This makes the presentation beautiful and serving easy as the lamb can be sliced on the cutting board after it is placed on the dining table.

Article co-written with Chloe Wong-Beddows. juliawongdesigns.com