My Favorite Space
June 2, 2017
HOWARD WEISSMAN: CABANA SUN ROOM
Photography by: Ivan Hive: Pristine Portrait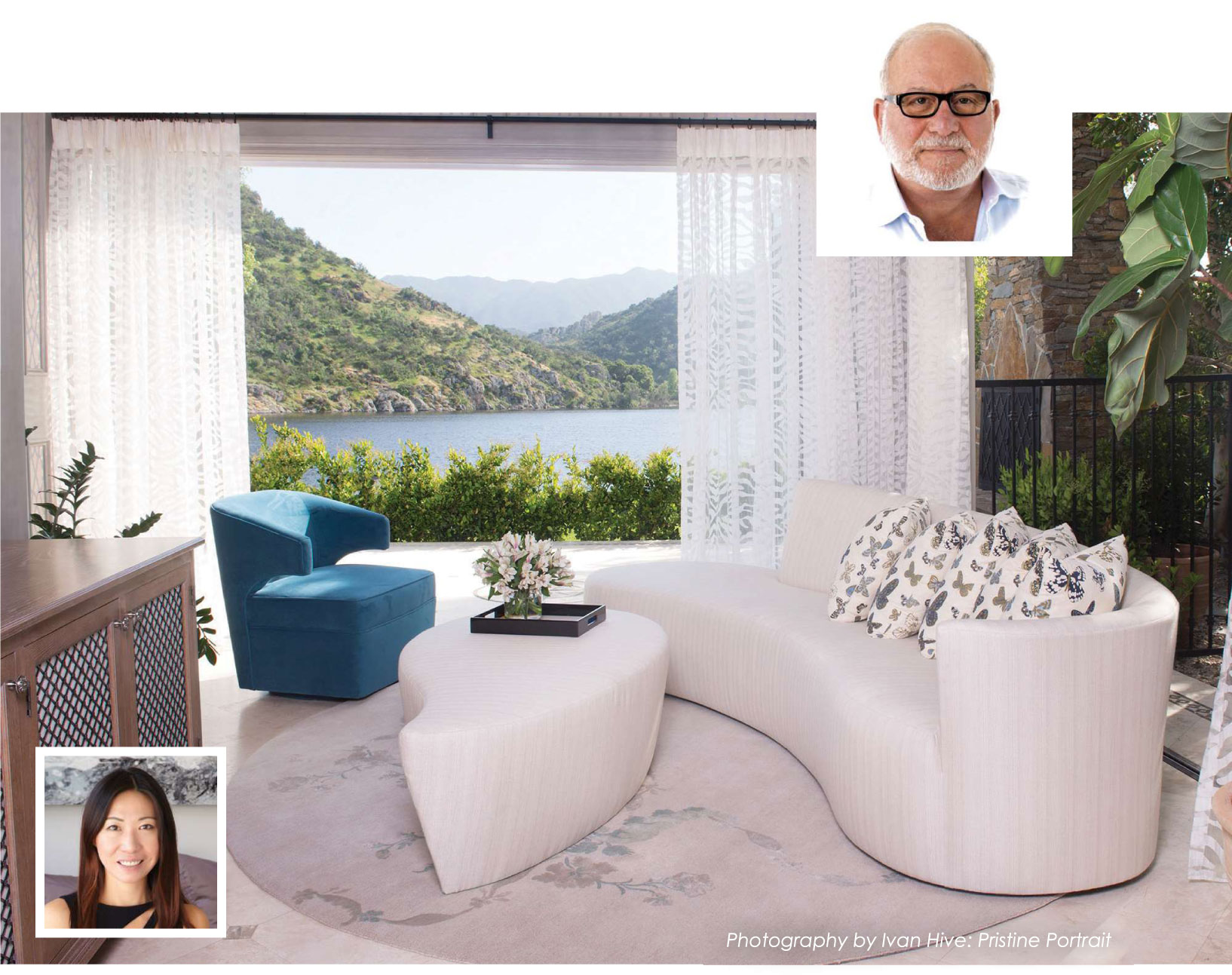 Howard Weissman's favorite space in his sweeping Westlake Village home is the Cabana Sun Room. His aim was simply "to capture the beauty of Lake Sherwood and the surrounding Santa Monica Mountains." With a little help from renowned international designer Julia Wong, Howard created a room that allows the golden Southern California sun to shine through. He especially appreciates "how nature and natural light is brought into the home through the open NanaWall folding glass doors." The addition of a graceful Zen fountain in the lovely adjacent garden is the pièce de résistance.
---
Doddy Rafieha and Tara Bahri: Master Bedroom
Photography by: Ivan Hive: Pristine Portrait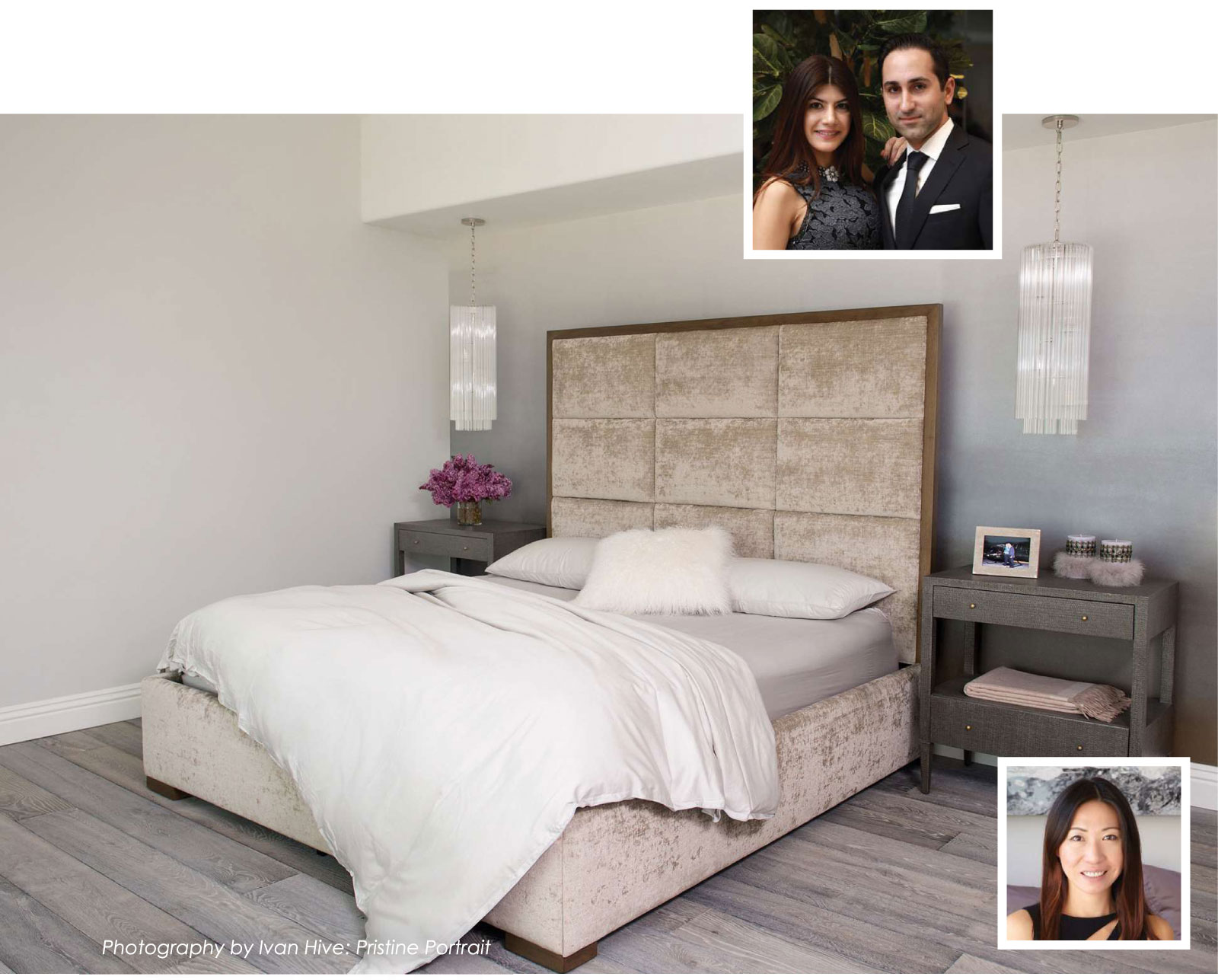 Doddy and Tara's favorite space is their master bedroom. They adore everything about it, from the hand-painted wallpaper to the drop-down light pendants. With help from Julia Wong Designs, the couple created their ideal love nest. Using muted grey tones, they crafted a clean, contemporary-yet-classic look, accentuated by a few personal touches, such as custom-made candles and flower arrangements. They both agree their fondest memory over the past six years was one of the first: "Moving back in post-construction and finally being able to enjoy the space!"
---
DEBORAH SWEENEY: POOL BATH/OFFICE COMBINATION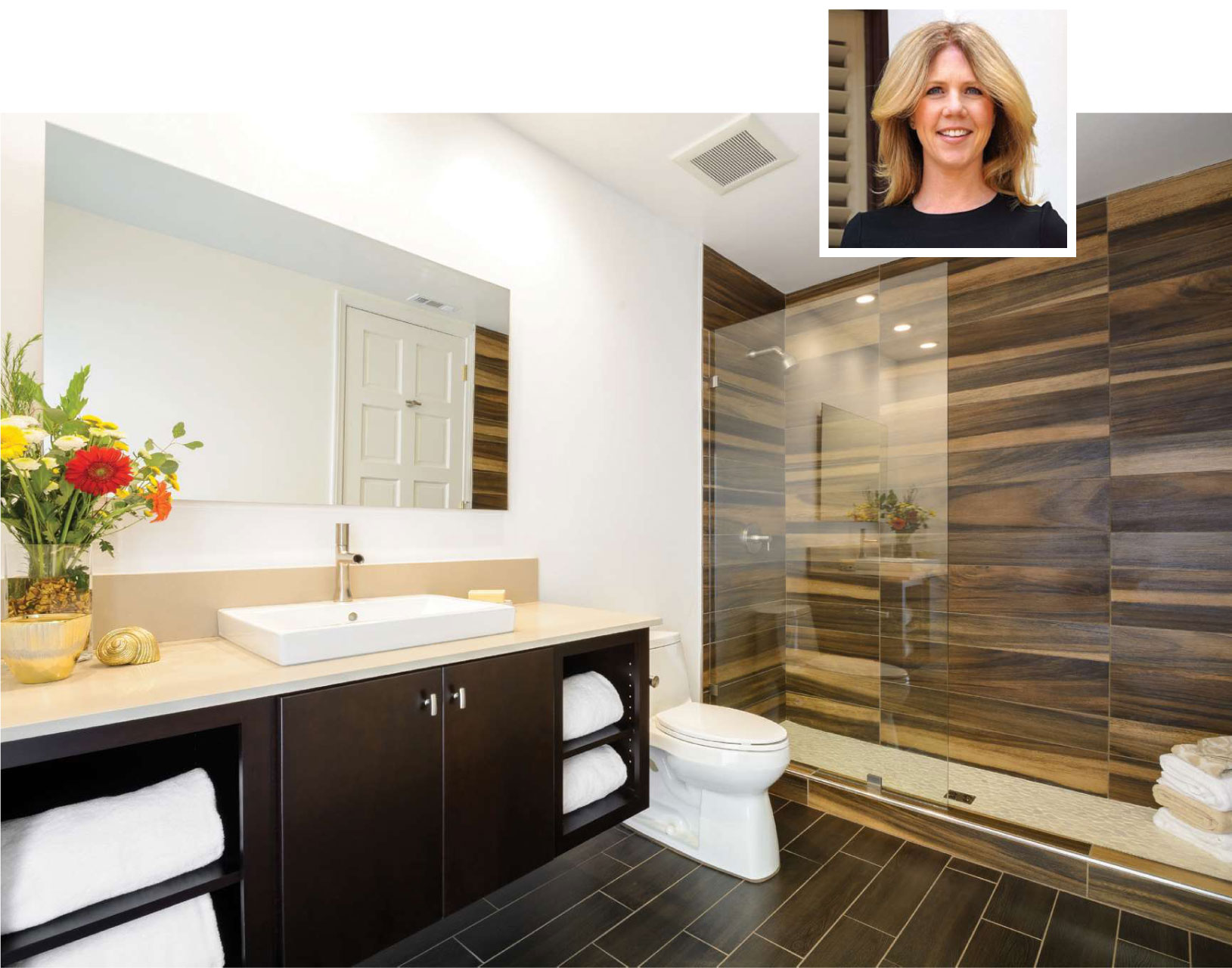 "We wanted a bathroom that would be perfect when everyone came in from the pool – a tile floor, rock shower…super clean and simple," remarks Deborah Sweeney. "I also love the connecting office where we spend a lot of time as a family doing our work." The Sweeneys had a little help designing the space from the awesome team at One Week Bath. "I love the rock shower. It has no door and feels good on your feet." Fresh, breezy scents further enhance the outdoor/indoor experience. "It always smells like a day at the beach."
---
HANNAH AND LARRY HIRSCH: KITCHEN
Photography by: Ivan Hive: Pristine Portrait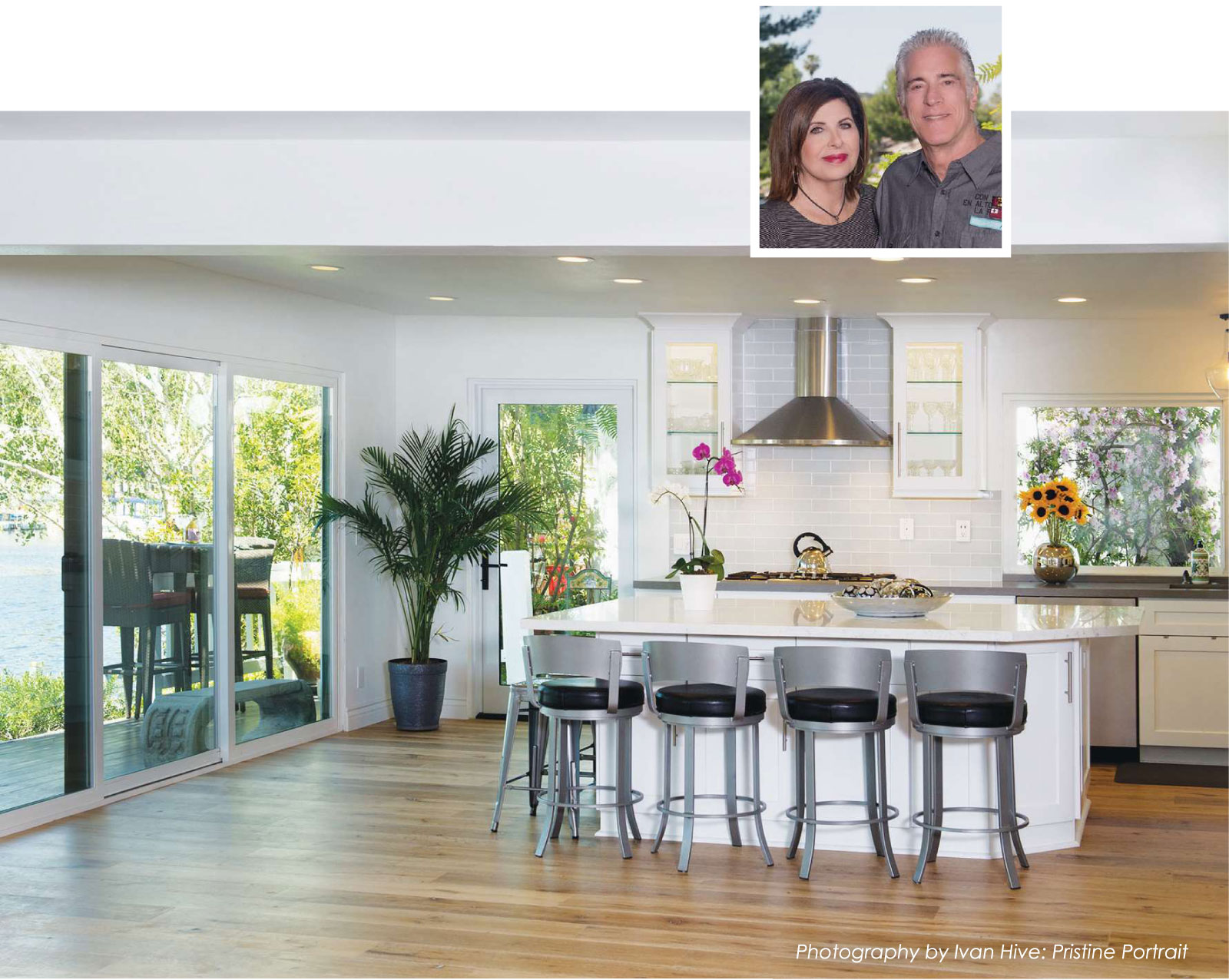 "My kitchen is definitely my favorite room," remarks Hannah Hirsch. "It's the place where all my friends and family can gather to share a funny story, a wonderful moment, and fabulous dessert, food, and drinks." The inspiration for the kitchen came from Hannah's love of water. Her favorite element is the oversized island. Her kitchen designer, Sharon Lewis of Creative Kitchen and Counter-tops, helped bring Hannah's vision to life. Hannah smiles as she recalls a recent holiday dinner: "We all took turns singing and laughing so hard because none of us could really sing!"
---
ALLAN AND MARIANNA LUMMER: DINING ROOM
Photography by: Gia Garganese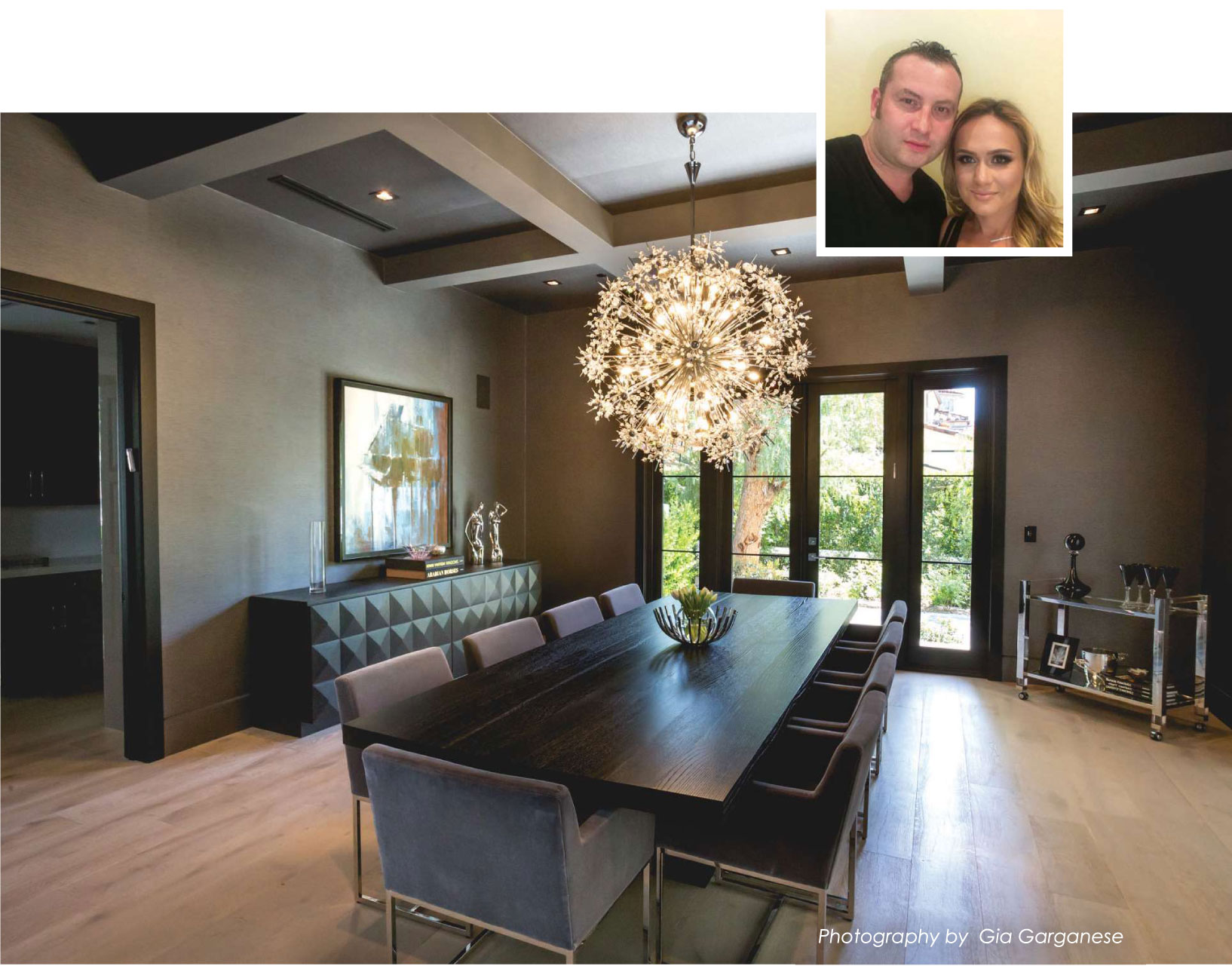 The Lummers incorporated modern design and clean lines to create their ideal dining room. The custom dining room table and buffet by Elevate fit perfectly into this stunning space. They worked with lighting designers to produce just the right ambiance for "getting the family together and sharing stories around the dinner table." The Lummers added their own pop of personality with their unique choice of accessories. For the past three years, they've gathered together to share their lives in this lovely Calabasas home. They look forward to creating many new memories in the years to come.
---
NELLY COBOS: GAMING ROOM
Photography by Gia Garganese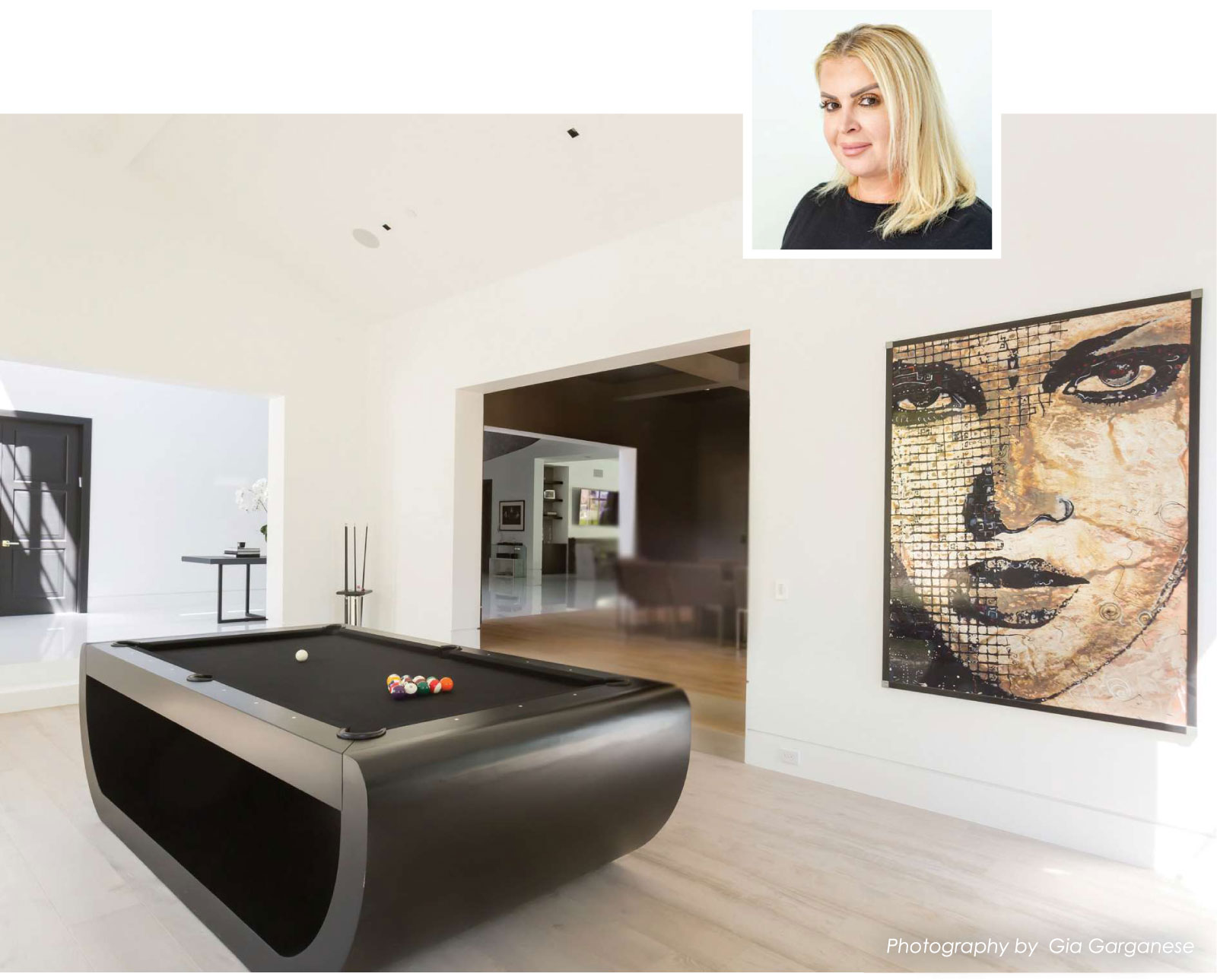 Nelly Cobos admits her favorite area of their new Hidden Hills home is the gaming room. "I wanted to provide a space where our family and friends can get together to bond and have fun," reports Nelly. While most Southern California families spend hours around the swimming pool, Nelly and her family love to pass the time laughing, playing games and shooting pool. The family received welcomed help from Elevate Customs in locating the sleek, modern pool table for their gaming room. They've even added a family portrait to watch over all the family fun.
---
ANNEMARIE AND PATRICK FLAHERTY: KITCHEN
Photography by Gia Garganese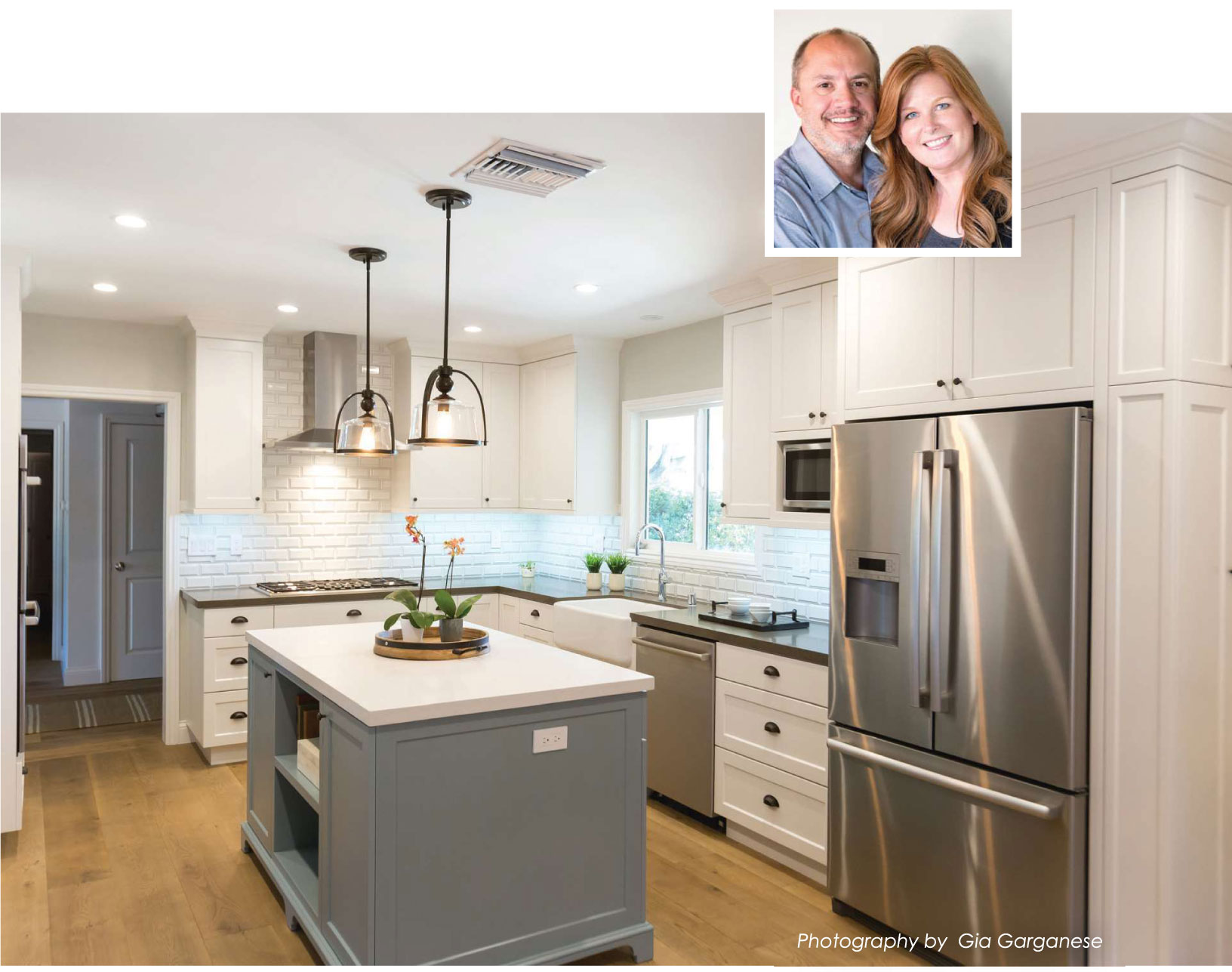 Both Annemarie and Patrick Flaherty love the kitchen in their Woodland Hills home. "We wanted to combine aspects of traditional cabinetry and moldings with the more modern elements of the house," notes the couple. "We just love how the space connects our home and family." They especially enjoy watching their children play hide and seek in their cabinets. They also love the island, wood floor, farmhouse sink, pendant lights, and peninsula that open up into the family room. "We couldn't have done it without Maureen and Joan at Design In Real Life in Calabasas."
---
TONI YAMIN: MASTER SUITE
Photography by Briand Guzman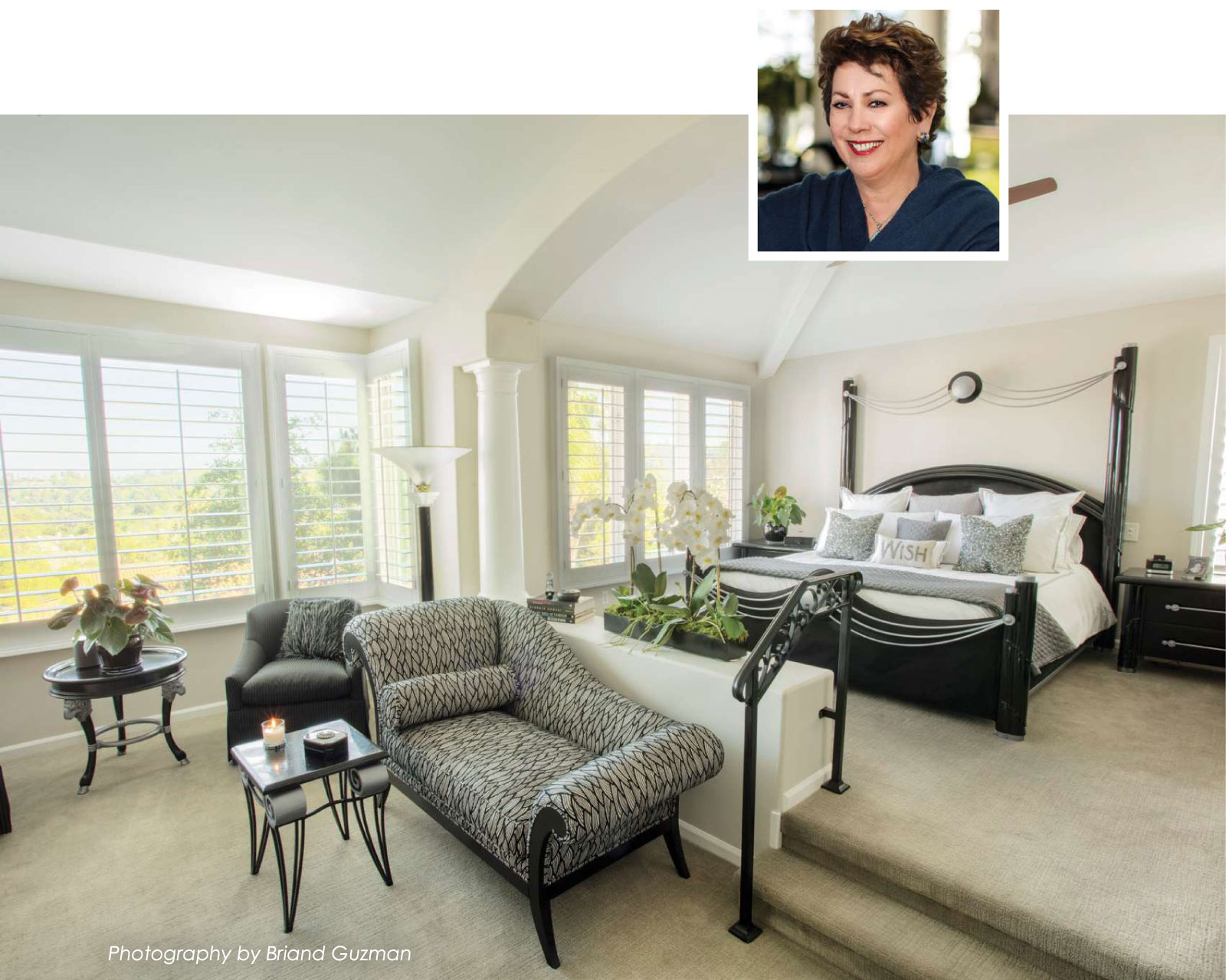 Toni Yamin's favorite space is the master suite on the second floor of her new Calabasas home. "We didn't use an interior designer," Toni says. "I knew the look I wanted was very Art Deco, using various shades of gray with accents of black and white." Toni loves the large picture windows that provide beautiful views of the San Fernando Valley from sunrise to sunset. "We love opening up the windows and enjoying the fresh air," she adds. The fabric Toni selected for the fainting sofa is her very favorite one in the entire house.
---
JIM AND SUSIE GOTTFURCHT: GREAT ROOM
Photography by Gia Garganese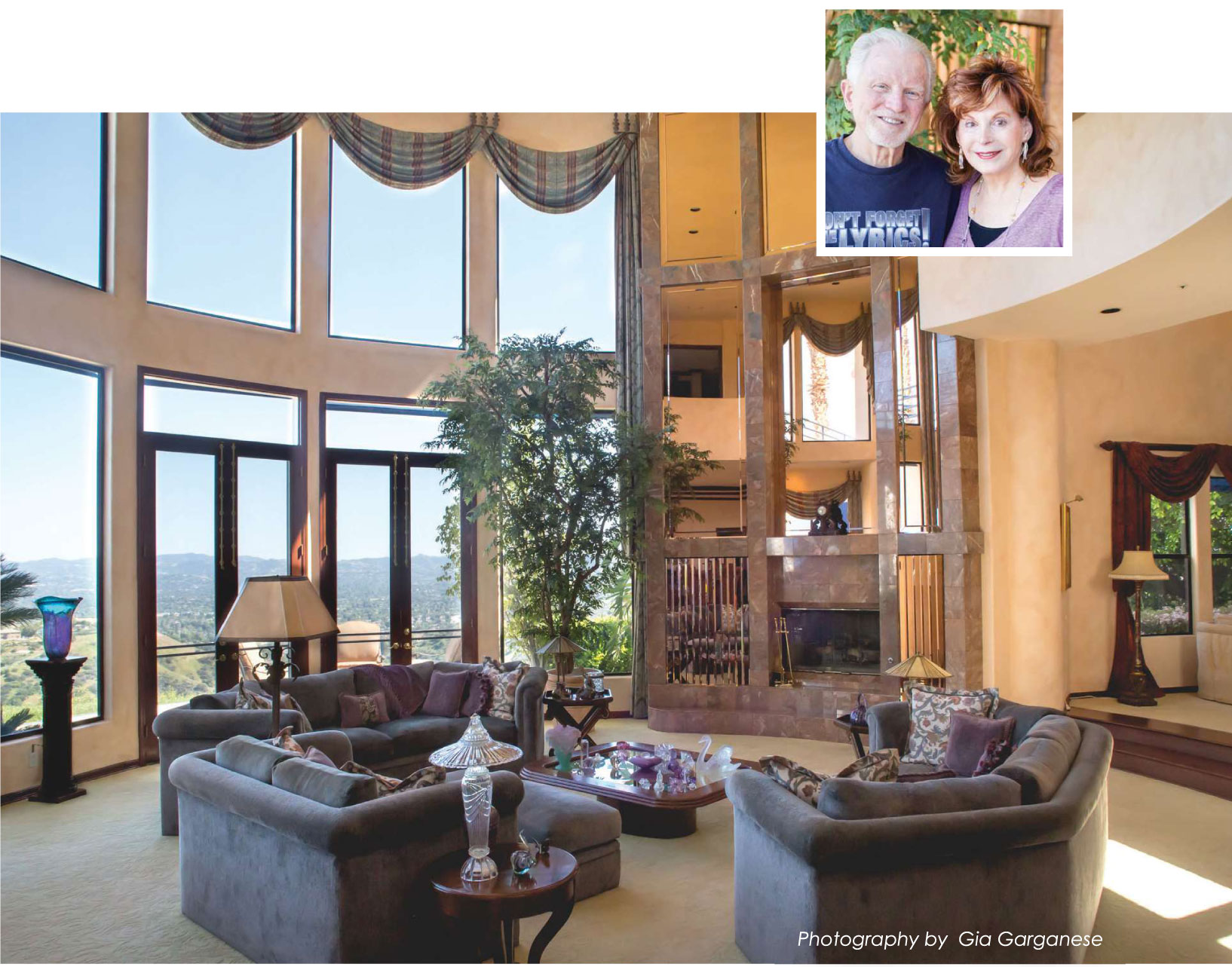 "Our favorite space is the Great Room," reveals Jim and Susie Gottfurcht. "We love its soaring views of the valley." For the past 27 years, these Bell Canyon residents have especially enjoyed entertaining their large family and close friends in this magnificent two-story, 36-foot-round room with a striking floor-to-ceiling fireplace. They initially used an interior decorator to help create the perfect space. The room is still evolving. "We travel and enjoy buying unique and beautiful things." The couple continues to make their Great Room even grander with art and memorabilia collected during their ongoing journeys.
---
TAMARA AND RICK WASSERMAN: OUTDOOR DECK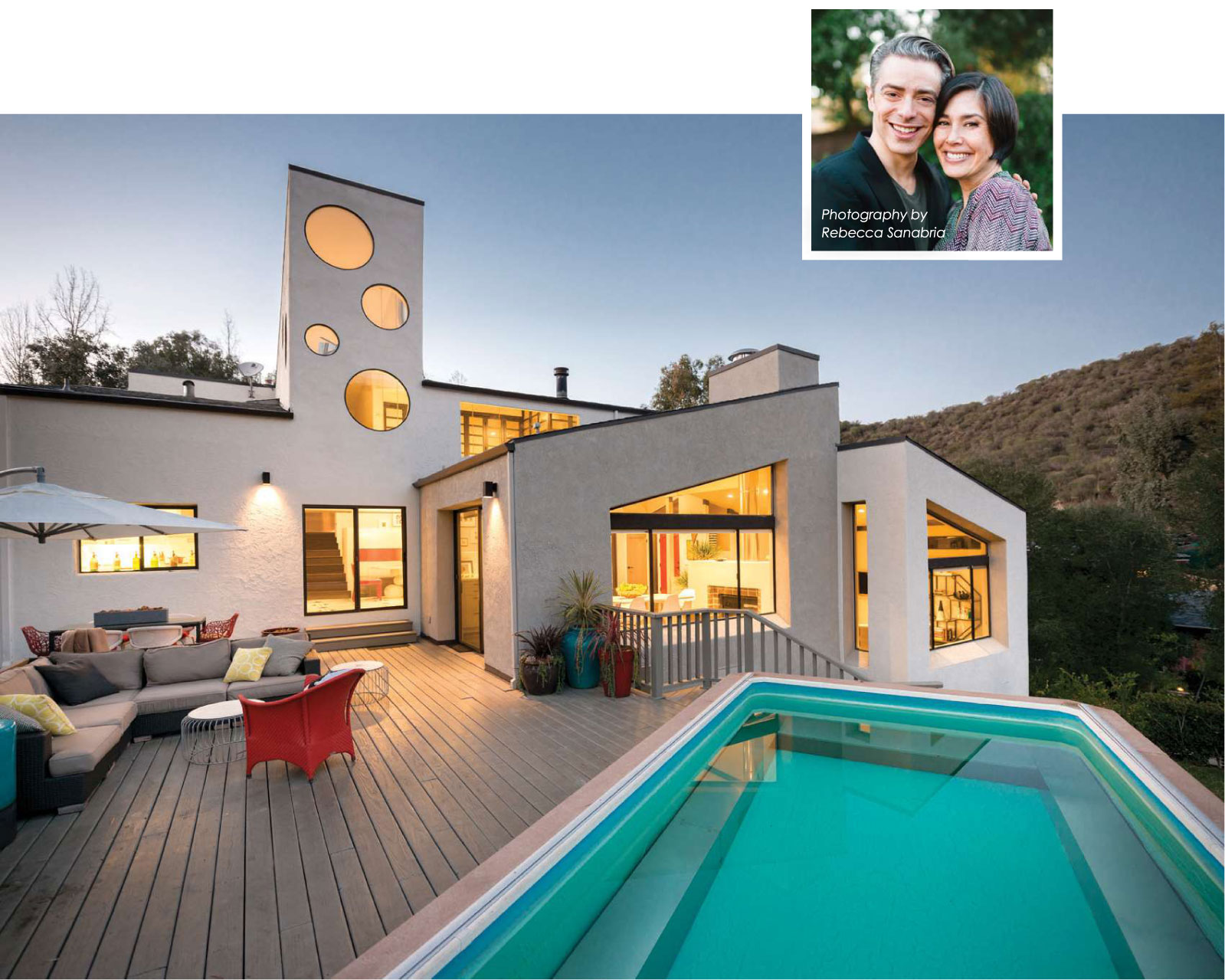 "The view from our deck has no equal," explains proud Monte Nido homeowners Tamara and Rick Wasserman. "It gives us a front-row seat to the epic show Mother Nature puts on for us every day." They employed the keen eye of interior designer Matthew Lanphier to create their eclectic abode. Lamphier also helped design the family's previous home. "From our deck, we can see the sun peek over mountains that surround us on all sides. And we are lucky to be treated to frequent visits from local wildlife: hummingbirds, deer, hawks, coyotes, rabbits, and more."
---
KATRIN AND DAVID KHALEPARI: MAN CAVE
Photography by Briand Guzman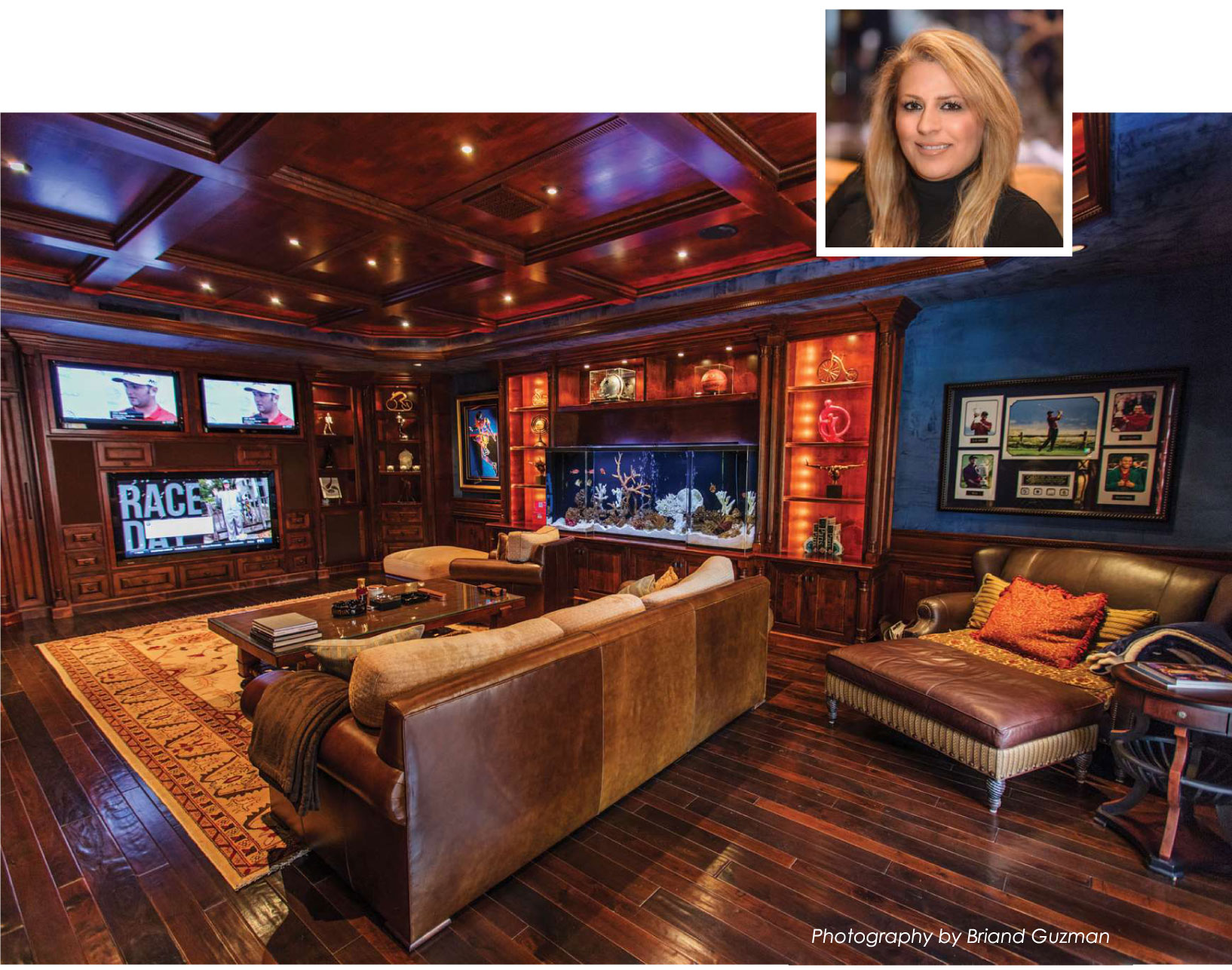 "Every man needs a place to unwind and get away from the outside world," shares Katrin Khalepari. "That's why we created the ultimate man cave for my husband David." The room provides a virtual oasis, with three television screens and full surround-sound system, plus a full bar, kitchen, and bath. "The décor is totally masculine, with big comfy sofas and chairs, so the guys can kick back and relax," Katrin adds. She and her girlfriends frequently enjoy the rest of the house while David and his guests watch sports in their fully-stocked man cave.
---
POUNEH AND PETER KAUFMAN: OUTDOOR PATIO
Photography by Briand Guzman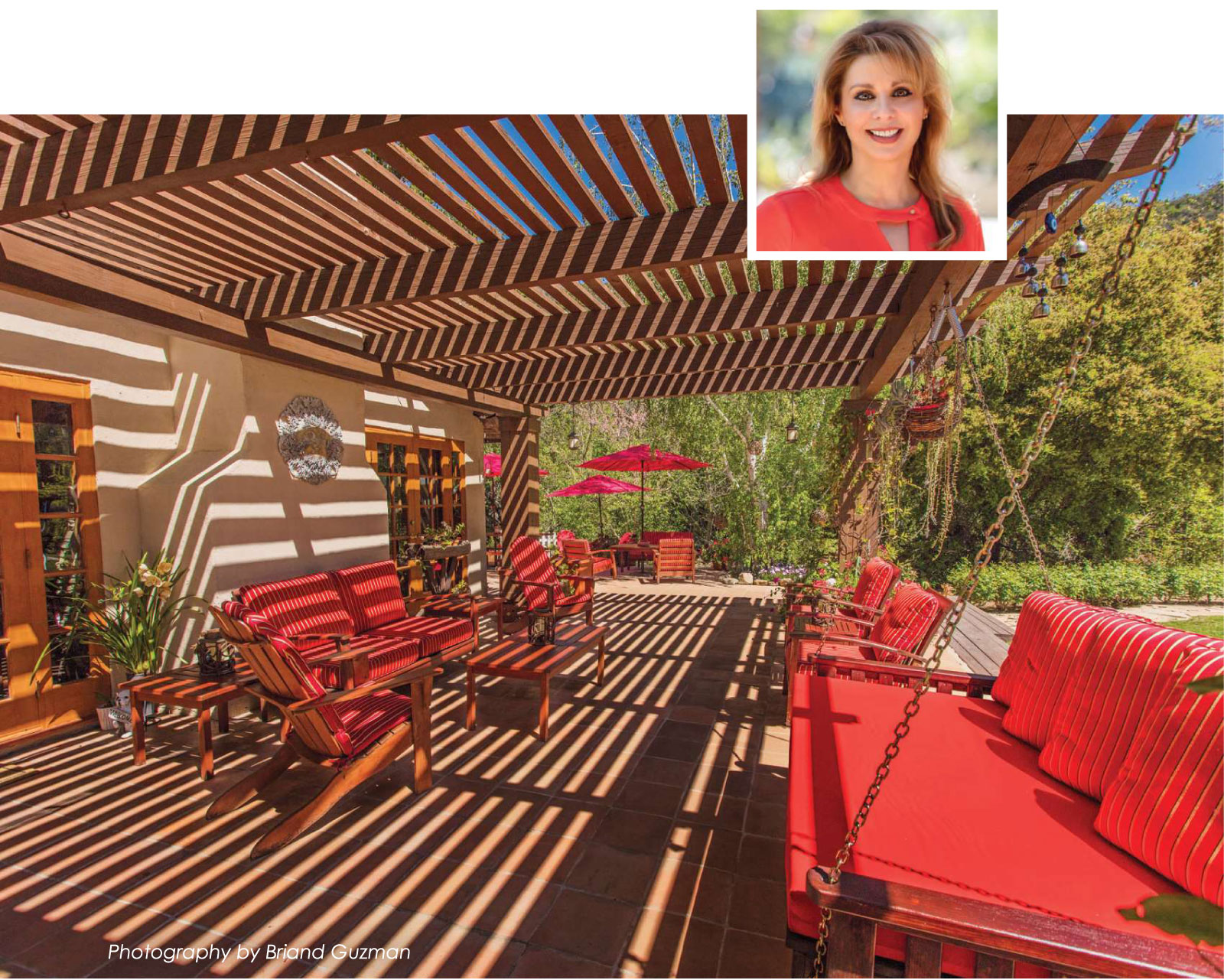 "When we purchased our home eight years ago," notes Pouneh and Peter Kaufman, "We had a vision of a place where all our family and friends could gather for hours outdoors, feeling like they were in a magical place." Inspired by the botanical gar-dens they saw during their travels, the couple created an outdoor patio area with a Spanish tile deck overlooking spectacular rose gardens and a babbling brook, with amazing views of the Santa Monica Mountains. "We have created so many great memories here and have been blessed to share our favorite space with everyone we love."
---
CINDY GOLDSTEIN: OUTDOOR LIVING ROOM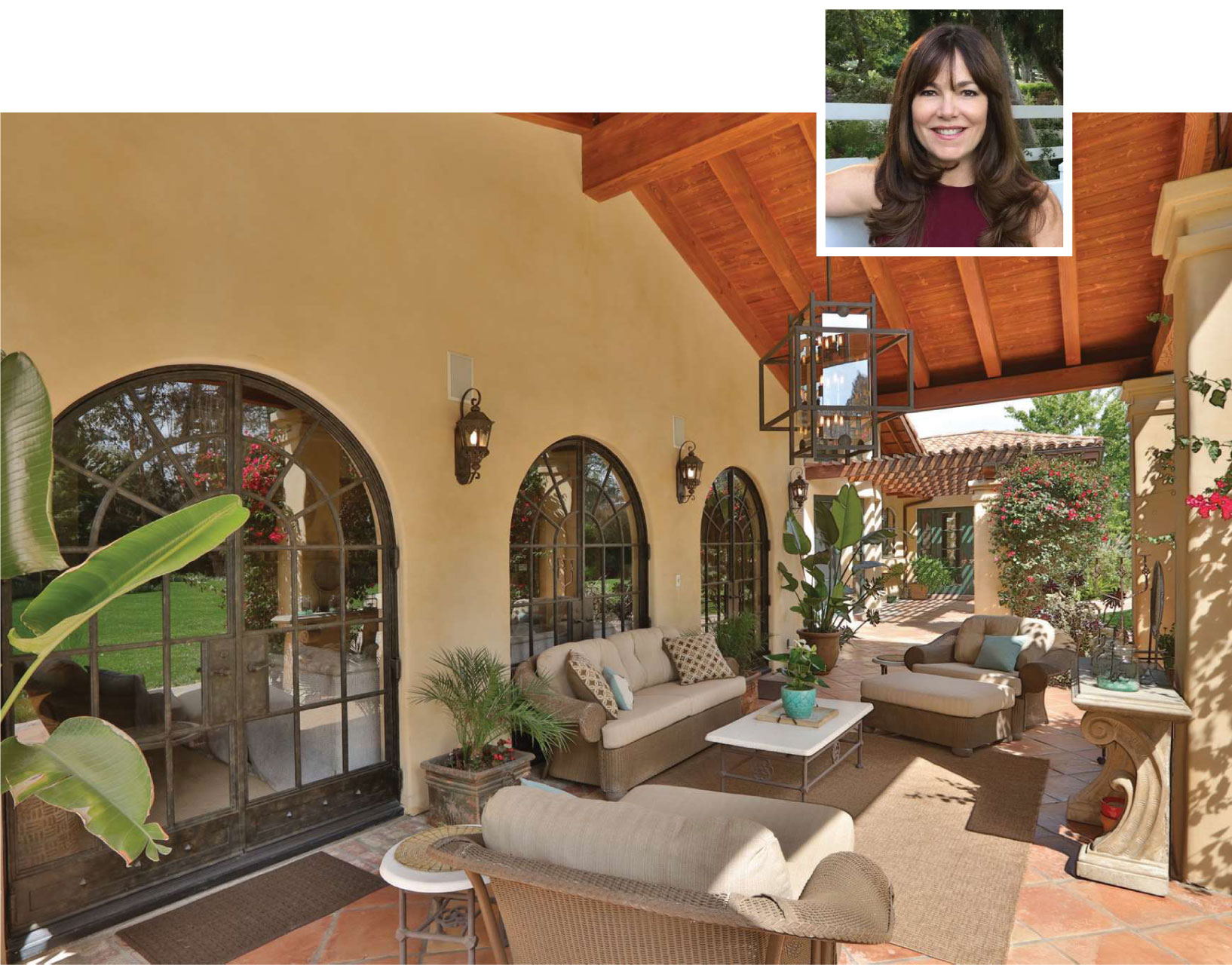 "My favorite spot is the Spanish-style outdoor living room of our home," reveals Cindy Goldstein. The "living room" is just that for the Goldsteins. When the couple built their home 17 years ago, they designed a backyard with their entire family in mind. Since they all love trees and flowers, they chose a variety that blooms at different times of the year. Sitting on their outdoor sofas, sipping wine, laughing together, and listening to the birds and waterfalls in the pool sets a tone of total relaxation. "I can't think of a better place to be!"
---
LISA AND SCOTT SORRENTINO: BACKYARD PUTTING GREEN
Photography by Briand Guzman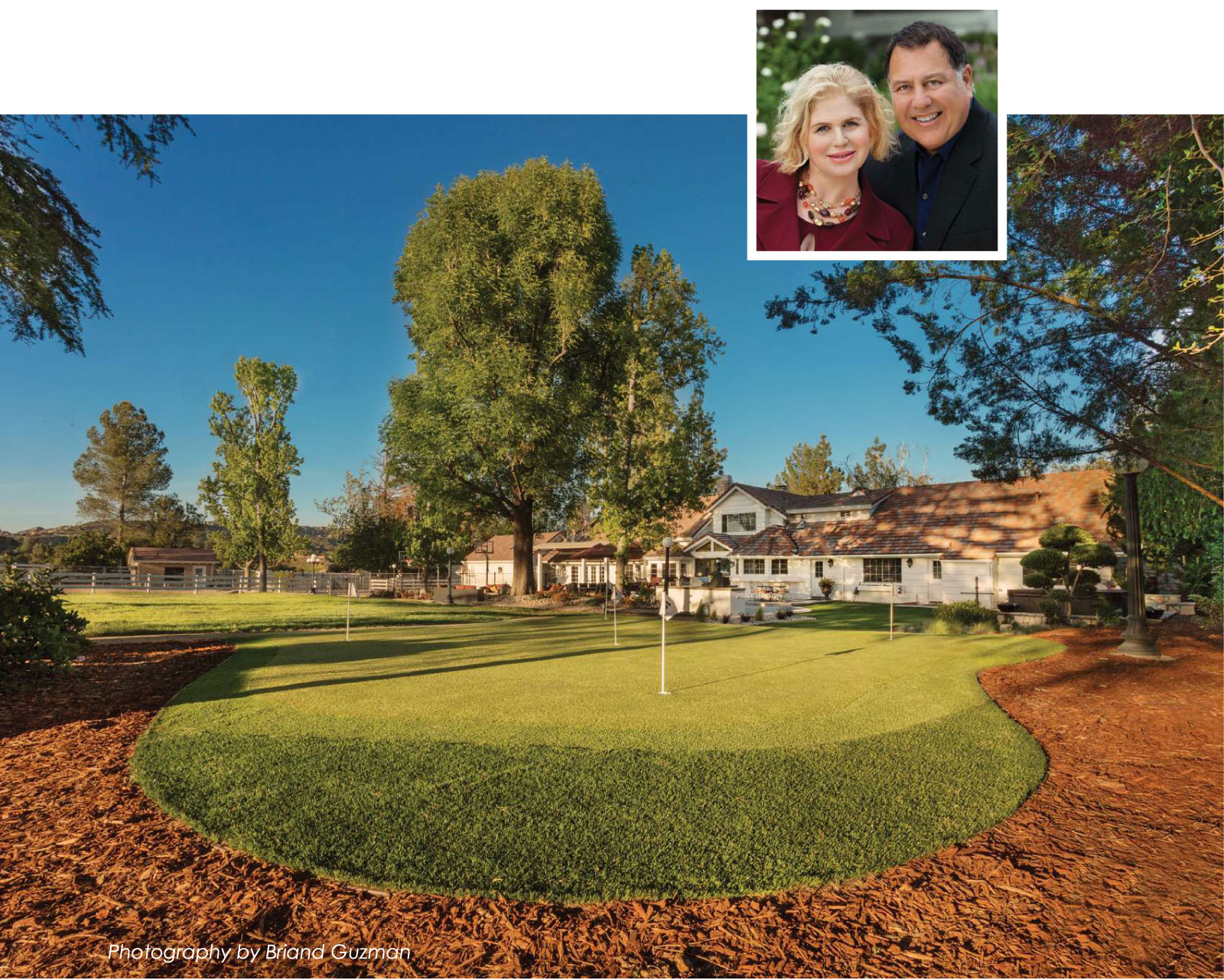 "We always dreamed of building a putting green in our own backyard," remark Lisa and Scott Sorrentino. "So when we moved to Bell Canyon…we built our dream putting green." Former scratch golfer Scott loves his multiple tee shots at 25, 50, and 75 yards, while Lisa enjoys the beautiful sunset when playing in the late afternoon. She also loves "watching my two favorite boys, Scott and our 17-year-old Jonny, share their special time together playing golf." The couple adds, "What a kick it is to see friends pull up and grab their clubs out of the car ready to play."