Fairy Villages Bring Joy & Delight
July 23, 2020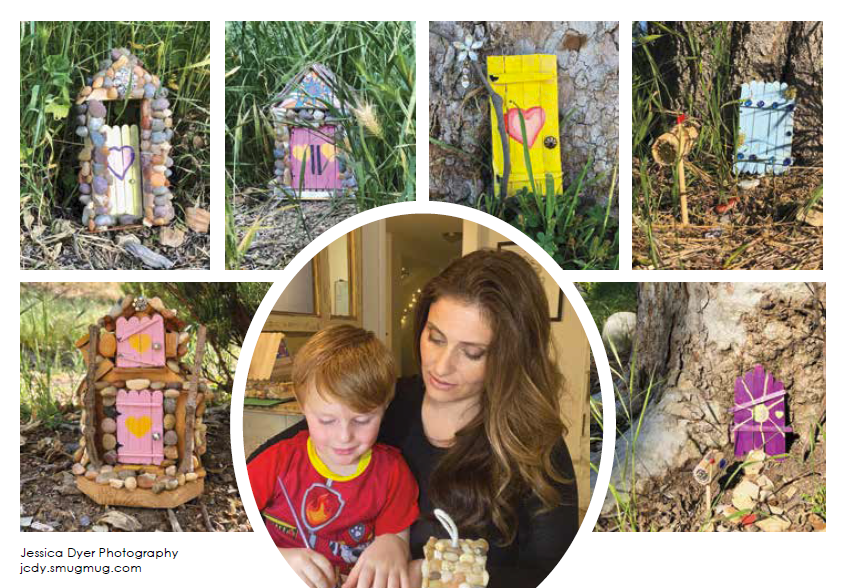 Venesa Klein and her family had just moved back to Calabasas from the Bay Area when the fires struck in 2018. She was still in the process of settling in with her husband, her 4-year-old-son Jackson, and her 6-month-old-daughter Ava when the COVID-19 pandemic forced everyone into quarantine. She recalled the whimsical fairy doors that were scattered around her old neighborhood in Alameda and decided to create some magic in her Calabasas neighborhood. Using Popsicle sticks, Mod Podge to varnish, and a bag of broken jewelry, she started making fairy doors and scattering them around the neighborhood for people to discover as they walked.

What happened next was inspiring—people started to add pathways and amazing little mailboxes, painted rocks, and knitted flower boxes to enhance the fairy dwellings. Inspired by other's involvement, Vanesa and her sister got even more creative. They started using parts of the bird houses that their father builds as a hobby and added chimneys, doors, windows, and little pebbles to resemble cobblestone-covered cottages. Then, other people started to build and add new fairy houses, and little fairy villages began to emerge. Soon, there were a number of fairy villages for people to find and enjoy. Kids, parents, and grandparents love the whimsical magic that the fairy villages provide.

For Venesa, who actually grew up in Hidden Hills and Malibu, the project has been a creative and artistic experience that even her 4-year-old son enjoys. When she is not creating fairy dwellings, Venesa works full time as a partner at an executive search firm called Calibre One.