Hike to Your Heart's Content in Sunny SoCal
January 31, 2021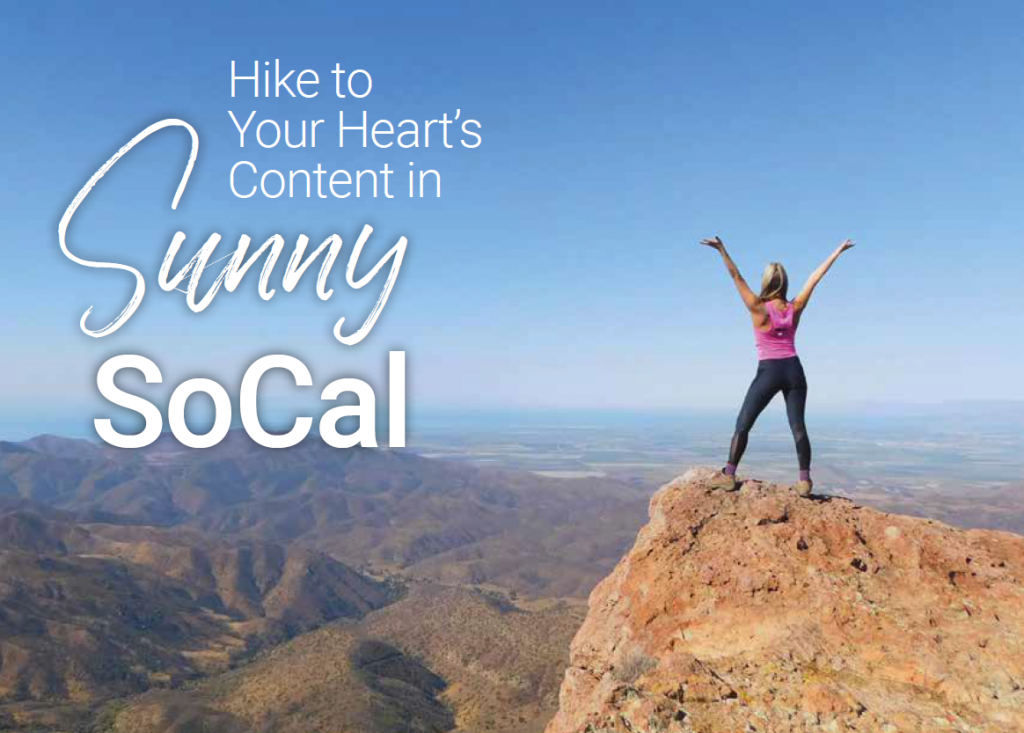 Many people wonder why Southern Californians put up with wildfires and earthquakes. It's partly because, even in the middle of winter, we can still hike to our heart's content along our favorite beaches and local mountains.

Hiking requires very little—sturdy shoes, energy, and a passion for the great outdoors. Yet, it provides so much in return. While you breathe in air spiced with fragrant sagebrush and gaze at the gorgeous scenery, your mood grows lighter and stress levels lower. It hardly feels like exercise when you're climbing your favorite peak in the Santa Monica Mountains or wandering along your favorite path. Yet, this healthy adventure helps lower your blood pressure and cholesterol levels, build muscle, and manage weight.

Although some of us prefer to go solo, others enjoy the camaraderie of hiking with a group of like-minded souls. Check out the Sierra Club or local Meetups for socially distanced group outings. Websites such as All Trails (alltrails.com/us/california/los-angeles) and Discover Los Angeles (discoverlosangeles.com/things-to-do/hiking-in-los-angeles-las-best-trails) provide a wealth of information about local trails, current closures, and more.

Both these resources list myriad hikes throughout Malibu Creek State Park, Topanga State Park, and beyond. You'll find plenty of maps and photos to help plan your next sensational outing. Favorites include Solstice Canyon Loop and Escondido Falls Trail, which rewards explorers with the trickling 50-foot Lower Escondido Falls and even grander Upper Escondido Falls. Take the Wisdom Tree Hike to the highest point in Griffith Park and leave a message in a box near The Wisdom Tree. Or trek Los Liones Trail in Topanga State Park through fragrant chaparral. Pause awhile at a bench in a clearing to enjoy a great view of sparkling Santa Monica Bay.

Pack a picnic lunch for a hike overlooking the sea or ride your mountain bike along such trails as Agoura Hills' exhilarating Cheseboro Loop to refresh body and spirit. While life may not be a walk in the park, hiking amid our local parks surely enhances it.