Fran Drescher
September 18, 2019
HELPING US FIGHT CANCER WITH KNOWLEDGE, EARLY DETECTION, AND PREVENTION
5th Annual Master Class Health Summit, Saturday, November 2
What do you hope are the biggest takeaways for attendees of this year's Summit?
That we shift their behavior and consumer habits so they become more mindful and educated about what they are putting "in, on, and around" themselves and their families. To also know the right questions to ask at the doctor's office. Honor thy body!

What is new to detect or fight cancer?
We are not a medical or clinical organization, nor scientists, but we surround ourselves with a wide-spread board of advisors that are. What we have learned and focused on in education is that diet, nutrition, and immunotherapies are becoming cutting edge. There are far more tests today that can detect cancer and dis-ease early.

Besides cancer, does your movement address other health issues?
Of course! We have been into whole-body wellness and looking
at more diseases—auto-immune, mental illness, diabetes,
Alzheimer's, and more.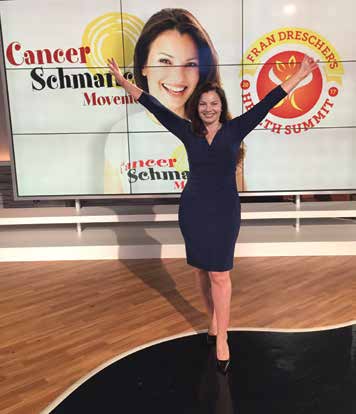 We know we can expect amazing speakers. Who are some of the most notable this year?
We are still finalizing some but are excited to have Dr. Eric Pearl, Dr. Rob Zembrowski, and Dr. Shaista Malik, to name a few. We are also thrilled to have Sharon Osborne share her personal journey of her survivorship and well-being. And there are so many more to come.

Will there be any special panels? What will they focus on?
Yes, this year, we will focus on topics that are proving to be global epidemics: lyme disease, pediatric cancer and CBD, children with autism, EMFS, and many more.

How can school-aged childr en make an impact in the movement?
Become a "WTF," We The Future, member and watch our "Be The Change" program and ask to have it in your schools this fall!

CBD is such a hot topic now; will there be experts speaking on the subject?
Absolutely, we always have had a cannabis panel, and our guests ask us to never omit it. We will touch on new laws, new treatment, positive results in many illnesses, and CBD with children.

Any final remarks you would like to share with our readers?
Please sign up and become a member of our free website. Don't miss our 5th Annual Master Class Health Summit this November 2nd, a Saturday, at the Dorothy Chandler Pavilion. We educate, motivate, and activate you. Visit CancerSchmancer.org to join our movement and for tickets to our Summit.