Into Africa
April 1, 2021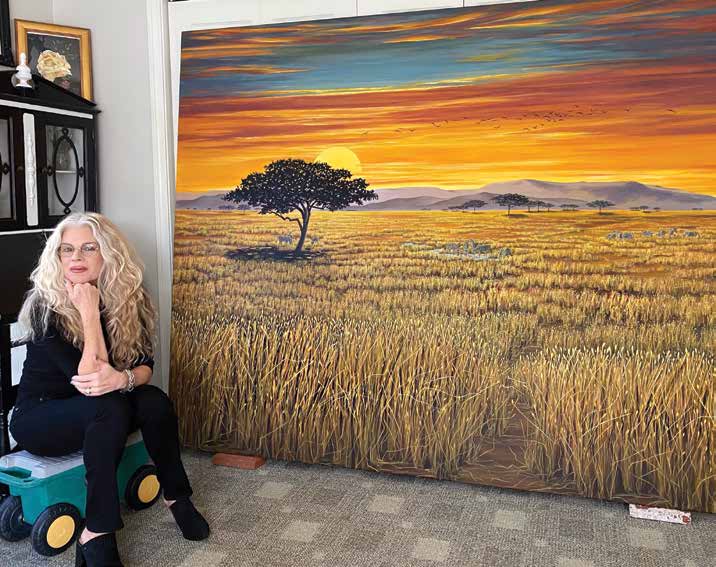 Growing up as an only child with an incredibly active imagination, Stacy Erin Myers DeFranco remembers her favorite pastime as using Crayola crayons to create her very first masterpieces. Fast-forward to her adult life and you'll see how she translated her love for illustrating and creating into a successful career as a professional fine artist, illustrator, and published fictional author.

Over 30 years ago, Stacy began her professional work painting small watercolor botanicals and eventually fell in love with oil on canvas. As her commission pieces vary in size and subject, they continuously challenge her to broaden her style—but surrealism remains her favorite as it allows her imagination to navigate the journey of each piece. She is also prolific in realism, abstractism, and illustration.

Her latest commission piece, "Into Africa," was her first attempt at such a subject, and while it was a daunting task, Stacy found immense satisfaction in delivering more than her clients ever imagined. The 9'x6' oilon- canvas representation of the African Serengeti has a lot of specific detail—from the dry grass and warm, sedate feeling cast over the plains to the zebra calmly grazing and the hypnotic colors in the sunset.

In addition to her fine artwork, Stacy is also the author and illustrator of six children's books that thread moral messages and whimsical watercolor illustrations into each story. Her most recent book, Jairo, The Leatherback Hero, was the winner of the 2016 Benjamin Franklin award. The book puts a spotlight on climate change and how one little boy learns environmental awareness from a 100-year-old endangered Leatherback turtle.

To learn more about Stacy and see more of her artwork, you can find her on Facebook (Stacy Erin Myers) or on Instagram (@artbystacyerinmyers).