Exceptional Real Estate Professionals 2018
October 31, 2018
Berkshire Hathaway Homeservices
Valerie Punwar
23925 Park Sorrento
Calabasas
818.618.8291
ValeriePunwar.com
CALDRE# 01491245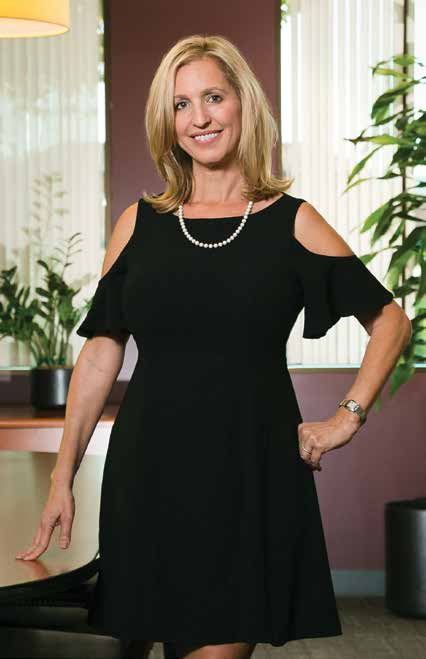 "I bring my vast knowledge, experience, and tenacity to all that I do." 
Award-winning Realtor Valerie Punwar has become a consistent leader over the last decade with a reputation for tenaciously protecting her clients' interests with uncompromising integrity. One of the top-producing agents in the Berkshire Hathaway Calabasas office, Valerie also earned the honorary Chairman's Circle Platinum title for placing within the top 1% of all Berkshire Hathaway agents nationwide.
A Calabasas resident for over 22 years, Valerie provides a wealth of knowledge about the local area and schools, specializing in luxury properties in the Calabasas/Hidden Hills/Agoura/Westlake Village/Thousand Oaks areas. Growing up in Chicago, Valerie brings a strong Midwestern work ethic to her business. Valerie's prior work in high-level TV media sales took her to jobs from coast to coast, where she developed superior, decisive negotiating skills that translate perfectly to working in real estate.
What would you like potential clients to know about you?
I have been a licensed Realtor for over a decade and recently received the prestigious Legend Award from Berkshire Hathaway. I am in the top 1% of realtors nationwide for the company. My experience and attitude lead to results. I help my clients find their dream house and help my sellers achieve the highest prices by aiding them with staging, technology, and the best marketing, including video from one of the top L.A. commercial directors.
How do you give back to your community?
I have been a loyal supporter and sponsor of The Foundation for the Las Virgenes School District. Also, at Berkshire Hathaway, we have a charitable foundation to which many of us contribute a portion of all our paychecks. Also, I am an ardent supporter and sponsor of the Calabasas football,
baseball, and dance teams.
Why have you been so successful?
I think the main reasons I have been successful are my core values, my background in advertising and marketing, and my relentless work ethic. I love what I do, and it shows in results. I bring my vast knowledge, experience, and tenacity to all that I do.
---
Berkshire Hathaway Homeservices
Marc Shevin
Rory Shevin
Sara Shevin
23925 Park Sorrento
Calabasas
Marc: 818.251.2456 | CALDRE# 00559629
Rory: 818.251.2476 | CALDRE# 00671618
Sara: 818.205.2095 | CALDRE# 02038247
TheShevins.com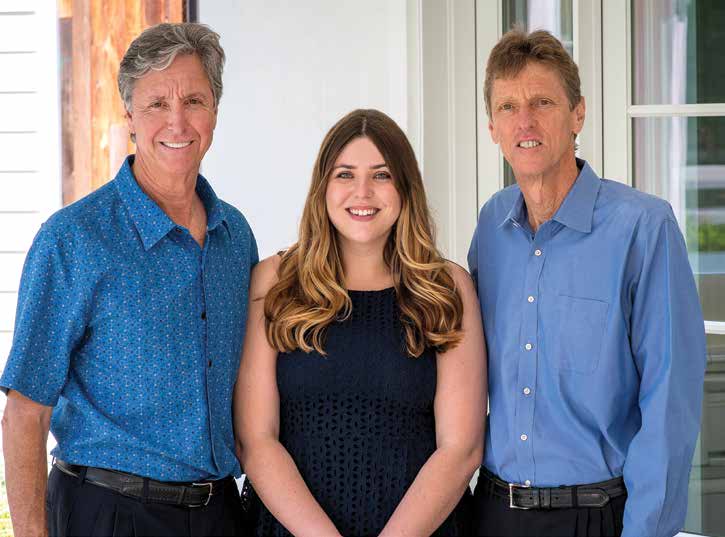 "Combining family, local knowledge, and hard work has been a very successful combination for us."
In our local real estate market, Marc, Rory, and Sara Shevin are widely acknowledged as area experts. Specializing in the cities of Hidden Hills and Calabasas, they are noted for their years of consistent success in the marketing and sale of luxury estates. With over 60 years of combined experience, they average $200 million in residential real estate sales every year and consistently rank in the Top 10 Agents of Berkshire Hathaway Homeservices nationwide. Representing a wide range of clients from local families to celebrities to property developers and more, the Shevins have a unique ability to connect and communicate with their extensive client base. Their hard work, market knowledge, and attention to detail have produced many satisfied and loyal clients.
What would you like potential clients to know about your team?
We started in real estate many years ago as the Shevin team, with our father, Fred. We have continued the family legacy with the team now including the next generation: Marc's daughter, Sara. Combining family, local knowledge, and hard work has been a very successful combination for us.
What do you like to do outside of work?
We enjoy spending time with our extended family, hiking in the local mountains, playing tennis and pickle ball, and sport fishing. We both believe our families provide a strong foundation for our success over the years, understanding the commitment required for us to succeed in such a competitive real estate market.
What do you feel is the most rewarding aspect of your work?
We enjoy working with our clients, helping individuals and families find their perfect homes, and helping builders and investors looking to build the perfect home. Working with the people we have come to meet has become a highlight for us, with many clients becoming long-term friends.
---
Engel & Völkers & Crescent Realty
Yana & Alex Galuz
21241 Ventura Blvd.. #209
Woodland Hills
310.595.5522
YanaAlexTeam.EVUSA.com
CrescentRealtyLA.com
Yana: CALDRE# 01454066
Alex: CALDRE# 01291486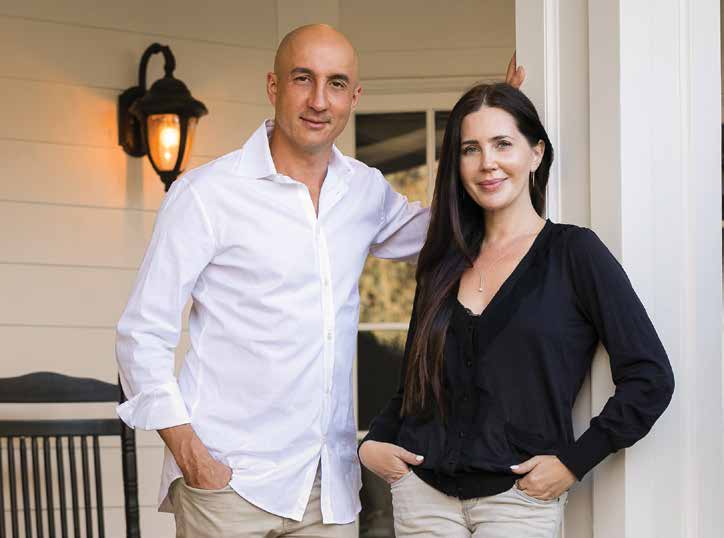 "Home is more than an object or property, but rather, the fullness of life that begins and ends the day in the most important space we know: home."
Los Angeles natives residing in Hidden Hills, Yana and Alex Galuz are a husband-and-wife team specializing in global, luxury homes and estates. Known for providing in-depth knowledge and strategic analysis of market trends, their success is their ability to deliver beyond the transaction of selling properties. It begins in helping clients discover their new life that awaits in their new home.
Real estate is in their DNA. Alex brings 20 years of commercial and residential real estate experience; providing a unique perspective to a frequently emotion-driven process, while Yana's background in architecture and design allows a fresh way of showcasing and featuring bespoke estate properties. Whether across the street or across the globe, the couple delivers the utmost competence, exclusivity, and passion for all that they do.
Why have you been so successful?
We feel the true meaning of luxury has been lost by a monolithic industry. As a boutique brokerage, our formula is simple: Evoke experience. Ensure the best possible outcome while maintaining the highest level of handcrafted service with trust and integrity.
Why should potential clients choose you?
Sophisticated systems and marketing technology are just starting points. Every office has them. And while we believe ours are superior, clients choose us because we're their ultimate listing tool! We marry knowledge of the market, innovative strategies, and personal interest for the community we serve. Selling Calabasas and Hidden Hills is selling a lifestyle. As a lifestyle brand, we're the only brand with an in-house yachting and aviation division. We leverage these divisions and market our listings to a discreet rolodex of buyers, having the requisites and caliber to live within our desired gated communities. And that's just the beginning.
How do clients benefit from your knowledge of the community and local culture?
When we moved from Beverly Hills, we immersed ourselves into the local culture. Our daughters attend nearby schools, take horseback riding, and as a family, we participate in annual events. We understand firsthand the mindset of prospective buyers drawn to this neighborhood.
---
RE/MAX Olson & Associates, Inc. 
Jordan Cohen 
30699 Russell Ranch Rd., #100
Westlake Village
818.435.5220
JordanCohen.com
CALDRE# 01103362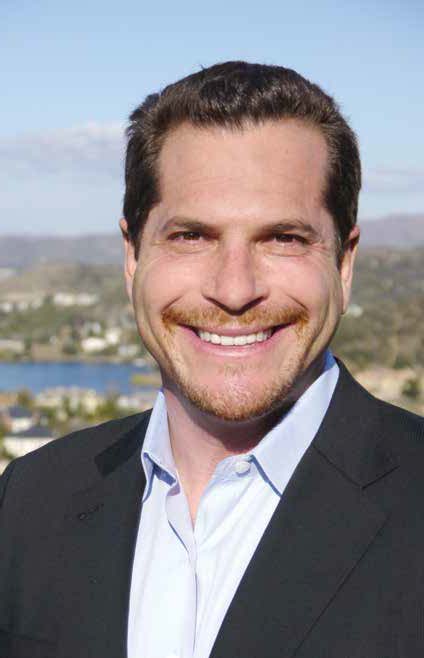 "I am honest, ethical, fair, and very aggressive with my approach."
Jordan Cohen is a seasoned real estate veteran with over 28 years of full-time experience. Jordan specializes in luxury estates in Westlake Village, Calabasas, and Hidden Hills and throughout Southern California. He has worked hard to establish himself in the sports and celebrity market, having represented 77 professional athletes as well as numerous actors, entertainers, and film executives all over Southern California. Jordan is proud to be the #1 RE/MAX Agent in the U.S.A. out of over 110,000 realtors. Annually, he closes nearly $200,000,000 in residential sales. Through luxury real estate magazines, internet, and social media, he is able to aggressively expose his listings locally as well as globally. Jordan is also a verified real estate influencer on Instagram with a following of over 218,000 people—@jordancohen1.
What about you/your team would you like potential clients to know?
Unlike most seasoned realtors, I choose not to employ a "team." I truly believe that I give my sellers the very best chance to sell their home so I handle all showings and negotiations. I employ just one full-time assistant to help with computer work, etc.
Why should potential clients choose you?
To sell a home for top dollar, it takes extensive marketing, skill, and experience. I passionately invite homeowners to interview me so they can see why I have been able to remain consistent with my ability to sell luxury real estate at a very high level. My reach via social media, print, and internet is unsurpassed. I pride myself on not only local marketing but a very aggressive approach to global as well.
What should potential clients know about you?
I am honest, ethical, fair, and very aggressive with my approach. I only get paid when I sell a home, so I will work relentlessly until the job is finished and everyone is happy. I am happily married for 26 years and have two wonderful children. My 22-year-old son is a graduate from Chapman University, and my 19-year-old daughter studies film at NYU.
---
Compass
Tomer Fridman
Isidora Fridman
5016 N. Parkway Calabasas, #100
Calabasas
310.926.3777
Tomer: CALDRE# 01750717
Isidora: CALDRE# 01192964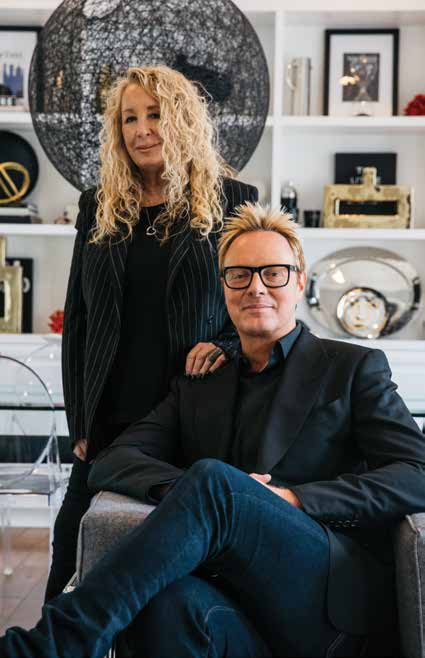 "We pride ourselves on being extremely hands-on with our clientele and offer a 'concierge' level of service."
Breaking the $100,000,000 mark for closed sales in a single year, Tomer was recently ranked as one of America's Best Real Estate Agents, an exclusive award presented by Real Trends/Wall Street Journal. Additionally, he was selected by Variety magazine as part of the exclusive "Showbiz Real Estate Elite" and "Hollywood's Top 25 Real Estate Agents" by The Hollywood Reporter for his achievements in facilitating numerous transactions for high-profile clientele. He specializes in residential luxury estate properties and large-scale projects throughout Los Angeles, Israel, and Europe. Isidora, global director international markets/luxury estates of the Fridman team and estate agent at Compass, specializes in estate properties throughout Los Angeles and the San Fernando Valley, Conejo Valley, and Westside, as well as internationally throughout Europe, Latin America, and Israel. Isidora works with an exclusive tier of influential clients who buy and sell residential estate properties and invest in commercial properties in the U.S. and abroad.
Are there any new and exciting developments taking place in your business?
Yes, we recently moved brokerages to Compass, an amazingly innovative, new luxury real estate/tech hybrid. The company's proprietary technology brings actionable intelligence and transparency to real estate, empowering both the consumer and the agent to make decisions smarter and faster. We feel strongly that Compass will be a leader in Los Angeles luxury real estate market.
What trends do you see for the 2017 real estate market?
Starting in 2017 and leading into 2018, the clientele for our local market is becoming more sophisticated, with a substantial amount of relocation occurring from affluent markets outside of our local area. Los Angeles will remain one of the most sought-after residential real estate markets in the world.
What makes you one of the best in real estate?
We pride ourselves on being extremely hands-on with our clientele and offer a "concierge" level of service. Our exemplary negotiation and communication skills, as well as our painstaking attention to detail, are evident in every transaction.
---
Compass
Dana Olmes
Jeff Biebuyck
23500 Long Valley Road
Hidden Hills
747.888.0508
DanaAndJeffLuxuryHomes.com
Dana: CALDRE #00944676
Jeff: CALDRE #01383921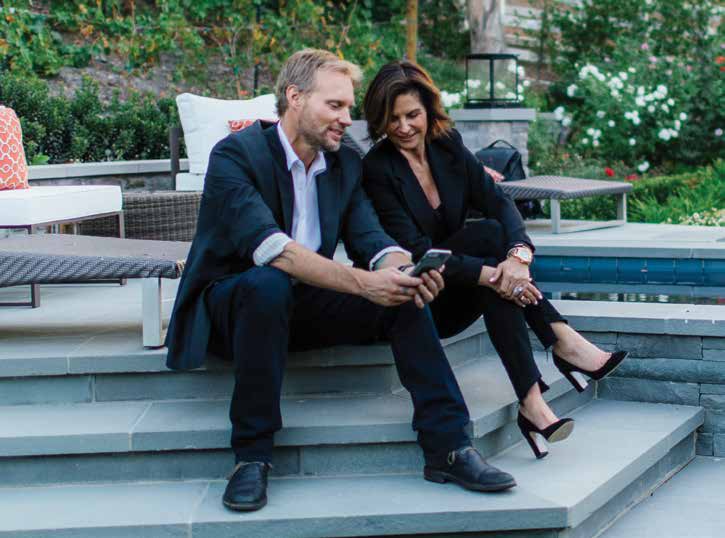 "Technology + Experience = Results"
Dana and Jeff are consistent top producers ranking among the leading 1% of the real estate industry. Exceptional integrity, negotiating skills, and effective marketing strategies contribute to their long-standing success. Their clientele is comprised of a wide mix of influential people, including corporate executives, celebrities, and entertainment industry moguls. They offer unparalleled attention to detail that clients deserve while maintaining and respecting privacy and treating each transaction with the utmost discretion. When clients hire Dana, Jeff, and their team, they can expect nothing less than seasoned professionals that offer unsurpassed market knowledge and a selection of tools and resources that enhance every step of the real estate experience. Today Dana and Jeff's team is ever expanding along with Compass. Their mission is to help everyone find their place in the world.
What about you and your team would you like potential clients to know?
Along with Compass, we utilize the first modern real estate platform, pairing the industry's top agents with technology, making the search-and- sell experience intelligent and seamless. In using our company's proprietary tools, we now have technology at our fingertips and can formulate a marketing plan that provides our personal clients with real-time data and the ability to access and pinpoint buyers with homes for sale. By using these tools, we've created a smarter, more sophisticated and savvy experience for home buyers and sellers.
What areas do you specialize in?
We primarily specialize in luxury homes in Calabasas and Hidden Hills. Many of our clients are repeat clients, and most of our business is generated by personal referrals. Our office is right outside the Hidden Hills Gate, and our clients love the warm and welcoming setting.
Why have you been so successful?
With over 40 years of combined experience, we strive to provide our clientelle with the
knowledge and service they expect. Our motto is to be "community driven, globally strong," and our goal is to provide our clients with a positive real estate experience.
---
White House Properties
Anat "Cookie" Erster
22144 Clarendon St., #120
Woodland Hills
818.943.8001
CalabasasRE.com
CALDRE# 0131529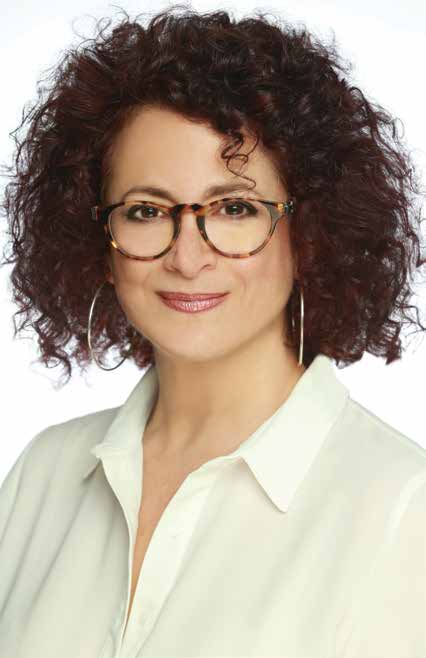 "I help my clients gain access to private, off-market properties to ensure they find the perfect home."
Anat 'Cookie' Erster has been a Calabasas resident for 30 years and has been a consistent top producer throughout her career of more than 15 years. Her commitment to excellence, combined with her expertise, knowledge, and aggressive marketing techniques, attracts people looking to work with an honest, dedicated professional that works in all Calabasas neighborhoods and price ranges.
Anat represents a wide range of clientele, including high-profile celebrities, health professionals, executives, entrepreneurs, investors, and many others. Her business is built on referrals, which is a true testament to her outstanding performance and results. Professionally, she is known for her caring demeanor, impeccable communication, and artful negotiation skills. In her personal time, she loves traveling domestically and internationally, spending time with her family and enjoying the company of her closest friends.
What should potential clients know about you?
I'm extremely committed to my clients and diligently work to make every transaction as easy and seamless as possible. While this is my career and how I make a living, I'm not a commission-driven agent; I find more satisfaction in helping my clients achieve their dreams and goals.
What is the most rewarding aspect of your work?
I've been in this business for a really long time, and many of my longtime clients have turned into lifelong friends. Meeting new people, forming lasting relationships, and seeing the excitement
my clients experience after a successful transaction is golden to me.
What are some obstacles your clients face today and how do you help them navigate these challenges?
In the luxury real estate market, you will see homes selling off-market, which means that buyers don't have access to exclusive inventory if they are not working with a well-connected professional. I help my clients gain access to private off-market properties to ensure they find the perfect home. My clients can also take advantage of my vast network, locally and internationally, to bring them the highest offer with ideal terms and conditions on any property they are looking to sell.
---
The Agency
Emil Hartoonian
23622 Calabasas Rd., #148
Calabasas
310.990.0063
TheAgencyRE.com/Agent/Emil_Hartoonian
CALDRE# 01796925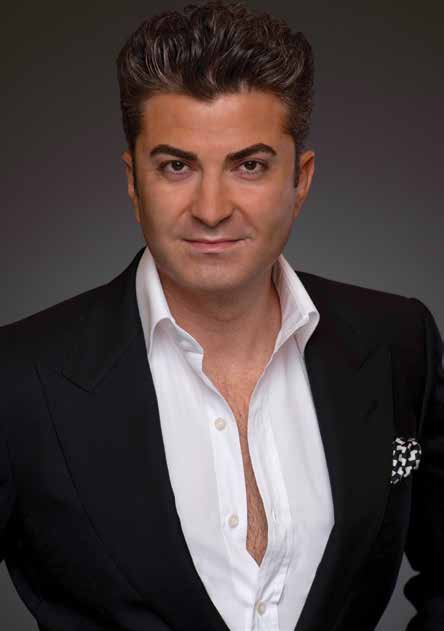 "At The Agency, you get an entire company of professionals working for you."
Emil Hartoonian provides his clients in Calabasas and beyond with an exceptional understanding of real estate transactions and a high level of personalized service that has placed him in the top 10% of agents in the area. His wide range of clientele at The Agency's Calabasas office includes high profile personalities, heads of industry, and business executives across the entertainment, medical, and hospitality industries. Emil's experience with such diverse profiles has inspired his ability to cater to every expectation and adapt his style to deliver a personalized experience to each individual client. He is an active member of the Southland Regional Association of Realtors and firmly believes in empowering his clients with the latest market knowledge and consistent updates to better enable them to make sound real estate decisions.
What about you/your team would you like potential clients to know?
One of my team's main goals is to expand upon the city's already established reputation and help clients identify the lifestyle and sense of community they are looking for but don't always know where to find.
What areas are your specialty?
I currently live in Calabasas with my wife, Ellie, and our three sons, so I know the area well. While I continue to represent buyers and sellers throughout Los Angeles and beyond, I especially enjoy
working with people in the Calabasas and Hidden Hills communities, which are among the best in California to live, work, and raise a family in.
What should potential clients know about you?
I am truly passionate about educating my clients about all the benefits of the Calabasas and neighboring Hidden Hills lifestyle. As managing partner and principal of The Agency's Calabasas office, I bring more than a dozen years of real estate and mortgage lending experience to the team, remaining up to date on the variety of properties, lifestyle, amenities, and local inventory. I am fluent in four languages plus all things related to real estate. I invite current and future clients to learn more about me on Instagram at @calabasasluxurybyemil.
---
Coldwell Banker Global Luxury
Heidi Adams
23586 Calabasas Rd., #105
Calabasas
818.461.2278
Heidi91302.com
CALDRE# 00997097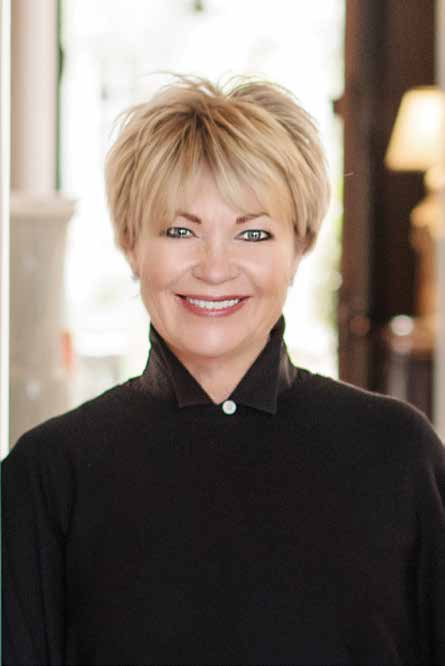 "I know your area. I know your street. I probably know your house."
Since 1988, Heidi has assisted hundreds of people with their real estate needs in and around Calabasas. Colleagues and clients alike respect her for her comprehensive knowledge of the local area and neighborhoods. Heidi strives to keep her clients informed so that they are able to make educated decisions. She is also a proud supporter of her local community and the Las Virgenes schools. Long immersed in the community where she has raised two children, Heidi has a unique familiarity with all facets of life in the area, which continues to attract an increasing number of well-known celebrities. Proud to be among an elite group of top producers, she ranks among her company's top 10 agents at Coldwell Banker's Calabasas office and consistently places in the top 2% companywide.
Why choose Heidi?
Simple: knowledge of the Calabasas neighborhoods. I know your area. I know your street. I probably know your house, selling many homes over and over again in my 30-year career. When you choose me you get me, not an assistant or team member. I will be with you throughout the entire process, start to finish, whether buying or selling.
What makes you successful?
Being local, hands-on, and well respected among my peers means finding that off-market home everyone is looking for and successfully selling it to my buyer. This constant commitment to my profession and my dedication to my clientele has meant I have successfully remained one of the top agents in the community.
What sets you apart?
For the past 31 years, I have built my business by making my name a household word. Recently, in an effort to stand out and offer clients an option and set myself apart from my competition, I teamed up with another well-respected local agent, Patte Gilbert. Together we have created a new concept in seller and buyer representation. Clients now have the benefit of two powerful agents, two powerful offices, one powerful pair. We have become very successful together in a short amount of time by using this platform to benefit all of our clients.
---
Wish Sotheby's International Realty
Patte Gilbert
26050 Mureau Rd., #105
Calabasas
818.515.5028
PatteGilbert.com
CALDRE# 01144659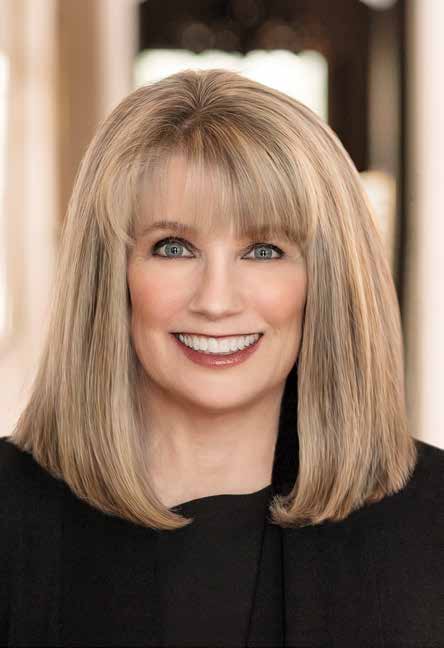 "There are no problems, just solutions.
Real estate agent Patte Gilbert, with Wish Sotheby's International Realty, is one of Calabasas and Hidden Hills' most-selected agents. In her 29-year career, she has maintained her popularity with clients as "the agent you can work with one-on-one." Her success lies in the fact that she works equally with both buyers and sellers so she always knows exactly how much her buyers should pay for a home and the amount a seller should ask. When not selling real estate, Patte likes to take one fabulous trip each year, play Mahjong, support the local schools, and work with a number of charities. In work as well as life, Patte's mantra has always been: "There are no problems, just solutions."
Why have you been so successful?
I'd like to think that my success lies in my honesty and integrity. My clients prefer working with me because I always tell them what I think about a property—good, bad, or indifferent—as their long-term happiness with their home, and with me as their agent, is my ultimate goal. Naturally, having great relationships with all of the agents, knowing my inventory, and being a skilled negotiator are also what make me a successful agent, but most importantly, success comes from loving what I do—and I do love my job!
What separates you from your competitors?
For the past 29+ years, I have built my business working with past clients and referrals, which I continue to do day after day. But recently, I have also started working with Heidi Adams of Coldwell Banker, and together, we have created an entirely new concept in seller and buyer representation. Clients now get the huge benefit of having both of us: Two powerful agents, two powerful offices, one powerful pair. Imagine having us both and all the marketing that Wish Sotheby's International Realty and Coldwell Banker Global Luxury can offer. No one else does this, and we have become very successful together in such a short amount of time using this platform to benefit all of our clients.
---
Coldwell Banker Residential Brokerage
Barbara Alpert
Missy Alpert Fitzharris
23647 Calabasas Rd.
Calabasas
Barbara: 818.625.1377 | CALDRE# 0119909
Missy: 310.801.6619 | CALDRE# 01945879
TheAlperts4RealEstate.com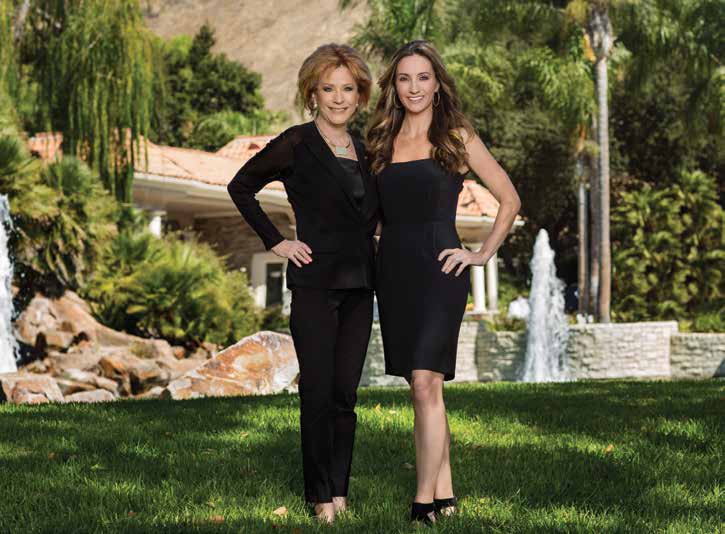 "Our partnership is a nice blend of old school & new school." 
Atrue powerhouse mother-daughter team, Barbara and Missy offer their clients a dynamic combination of professional know-how, marketing savvy, and exceptional client care. With over 38 years of combined sales and marketing experience, Barbara and Missy are consistent top producers and the #1 resident realtors in Mountain View Estates. Barbara has lived in Calabasas and specialized in gated, luxury properties since 1995. Before transitioning into real estate, Missy won several awards for her marketing and advertising at both MGM studios and Mattel, the world's largest toy company. By combining their experience, these two women deliver top-quality customer value and develop marketing plans for their clients that are second to none.
What are your specialties?
We sell what we know, and we know Calabasas. Barbara has lived in Mountain View Estates for over 23 years and knows every home. She is active in the community and serves on the architectural committee for the HOA. Both women are deeply immersed in the Calabasas community. In addition to Calabasas, they know the Valley and list and sell "condos to castles" from Studio City to Westlake Village.
What separates you from your competition?
We pride ourselves on our integrity, experience, strong negotiating skills, hard work, and putting our clients' goals first. Missy's marketing skills are a true differentiator. We know how to navigate the digital landscape and social media as well as traditional methods to attract potential buyers and sellers. Our partnership is a nice blend of "old school and new school."
Why have you been so successful?
With our extensive knowledge, we offer clients an exceptional depth of information and outstanding service. There is nothing more gratifying than helping families sell their homes and finding them their new dream home. It's about building relationships and getting clients the best
deal. A philosophy of honesty and hard work attributes to our outstanding reputation and success. That's why so much of our business is repeat and referrals.
---
Coldwell Banker Residential
Katherine Stark
23647 Calabasas Rd.
Calabasas
818.590.8847
KatherineStark.com
CALDRE# 00947256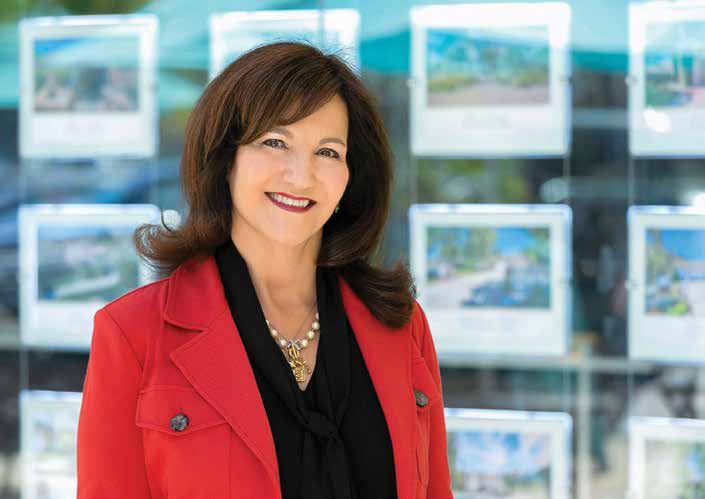 "I live and breathe real estate; that's just who I am!"
Katherine Stark represents the best of the best, proudly serving her clients for over 31 years. She is native to San Fernando Valley, giving her firsthand knowledge of the communities she serves. She takes meticulous care of her clients, providing them with her guidance and making them top priority. She has superb negotiation skills and protects her clients' interests in every aspect of a transaction. Katherine has an unparalleled reputation within the brokerage community, known as a trustworthy professional realtor with the utmost integrity. Katherine has received many awards over the years for outstanding production and currently ranks 34 out of the top 100 agents in Southern California for Coldwell Banker Residential Brokerage for the first half of 2018. Katherine loves what she does and works tirelessly until the job is done. As she always says, "It's not work if you love what you do."
Why have you been so successful?
I believe a large part of my success is due to hard work. My attention to detail is uncompromised. I am always available to my clients. Thankfully, a large part of my business is repeat and referral business. I have a great team behind me, making sure my marketing is top notch. I live and breathe real estate; that's just who I am!
What do you do outside of work?
Those who know me know I love going to concerts! I'm a yogi and try to practice yoga at least twice a week. Traveling is my passion. First and foremost though, I love spending time with my family. I'm fortunate that my children and their families all live close by. I'm an active member in my church and my community. I reside in Bell Canyon and have served on various committees throughout the years.
How do you help your clients navigate through today's challenges?
Getting a home sold in this market is not as easy as one might think. The most important challenge is pricing a home right from the start. After that it takes the right combination of Realtor, company, and marketing to get the best exposure, which inevitably yields my sellers top dollar for their home. My name is extremely well-respected within the brokerage community, which helps tremendously when negotiating an offer.
---
Coldwell Banker Residential Brokerage
Jasmine Motazedi
23647 Calabasas Rd.
Calabasas
881.456.0484
JasmineMotazedi.com
CALDRE# 01883102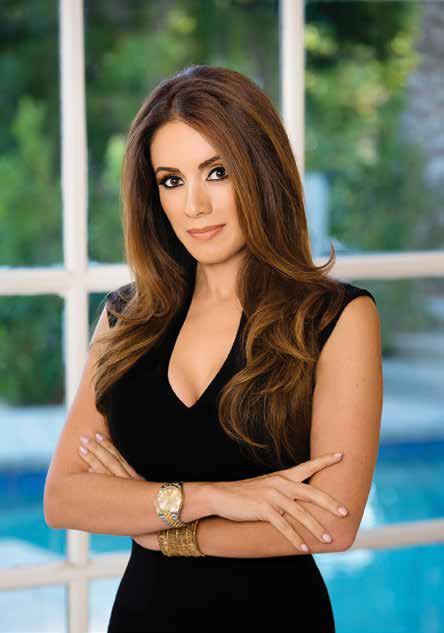 "Family life aside, nothing is more rewarding than the gratitude of my clients."
Leveraging over 15 years of experience in law, business, and marketing, Jasmine Motazedi brings unparalleled professionalism, creativity, and uncompromising integrity to her clients and the world of real estate. As a high-caliber agent and attorney, Jasmine prides herself on excellent communication, creative problem solving, and the ability to always remain ahead of the curve. She is known for her tenacious work ethic, attention to detail, and desire to make each and every transaction a positive experience. Jasmine always considers herself as a partner with her clients. Her objective is to give each client her full and absolute attention. As a result, her clientele is mainly comprised of longtime clients and subsequent referrals. Jasmine represents sellers and buyers from Calabasas, Woodland Hills, Tarzana, Encino, Beverly Hills, and beyond.
What do you feel is the most rewarding aspect of your work?
I have a reputation for being an extremely hyper-focused and goal-oriented individual. At the risk
of sounding cliché, I truly take great pleasure and pride in making people's dreams come true and also exceeding their expectations, as the proverbial cream on top. Family life aside, nothing is more rewarding than the gratitude of my clients.
Are you still actively practicing law?
Yes, I have a private practice based in Woodland Hills. While my primary focus is real estate sales, I still cater to several longtime clients who have been with me for years. I also have a talented team of attorneys behind me.
What separates you from your competitors?
My ability to venture outside the four corners of a typical real estate transaction. As an experienced attorney with extensive knowledge in real estate law, business, and construction, I frequently consult with other high-profile agents to assist them when their transactions extend beyond their knowledge base and expertise. Conversely my clients have the benefit of multi-level representation, which includes a partner capable of guiding them through every decision and potential obstacle.
---
Coldwell Banker Global Luxury
Erica Fields
Tiffany Cohen
23647 Calabasas Rd.
Calabasas
Erica: 818.822.8835 | CALDRE# 01333446
Tiffany: 310.625.5959 | CALDRE# 01894806
EricaandTiffany.com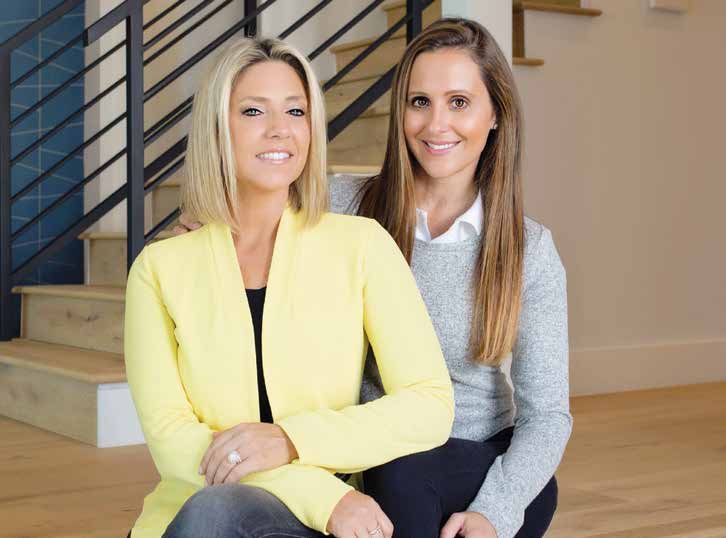 "There is no secret to success. It is a result of passion, compassion, persistence, and hard work."
Erica and Tiffany have made a name for themselves as the go-to real estate agents for unparalleled knowledge and digital and social marketing expertise. Known for their round-the-clock availability and tenacious work ethic, this powerhouse team has earned reputations as creative problem solvers and fierce negotiators. With over 27 years combined experience and record sales, Erica and Tiffany are recognized annually as top producers. They have an astonishing track record of winning bids for their buyers in multiple-offer situations. And their aggressive marketing for listings has made them second-to-none for selling homes quickly and for top dollar. Combined with what their clients and colleagues call "the most contagious energy," their #1 title in real estate is solidified.
What makes you the number-one real estate team?
We've established a brand known to make every client feel as though they are our only client, including first-time home buyers, celebrity clientele, and seasoned investors. Because of this and along with our extensive experience and expertise in digital and social marketing, we are recognized annually as top producers and are currently ranked #1 in our office.
How did you become so successful?
Everyone wants the best and most-experienced team representing them. Our clients love our high level of service and knowledge so they continue to use and refer us as their "go-to" real estate experts. We are naturally driven women, and together we are an unstoppable force. When we say 24/7, we mean it. We are available 24 hours a day and 7 days a week for each and every client. That is our commitment to them, and we wouldn't have it any other way.
Why should potential clients choose you?
We take pride in our honesty and integrity. We get results by building trust and going to bat for every client. It's always about them and never about "the sale." Our goal is to make this journey fun, enjoyable, and full of laughter. But most of all, we press upon everyone to trust in the process.
---
Coldwell Banker Global Luxury
Kevin Cordasco
Calabasas
818.726.8791
310.308.9539
CordascoEstates.com
CALDRE# 00969966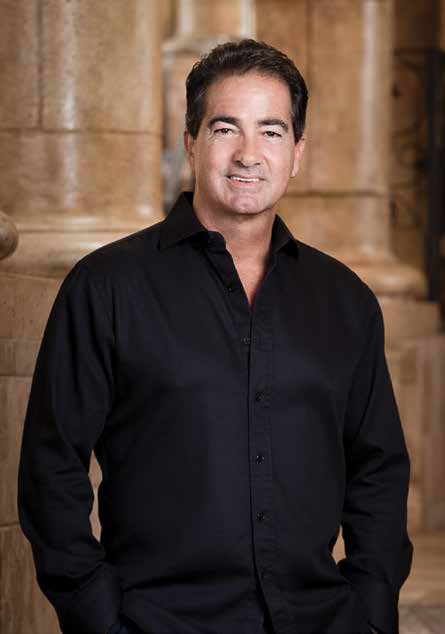 "When clients give me the honor of representing them, I show my appreciation by always giving my absolute best."
Kevin Cordasco of Coldwell Banker is celebrating his 32nd year of award-winning service and experience in the real estate industry. Kevin, a resident of Calabasas of 19 years, has been actively representing the people, properties, and homebuyers of Calabasas. Kevin's hands-on, one-on-one approach, while many agents have gone to groups or teams, sets him apart and has won the loyalty of his clientele. It is why Kevin Cordasco is one of the most recommended names in the industry year after year. He truly cares about the outcome of every transaction. Kevin has been named numerous times in Coldwell Banker's Top 100 agents of Southern California and is consistently ranked inside the top 5% companywide nationally. Kevin has been a supporter of our schools and their programs over the past 19 years, as well as a founder of the Kevin Cordasco Foundation: Something Yellow.
Why have you been so successful?
The real estate process inevitably has its twists and turns. An exceptional realtor is able to call on experience and problem-solving skills when it really matters. As the market evolves, I use a multi-layered approach to marketing properties and have an above-90% listing-to-sale ratio. When working with buyers, there are not many agents in the entire city that have the ability to understand and know the best locations in every price point. Getting properties ready to go to market and working with home buyers to find that perfect property are two things I love to do.
What should potential clients know about you?
I have always thought of my work as taking care of people—start to finish—and even beyond. People are the ones that need the attention. The working relationship, whether with seller or buyer, becomes a bit of a marriage. When they need me, I am there with the best advice, like it or not. That's my job, and that's what they depend on me for. When clients give me the honor of working with them, whether to represent their home or to purchase another on probably the largest transaction of their lives, I show my appreciation by giving them my absolute best.
---
Keller Williams Realty
Meny Atias
23975 Park Sorrento, #110
Calabasas
310.806.2619
kwcalabasas.com
CALDRE# 01913200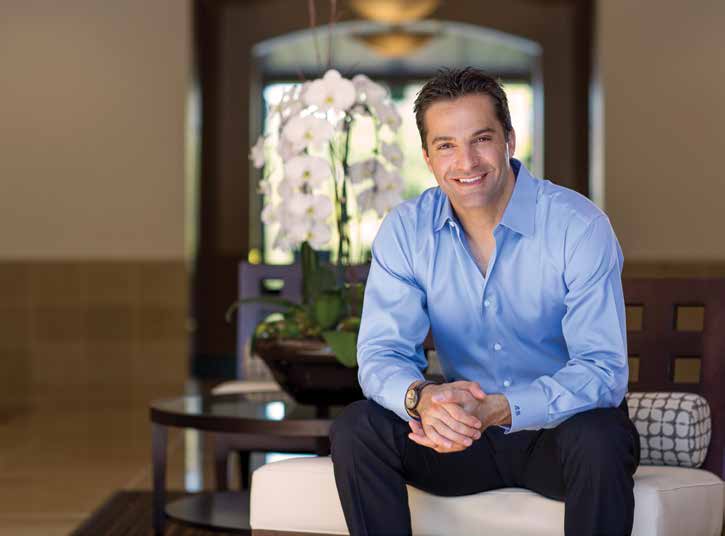 "We understand our responsibility to give the highest care and support to our clients."
Realtor Meny Atias was born and raised in Israel. Schooled at a Kibbutz and having experienced extensive military service, he learned to never give up, especially when faced with the unknown. Meny arrived in the United States in 2006 and studied real estate investment, later joining Keller Williams Realty. Within two years, Meny became CEO and team leader of the Calabasas firm. He found Calabasas to be a unique community with incredible people. Meny then grew the office from a few agents to the biggest and most successful real estate office in Calabasas and the entire West Valley, focusing on both residential and commercial real estate.
What should potential clients know about you?
Keller Williams Calabasas is the biggest real estate company in Calabasas, and since July 2017, we
have been leading the real estate industry with the most volume and units sold. Now, more than ever, we are focused on team building, keeping our team on the cutting edge, which ultimately benefits our clients.
What separates you from your competitors?
The team at Keller Williams is not competing with anyone other than ourselves. Our passion to help others to grow and succeed, including our own agents and our clients, is sincere. We believe in dedicated work and world-class customer service.
How do you give back to your community?
Keller Williams Calabasas is very active with the city council and Calabasas Chamber of Commerce. We were honored multiple times by the city council and mayor and even received the Small Business Award by the chamber. Each month we are donating and supporting different causes, whether it's a Keller Williams-sponsored function or on behalf of our amazing clients.
---
Keller Williams Estates
Lisa Gutman
23975 Park Sorrento, #110
Calabasas
818.535.0862
HiddenHills.com
CALDRE# 00966153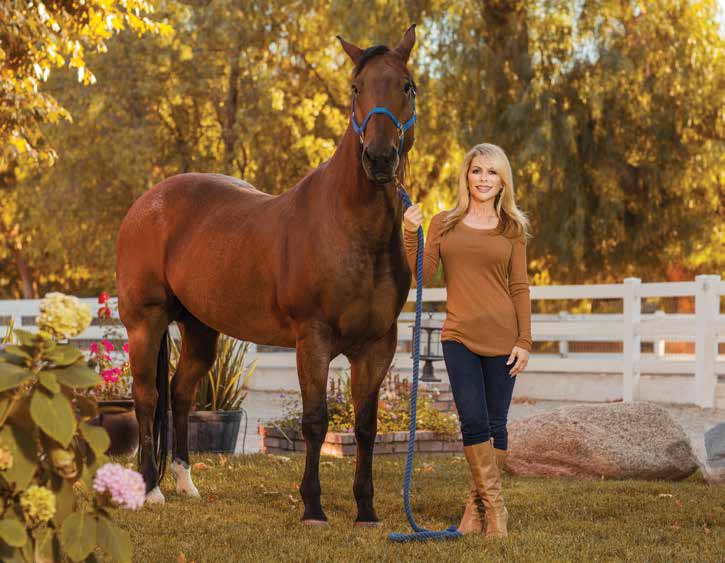 "I am readily available and will work tirelessly to get the job done."
Over the last 30 years, Lisa Gutman has chased down runaway horses, placed celebrities into properties, and sold some of the most expensive properties in town, all in a day's work in Hidden Hills and Calabasas. She has received nearly every top honor in her field: Platinum Club, Hall of Fame, and Lifetime Achievement Award are just a few. Lisa treats each and every client with dignity and respect, and they never feel pushed or rushed. She considers herself an area expert and always has a pulse on the community. Do you have a home that's hard to sell? She has a buyer! Looking for a home that's not available? She'll find it! Lisa looks forward to helping each client with all real estate needs.
Why have you been so successful?
I take a hand-holding approach when it comes to real estate, I specialize in one client at a time. My personal touch to real estate has literally opened doors. About 80% of my business comes from repeat clients and referrals. I have dedicated almost 30 years of my life to helping people buy and sell their most coveted possessions. I understand how stressful this process can be and my goal is to make it as easy and joyful as possible. I go above and beyond what is considered the norm in real estate. I do everything possible to make the buying and selling process a wonderful experience. If you're happy, I know and appreciate that you will refer me to your friends and family.
Why should potential clients choose you?
When you choose to work with me, you get me, not an assistant or team member. I will be with you for the entire buying/selling process, from start to close… and after!
What do you feel is the most rewarding aspect of your work?
Nothing brings me more joy than seeing my clients happy. To know that I've been a part of that is an incredible feeling!
---
The Improta Team at
Keller Williams Calabasas
Jason Improta
Missy Improta
23975 Park Sorrento, #110
Calabasas
Jason: 818.584.6094 | CALDRE# 01265975
Missy: 310.597.1914 | CALDRE# 01432200
ImprotaTeam.com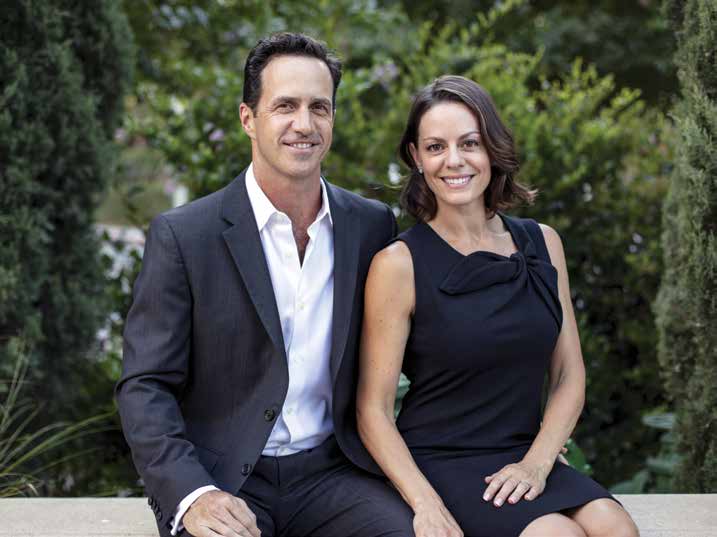 "We are your partners throughout the entire process."
While The Improta Team is in fact a team, Missy and Jason feel that a personal touch is the best way to conduct their business. They have a very hands-on approach which allows their clients to feel heard and cared for. In a business like real estate, which can be very emotional, this is important to all parties. At the same time, having the experience to know how far a price can be taken, or how to get an offer accepted in a tough market, are skills that require the experience of a seasoned agent. Good old fashioned hard work, coupled with cutting edge marketing and extensive professional networking are how The Improta Team fuels their success. Well that, and really loving what they do!
Why have you been so successful?
We attribute our success to consistently putting clients first and offering exemplary service throughout every transaction. Our strategic, professional marketing combined with solid industry experience yields superior results year after year.
Why should potential clients choose you?
We are your partner throughout the entire process, offering a personal approach that includes really listening to your needs and understanding your pain points. By employing tactical execution, we get the results that clients expect when working with Top Producers.
What are the biggest obstacles your clients face today and how do you help them navigate through those challenges?
With all the information out there about where the market is headed, it is difficult for clients to find answers to help support their decisions. We are here to consult and advise clients to make their best decisions based on real data and experience rather than speculation.
---
Keller Williams Realty
Doug Puetz
Dina Braun Puetz

23975 Park Sorrento, #110
Calabasas
805.795.4455
Doug: CALDRE# 00995378
Dina: CALDRE# 01402751
DougPuetz.com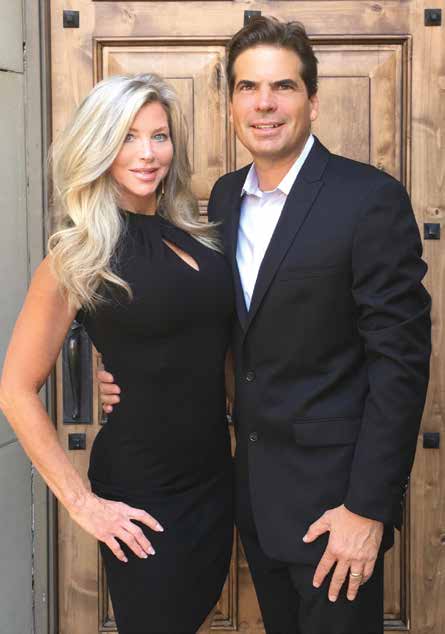 "I have garnered a razor-sharp knowledge of our local luxury community."
Doug Puetz and Dina Braun Puetz have resided in The Oaks in Calabasas for the past 13 years and are lifelong Southern California residents. Heading up the Puetz Group at Keller Williams and maintaining full social community calendars has allowed them to keep their finger on the pulse of the local real estate market. Whether it's our outdoor trails, local stores and restaurants, or the upcoming listings, they know all about it. We sat with Doug for a quick Q & A.
What makes you the best in real estate?
In nearly 30 years of real estate, I have found that the key to success is surrounding yourself with other like minds and creating a group dynamic that is second to none. As the number-one residential group in our office seven years running, I have created a team of agents, escrow and title, and other support persons that allow me to do what I do best—real estate, real estate, real estate.
What areas are your specialties?
As original owners in The Oaks, I have garnered a razor-sharp knowledge of our local luxury community. I try to preview every new listing to provide my clients a first-hand account of the property before they step foot in it. My other specialty is investment properties. I have found over the years through my own personal forays into rental properties that in the long run,
there is no better source of retirement and contributes to a balanced portfolio. Owning something tangible and collecting monthly dividends is a great feeling.
What do you feel is the most rewarding aspect of your work?
Clearly, real estate is a people business and my ability to connect with new clients as well as 30 year clients is truly rewarding. Handing over a set of keys and seeing the smiles on my clients' faces is a feeling that everyone should experience once. Fortunately for me, after thousands of times, it never gets old.
---
Keller Williams Realty
Tracy Smith
David Smith
23975 Park Sorrento, #110
Calabasas
Tracy: 310.804.7079 | CALDRE# 01898036
David: 310.480.7523 | CALDRE# 01503210
TeamSmithCA.com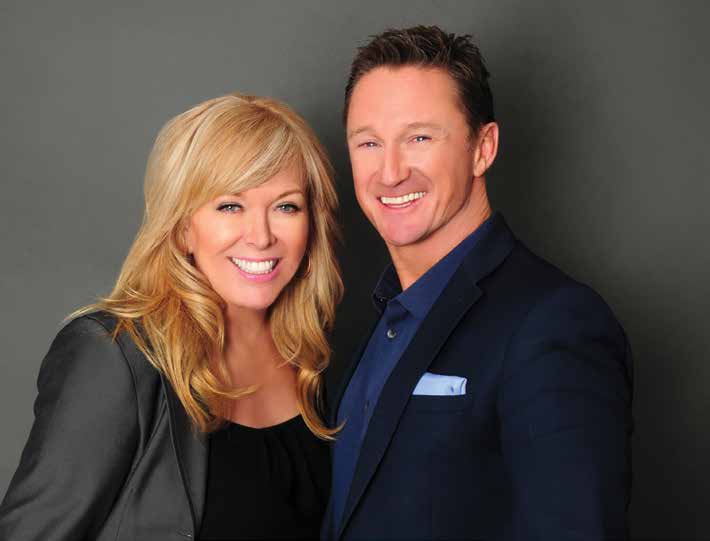 "Buidling a sense of community and being a contributing part of the community is such a rewarding part of what we do." 
David Smith was raised in South Carolina and started his love of real estate by working in the family's construction company. Upon graduation from The Citadel, The Military College of South Carolina, with a degree in business administration, he went back to work with his family developing real estate rental properties. Tracy Smith grew up in Michigan and attended Wayne State University before moving to New York and then Los Angeles to run her own business as a freelance make-up artist. David and Tracy started their own company buying, refurbishing, and selling residential properties before becoming some of the first agents to join Keller Williams in Calabasas. They now have a successful business in real estate as a powerful team with multiple talents that get results, all while raising their own family.
Why have you been so successful?
We have been so successful because of our attention to details. We listen to the why behind the buying or selling and develop a strategy to achieve the why. It's more than showing properties or putting a sign in the yard or an ad on social media. It's a devised plan of action with measurable stages along the way to make sure the why is being achieved. Every sale is different; it's not a plugged-in experience.
How do you give back to your community?
Outside of work, we spend as much time with our two daughters and close friends as possible. Family is our big why and carving out time to spend with the people we enjoy most is a must. We love participating as a family in community events and building a sense of community, and being a contributing part of the communities we serve is such a rewarding part of what we do.
What areas are your specialties?
We are now among the best because we aren't there to push our agenda and just go through the motions, assuming that every buyer, investor, or property is the same. We don't list properties, we sell properties. We provide over 16 years expertise so our clients can achieve their goals, whether buying, selling, or investing. We are there to advise as the experts on what buyers are looking for and have a specific plan of action.
---
Pinnacle Estate Properties, Inc.
Brad Wiseman
Brad Roth
24025 Park Sorrento, #110
Calabasas
Brad Wiseman: 818.880.9900 | CALDRE# 00780341
Brad Roth: 818.693.2723 | CALDRE# 01235810
PinnacleEstate.com/Calabasas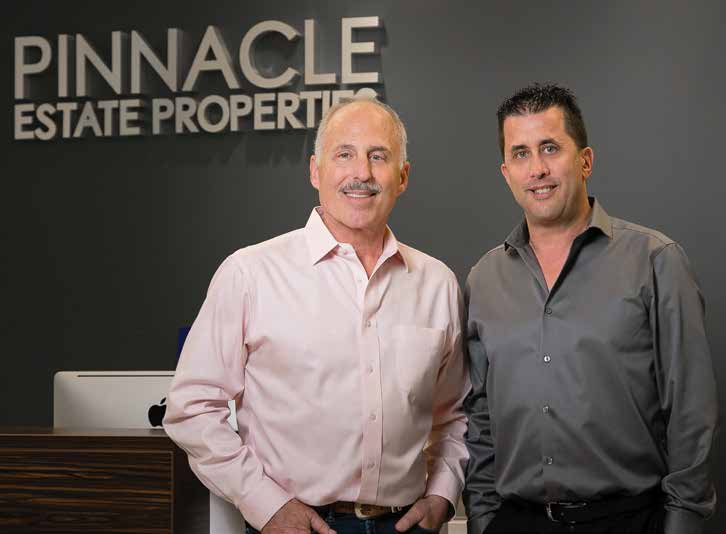 "Our philosophy is reflected in our name and corporate goal — to provide the pinnacle of professional service."
Brad Wiseman has been serving our Calabasas community since 1990. In addition to being a managing partner of the Calabasas office for Pinnacle Estate Properties, Inc., Brad was recently promoted to the position of branch manager. Upon receiving this promotion, Brad announced the promotion of his associate Brad Roth, a 20-year veteran and top real estate agent at Pinnacle Estate Properties, to co-manager. This dynamic duo will lead the team of great agents for the Calabasas area. Both Wiseman and Roth believe in the founding principle of the company: that a real estate company is only as good as the individual agent working for the client. They are determined to provide a full-service company of trained, professional agents that provide the kind of extraordinary service clients expect and deserve but rarely receive.
What are your qualifications to serve as the branch manager for Pinnacle Estate Properties?
I have been one of the top-ranked real estate agents in the West San Fernando Valley over the past 29 years and am consistently among the top ten in sales volume out of nearly 1,100 agents at Pinnacle Estate Properties. I hold an NMLS mortgage endorsement and have been a licensed real estate broker since 1983. I also represent clients with commercial real estate investments across the U.S. With my vast experience and expertise, there is little wonder why I have sold in excess of $50,000,000 in just one year. I always go the extra mile for my clients and consistently provide extraordinary service to them.
What are your qualifications to be the co-manager of the Calabasas Office for Pinnacle Estate Properties?
I grew up in the San Fernando Valley and studied psychology and communications. After a memorable acting career, I spent 20 years in the Industry and sold over 400 homes with over 250,000,000 in sales. Having seen many cycles in the volatile real estate market, I can navigate the ups and downs. I was recently inducted into the Pinnacle Estate Properties Hall of Fame where I was only one of 10 to have ever received this honor.
---
Engel & Völkers
Nicole Van Parys
Gary Nesen
2267 Mulholland Hwy.
Calabasas
805.795.1880
NicoleVanParys.EVUSA.com
Nicole: CALDRE# 01108944
Gary: CALDRE# 01882366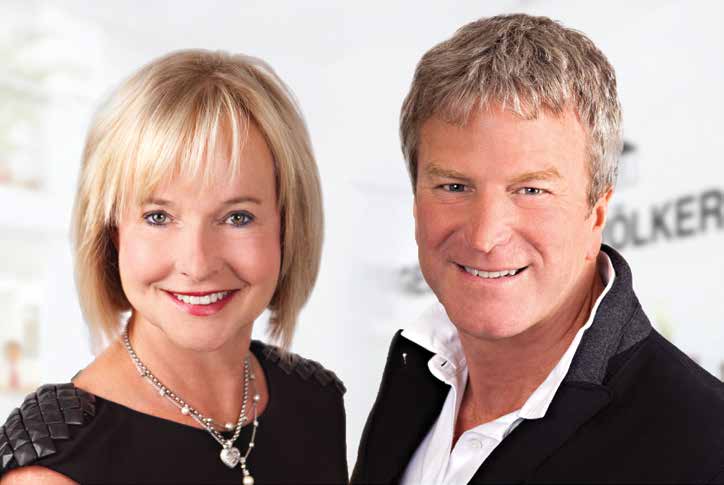 "Real estate is not our job, it is our lifestyle."
Nicole and Gary's independent yet complementary work strategies make them the ideal team in life and real estate. Together they provide an outstanding level of market knowledge and professionalism, allowing them to be consistent top producers in the industry. Their accomplishments stem from their continuous commitment, focus, and passion for their clients. As Engel & Völkers' Top 8 Agents worldwide and zealous world travelers, their international presence attracts high-end buyers globally. Their success comes from their creative expertise and the insight they possess to assist clients in making intelligent real estate investments during any market cycle. With over 25 years of real estate experience in Southern California, the one piece of advice they wish to instill in every young mind is: Success comes from consistency, integrity, devotion, and diligence in all things.
What areas are your specialty?
Our company has European heritage, and we specialize in the luxury market. Our listings are exquisite, and our clients are passionate. We find that our business seamlessly integrates with our personal life, highlighting Sherwood, Hidden Hills, North Ranch, and Hidden Valley as our natural niche. We would list our specialties as passion, diligence, and first-class service for our beloved clientele.
What separates you from your competitors?
Real estate is not our job, it is our lifestyle. We integrate our business into every aspect of our lives, and the relationships we build fuel us. Personal attentiveness and relationships are among the foundations of our team. As our founder Christian Völkers stated, "Engel & Völkers started as a group of friends with a vision. That spirit is still alive!"
What do you feel is the most rewarding aspect of your work?
The privilege of finding a client's dream home or finding the perfect buyer is spectacularly surreal. Suddenly, the entire equation makes sense, and it is simply magic. Ushering our clients into the next chapter of their lives is truly a remarkable experience, one that connects us for life.
---
RE/MAX Terrasol
Debra O'Neill 
4774 Park Granada, #8573
Calabasas
310.804.2838
DebraOneill@remax.net
DebraOneillRealEstate.com
CALDRE# 01881238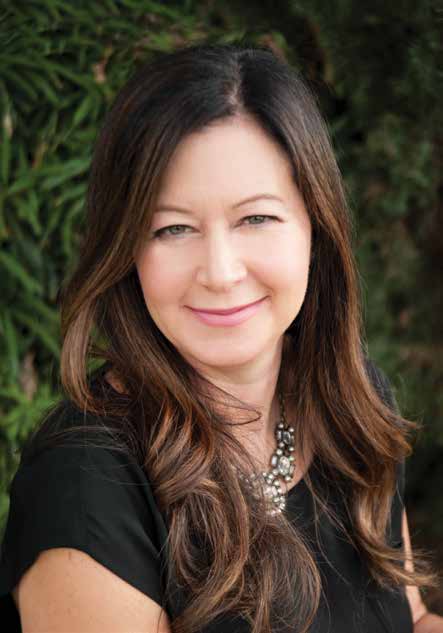 "There's no better feeling than finding my clients their dream homes."
Debra is an award-winning agent who is passionate about real estate, but it's the clients she works with that drive her to excel as one of the best realtors in Los Angeles. This is reflected in her being awarded the RE/MAX Diamond Award, being featured on the cover of Top Agent Magazine, and always getting five-star reviews from clients. Whether she's working with a first-time homebuyer, a seasoned developer, a celebrity client, or a family relocating to the area, Debra strives for excellence in every transaction, personalizing each deal around her clients' situations. Early in her career, she trained as an appraiser so she could evaluate property value and educate homeowners on how to get top dollar for their homes. Because of this, her properties do not sit on the market; they consistently sell for over-asking, with multiple offers, making records in neighborhoods. Debra's business model is simple: to exceed expectations and become her client's go-to realtor for life.
What sets you apart from your competitors?
I pride myself on being a fierce negotiator who listens to my clients' needs. I hand-hold them through every step of the transaction. The realtor-client relationship is one of trust and communication; you can't have one without the other. I make sure that there is transparency in every facet of my business so new and existing relationships can be forged.
What do you feel is the most rewarding part of your work?
There's no better feeling than finding my clients their dream homes. I consider every deal to be my own, resulting in my clients referring business to me. In fact, the majority of my business is now referrals! It's the best complement in the world to know my clients trust me to deliver the same high standard of service for their family and friends.
What advice would you give to a new realtor starting out?
There's a misconception about real estate that it's an "easy" way to get rich. Far from it! Sure, there are a lot of expensive properties in the L.A. area, but to make a successful business out of real estate, you need to work passionately every day to build your brand. It's not all dollar signs, bricks, and mortar; you're changing people's lives.
---
The Mardell Group at
Coldwell Banker Residentail Brokerage
Patti Mardell
Parker Timm
Nicole Golfieri
Gurpinder Virdee
23647 Calabasas Rd.
Calabasas
8181.262.3787
Patti: CALDRE# 01944823 | Parker: CALDRE# 019700973
Nicole: CALDRE# 02036878 | Gurpinder: CALDRE# 02050257
PattiMardell.com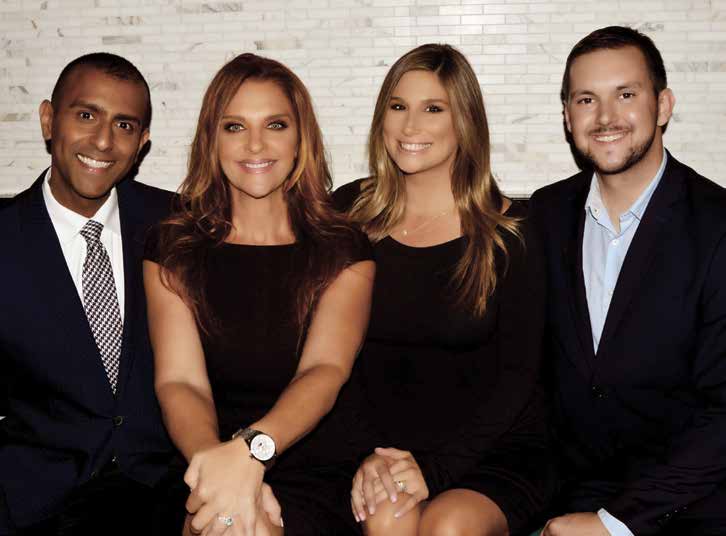 "We have a proven track record of directly impacting our clients' financial successes."
The Mardell Group epitomizes energy, hard work, and creativity in every service detail of each real estate transaction. Intellectual negotiations and cutting-edge marketing strategies join uncompromising integrity as the hallmark standard of The Mardell Group's service. The Group—consisting of Patti Mardell, Parker Timm, Nicole Golfieri, and Gurpinder Virdee—collectively have decades of successful real estate experience. An award-winning team, Mardell is recognized in the top half of the top 1% in the nation by NRT (2017), has been awarded International Presidents Elite (2017), and has received multiple top-producing awards. To ensure efficient and exceptional service, the team is comprised of the finest agents as they form a close-knit family offering seamless assistance.
What separates you from your competition?
The Mardell Group has a diverse and rich background from around the world. All members of the group have experienced the tremendous changes and growth that has transformed some of L.A.'s most sought after destinations. We have a proven track record of directly impacting our clients' financial successes by delivering impeccable follow through— white-glove quality service for each and every client.
Why should we hire you over everyone else?
Our answer is simple: Don't ask us; ask our clients.
"Patti Mardell sold 34 homes for me last year. I have been involved in the real estate business as an attorney for the last 28 years, and she is one of the most exceptional real estate agents I have ever worked with. Her ability to negotiate and communicate effectively with different types of people with different needs made for seamless closings and happy buyers. She has tremendous insight into the real estate market. Her knowledge and intuition combined with her very strong work ethic is a phenomenal asset. She went the extra mile on every transaction she handled for me without my asking. I can recommend her without qualification to both buyers and sellers of real property."
~ Paul K.