Celebrate the Season with the Spirit of Giving
November 3, 2021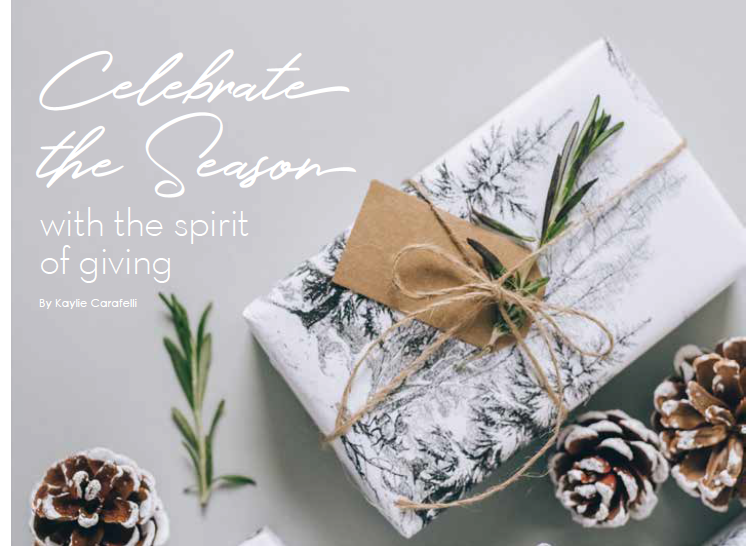 No matter how early we promise ourselves we'll start next year, we blink and it's time to start our holiday shopping again. The 2021 holiday season is upon us, bringing with it the joy of giving—searching from store to store (or website to website) for the perfect gifts. There are few better ways to spread community spirit than shopping at local businesses that need our support now more than ever. So, we've put together a variety of options to help alleviate some of your stress so you can keep family and friends safe, healthy, and merry this holiday season.
Don't forget November 27 has been designated as Shop Small® Saturday, aiming to focus attention on small businesses throughout the community. Nothing beats the personal attention and customer service provided by our local merchants. Fortunately, we live in an area that provides access to unique shops full of enticing gifts for this season and beyond. As you browse the following pages, we hope you'll find inspiration from some of our favorite boutiques, bakeries, and more.
Family owned and operated, Dejaun Jewelers started in 1985 and has two stores located in The Village at Westfield Topanga and The Oaks Shopping Center in Thousand Oaks. Dejaun's commitment to superior quality and personalized customer service is unparalleled, including master goldsmiths and GIA-graduate gemologists on the premises to serve all of your needs. They offer one of the largest selections of sports, fashion, classic, and high-complication timepieces, along with fine jewelry and engagement and wedding rings.
Since coming on the scene in 2017, LADAIRE has already become a celebrity favorite. Designer Lili Madanyan knows no bounds and beckons women of all ages to experiment and explore fashion within the brand. Remaining vigilant about their environmental footprint, Madanyan and her team incorporate natural fibers into their pieces. From strong silhouettes and unique details to elevated basics, LADAIRE encapsulates the wardrobe of today's modern woman with sophisticated styles updated every season
Purveyor of "All Good Things," Feature is a multi-brand concept that houses iconic, limited-edition footwear, high-end apparel, and premium accessories. From niche labels such as COMME des GARÇONS and Stone Island to staple brands such as Off-White and Nike, Feature has something for everybody that's in the know. The vibe and aesthetic of the shop at The Commons at Calabasas are driven by a love for fashion, music, and art.
Since 1999, elysewalker boutiques have attracted a global following by mixing heritage brands with new and emerging brands, styling it all together seamlessly. Their personalized stylists connect with you to learn your taste, style preferences, and needs. With locations including the Pacific Palisades flagship and The Commons at Calabasas, this fashion tour de force offers exclusive access to fashion straight from the runway and premier access to new arrivals from over 150 designers.

Discover Sharon Segal | Nina Segal at The Promenade at Westlake Village. The daughters of fashion sensation Fred Segal present a contemporary women's retailer featuring nothing less than the hottest trends, one-of-a-kind denim, tees, dresses, and cashmere and a jewelry atrium by Nina Segal. Iconic and exclusive brands as well as up-and-coming designers make their store the prime shopping destination for the many stylish women of the Greater Los Angeles Area.
Much to everyone's delight, BLUSH Boutique in Calabasas has reopened with an updated look and feel. BLUSH has long been considered the gem of Calabasas, with amazing fashions designed to make women of all shapes and sizes look and feel their best. BLUSH is still located in the same center next to Subway and is looking forward to helping you find the perfect styles for you or great gifts for your friends.
With quality, comfort, and versatility as their focal point, Chico's offers essentials in women's clothing, punctuated by pops of color, artful prints, and globally inspired finds. Shop chic, ready-to-gift looks, jewelry, handbags, hats, and more—with the help of complimentary personal stylists available to offer outfitting advice and fashion tips and tricks—at The Commons at Calabasas boutique.
Celebrate the season with exclusive beauty, gift sets, and more at Sephora. An industry-leading champion of diversity, inclusivity, and empowerment, Sephora creates a welcoming luxury shopping experience with unbiased service from their knowledgeable beauty experts. Cosmetics lovers will rejoice in over 400 curated brands and 45,000 makeup, skincare, haircare, styling tools, bath, and fragrance products. Last-minute shopping is made easy with their "reserve online, pick up in store" option. 
Planning a holiday event? Bonjour Fête—or "Hello Party" for English speakers—is a modern-day premium party supply shop that carries a curated selection of tableware and party decor. They offer an eco-friendly, full-service balloon bar and balloon arrangement deliveries across Los Angeles. If you want to add some flair to your holidays, you'll be blown away by their unique tableware and beautiful decorations. Full-service event styling and custom installations are also available.
One of the newest on the Westlake Village wellness scene, Bellacures invites you to give the gift of sparkle at their full-service nail salon, where beauty is restored, leaving you refreshed, pampered, and polished. With the highest cleanliness standards, they make it easy to sit back, sink into a comfy chair, and enjoy luxurious self-care treatments for yourself, your family, and your friends.
If you are looking for a unique, rejuvenating gift, discover The Flower Apothecary—a brand of products that have the power to heal. Flower essences are a botanically based healing system that has existed since ancient times and is the least-invasive form of subtle body medicine. It interacts with whatever negative emotions a person is experiencing to gently and safely bring them back into a positive state. Flower essences are not essential oils and, as such, contain no scent or inherent taste and no allergens.
For a special slice of history, look no further than Beaver's Den Antiques' incredible stock of meaningful vintage treasures. Collectors and enthusiasts get lost for hours in Woodland Hills' very own historic heaven with a specially curated collection of antiques that hold heritage, warmth, and character of the past. Since 1967, owner Barbara Cavaleri has specialized in silverplate flatware pattern matching and satisfying every client with individual attention—finding the perfect gift for any occasion.
Another thoughtful, much-appreciated gift idea is a gift certificate from CQ Nails in Calabasas. Who doesn't enjoy a relaxing manicure, spa pedicure, or both? Men and women are pampered by expert nail technicians in this luxurious salon. Gift cards, available in various amounts, are ideal for friends, co-workers, teachers, or anyone—to show how much you care.

Nothing Bundt Cakes bakery brings joy and brightens every guest's day. They take dessert up a notch by using only the freshest, natural ingredients, including real eggs, butter, and cream cheese to achieve the perfection of every decadent, melt-in-your-mouth bite. Whether you're enjoying a bundt cake, bundtlet, or a bundtini, one thing is certain—perfection is all they offer.
Treat yourself to the finest European cakes and pastries from L.A.'s premier artisanal bakery. Since 1962, Emil's Bake House has been acclaimed for traditional recipes and unsurpassed quality. You'll delight in luscious arrays of traditional cakes, artisan breads, and pastries and be amazed by their intricate holiday gingerbread houses, Yuletide logs, croque en bouche, and huge, delicious arrays of holiday cookies.
Best wishes for the happiest of holiday seasons from our Calabasas Style family to yours.