Best Friends Battle Flames
January 9, 2019
Beating the odds together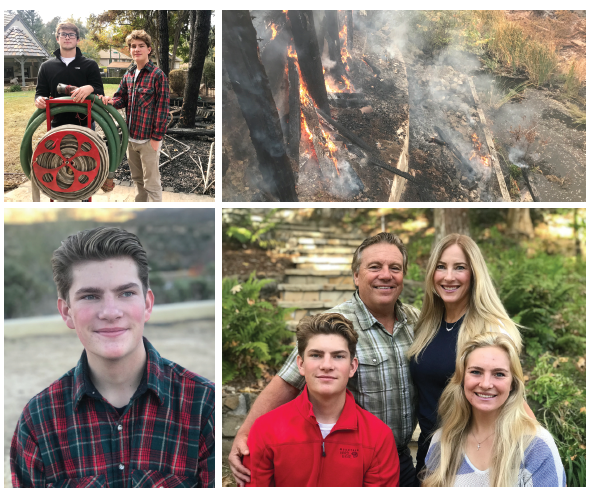 "Leave your houses, now!" Pamela Cole, her husband Cliff, and son Preston, were evacuated from their Agoura Hills home on November 9 during the Woolsey and Hill fires. They gathered some belongings, took a few pictures of the house, and headed to their ranch in Acton, California, which they'd always considered their getaway. Suddenly, it really was.

Preston started receiving Snapchats from his best friend, Garth White. Garth and his dad, Greg, a retired LAPD officer turned detective, were driving around threatened neighborhoods to check on friends' houses. Pamela asked Garth to take additional photos of their home. By the time Garth and his father arrived at the Cole house, flames had leapt over the 101 at Chesebro Canyon and were roaring across the Santa Monica Mountains. Garth noticed the fire engulfing the 70-foot pine trees and wood deck in the Cole's backyard. He and his father grabbed hoses and knocked out the flames.

Yet this fire kept coming back, and when Preston saw the danger, he insisted on returning to fight the flames alongside Garth and his father, Greg. Together, these two Eagle Scouts and best buddies bravely battled the flames, helping halt their spread further into the neighborhood. The community thanks these two young men who fought heroically against all odds and won.