Vitality: Silhouette Instalift™
January 2, 2018
Vitality: Silhouette Instalift™
THE NEWEST PROCEDURE TO LIFT SAGGING FACIAL SKIN
Vitality Institute of Agoura is excited to offer Silhouette InstaLift, the new, minimally invasive technique to lift sagging facial skin and the latest facial rejuvenation procedure.
Cosmetic medical techniques have advanced greatly in recent years. Many aspects of facial aging can be addressed with safe and effective procedures that offer little downtime and natural-looking results. While wrinkles, brown spots, and lost volume can be treated with existing procedures, until now, there has been no minimally invasive way to lift the deeper layers of mid-facial skin, one of the major contributors to an aged and tired appearance. Silhouette InstaLift is a simple in-office procedure to re-contour your face by lifting the deeper layers of your skin for a more youthful appearance.
During a short in-office procedure, Michael Sarti, MD, will insert the patented Silhouette InstaLift sutures to lift the deeper layers of the skin in your mid-face, cheek, or neck area. The treatment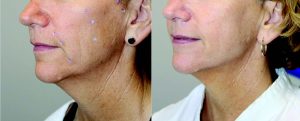 does not require general anesthesia and typically takes 45 minutes. You will see results right away, and the recovery time is minimal.
The unique Silhouette InstaLift sutures are naturally absorbed by your body over time. The sutures are absorbed while stimulating the production of collagen to aid in healthy skin renewal for natural-looking, long-lasting results.
Dr. Sarti has 30 years of advanced surgical experience and utilizes this knowledge to place the InstaLift sutures in the best position for your facial features.
During your consultation, Dr. Sarti will discuss whether this technique is suitable for you and will create a treatment plan to ensure you achieve the results you desire.
Call 818.735.0904 now for a free consultation!