High Schoolers Get a Boost
September 22, 2018

New LVUSD class for high schoolers covers important life skills.
Ninth-grade students in the Las Virgenes Unified School District (LVUSD) are starting off high school in a very different way. These are the first high schoolers for whom the new Freshman Seminar course is a graduation requirement. This is another example of the innovative approaches teachers and staff at LVUSD take to support students and ensure their success.
In two semesters of Freshman Seminar, all first-year high school students will be guided through several topics meant to support them through the transition from middle school to high school. Students will learn about public speaking, mental and physical wellness, bullying prevention, navigating high school, study skills, financial literacy, and collaboration and will learn additional skills that target college and career readiness.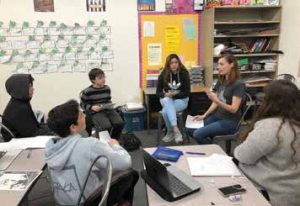 Freshman Seminar exemplifies the principles of LVUSD's district-wide social-emotional learning framework, Student 360, aimed at proactively shaping and supporting students throughout their time in school. "The addition of Freshman Seminar demonstrates our leadership's support of health and wellness, which is particularly critical for students at this age," says Steve Scifres, director of curriculum and athletics for LVUSD. "Our intention is to give students a solid foundation to begin their high school careers and inspire them to develop interests that will feed their curiosity and desire to learn," adds Superintendent Dr. Dan Stepenosky.
Freshman Seminar's emphasis on addressing the needs of students as they navigate the 21st Century and its unique cultural and social demands is a growing movement in high school education. But while other schools use a curriculum designed by a textbook company, LVUSD's is the first course of its kind developed by a team of its own teachers, counselors, administrators, students, and parents. Kirby Welsh, the chair of the committee, says, "The group met to discuss what our students really need to learn, practice, and internalize as they enter high school. The course was then further developed by a team of teachers who wrote the curriculum and chose books and materials essential to a successful first year in high school."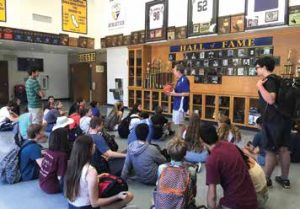 Last school year, three classrooms at each of LVUSD's two high schools were able to experience an initial pilot of the Freshman Seminar course. Students appreciated learning how to organize their time and improve their study skills; in addition, the friendly atmosphere in the classroom encouraged them to share and form friendships with their classmates.
"Teachers have contributed significantly to the success of the course, and that's something we learned through feedback from students," says Clara Finneran, assistant superintendent of education. In a survey conducted toward the end of the year, the committee found that 85% of students reported enjoying the class and shared positive feedback in the comments. One student wrote: "It is an interesting class, and I'm glad that this school has it because self-empowerment and stress management are very important."
Noah Inbar, who took the pilot class at Agoura High School, recounts her own experience: "We covered real-world situations and discussed our problems. When we first started out, nobody really knew each other, and now, everyone's friends in the class."