Mix It Up At PTS Furniture
July 1, 2020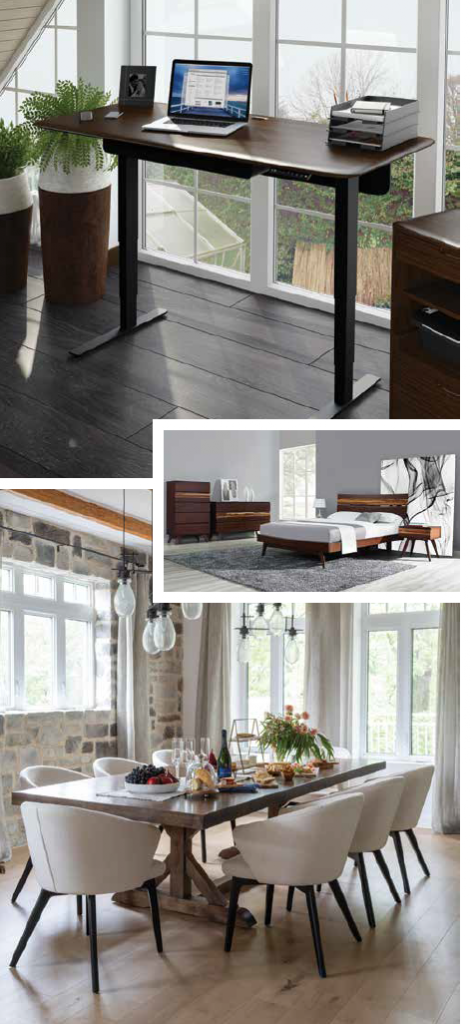 People are mixing it up this year when it comes to their furniture. Customers at PTS Furniture in Thousand Oaks often choose a combination of styles for a more current look, such as a rustic dining table with contemporary chairs. They tend to prefer functional sofas, sectionals, and recliners with power in lieu of manual. Clients want their phones, iPads, and computers at their fingertips, so we offer many motion sets designed to accommodate devices with built-in charging.

Most power recliners can use a battery pack, so you can put them anywhere in a room. Adjustable stand-up desks continue to rise in popularity in home businesses and offices. Desks with rustic woods and other finishes make rooms appear less office-like. Comfortable, ergonomically correct office chairs also remain key for people spending a lot of time sitting at their desks.

Greys and blues, as well as clean whites and beiges with a pop of vibrant color, lend new life to a room. Since direct sunlight fades fabric, leather, and wood finishes, performance fabrics that protect against spills, wear, and sunlight are key. Sunbrella, for instance, stands up to sunlight, so you can put it anywhere and never worry. People with active families and pets should also consider performance fabric to make cleaning easier. Sturdy, sustainable bamboo works well in bedrooms and dining rooms and on patios. Although trends may come and go, the knowledgeable designers
and salespeople at PTS Furniture continue to make clients feel right at home, just as they have for the past 40 years.
PTS Furniture
250 Conejo Ridge Ave.
Thousand Oaks
805.496.4804
ptsfurniture.com