Pearl District
March 3, 2020
A Culinary Gem in the Heart of Westlake Village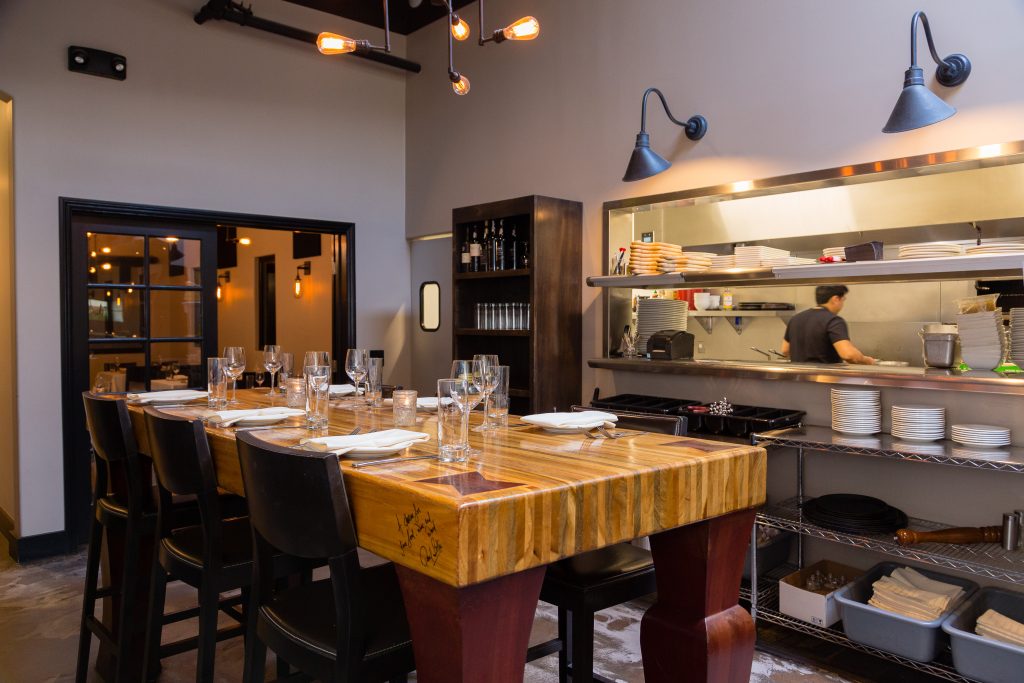 Pearl District Restaurant & Bar in Sherman Oaks and Westlake Village has helped elevate the local dining scene for the past five years. A collaboration between Owner Peyman Afshar and Executive Chef Richard DeMane, Pearl District offers an eclectic menu sourcing delectable items from across the globe and across town from local farms.

This casual yet elegant restaurant has been serving satisfied diners from Westlake Village and the surrounding neighborhoods since 2015. Its contemporary American cuisine combines distinctive flavors from Asia and North Africa with a range of proteins from such faraway lands as Australia and New Zealand.

Two local favorites—the braised shorts ribs with Asian mustard potato puree, port-ginger-miso sauce, scallions, and toasted sesame seeds and the crispy skin branzino floating in a sea of garlic lemon butter sauce with grilled lemon—have graced the menu since opening day. After your first bite of that delicate fish surrounded by roasted grape tomatoes, capers, zucchini, and roasted fingerling potatoes, you'll immediately understand why.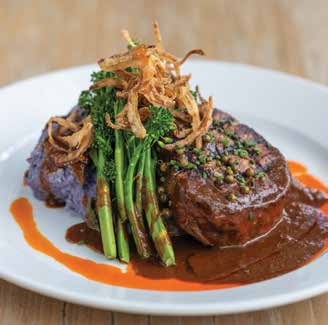 You can also tempt your palate with such mouthwatering appetizers as sautéed wild mushrooms served amidst soft Parmesan polenta and white truffle sauce, topped with chives and micro basil. The creamy dish is richly warming on a cool night. Or try the popular heirloom tomato stack for something a bit lighter. Ever wondered what a perfect six-minute egg tastes like? Enjoy one atop baby arugula, crispy Parma prosciutto, pecorino cheese, and sugar plum tomatoes sprinkled with sherry vinaigrette. For a little surf, reel in lightly breaded salt-and-pepper shrimp, lobster tempura, or spicy tuna tartare. Meat lovers can satisfy their cravings with the grilled New Zealand venison with Szechuan hoisin sauce or shredded six-hour braised beef. The brined and grilled pork chop and Angus "center cut" filet mignon with brandy green peppercorn sauce are also exquisite.

The industrial chic décor—with its subdued lighting and grey walls adorned with oversized mirrors and windows— contrasts the delicate flavors of the menu. Owner Afshar, who opened his first restaurant in Portland, Oregon, named his establishment after one of his favorite neighborhoods, Portland's artsy Pearl District. A large black-andwhite map mounted on the wall pays homage.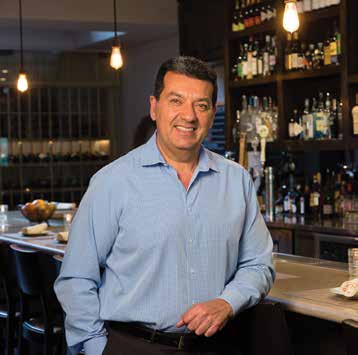 Peyman and Chef DeMane owned several other Southern California restaurants, including the former Leila's Restaurant & Bar in nearby Oak Park, which served the community for over 15 years. The duo's latest venture, Pearl District's sister restaurant, sporting the same name, opened last year along lively Ventura Boulevard in Sherman Oaks.

Both spots offer locals a chance to bump into friends or simply enjoy a drink at their long bar. "Our beers are local favorites, including a variety of craft beers," notes General Manager Erick Lumley. The wine list runs even longer than the bar. The Manhattan, combining Bulleit rye, Carpano Antica, made by the company that invented vermouth, and chocolate bitters, is aged for six weeks in oak barrels. Other cocktails, with names such as Purple Rain, Winterberry Smash, and Breaking Bad, are also unique.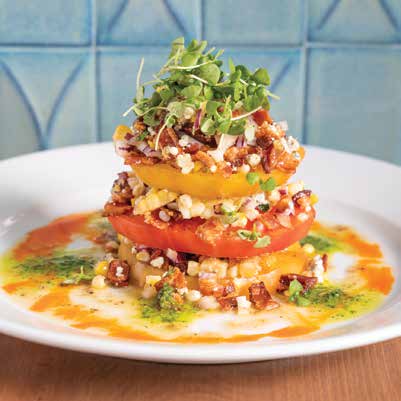 For those searching for something sweet, a variety of ports, sweet wines, and decadent desserts are available. Try the crème caramel or duet of sorbet for a gluten-free treat. Or go over the top with bittersweet chocolate bread pudding or a wonder bar, made with a crisp shortbread crust, peanut butter-chocolate bourbon ganache, caramel-peanut topping, and salted caramel ice cream. It's wunderbar!

Pearl District's wait staff and host are equally wonderful. "We treat all our customers like guests in our homes with a professional and friendly attitude," explains Afshar. Diners even receive a complimentary dessert on their birthdays and anniversaries. Plus, there's a private room in the back that serves parties of up to 18 people if you have a large group.

Pearl District is open seven nights a week from 5:00 p.m. Consider this shining jewel in Sherman Oaks and Westlake Village for your next night out, company dinner, or special celebration.
14015 Ventura Blvd.
Sherman Oaks
818.301.3700