At Home with The Rylands
June 29, 2021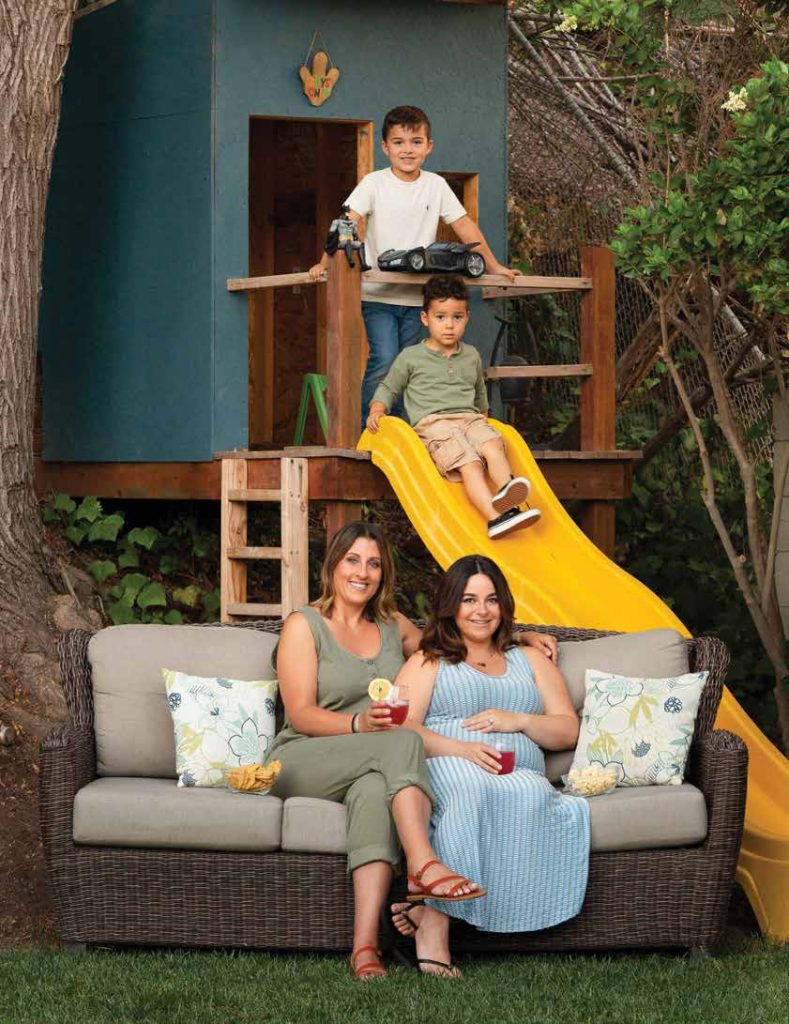 Morgan and Amber Ryland somehow manage to make it all look easy. Morgan grew up in Orange County. She lived in West Hollywood and Sherman Oaks with her wife, Amber, who was raised in London, Ontario, a small town two hours southwest of Toronto, Canada. After their first baby was born five years ago, the couple purchased a home in the Valley Circle West area of Woodland Hills nestled beside Hidden Hills. They fell in love with this delightful suburban neighborhood, which offered good schools, plenty of parks, and a safe environment to raise their kids, which now includes two wonderful sons, Hudson, 5, and Asher, soon to be turning 4, with a third due in the fall.

The two ladies met at a 4th of July party Amber hosted. One of her friends invited Morgan, who was an old high school friend. Morgan and Amber clicked instantly. They went out the following week and have been together ever since.

"We had a really nice engagement party with most of our friends and family who live locally," explains Morgan. "While we would have loved to celebrate our wedding with loved ones, we decided to elope!" Amber adds, "We were married on the beach at sunset in the Virgin Islands and spent an incredible two weeks together."

Since then, Morgan, who left a career as a hair stylist and color educator, adores being a full-time mom. "For me, the transition to motherhood was honestly pretty seamless," she says. "Becoming a mom was the thing I wanted most in life, and being able to stay home with our kids has been a dream come true. Of course, some days are hard and full of meltdowns. Some days, we consider it a win if we get out of our pajamas. But the joys far outweigh the challenges, and I love this stage of our lives."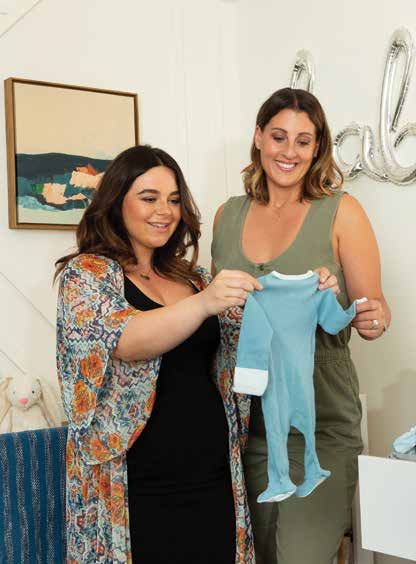 Amber also lives out her dreams as both a mom and fulltime realtor serving the San Fernando Valley and Greater Los Angeles areas. During the past year, Amber had to creatively adapt to communicating with clients virtually via Zoom and FaceTime rather than in person. Amber explains, "It's clearly a hot real estate market right now, like nothing we've ever seen before. Although it's a sellers' market, it's also a great time to buy because rates are historically low. If priced and marketed properly, homes don't sit on the market locally for more than a week or two and almost always go for over the asking price. Our area is highly desirable, especially now that more people work remotely. Plus, we have such great school districts."

Quarantining wasn't much of a stretch for the Rylands, who were used to spending plenty of time together. Morgan already stayed home with the kids and Amber worked from home. The fact that their two boys weren't in school yet also helped. They did, however, miss socializing with friends and family but remain grateful for the quality time and memories created.

"We adore being moms and feel like we make a great team," says Amber. "We love watching our kids grow and seeing each of their personalities emerge." Morgan adds, "We enjoy teaching our boys things and seeing the world through their eyes. The cuddles and quality time we get are everything." They both agree that what they love most is "raising kind, compassionate boys to send out into the world to do great things."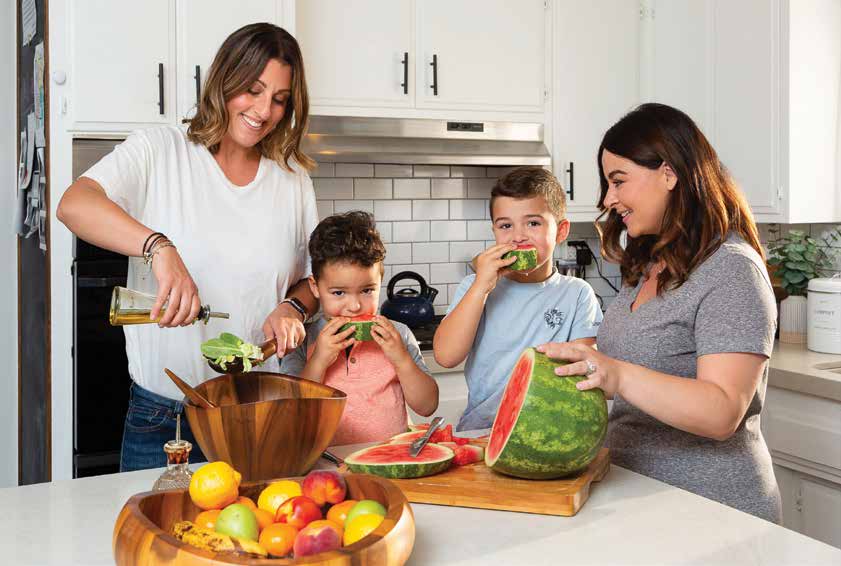 The family continues to explore nearby beaches and hiking trails. They enjoyed concerts pre-pandemic and can't wait to hear live music again. Family movie nights are also a weekly tradition. They look forward to hosting friends for backyard BBQs and cocktails soon and have planned a family trip this summer to go white-water rafting in Idaho before their new baby boy arrives in the fall. Meanwhile, they enjoy family dinners at Sol y Luna and Blu Jam Café and sushi date nights at Shibuya.

Hudson begins Lockhurst Elementary this autumn. He also belongs to a Taekwondo studio, for the traditional Korean martial art, and will take surfing lessons in the summer. Both boys also recently joined a parkour gym together and hope to be American Ninja Warriors one day.

Asher's not in school yet but loves swimming and riding his bike. "He knows all the planets and loves anything to do with space and the solar system," notes proud mama Amber, adding, "We hope to be very involved with the kids' school and sports once they start back up. We would also like to volunteer in the community when it's safe again." They also look forward to future vacations in the Virgin Islands, where they were married, and Maui, where Amber once lived.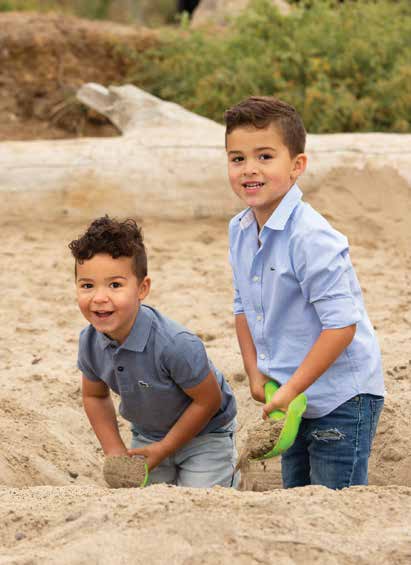 Closer to home, they've also enjoyed the Calabasas Pumpkin Festival, concerts in the park, outdoor summer movies, and the variety of cultural pursuits available in the area.

Amber spent nearly 15 years in the entertainment industry as both a journalist and producer. She experienced everything from the red carpet at the Oscars to one-onone interviews with A-list celebrities. However, real estate was always her passion. Running her own real estate business affords flexibility and work-life balance, which is important to the family. Morgan continues to raise the boys. She also loves to read, cook, and practice yoga and Pilates. "I even took up crochet this year as a quarantine hobby. So far, all I can make are baby blankets, but I hope to graduate to ugly Christmas sweaters soon."

The Rylands can't wait for their newest arrival. "We are due this fall," notes Amber, "and it's another boy, so these mamas will officially be outnumbered! We've always wanted a large family, so we're very happy and excited." They also share their nest with a spirited 2-year-old golden retriever named Ocean and a colorful betta fish called SpongeBob.