The Raw Power of Robert Olshever
October 1, 2022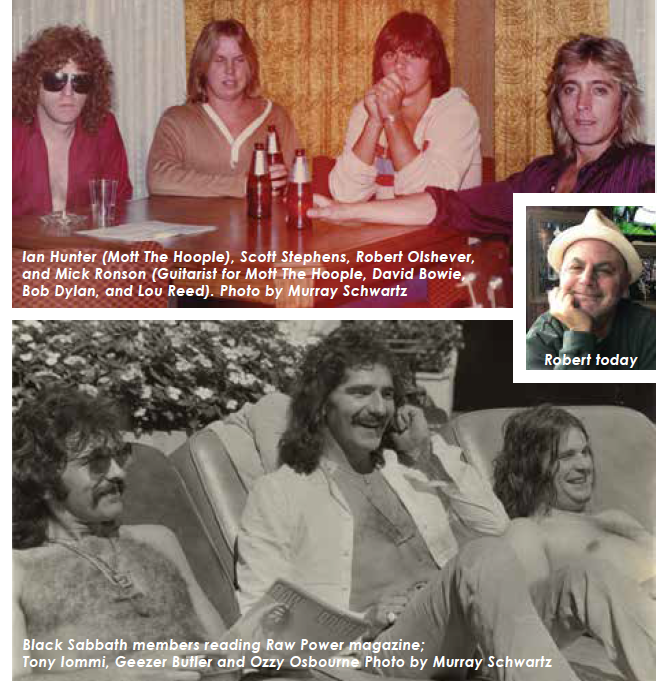 Back in the 1970s, two 16-year-old friends from the San Fernando Valley discovered a shared passion for music and promotion. Together, Robert Olshever and Scott Stephens founded heavy metal and punk rock fanzine Raw Power. Joined by fellow high school buddies—photographer Murray Schwartz and Joey Wahl, they began a wild ride that landed them with all-access passes to such renowned stars as Iggy Pop, Debbie Harry, Ozzy Osbourne, AC/DC, Devo, Ted Nugent, Black Sabbath, and others. They even managed to score the first printed interview with outspoken David Lee Roth of Van Halen. Many, in fact, thought the movie Almost Famous mirrored their lives. By the time they graduated high school, the magazine was a 72-page, four-color glossy with a global circulation of 20,000 copies. Raw Power magazines still sell on eBay.

"I was introduced to rock 'n roll at a very young age," explains Robert. "Since I couldn't sing or play an instrument, I thought I could promote the music I listened to. I also had a cousin who worked for Alice Cooper in the early 70s who introduced me to his music. That's the spark that got me wanting to be part of the business."

While their not-so-underground magazine lasted only a few years, Robert and Murray continued to merge their love of music and promotion by founding a new entertainment marketing company—RPMC. Over the next three decades, they promoted and connected global brands and clients with some of the planet's biggest happenings, including the original Live Aid, Farm Aid and global music tours by artists in every music genre at the time—from Aerosmith to Zeppelin. Sporting events included the World Cup, Summer and Winter Olympics, Superbowl, and F1. Then there were awards shows, such as the Grammy Awards, Emmy Awards, Oscar parties, and more. RPMC was the pioneer of what is known today as the experience economy.

One of Robert's fondest memories occurred in 1987. "We created a global media event at Abbey Road Studios in London called 'It was 20 years Ago Today' to celebrate the 20th anniversary of the album release of The Beatles' Sgt. Pepper's Lonely Hearts Club Band," he explains. "Paul McCartney, George Martin, Howard Stern, Steve Perry, and many other famous entertainment personalities in music, TV, and film were in attendance. KCBS Los Angeles followed us to London and filmed our event for a one-hour TV special."

In 2009, Robert sold his share in the business and followed RPMC's three decades of success by creating IKP (I Know Promos). IKP produces live entertainment events and experiential brand activations. The events and activations are both public and private facing.

Robert's latest event takes place right in our backyard on October 8th—on the grounds of the legendary Sagebrush Cantina in historical Old Town Calabasas. The 1st Annual Sagebrush Cantina Music, Food and Fun! Festival features The Wallflowers in their only 2022 L.A. appearance—with a very special surprise guest and Rock & Roll Hall of Fame inductee performing. In addition, the lineup includes some great upcoming and established music talent. Visit sagebrushcantina.com or universe.com/sagebrush to learn more.